OK Go brings quirky music videos to life with Escondido performance
The rock band behind viral hit "Here It Goes Again" swaps sweaty rock concert for family-friendly affair.
Remember OK Go? You probably know the band from quirky music videos like Here It Goes Again, which took the internet by storm back in 2006.
On Wednesday, the indie group heads to San Diego to perform the first show in its 2019 The Live Video Tour. But don't expect an emotional or rowdy rock concert from these YouTube stars. Instead, the seated show is a tame, family-friendly art event held at California Center for the Arts, Escondido.
"We love playing the sweaty rock club — it will always be dear to our hearts, it's really cathartic and emotional, and catharsis is so much about what rock and roll is all about. But this show is much more about wonder than it is about catharsis," OK Go frontman Damian Kulash said.
OK Go — Kulash (vocals and guitar), Timothy Nordwind (bass and vocals), Andrew "Andy" Ross (guitar and vocals) and Dan Konopka (drums) — started out as a rock band back in 1998. In the mid 2000s, the group released two DIY music videos for the songs Here It Goes Again and A Million Ways that went viral during the early days of YouTube. Both uploads feature all four musicians performing choreographed dance routines (the former on treadmills, and the latter set in a backyard) impressively shot in a single take.
"Having our videos go berserk on the internet was a very solid and visceral reminder that the thing that only you can do is the thing that people will want to see," Kulash said. (If you have 17 minutes, watch his 2017 Ted Talk that further explores this idea.)
Becoming "the video guys" was never OK Go's intent. But the online fame revealed a supportive OK Go fan base, elevating pressure for the band to play by the rules of the major record labels or the radio stations. This freedom let the musicians write songs on their own terms — eventually on their own label, Paracadute — and make a collection of unique music videos that have racked up millions of views over the years.
From transforming a car into a musical instrument and driving it through a desert course for Needing/Getting, to experimenting with zero gravity in an airplane for Upside Down & Inside Out, OK Go's videos always aim to surprise its audience. And to the surprise of OK Go, the band soon began to receive feedback from educators, who used these clips to teach their students everything from color theory to design to mathematics.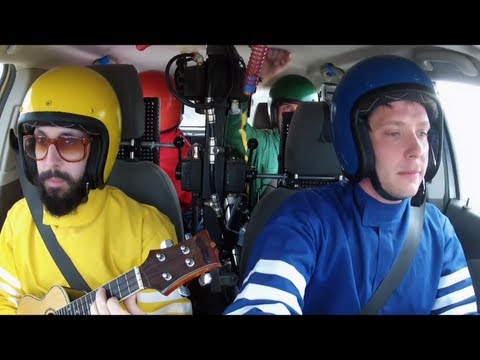 "When you make a song (or video), you love that thing but you set it off into the world and your relationship to it is kind of done and that's when everybody else's starts. What you expect of it is to maybe make some people smile, but you don't think it's going to go out and teach physics," Kulash said.
OK Go recognized its art had done something bigger than it expected and decided to embrace that. The musicians launched OK Go Sandbox, an online resource for educators that uses the band's videos, as well as developed The Live Video Tour in an effort to bring OK Go's videos to life and share them with its wider audience.
"This show is an attempt to open this type of fun, live experience up past the traditional boundaries of rock and roll which are extraordinarily fun, but mostly a young, night-dwelling audience, and we want this to be for everybody," Kulash said.
For The Live Video Tour, a large projector will play OK Go's music videos in chronological order. While the videos roll, the musicians will perform live in front of the screen — whether it's dancing along with the choreography or playing a song on hand bells — followed by a question and answer session with the band. According to Kulash, the experience is "part rock show, part film screening, part director Q&A and a little bit Blue Man in there."
But with the entire video collection available to stream on YouTube, why go watch it in person?
"We think of this show as being about the videos, so we want to make sure the performance supports that but also brings it to life. Obviously people can see the videos online, but it's very different to watch them chronologically to see how one leads to the next," Kulash said, adding that the Q&A session encourages the audience to ask specific questions about the artistic process.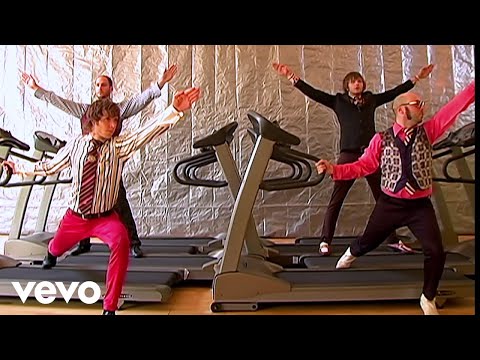 So afterThe Live Video Tour, what's next for OK Go — more songs, more music videos, or more tours?
The short answer: all the above. Currently OK Go is working on new music that it hopes to finish in the next year or two, possibly releasing a new song and music video at the same time. The group also plans to grow The Live Video Tour and take the immersive experience to new cities. Plus, many of the band members are working on outside projects, ranging from feature filmmaking to producing.
"I'm not scared that opportunities will stop tomorrow," Kulash said.
The Live Video Tour with OK Go
When: 7:30 p.m. on Wednesday, Oct. 30
Where: California Center for the Arts, Escondido
Tickets: $35 to $75, online here
Sign up for the Pacific Insider newsletter
You may occasionally receive promotional content from the Pacific San Diego.