Herbie Hancock talks music, Buddhism, new album with Kendrick Lamar, Wayne Shorter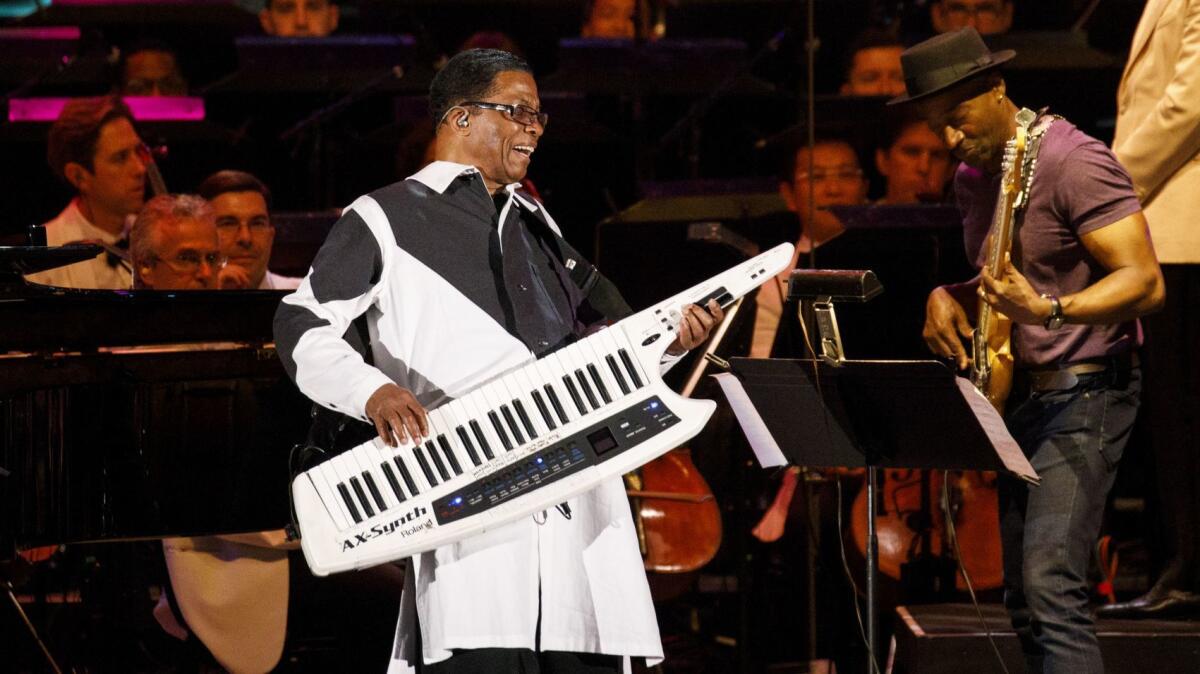 The Oscar and Grammy Award-winning musician counts Miles Davis, Joni Mitchell, Lang Lang and Connie Francis among his many varied collaborators.
Herbie Hancock has nothing left to prove to anyone, as befits a veteran international music star who has inspired several generations of jazz, funk, techno and hip-hop artists, sold millions of records, and earned an Oscar, a Kennedy Center Honor, 14 Grammy Awards, six honorary doctorates and five MTV Video Music Awards.
Along the way, this genre-leaping innovator has collaborated with everyone from Miles Davis, Lang Lang, Joni Mitchell and Thundercat to Carlos Santana, Pink, former San Diego sitar great Anoushka Shankar and various symphony orchestras. Then there's Hancock's not quite completed new album, which teams him with Pulitzer Prize-winning rapper Kendrick Lamar, young saxophone sensation Kamasi Washington, shape-shifting producer Flying Lotus and jazz sax giant Wayne Shorter, Hancock's longtime pal and former band mate in the fabled Miles Davis Quintet of the 1960s.
After accomplishing so much, is there anything Hancock still wants to prove, if only to himself?
"Well, you actually answered part of the question because you talked about proving something to other people. And, basically there is one person I have to prove myself to, and that is to me," replied the legendary keyboardist, band leader and composer. He performs Aug. 20 at Humphreys Concerts by the Bay with his four-man, one-woman group, which features drum master Vinnie Colaiuta, West African guitar wizard Lionel Loueke and 23-year-old flute sensation Elena Pinderhughes.
"At the same time," Hancock continued, speaking by phone Monday from a tour stop in Toronto, "I have the confidence to know that all human beings have infinite potential, although — very often — they don't realize that potential. I've been practicing Buddhism for more than 46 years and that is part of what I learned through my practice of Buddhism. Every human being has that potential, and to explore that potential is an exciting thing to do.
"That does take courage, but courage is built into jazz! Because in jazz, we're improvising. And that means we're in the moment, creating something that, hopefully, we haven't created before — borrowing, sometimes, from the past, but not staying in the past. It's very challenging to do that. And, at the same time, it's extremely rewarding how that makes you feel as a musician. We're presenting that rawness, that newness, that courage and compassion to people, because we want them to feel that, too. Because that puts us all on the road to being better human beings."
In addition to his current summer concert tour and completing his long-awaited new album, Hancock keeps busy in an array of other ways.
He is the founder of the International Committee of Artists for Peace, the Creative Chair for Jazz for the Los Angeles Philharmonic Association and the Chairman of UCLA's Herbie Hancock Institute of Jazz (formerly the Thelonious Monk Institute of Jazz). Since 2011, he has been a Goodwill Ambassador for the United Nations Educational, Scientific and Cultural Organization, under whose auspices he launched International Jazz Day the same year.
Orchestral debut at 11
That Hancock thrives on activity is a matter of record.
He was just 11 when he made his debut with the Chicago Symphony Orchestra as the soloist on the first movement of Mozart's Piano Concerto No. 5 in D Major. He attended Iowa's Grinnell College, where he double majored in music and engineering.
Hancock was only 20 when he moved from Chicago to New York, after being invited to join trumpeter Donald Byrd's band, and quickly became one of the hottest young pianists in the Big Apple. His solo debut album, the aptly titled "Takin' Off," was released by Blue Note Records in 1962. It included the infectious jazz-soul song "Watermelon Man," a Hancock original that soon became a Top 10 pop hit for Afro-Cuban percussion star Mongo Santamaria, in whose band Hancock played before joining the fabled Miles Davis Quintet in 1963 for a five- year run.
The Davis group teamed Hancock with Shorter, bassist Ron Carter and teen drum phenom Tony Williams. Together, they set an enduring standard with their incandescent concert performances and a series of stellar albums that includes such classics as "E.S.P.," "Miles Smiles," "Nefertiti" and "Miles in the Sky." Hancock also recorded a series of solo albums during the same period. His reputation grew as an unusually gifted and resourceful pianist whose compositions were strikingly original in their conception and execution.
Each member of that Davis band went on to become a major solo artist in their own right and Hancock credits Davis with teaching him important lessons, on and off the bandstand. Those lessons included how to select the best-suited musicians for a band, a criteria that Davis shared in a 1985 San Diego Union interview.
"They can't be selfish, meaning they don't play too long," Davis said at the time. "They don't do any unnecessary things; they don't play — a friend of mine calls it 'tootie' — (just) so they look good to the girls. I don't go for that. They have to be dedicated to the music. You have to look for that thing. I can tell it right away. I can tell whether they love music, or just love the idea of being a musician to get girls. That's what you look for. And also, you have to look and see whether they care about and belong with their instrument."
Hancock chuckled appreciatively as Davis' words were read aloud to him.
"Wow! Miles was much more eloquent than me," Hancock said.
"I totally agree with everything Miles said, and he went into real detail about it. Yes, I look for exactly those same things. I have been really fortunate with the musicians I've had a chance to interact with. They're looking up to me, and — of course — I looked up to Miles. They also look up to Miles, even though he's not here anymore. For many of the musicians of today, if they're young, of course they're going to like girls — or whoever they like; they're not limited to girls.
"But they have the good vision to realize that the important thing is to present something to people that is going to inspire them and encourage them. Hopefully, they can feel that from me, because that's that what I try to do."
Historic Joni Mitchell tribute album
Hancock's 47th studio album, 2007's all-star Joni Mitchell tribute "River: The Joni Letters," became only the second in history by a jazz artist to win the Grammy Award for Album of the Year. Like Davis before him, the proudly eclectic keyboardist has embraced jazz, while refusing to be confined by it.
In the process, he has inspired myriad jazz, funk, rock, techno and hip-hop artists. His admirers include Oscar- and Grammy-winning rapper Common, who happily sang Hancock's praises in a recent Union-Tribune interview.
"Herbie's music has truly changed and inspired my life," Common said.
"It changed me directly, because we sampled him and his music influenced the late great J Dilla, who was one of the greatest producers I worked with. The fact that he loved Herbie, and used a lot of Herbie's music as samples, introduced us to even more of Herbie's sound, including 'Sunlight,' 'Thrust' and all those albums. Herbie being one of the greatest jazz musicians and being from my hometown, Chicago, I'm proud and inspired just to even have met him. I'm hoping when you talk to him that you tell him I'm hoping to participate on his new project — at least, we've been talking about it and we performed some of it at the (2017 Monterrey Jazz Festival)."
Does Common have a shot at being on the album, which will be Hancock's first release since 2010's all-star "The Imagine Project?"
"Absolutely, he does," Hancock replied. "We've just been waiting to find just the right track to put him on, so I'm really excited that he's excited about helping us out on this record."
In 2015, Hancock promised the new album would be out by spring of 2016. In a Union-Tribune interview last year, he said it was close to being completed. Now, he suggests, 2020 looks more likely.
"But we'll release it in a different way than I ever have," he vowed. "So much has changed in this technological age. One of those changes is not having to worry about the mindset that is kind of limited by CDs or LPs, which has to do with time and with releasing (completed) albums. So we're not doing that. We'll release maybe one song at a time, with a few months between them, for the first few pieces on the new record. And then, later on, we'll release more. This is all from a general concept I have for a lot of new things I want to embrace, starting with this new record.
"We've got some new pieces from the stuff we're doing for the new record. In San Diego and some of the other cities we're playing in on this tour — not all of them, just because of scheduling — Elena Pinderhughes is going to be appearing with us on some of the tunes. Also, Kamasi (Washington) will hopefully sit in with us on the encore piece, 'Chameleon.' And, for some shows, there may be some others that sit in. So part of what we're doing is doing our concerts in the spirit of how this album was put together and bringing that spirit on to the stage, as much as we can, considering that the situation on stage is not exactly like being in my home studio."
Pioneering electro-hip-hop hit
What does it mean to Hancock that Washington, Common, former Beastie Boys DJ Mixmaster Mike, San Diego jazz piano star Joshua White and so many other musicians hold him in such high esteem?
"It means a lot," Hancock said.
"It means I'm continuing to encourage young people in some way, the way I was by musicians who came before me. That's the kind of background I came from, where jazz musicians who were in the game long before me helped me through my formative years. They showed me a lot of the tricks of the trade, a lot about chord changes and just how to do things. Many of them I learned from Miles, and I've taken those lessons and thrived from what was instilled within me from them, along with my own ideas.
"I have ideas I've come up with and share those with musicians of today, while I'm still on the planet, still working and doing things. I am also inspired deeply by them. They don't know that, even though I tell them. They go: 'Yeah, but no! You're the one that's inspiring us.' Really, I'm learning all the time from them."
Hancock also learned from the multitude of jazz and pop recording sessions he did when he was a rising pianist for hire.
Or, as he put in a 1984 San Diego Union interview: : "I firmly believe that human beings are capable of exploring and enjoying a great deal more variety than they're usually given credit for. When I was first coming up in the jazz world, I was always excited to do studio work, not just with jazz musicians like Wes Montgomery, Freddie Hubbard and Lee Morgan, but also with Connie Francis, Steve Lawrence and Eydie Gorme, and Peter, Paul and Mary. It gave me the chance to be in a different musical environment and to learn. And I've always liked the idea of being versatile."
Given an additional 35 years of hindsight between 1984 and today, what lessons did Hancock learn from working with such middle-of-the-road pop stars as Francis and Gorme? And did his name appear on those albums, or — like many studio musicians at the time — was he not credited for his work on them?
Hancock chuckled.
"I don't remember whether I was credited. Maybe you can tell me!" he said, chuckling again.
"I also did one song with Lena Horne, one song with Liza Minnelli, later on. I don't remember what years they were, but I was given credit on those (later) records, for sure. I wasn't invited just as a studio musician, because by the time Lena and Liza asked me to do something with them I already had a pretty firm career. But, going back those early days as a studio musician, very often our names aren't even mentioned, even on the vinyl record covers. But that was typical. It was something I enjoyed doing, because it was outside of my comfort zone of jazz.
"With Connie Francis, they wanted me to play blues, but kind of country-blues. When I first started doing this track for her, they said: 'Well, you're playing blues, but that's more like city-blues.' I thought to myself: 'Wait a minute. What are they talking about?' Then I started doing some (Floyd Cramer) type country piano, and they said: 'That's it!' So that was something I gained. I hadn't realized there was country-blues and city-blues, until they called my attention to it.
"With Eydie Gorme, I don't remember exactly what they wanted. But, just listening to what the other musicians provided, I played what I heard and thought would fit into that musical environment. So it's always a learning experience. And, look, living life is a learning experience, no matter what you do."
It's been 57 years since Hancock made his first solo album and 36 years since his pioneering electro-hip-hop hit "Rockit" came out in 1983. What does music mean to him now that it did not in 1983 or, for that matter, in 1962?
"The first thing that comes to mind is that, for many years, when I thought about doing a new record, my first thought would be: 'What kind of bass line can I put together, and chords can I can come up with to challenge or defy other musicians'?"
He laughed heartily.
"It was specifically about the elements of the music or the technique of the music. And now — and this actually began as an epiphany, again from my practice of Buddhism — about 30 years ago I started to think a little different about things. I started to think about purpose. What is my purpose for making a record? What is it I want to transmit to the public, through the music, from my humanity, not just from that part of me which is a musician?'
"And, even that idea of part of me being a musician, yes, all of me is a musician, in one way. In another way, all of me is not a musician. The bottom line for me is that what I am is a human being. I am a musician when I'm playing music, or thinking about music, or listening to music. But I also have a daughter, so I'm a father. I have a wife, so I'm a husband. Both my parents passed away, but I'm a son and I'm a friend.
"We all have various aspects of who we are and these aspects are all recognized in different parts of the day and our lives. But the thing that combines all of them is the fact that we are human beings. And the ways we're all connected are the unity of humanity. And that is a lesson I want to get across today, that this is of the utmost importance. We may manifest ourselves at different times, whether it's as a doctor, a dancer, a brick layer, a bus driver, whatever skill or job we may have. I used to be a mailman!"
Really? The late jazz luminary Charles Mingus also worked a stint for the U.S. Postal Service.
"I didn't know that. I wouldn't be surprised if he delivered (mail), because that was a very popular job for musicians to have," Hancock said.
'But, now, I think about purpose. And what I chant for, or pray for, is for that kind of spirit to be in the music I produce and the music that flows from my heart. And the heart is the most important thing."
Herbie Hancock and his band, featuring Lionel Loueke, Vinnie Colaiuta, Terrace Martin, James Genus and Elena Pinderhughes
When: 8 p.m. Aug. 20
Where: Humphreys Concert by the Bay, 2241 Shelter Island Drive, Shelter Island
Tickets: $85
Online: ticketmaster.com
Sign up for the Pacific Insider newsletter
You may occasionally receive promotional content from the Pacific San Diego.