Uncommon Common: Oscar-winning rapper set for San Diego Symphony debut
The Oscar- and Grammy winning rapper has a candid new memoir out, with a new album to follow. On Sunday, he performs with the San Diego Symphony.
Common has won an Oscar, a Golden Globe and three Grammy Awards, but his performance here this weekend will be a decidedly uncommon one.
On Sunday, the veteran hip-hop star-turned acclaimed film and TV actor ("Selma," "The Chi") will become the first rapper to ever perform with the San Diego Symphony. It will also mark the first time the orchestra has played with a band that includes a DJ.
Common's repertoire here will include "The Day That Women Took Over," "Black America Again," "I Used to Love Her" and "Glory," the Oscar-winning song he co-wrote with John Legend for "Selma." He'll also perform "Get 'Em High," which he co-wrote and performed with Kanye West and Talib Kweli on West's landmark 2004 debut album, "The College Dropout."
The orchestral arrangements of Common's songs were written by ace bassist Derrick Hodge, whose past collaborators range from jazz luminary Terence Blanchard to such innovative R&B and hip-hop artists as Maxwell and Bilal.
"I first teamed up with the National Symphony Orchestra in 2017 at the Kennedy Center in Washington, D.C., and it was really fresh and innovative," recalled the Chicago-born Common, 47, who was born Lonnie Rashid Linn.
"I think hearing an orchestra with the music I've done throughout the years added so many levels and layers that the songs sounded new. They also sounded, obviously, bigger. But to add these musicians, and to combine these musical worlds, just made everything that much more meaningful and powerful. It connected the two worlds. It connects the freedom of hip-hop — the vocal free-styling and rawness of DJ-ing — to what classical music is, with highly trained musicians performing while seated and reading the scores."
Since his orchestral debut two years ago, Common has also teamed up for concerts with the San Francisco Symphony, the Atlanta Symphony, the Chicago Symphony and other orchestras.
"I can't wait to come to San Diego," he said. "I've done a lot of shows there, at House of Blues, the Belly Up and other clubs. I know I'll be able to provide a great experience with the San Diego Symphony."
Candid new memoir and album espouse love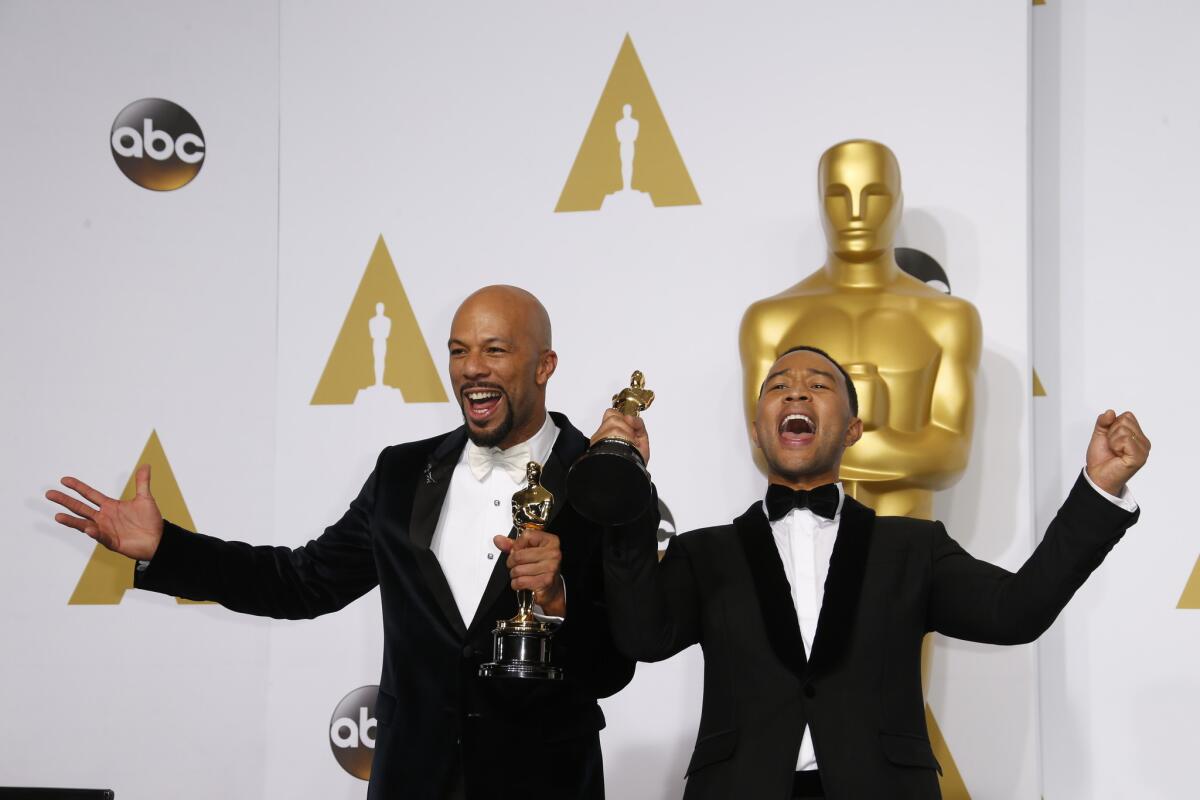 Sunday's concert will also likely include at least one song from his new album, "Let Love Have the Last Word," which will be released Aug. 30. It follows the May release of his unusually candid book, "Let Love Have the Last Word: A Memoir."
In his memoir, Common writes about being confronted by his daughter, Omoye, for putting his work ahead of her, an experience he credits as the impetus for writing the book. He also discloses that he was sexually abused as a child and discusses the importance of faith in his life.
"I owe it to my audience to offer hope and to be truthful," he said, speaking from a recent, non-orchestral tour stop in Seattle.
"I owe it to them to go to places that are untapped and may seem taboo, or to places that some people may not always be courageous enough to go to. And by that, I mean talking about (going through) therapy, about being molested as a child, about seeking out God in the best way. More than anything, I owe it to my audience to be a reflection of God, and — in my humanity — to be a better person."
Common cites therapy and his film and TV acting roles as key factors in his decision to write about sensitive topics in his life.
"Playing different characters helped me find out more about myself," he said.
"As I was writing the book, I was like: 'OK, this is something I want to talk about, because I know how much books have helped me.' There are books I have read and re-read through tough days, days where I need some guidance, support and resources and ways of thinking. And books have been that for me. So I wanted my book to be like that. This is the truest and most free I have been, as a human being and as an artist, in my life."
Asked to give a few examples of books that have been especially helpful to him, Common points to "A Return to Love" by current Democratic presidential candidate Marianne Williamson, "The Alchemist" by Brazilian author Paulo Coehlo and the Bible, specifically the New World Translation of the Holy Scriptures.
"I love First Corinthians 13," he said. "That whole chapter talks about love. I actually put that scripture on the back cover of my (third) album, (1997's) 'One Day It'll All Make Sense.' And, to this day, it all still makes sense. The scripture has been a guiding light for me and the core of what I want to live by."
'We felt like we'd made it'
Common was still a high school student when his hip-hop trio, C.D.R., opened a concert in Chicago for N.W.A. and Big Daddy Kane.
"At that moment, we felt like we'd made it," he recalled. "Then, we went off stage and we still didn't have a record out or a record deal. We realized we hadn't made it."
Common was 34 when he wrote and recorded "Start the Show," a song featured on his 2007 album, "Finding Forever." Its lyrics took sharp aim at untested new rappers, with such biting lines as: Many have come, but few have been chosen to be a true MC / You sing along with it, inside you know it's wack / 'Young Who?' / Oh, he's the opening act.
Asked now if he was referring to anyone in particular, Common replied: "I was just classifying and generalizing. There are so many 'Youngs' out there. And, at that time, I was just saying: 'Man, find some originality! You don't have to do everything everybody else is doing.'
"One of the most gratifying and unique things about hip-hop, or any music, is that — when you find your voice — it's great to be able to express it. And I think the world wants to hear your voice, not for you to be (an imitation of) Lil Uzi Vert, or Young Thug or Meek Mill, or Gucci Mane. Those guys got their voice. They're originals. They are who they are.
"The kids need to decide to find their own voice and be their own artist."
For Common, the quest to find his own voice has been aided greatly by his abiding passion for jazz. Last year saw the release of the debut album by August Greene, a band that teams Common with jazz drum dynamo Karriem Riggins and multifaceted keyboardist Robert Glasper.
"Jazz has been one of the greatest influences on my life. It's the music I play the most," Common affirmed.
"John Coltrane's 'A Love Supreme' isn't my favorite album, but it is definitely one of those I would take to an island. I like everything from Herbie Hancock's 'Maiden Voyage' and Freddie Hubbard's 'Red Clay' to Thelonious Monk and Roy Hargrove, who I recorded with, and the modern-day cats like Kamasi Washington.
"Jazz has helped me to write songs, because it's such a free form of music and comes from such a pure place — especially the jazz we are talking about. It's not built for the mainstream.
"For me, jazz is a reminder of how powerful art can be."
Common and the San Diego Symphony
When: 7:30 p.m. Sunday
Where: San Diego Symphony's Bayside Summer Nights, Embarcadero Marina Park South, 206 Marina Park Way, San Diego
Tickets: $63-$108
Phone: (619) 235-0804
Online: sandiegosymphony.org
Sign up for the Pacific Insider newsletter
You may occasionally receive promotional content from the Pacific San Diego.