Paul McCartney still 'Fab 'at 77, still on tour, has four albums due out in July
Paul McCartney is ready to make history. Again.
And it's not just because he turned 77 on Tuesday and is still rocking out on the North American leg of his Freshen Up stadium and arena tour. It finds him performing at least three dozen songs over the course of nearly three hours at each show, with no intermission.
The 15-city tour stops Saturday at Petco Park, where McCartney also performed in 2014. This will only be the third public San Diego concert of his career since The Beatles performed at Balboa Stadium in 1965.
His previous Petco Park show five years ago was McCartney's first here in 38 years, not counting a private 2003 birthday party he and his band played at Delicias Restaurant in Rancho Santa Fe.
Going to Paul McCartney's Petco Park concert Saturday? Here are 10 tips.
The ongoing Freshen Up tour is his first concert trek with his new three-piece brass section, the Hot City Horns. They augment his trusty four-man band, which features guitarist Rusty Anderson, keyboardist Paul "Wix" Wickens, drummer Abe Laboriel Jr. and former Etta James band member Brian Ray on guitar and bass.
Of course, McCartney is hardly the first music legend to mount a world tour to promote a new album. In his case, that album is last fall's chart-topping "Egypt Station," which on May 10 was released anew in two different and expanded limited-edition box sets titled "Egypt Station — Traveller's Edition" and "Egypt Station — Explorer's Edition."
In any of its three configurations, at least some of the songs on "Egypt Station" were cathartic for McCartney to write and record.
"It's funny what inspires you to write songs," he said in March, in an online response to a fan's question posted on his website.
"For instance, John (Lennon) started writing 'Help!' during a crisis at that time in his life, which is often a good motivator 'cause there's a therapy aspect to writing songs sometimes — but not all songs! It's almost as if you're telling your guitar your troubles and a lot of composure can be found through that.
"So you sort of say what you might say to a therapist, but you put it into a song and you might feel better afterwards. You don't have to be going through terrible times, just something that's frustrating. So there's a couple of songs like that on 'Egypt Station,' funnily enough!"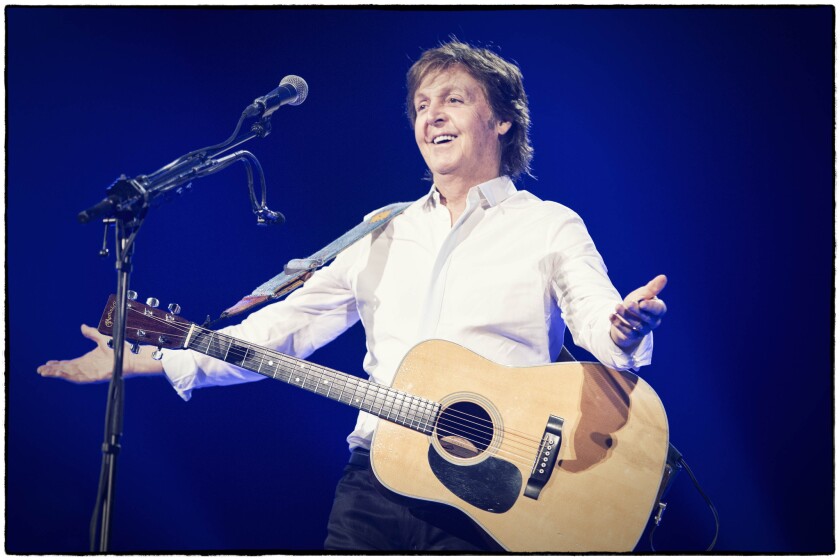 Four albums due out July 12
His newest album notwithstanding, this two-time Rock & Roll Hall of Fame inductee is surely the first music legend whose ongoing tour is a prelude to the imminent release of four additional albums. One of them is new and three are being re-issued. Due out July 12, those four albums feature a combined 167 selections and cover a 33-year time span, from 1975 to 2007.
Since 2007, McCartney and his band have embarked on nine concert tours as well as performed at the 2005 NFL Super Bowl halftime show and such major festivals as Coachella, Bonnaroo, Lollapalooza and Desert Trip.
By comparison, McCartney only did eight tours between 1989 and 2007, which means he has done more tours in the past 12 years than in the previous 18. Since 2007, the only year in which he has not been on a concert trek for at least part of the year was 2008.
In a 2007 Union-Tribune interview about his then-new album, "Memory Almost Full," McCartney stressed that appearances can be misleading.
"I have a knack of looking busy, without doing anything at all," he said at the time. "It's all a matter of perception. I'm just trying to keep on enjoying my music and seeing if it can be improved, to just continue and hopefully develop what I do."
In the past 12 years, McCartney has released one live album and four new studio albums, including 2012's "Ocean's Full," the orchestral score to his first ballet. Come next month, he will release four albums in a single day.
The "new" album, "Amoeba Gig," was recorded when McCartney and his band performed a surprise free show at Amoeba Records in Hollywood in 2007. Twelve of those songs have previously been released; the new album features all 21 numbers from that performance, all newly remixed.
The upcoming albums that are being re-released include "Paul is Live," which was recorded in Australia and the United States during McCartney's 1993 "The New World Tour" to promote his then-new album, "Off The Ground." (His first wife and band mate, Linda McCartney, was diagnosed with breast cancer in 1995. She died three years later, and he did not tour again until 2002.)
Also being re-released next month in newly re-mastered form is "Choba B CCCP," which translates as "Back in the U.S.S.R." and was initially released only in Russia in 1988. It came out in the rest of the world in 1991, after the Soviet Union had crumbled.
Also set for re-release is "Wings Over America," which was recorded live on McCartney's 1975-1976 tour of the U.S. with his first post-Beatles band, Wings. That tour included a June 1976 show at the San Diego Sports Arena.
Nearly a dozen of the songs on "Wings Over America" — including "Maybe I'm Amazed," "Lady Madonna" and "I've Just Seen a Face" — are still in McCartney's concert repertoire today. At 77, the man who wrote "When I'm Sixty-Four" in 1966, when he was just 24, is still moving forward while keeping an eye on his storied past.
"I like what I do," McCartney said in a Union-Tribune interview after he was past 64 himself. "But since I have reached the venerable age of 65, it's tempting to think: 'Whoa! I must be looking back.' But when you think about it, songs like 'Penny Lane,' which I wrote when I was about 24, are retrospective in a way. So I suppose it's true that most writers are always looking back and drawing on the experiences of their youth."
A really big rock show
Paul McCartney has always relied on his music to make the biggest impact at his concerts. This holds true whether he's performing in a club, arena, stadium or at a massive festival like Coachella, where he headlined in 2009.
But that doesn't mean there won't be pyrotechnics and lasers galore when McCartney and his band perform "Live and Let Die," a staple of his set for decades. Or that the staging for his stadium concerts won't be massive.
How massive? Here is a partial breakdown.
Time required to set up for each concert: Three to four days.
Stage dimensions: 160 feet wide, 70 feet deep, 65 feet high.
Audio: The Freshen Up tour utilizes eight columns of sound. The biggest two columns stand 44 feet high, while two other columns are 32 feet tall. There are also four smaller columns, which are each 8 feet high.
LED screens: McCartney's concerts utilize five LED screens. Two of them are 50 feet high and 35 feet wide, while two others are 66 feet wide and 18 feet high. The fifth screen is 66 feet wide and 24 feet high.
Equipment trucks: It takes 23 trucks to move McCartney's stage and production gear from venue to venue. (The most recent one was on May 30 in Greenville, S.C.)
Crew members: At least 140 crew members travel with the tour from city to city. An additional 200 crew members are hired in each city to help set up and break down the stage.

Did you know?
Paul McCartney's third wife, New York-born Nancy Shevell, is a former San Diego resident. She lived here in the early 1980s when her first husband, Bruce Blakeman, was a student at California Western School of Law.
Quotes of note
Paul McCartney has done a number of interviews with the Union-Tribune over the decades. Here's what he's told us about:
Stardom: "With fame, your reputation obviously walks ahead of you. That's why, if I book reservations at a restaurant, I often don't use my name. Because then everyone is standing around shaking, all the waiters are dropping dishes, you know. So what I do is, I just say: 'Oh, it's for so-and-so' (and give another name), and come in, and then they start dropping dishes. But they haven't got time to build it all up."
Songwriting: "It's a little bit of a Zen philosophy. If someone asked me how to write song, I couldn't tell them. I could give them hints and stuff, but I wouldn't know how it actually happens. It's not a science for me."
Tenacity: "My dad had a phrase: 'Do it now.' And it's turned out to be very true, from an old Liverpool guy who left school at 14. He was a very wise philosopher. Do it now! That's it, man. Just do it, you know, just (expletive) do it, until someone sacks you. Then you're out of work, but till then, keep rocking."
Early Beatles recordings: "John and I would just come into the studio Monday morning, and we'd show George and Ringo, and (producer) George Martin and Geoff Emerick and all the engineers, what song we were going to do. ... We came in and we all just did it live, as it were. And I remember thinking that those were very happy recording days."
Later Beatles recordings: "There were some other periods where I think the music was as good, but they weren't as pleasant an experience. You'd be doing, like, Take 36 on some part of a song. And it was like: 'Wait a minute! Was Take 21 any better than Take 34?' 'Well, I don't know. Let's listen to Take 34, 21, 18 and 9,' and it starts to sound like a lottery win."
Getting better: "I try to teach myself to find out the bits I don't know about what I know. ... I call it 'a sense of wonder,' that I will just go in the studio in the morning with one idea in mind, and it can suddenly just change gears. But I've always done that. You know, we did that with The Beatles. Suddenly, there's a better idea than mine on the table. And so instead of stamping my foot and going, 'No! We must have my idea,' I'd tend to swing and just go: 'Whoa, that's a good idea.' So, yeah, I like to do that."
Longevity: "When we started with The Beatles, we gave ourselves about 10 years. We thought it would be entirely unseemly after that. We had this wonderful, youthful idea that life ends at 25. But once we got to 25, we found we were just hitting our stride. And then we got to 30 and found we were still kicking. And I think that's the interesting thing about it. When I was about 16, there was a guy in John's art college who was 24, and I thought he was very old. I've since been proved wrong. He was actually very young. But, relative to me, and my perspective then, that was sort of (ancient). ..."

Paul McCartney
When: 8 p.m. Saturday
Where: Petco Park, 100 Park Blvd., downtown
Tickets: Sold out
Phone: (619) 795-5555
---