Carlos Santana on Woodstock, Tijuana and his vibrant new 'Africa Speaks' album and tour
It's been 50 years since Carlos Santana and his pioneering Latin-rock band made their breakthrough performance at the landmark 1969 Woodstock festival. And it's been 19 years since Santana's chart-topping 1999 album, "Supernatural," earned eight Grammy Awards in 2000, on its way to selling an estimated 30 million copies worldwide.
But it was in Tijuana, where he grew up in the 1950s and early 1960s, that the then teen-aged guitarist cut his teeth playing in strip clubs. It was then that the seeds were planted for much of his future music, including "Africa Speaks," his wonderfully raw and vibrant new album with Spanish-African vocal sensation Buika.
"I did some research when I was in Tijuana, as a kid, into what they called musica tropical, which was Caribbean music," recalled Santana, who grew up largely in the border city before his family moved to San Francisco.
"That meant any music from the islands, Cuba, Puerto Rico, by artists like Ray Barretto and Tito Puente. I investigated it. And, years later, when I went to Africa, I realized everything I was hearing in the streets of New York came from Africa. It's like they invented the original chicken soup and other people created different styles from it. But anything and everything — cha-cha, rumba, danzon, merengue, bachata — it all comes from Africa."
It was in Tijuana, in nightspots, such as the Convoy Club, that Santana began to lay the foundation for the distinctive blues, rock, Latin and jazz hybrid that would become his trademark.
"I learned how to play in a way that made women want to take off their clothes!" he said, speaking by phone recently from Los Angeles.
Santana chuckled when his interviewer noted that the strippers the guitarist shared the stage with were being paid to take off their clothes, regardless of what kind of musical accompaniment they received.
"They stripped," he agreed. "But I learned to play music in a way that they felt comfortable with, like flowers blossoming in water next to the sun."
The mustachioed guitarist chuckled again when asked how vividly he recalled his music-making days in Tijuana — and if he ever thinks back to that time when he is on stage now.
"You know, I'm 71 and, somehow, everything in my memory is very tangible and accessible," said Santana, who performs here with the current iteration of his band on Sunday at North Island Credit Union Amphitheatre. (Ticket information appears below.)
"I have celestial selective memory: I only remember the good stuff. Anything else, I let go. So, all my highlights are extremely empowering. Because I make my choice, constantly, of only remembering the highlights, the best."
Full circle from Woodstock
The 25th album by Santana, "Africa Speaks," brings the guitarist full circle from Woodstock 50 years ago, when his then-unknown band wowed a crowd estimated at between 400,000 and 500,000.
The group's repertoire at the festival included Nigerian percussionist Babatunde Olatunji's 1959 classic "Jin-go-lo-ba," the Yoruban phrase for "Don't worry." "Jingo," as it is also known, was also a standout track on Santana's debut album, which was released just two weeks after Woodstock concluded. The song is still in his band's set list today, along with two other songs from the "Santana" album.
"We begin our concerts with 'Soul Sacrifice,' 'Jingo,' 'Evil Ways,' and (John Coltrane's) 'A Love Supreme,' and then we go into some of our new stuff. So, right from the start, people know this is where we're coming from," said the veteran band leader whose second wife, jazz dynamo Cindy Blackman Santana, is the drummer in his band.
One of the most charged segments in the Oscar-winning 1970 "Woodstock" film documentary is of Santana performing "Soul Sacrifice." The high-velocity instrumental number made stars of the band, its namesake guitarist and its then 19-year-old drummer, Michael Shrieve.
The impact of the song in that movie also had a ripple effect across the country and abroad.
"That film and the (1970 Santana album) 'Abraxas' was my introduction to Santana," recalled Grammy-winning Texas singer and songwriter Lyle Lovett.
"I would get out my Rickenbacker guitar and Fender Princeton Reverb amp, and try to crank it just right to get that tone Carlos had. And, of course, I never did. I was amazed at his tone," Lovett, 61, recalled.
Andy Vargas, who has been one of the two featured singers in Santana for the past 19 years, is now 40. He was not born until 1979, a decade after Woodstock. But the festival and the performance by the band — which he has been a member of since shortly after Santana's "Supernatural" album came out 20 years ago — made an indelible impression on him.
"I'll always remember seeing Carlos playing the guitar in the 'Woodstock' movie and the energy of the band on stage with him," said Vargas, whose new solo single, "We're Still Here Together," is a collaboration with San Diego singer Frankie J.
"To then join Santana and experience those highs, live on stage, that I saw in 'Woodstock' is surreal to me," Vargas, a Los Angeles native, continued. "I'm really living a dream, every day of my life."
Asked what qualities he looks for in his band members, Santana said: "The only quality I look for in musicians is a willingness to set themselves on fire, like those Buddhist monks did who were protesting the war in Vietnam. I want musicians who will play with passion and deep feeling. If you don't bring passion, we will fire you — passionately. Because I don't tolerate musicians in my band doing rope-a-dope or going through the motions. I can tell if they are, so I'd have to dismiss them for their own growth.
"And here, in this band, I've learned that you must play like (jazz drum giants) Buddy Rich, or Tony Williams, or Art Blakey, or Elvin Jones. You gotta play! If not, go home and help yourself. We don't want anemic efforts."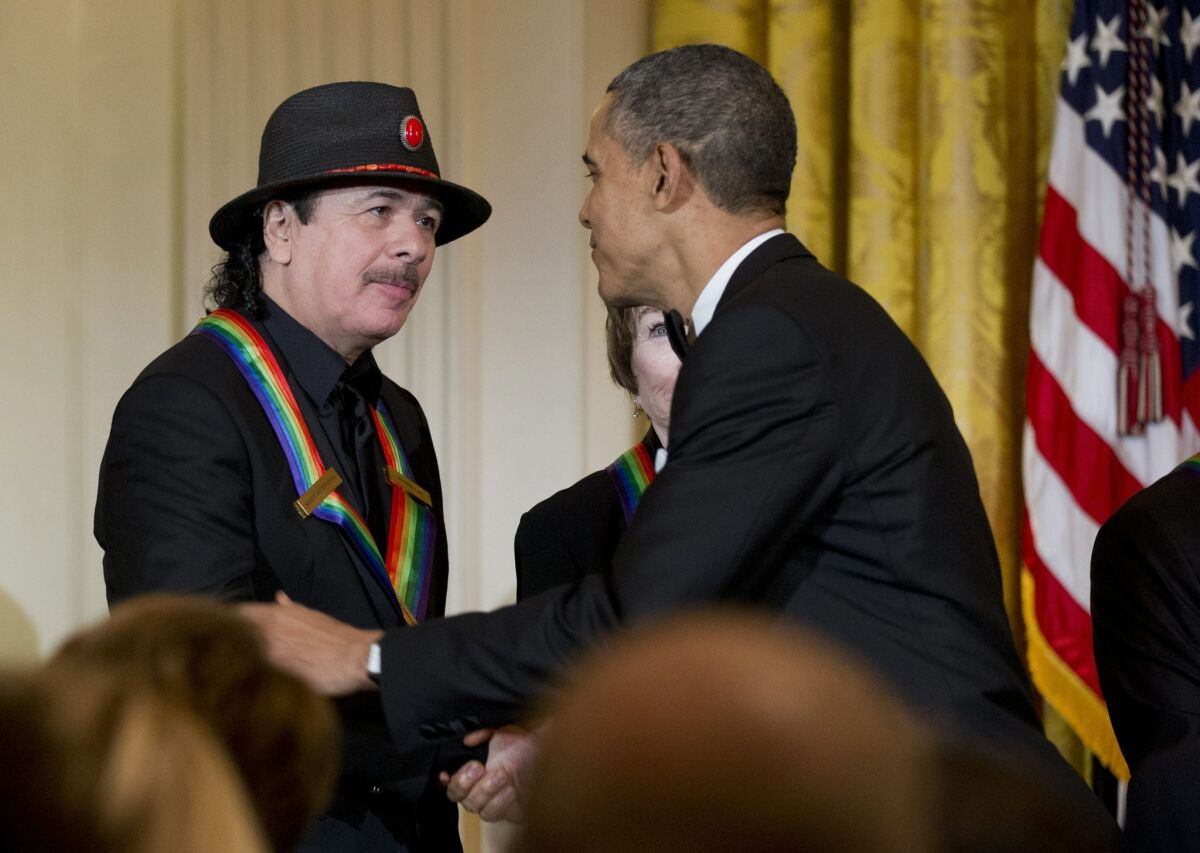 'I was blown away' by Buika
The daughter of African parents Equatorial Guinea, Concha Buika only uses her last name professionally. She was born, and grew up, on the Spanish island of Mallorca, where she learned flamenco music.
As a teenager, Buika sang in jazz clubs on Mallorca and Ibiza, before eventually ending up as a single mother in Las Vegas. Before returning to Spain, she supported herself in Las Vegas by singing in a nightclub as a Tina Turner impersonator.
She has been a star in Spain since the release of her second album, 2006's "Mi Niña Lola," and counts Cuban pianist Chucho Valdez and Portuguese vocal star Mariza among her past collaborators. Santana discovered Baiku more recently online.
"Because there is now no more Tower or Virgin Records stores — like everybody else — I go surfing in the middle of the night looking for new music from Africa," the guitarist recalled. "She showed up and I was blown away. I woke up my wife and said: 'Listen to this!' Then we downloaded Buika's music."
Fast forward to "Africa Speaks."
The album was produced by Rick Rubin, whose past credits range from Johnny Cash and the Beastie Boys to the Dixie Chicks and Black Sabbath. Before Rubin and Santana began recording, he asked the guitarist if he wanted to use the same format as "Supernatural," which featured such musical guests as Rob Thomas, Lauryn Hill, Eric Clapton, Dave Matthews, Everlast, Maná and Cee-Lo Green.
"Rick said to me: 'On "Supernatural," you had many vocalists. How many do you want on this album'?" Santana recalled. "I thought we needed maybe just one person who could do the interpretations of all these musical templates from Africa. It worked out perfectly. And I hadn't even met Buika, or shook her hand, when she came to Shangri-La Studios (in Malibu) to record her parts, because we were on tour in New Zealand and Australia at the time.
"But she just knew what I wanted. We recorded 40 songs and used 11 on 'Africa Speaks.' Buika later told me that, as soon as she heard the music, she knew exactly what to do. She wrote new music, new melodies and things she had never done. She, Rick and my band were all compelled by the grand design to put this album together, without thinking about it, just by being present and lucid."
Santana singer Vargas, who began singing in his father's band at the age of 7, agreed.
"Watching Carlos put together this album was quite an amazing experience," he said. "And to listen to the sounds and rhythms he experimented with and then have Buika come in was amazing. It was a great idea to feature her, because Buika has so many different flavors and each song is a different journey. Its definitely the same artist singing most of the music. But each song, to me, comes from a totally different place. I'm really enjoying the album and I love that I was able to participate on it."
Vargas, like Santana, is the son of a mariachi band leader from the Mexican state of Jalisco. For the current Santana tour, Vargas is doing the vocal parts from "Africa Speaks" that are performed on the album by Buika.
"It's amazing — Andy has had no problem interpreting on stage what Buika does on the album," said Santana, who in 2013 was named a Kennedy Center Honors recipient.
"We'll probably do four or five songs from 'Africa Speaks' on this tour and we do plan on inviting Buika to do four or five shows with us this year," Santana continued. "And, next year, we're planning on doing just this album live (in smaller venues) with Buika. And we'll let people know ahead of time that we'll only be doing the music from 'Africa Speaks' — and not 'Black Magic Woman' and 'Maria, Maria'.
"The master plan now is to keep creating music with the same intensity and intention as Bob Marley, John Lennon and Marvin Gaye. I call it: 'Mystical medicine music to heal a twisted, crooked world.' That's why music is very needed right now."
In a 2016 Union-Tribune interview, Santana charged that then-presidential candidate Donald Trump was peddling fear and compared him to Richard Nixon.
Does the guitarist feel greater concern or frustration at the increasingly polarized state of the nation?
"No," he replied. "I don't feel frustration. I feel very very empowered. Because I feel like the more people are infected with fear, the more we can disinfect them with joy."
Recalling how people banded together to help each other after the 1989 earthquake that struck San Francisco, the longtime Bay Area resident said: "Unfortunately, it takes catastrophic events to make human beings wake up. But we don't need a catastrophic event to to realize that that we don't need flags, borders, 'patriotism' or politicians. We don't need anything. Because we can just share, like at Woodstock, where people shared their blankets, their food and their spirit.
"This may sound like 'Kumbaya' to a lot of people. But this kind of 'Kumbaya' will always kick your ass."

Carlos Santana bonus Q&A
Q: You're not a hip-hop artist, but I'm intrigued with the way you sample music, in a manner, to build songs on top of on your new album, as you do with the Mau Chao song "Abatina" on "Breaking Down the Door" and the Rahcid Taha/Steve Hillage song "Barre Barre" on "Los Invsibles." Can you discuss this approach?
A: I tapped into what Miles (Davis) used to say: "You take what you need." And Tony Bennett says: "If you take from one person, it's stealing — if you take from many it's research." I've been researching for a long time.
Q: Except for your collaboration back in the day with Flaco Jimenez, I don't recall you recording with accordion before on one of your albums, like you do on "Breaking Down the Door" on your new "Africa Speaks" album. Your dad was a violinist and mariachi band leade. Did his band ever feature an accordion?
A: Yes, my father started as a singer when I was a child in Autlán de Navarro in Jalisco, Mexico, and his band used to have accordion contrabass, cello, violin and guitar. The accordion on "Breaking Down the Door" was not a tribute to my father; it was just because I've been enough times to Paris now to know the accordion is a very romantic instrument — and also in Argentina with (Astor) Piazzolla. It adds a very romantic essence.
Q: Not long after Woodstock, you were playing with your band at the Fillmore East in New York and Miles Davis and Tito Puente were sitting together in the balcony, facing you. Was that intimidating? Exciting? Both?
A: Miles was constantly backstage, asking me questions. He said: "Do you have a wah-wah pedal yet? You got to get yourself a (expletive) wah-wah. I got one!" Miles would call me many times and when he would check on me, he would say: "What are you doing?" I would always answer: "I'm learning and having fun." And he would say: "You're always going to be doing that, because that's the kind of mind you have." I feel really honored that Miles and (Fillmore honcho) Bill Graham went out of their way and adopted me and tutored me... Two Fridays ago, this gentleman came to hear us, Mr. Roy Haynes, and he stayed for the whole concert. Cindy (Blackman Santana) and I were both in seventh heaven, because Roy is the link between Lester Young, Billie Holiday, John Coltrane, Chick Corea... he's played with everybody! He came to see us and he was having a good time. After the concert, he constantly sang, no matter what topic the conversation was about: "Ain't nothing like the real thing, baby!" He kept doing that, over and over.
Q: Roy is 94 and he's still drumming and leading his band. How inspiring is that?
A: Yeah, I look forward to aging gracefully like that.
Q: A few years ago, you did a Hollywood Bowl concert with a band that featured Cindy, Wayne Shorter and Herbie Hancock. Any plans to regroup?
A: The rascal in this Mexican has a concept for a band: Two geniuses — Wayne and Herbie — two 'Fros — (bassist/singer) Esperanza Spalding and my wife — and a Mexican! It's not impossible. "Two Geniuses, Two 'Fros and a Mexican."
Q: Didn't you used to have an Afro at one time?
A: I did! A kind of Mexican Afro.

Santana, with the Doobie Brothers
When: 7 p.m. Sunday
Where: North Island Credit Union Amphitheatre, 2050 Entertainment Circle, Chula Vista
Tickets: $43-$273, plus service charges
Online: livenation.com
Sign up for the Pacific Insider newsletter
PACIFIC magazine delivers the latest restaurant and bar openings, festivals and top concerts, every Tuesday.
You may occasionally receive promotional content from the Pacific San Diego.