Tower Records founder Russ Solomon dies while watching Oscars and drinking whiskey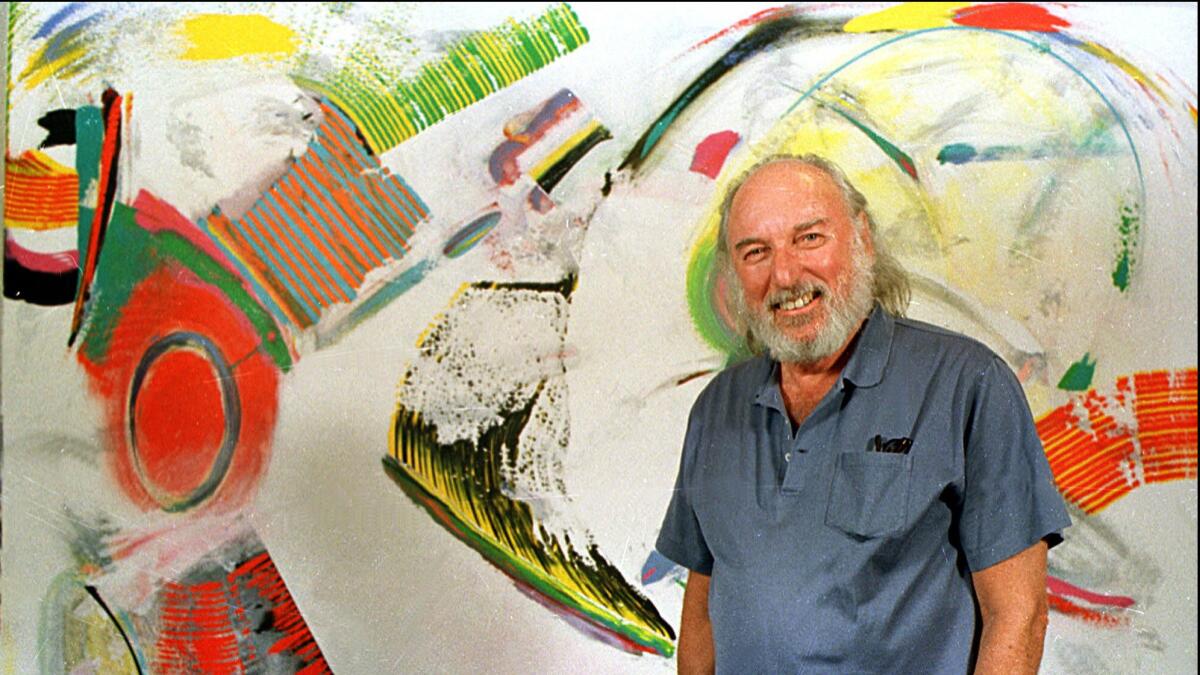 Russ Solomon, the founder of Tower Records, died Sunday night of an apparent heart attack. He was 92.
Solomon, who transformed his Sacramento record store into an international chain that included multiple San Diego locations, was watching the Oscars telecast with his wife, Patti, and drinking a glass of whiskey at the time of his death.
"Ironically, he was giving his opinion of what someone was wearing that he thought was ugly, then asked Patti to refill his whiskey," Solomon's son, Michael, told the Sacramento Bee. "When she returned, he had died."
Solomon founded the precursor to Tower Records in 1941, when he opened the Tower Record Mart in 1941 in his native Sacramento. A San Francisco branch opened in 1968, followed by a Tower Records store in Hollywood in 1970. Tower grew to more than 100 locations in 20 states and 18 countries, including Japan, where independently owned and operated Tower stores continue to thrive.
A self-described "aging hippie," Solomon transformed Tower into a global force that — at its peak — was a billion dollar company. In 1990, Solomon was ranked No. 335 on the annual Forbes' list of the 400 richest Americans.
Tower filed for bankruptcy in 2004, but Solomon bounced back and persevered until 2006, when a second bankruptcy led to Tower's dissolution.
"You may be crazy, but you do it anyway," Solomon said at the time. "It's a little like a painter that gets to retirement age and doesn't retire."
The chain's store across from the San Diego Sports Arena was especially popular before and after concerts at the sprawling venue. Elton John and Michael Jackson were among the superstars who shopped at the Tower outlet in Hollywood.
Woody Allen filmed a scene for his movie "Hannah and her Sisters" at the Tower store in Manhattan's East Village. Dave Grohl, of Nirvana and Foo Fighters fame, once worked at the Tower store in Washington D.C.
Solomon was born Sept. 22, 1925, in Sacramento. He was the subject of the 2015 film documentary "All Things Must Pass," which chronicled the rise and fall of Tower.
According to Solomon's son, there will be no memorial service or funeral, but there will be a large private party for family and friends. Solomon is survived by his second wife and two sons from his first marriage, Michael and David.
What is your favorite Tower Records memory?
Tower Records had multiple San Diego locations over a period of several decades. Tell us about your favorite Tower memory, here or elsewhere, in the comments section below.
george.varga@sduniontribune.com
Twitter @georgevarga
---
UPDATES:
6:10 p.m.: Updated to include number of Tower Records stores at chain's peak and number of states and countries in which Tower had outlets.
Sign up for the Pacific Insider newsletter
You may occasionally receive promotional content from the Pacific San Diego.