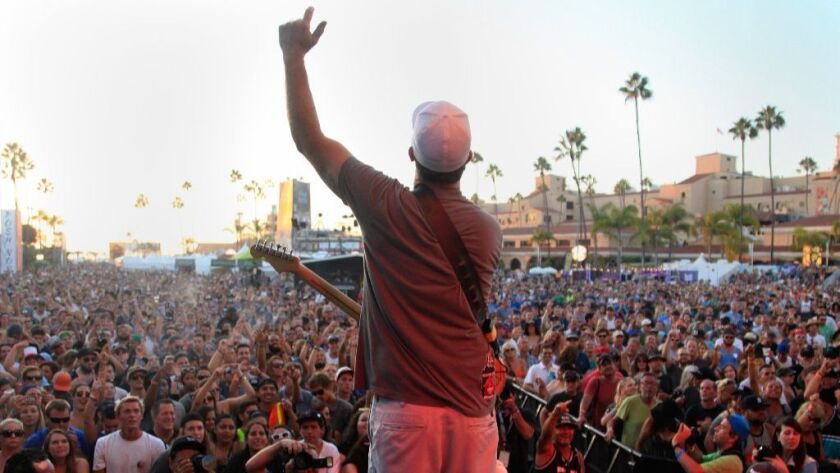 KAABOO isn't ready to rest on its laurels after just three years, but it is ready to expand to another country.
The upscale music, comedy, art, gourmet cuisine and indulgences festival will celebrate its fourth anniversary Sept. 14-16 at the Del Mar Racetrack and adjacent fairgrounds, then debut its new KAABOO Cayman Feb. 15-16 on Grand Cayman's Seven Mile Beach in the Caribbean.
While it will have a smaller daily capacity than its Del Mar counterpart — 10,000 rather than 40,000 — the new 2019 festival on the largest of the three Cayman Islands will mirror the Southern California event in many ways. Both are located within a stone's throw or two of the ocean, although KAABOO Cayman attendees will be able to take a dip in the sea and still be on the festival grounds.
"In terms of look and feel, it will be very, very consistent with Del Mar," said Jason Felts, KAABOO's chief brand and marketing officer. "The musical lineup will be 100 percent consistent. We'll have a combination of bucket list artists — like Tom Petty and Aerosmith — and today's hit-makers — like The Chainsmokers and Kesha — that you've seen at KAABOO Del Mar. So, from a brand perspective, guests who attend KAABOO Del Mar will feel very much at home at KAABOO Cayman."
The new festival on Cayman Island will also mirror KAABOO Del Mar in another way, with a limited number of discounted early-bird tickets going on sale before a single act has been announced.
Prices for KAABOO Cayman range from $187.50 for a general admission Thatch Pass to $15,000 for an Ultimate Hang VIP Pass (the same price as an Ultimate Hang pass for the Del Mar festival). Tickets for the festival, announced last night at a private, cell phone-free reception on Grand Cayman, are now available at kaaboocayman.com.
One VIP package that won't be discounted is the Dream Pass, which costs $500,000 and is limited to just one pass for four people. It includes round-trip transportation, use of a yacht, a villa staffed with a chef and butler, a private viewing area for KAABOO Cayman's two stages, priority meet-and-greets with the festival's performers and unlimited food and drink. (The price of $300,000 originally provided for this article was incorrect, a KAABOO representative said Friday.)
"Some people want super VIP amenities and some just want to come, so we have a price point for everybody. I'd say our target demographic at KAABOO Cayman is very consistent with Del Mar," Felts said.
VIP passes with six-figure prices bring to mind last year's aborted Fyre Fest, which billed itself as "Coachella in the Bahamas." The festival promised a headlining performance by the San Diego-bred band blink-182, which withdrew several days ahead of its scheduled performance after determining the festival lacked sufficient infrastructure.
Fyre crashed and burned before it ever took place, resulting in litigation that is still pending against its fledgling producers, who promised a luxurious event that never materialized.
"You're the first person to bring Fyre Fest up," Felts said. "The good news is we're not Fyre Fest. They had (bad) timing and a lack of operational experience, professional gravitas, money and a sophisticated environment for their festival. They were on a deserted island; we could not be further from a deserted island.
"KAABOO Cayman is a few steps north of the brand new Kimpton Seafire Resort & Spa and there's a huge range of three- to five-star hotels. … The biggest thing we've learned with KAABOO Del Mar we're applying to KAABOO Cayman is to make sure we do everything right, not fast. We operate our business, KAABOO LLC, with an extreme level of professionalism and thoughtfulness. And, yes, we're music fans, but we're here to run a business, not to party."
To that end, KAABOO is spending a significant amount on infrastructure at the 39 acres the festival will occupy on Seven Mile Beach. The Cayman Island festival has been in the works for two years, Felts said, and will have had three years of preparation time before it launches in February.
"It was paramount to us to ensure we had a destination that was in close proximity to the U.S., and Grand Cayman is an hour from Miami and has direct flights from seven North American cities, from Toronto to Atlanta. We also wanted a destination that had a sophisticated infrastructure and was safe. Grand Cayman is, arguably, the safest island in the Caribbean — safety is very important to us — and is the third largest financial center in the world."
Might that financial center in the Caymans include offshore banking entities?
Felts, 41, laughed.
"Maybe that was the case before I was an adult," he said. "It's actually quite funny. I don't know if it's because of Hollywood and movies where there is always that point where a terrorist says: 'Wire that money to the Caymans!' But that (image) cannot be further from the truth. There is full transparency. And you cannot open a bank account with ease if you are a U.S. company, as we are."
KAABOO is the brainchild of Bryan E. Gordon. He is the chairman of The Madison Companies, LLC, a Denver-based private investment holding company with multi-billion-dollar holdings. Felts is the CEO of Virgin Produced, the entertainment division of Richard Branson's worldwide Virgin business empire, which includes Virgin Airlines, Virgin Railways and Virgin Hotels.
The marketing for KAABOO Cayman will include the seven North American markets that have direct flights to Grand Cayman. Attendees of KAABOO Del Mar will also be targeted.
"It has always been Bryan's desire to not have KAABOO be a one-weekend event and have it be a lifestyle brand people can enjoy throughout the year," said Felts, who does not anticipate a third KAABOO location being added anytime soon.
Coachella, the world's most successful annual music festival, had been in existence for nine years before launching its country-music counterpart, Stagecoach. And it did so at the same location where Coachella is held, the Empire Polo Club in Indio, not on an island in the Caribbean.
Yet, while some may regard KAABOO Cayman as a gamble, Felts and Gordon are confident that isn't the case.
"Absolutely not," Felts said.
"We have made a long-term commitment to the Cayman Islands and our KAABOO brand. If I was not sitting on Grand Cayman right now — looking at Seven Mile Beach, flights coming in, four cruise ships and I don't know how many hotels — it would be a gamble.
"But, because all those elements are in place, it's not."
george.varga@sduniontribune.com
Twitter @georgevarga
---
UPDATES:
3:45 p.m.: The producers of KAABOO provided an incorrect price for the KAABOO Cayman festival's top Dream Pass VIP package. The price for four people is $500,000, not $300,000.
---