Analysis: Grammy Awards a split decision, with upsets and setbacks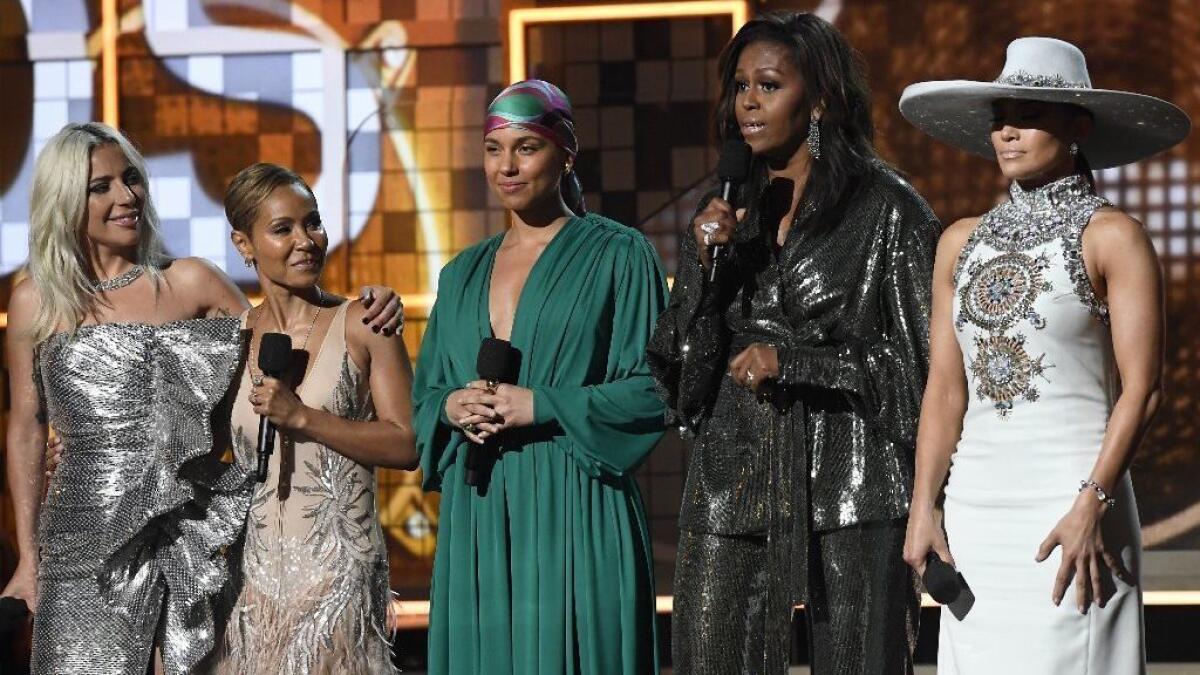 LOS ANGELES —
If there was a Grammy Awards category for Best Damage Control, the likely winner would be the Grammys themselves.
Make that half a Grammy, since Sunday's 61st edition of the music world's most prestigious — and, of late in particular, controversy-marred awards show — was a classic case of several steps forward and several back, and of history being made for the better and repeated for the worse.
That paradoxical situation reinforced how — after years of ups and downs — it will still take more time for the Grammys to right themselves, especially in the wake of last year's telecast.
That 60th anniversary edition saw women artists marginalized to an alarming degree and hip-hop artists fared even worse. Jay-Z, who had a field-leading eight nominations, went home without a single win. And he, Kendrick Lamar and Childish Gambino lost to middle-of-the-road pop-funk star Bruno Mars in the night's biggest categories.
Those snubs went viral with the hashtags #GrammysSoMale and #GrammysSoWhite.
Since then, the Recording Academy — under whose auspices the Grammys are presented — went into major damage control mode. The results this year are perhaps best embodied by just two key words: "if" and "but."
If on Sunday the record number of women nominees had prevailed in all of the top four categories — Best New Artist and Album, Record and Song of the Year — it would have been a precedent-setting night. But they didn't.
If on Sunday one of the hip-hop nominees would have won for Album of the Year for the first time since 2004 — when Outkast became only the second hip-hop act to ever win in this category — it would have been a precedent-renewing night. But they didn't.
It was in 2004, incidentally, that the Grammys were last hosted by a woman. On Sunday, Alicia Keys did the honors and brought verve and energy, if not much gravitas, to her role.
She was joined on stage at one point by former First Lady Michelle Obama,Jennifer Lopez (who later, inexplicably, performed as part of a frenzied Motown Records tribute), Lady Gaga (who won three awards Sunday) and Jada Pinkett Smith (whose husband, Will Smith, won the first-ever Best Rap Performance Grammy back in 1989).
The female-centric focus was further reinforced during Janelle Monáe's propulsive performance of "Make Me Feel," during which she declared: "Let the vagina have a monologue."
Along with Carlile, Monáe was this year's most openly gay female Grammy performer. Intriguingly, while her concerts usually find Monáe wearing stage attire that covers nearly all of her body from neck to knees or feet, on Sunday she opted for a skin-tight black and white latex outfit with fishnet stockings.
Ultimately, though, Sunday was a day of off-setting wins and losses, a split decision that proved both hopeful and frustrating.
Country-pop troubadour Kacey Musgraves won four awards, including an upset victory for Album of the Year with her aptly titled "Golden Hour." Dua Lipa won for Best New Artist, a category in which five of the eight nominees were women.
"It looks like women have stepped up," Lipa said as she accepted her award on a night that saw Cardi B become the first female artist to win for Best Rap album and Americana singer-songwriter Brandi Carlile won three awards.
But all of the wins for Carlile — who delivered one of the most stirring performances of the night with her diversity-championing "The Joke" — came in the pre-telecast portion of the show. And the pre-telecast, in which all but nine of the 84 awards were presented, embodied diversity in a much more through and meaningful way than the three-hour-and-42-minute telecast that followed.
Actor/musician Donald Glover, who records under the name Childish Gambino, won in four categories and became the first hip-hop artist to win for Record and Song of the Year — for his powerful social commentary, "This is America." Both wins were historic.
But Gambino declined an invitation to perform and did not attend Sunday's show. So did fellow hip-hop star Kendrick Lamar, another sign of the continuing fallout from last year's Grammy telecast. Drake, one of this year's top nominees, did appear to claim his Best Rap Song award but also opted not to perform.
Moreover, Drakes's acceptance speech was cut off, as were those of Lipa and Cardi B, which prompted the new expression "they got Draked."
Speaking backstage, Ludwig Göransson — who co-wrote "This Is America" with Glover and Jeffrey Lamar Williams — said he had not yet spoken to Glover and did not know where he was.
Had Glover, Lamar and Drake performed, they would likely have injected more of the same edge that the night's only two hip-hop performers — Cardi B and Travis Scott — brought to their respective performances.
Still (and unfortunately), there was historical precedence to this apparent boycott. In 1989, the first year that the Best Rap Performance Grammy category debuted, the award went to DJ Jazzy Jeff & The Fresh Prince, who declined to appear that year after learning their category would be relegated to the pre-telecast portion.
That may have made Sunday's appearance by Smith's wife, Jada, an overdue attempt at fence-mending.
With or without any mending, Sunday was a good night for senior citizens.
Motown-bred superstar Diana Ross, 74 — who has never won a Grammy— performed two songs.
Dolly Parton, 73, was given 12 minutes to do a medley of her hits with a slew of younger guest artists — including her goddaughter, Miley Cyrus — one of the longest Grammy performance slots in recent memory.
Blues giant Buddy Guy, 82, won his ninth Grammy, for Best Blues Album, while jazz sax legend Wayne Shorter, 85, won for Best Jazz Instrumental Album.
Producer, composer and arranger Quincy Jones, also 85, won his 28th Grammy — and first in 17 years — for Best Music Film (for "Quincy").
That makes him the living artist with the most Grammy victories in the history of the 61-year-old awards, although he was not Sunday's oldest winner, an honor that went to former President Jimmy Carter, 92, who won his second Grammy in the Best Spoken Word Album category.
At the other end of the spectrum was six-year-old Darius Kalantari, who plays a cello solo on one song on "All The Sounds," which won this year's Best Children's Album Grammy and was made by his mother's band, Lucy Kalantari & The Jazz Cats.
Asked backstage how he felt about sharing in a Grammy victory, Darius Kalantari said "yes" when asked if he thought it was cool to win.
He became more vocal on an unrelated topic.
"My dad didn't bring enough books (this weekend), because he only brought three and I finished all theee of them. Now I have nothing to read. I suggest a Kindle."
More Grammy coverage
Preview: Will 2019 be a banner Grammys year for women, or just a big bust?
Nominees: Complete list of 2019 nominees
Review: Dolly Parton reunites with Linda Ronstadt, Emmylou Harris at Grammy MusiCares gala
Nominees: Complete list of 2019 nominees
Twitter @georgevarga
Sign up for the Pacific Insider newsletter
You may occasionally receive promotional content from the Pacific San Diego.