Review: David Byrne performs transcendent San Diego concert before heading to his Coachella performance
It took David Byrne 35 years to top himself. But, as his remarkable, bar-raising San Diego Civic Theatre concert Thursday night vividly demonstrated, the wait was well worth the intervening three-and-a-half decades.
In late 1983, Byrne — then the leader of the shape-shifting rock band Talking Heads — teamed up with director Jonathan Demme, who filmed three Talking Heads' concerts at the Pantages Theater in Hollywood.
The result was 1984's stunning "Stop Making Sense," which set a new conceptual, musical and visual standard. It still stands as one of the definitive rock concert films — and an enduring demonstration of how a live performance, even one carefully edited together from three concerts, can be visceral and theatrical, playful and provocative, robust and refined.
Alas, Talking Heads began to implode by the end of that same decade. The band reunited only once, in 2002, for its induction into the Rock and Roll Hall of Fame. Byrne, meanwhile, has released at least 15 albums since 1989. He has also embarked on multiple tours, including his joint 2012 trek with St. Vincent, in support of their collaborative album, "Love This Giant." The tour included a stop here at Humphreys Concerts by the Bay, where Byrne and St. Vincent were accompanied by a group with nearly enough brass players for a small marching band.
In some ways, that 2012 jaunt served as an early blueprint for Byrne's 2018 "American Utopia" tour, which takes its name from his latest solo album. But what was tentative and only partially realized six years ago — in part for budgetary reasons, in part because of the uneven balance between Byrne and St. Vincent — has now blossomed into a transcendent, potentially game-changing tour.
Like "Stop Making Sense" back in the last century, the "American Utopia" tour all but redefines what a concert experience can be, for performers and attendees alike. That was demonstrated at Thursday's concert, almost from start to finish.
The new tour's heady level of ambition is matched by its expert delivery. That's doubly impressive given how many intricately moving parts are in play at every moment Byrne and his skilled, 11-piece ensemble are on stage.
Seemingly every note played during their 141-minute Thursday concert was matched by a corresponding series of motions. Multiply that by the constantly changing number of performers on the large stage — and by the dizzying number of constantly shifting configurations by those performers — and you can understand why no one has mounted an undertaking like this before.
As one recent pre-tour report attested, it took a full 90 minutes for Byrne's band and technical support crew to rehearse the blocking and lighting of a single transition on stage. Then consider that this is a concert with an untold number of transitions.
Byrne was mostly stationary for his opening number, "Here," which he performed — sans band — seated at a table in the center of the stage. While holding a mock human brain, he sang such arch couplets as: Here too many sounds for your brain to comprehend / Here the sound is organized into things that make some sense / Here there is something we call hallucination / Is it the truth or merely a description?
Those lyrics served as a suitable prologue for the often riveting performance that followed. The concert managed to be eye-popping despite an almost complete lack of props — the table, chair and faux brain constituted three of the five props used — and nary a hint of pyrotechnics.
The focus was on the music and the movement of the performers. It was a marriage of sight and sound that yielded rich rewards, even in the few instances when Byrne couldn't quite hit a note as he sang.
At the Civic Theatre — where he and his two-woman, nine-man band will play another sold-out San Diego date Tuesday — the stage was completely bare.
There were no amplifiers, monitor speakers, risers or electronic power cords to be seen. All of the microphones were wireless and worn as unobtrusive headsets. The only backdrop was the thousands of strands of long silver chains, which served as a curtain at the rear and to both sides of the stage.
It was a shimmering curtain the band members could easily walk through at any point, in any direction, or which through a guitar could be handed in either direction. In a manner, the curtain was a featured performer, albeit a silent one.
Six of the 11 musicians in Byrne's band are percussionists, who ingeniously divided and played the parts of one drummer and one percussionist. What resulted was both minimalistic and expansive, sophisticated one moment, primal the next, sometimes both at once.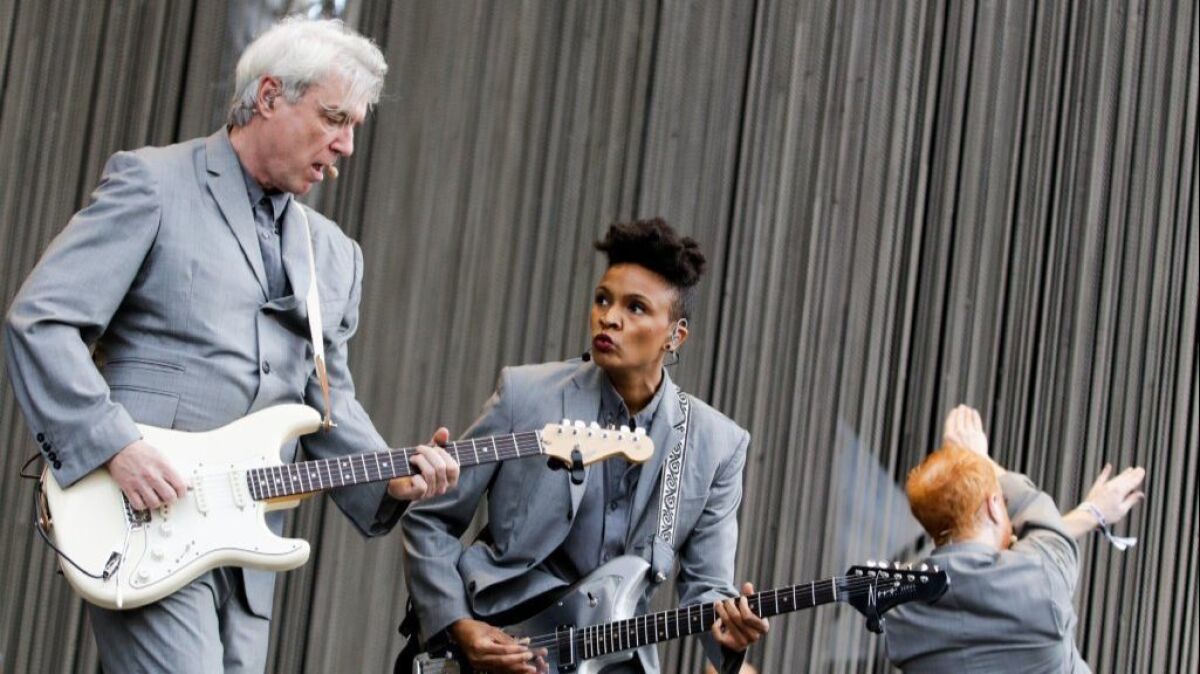 Apart from the guitar straps used by Byrne, bassist Bobby Wooten and ace guitarist Angie Swan, all the other band members — from keyboardist Karl Mansfield to snare drum and mounted hi-hat player Aaron Johnston — wore harnesses to hold their instruments.
This enabled each to freely move across the large stage, although all of their moves were precisely choreographed and executed. Mobility, whether upward or not, is a key ingredient in this performance.
Each band member was barefoot. Each wore an identical gray Kenzo suit. The number of musicians and instruments varied on virtually all of the 21 songs performed. Eight — including "Slippery People," "The Great Curve" and "Burning Down the House" — were from the Talking Heads' songbook, but each was deftly re-arranged in a manner that made them sound both fresh and familiar.
Happily, Byrne and his ensemble were just as impassioned enthusiastic and engaging on "Like Humans Do," "Toe Jam," the disco-fueled "Dancing Together" and other songs from his post-Talking Heads' career. The loudly enthusiastic audience rose to its feet after the conclusion of Talking Heads' "I Zimbra," the evening's third selection.
Multiple standing ovations followed. Many in the crowd danced for a good number of the songs, encouraged by the insistent rhythms and bassist Wooten's percolating lines.
The band's ability to shift from funk and rock to an array of Latin and African styles — or to meld them at will — was impressive. Then again, some of Byrne's band members have previously worked with Brazilian music legend Gilberto Gil and West African dynamo Angelique Kidjo, so their flexibility is no surprise.
When needed, keyboardist Mansfield would trigger an impressively un-synthetic sounding horn sample, be it a baritone sax on Byrne's recent single, "Everybody's Coming to My House," or a tenor sax on the Talking Heads' favorite "Blind."
But the overall shift to percussion from the brass-dominated arrangements featured on Byrne's 2012 concert tour with St. Vincent was a savvy one. It made the songs both more propulsive and more airy.
Now 65, Byrne remains a charismatic front man, whose herky-jerky dance moves — as in the 1970s and '80s — make him more endearing. Whether accidentally or (more likely) deliberately, red-bearded backing singer Chris Giarmo's own dance moves seemed designed to make Byrne seem more graceful by comparison.
The song lyrics on parts of the "American Utopia" album exude a decidedly dystopian tone about the state of our polarized nation.
But Byrne largely refrained from making any political commentary in his remarks to the audience, apart from encouraging his listeners to vote in the upcoming midterm elections and endorsing HeadCount, the nonprofit organization that will be registering voters at his Tuesday Civic Theatre concert.
But there was no mistaking the commentary in Byrne's concert-concluding reinvention of Janelle Monáe's chilling "Hell You Talmbout," a 2015 protest song that, sadly, rings even more true today. A mesmerizing lament about senseless killings and a call to arms, it provided a memorable coda to an unforgettable concert.
george.varga@sduniontribune.com
Twitter @georgevarga
Sign up for the Pacific Insider newsletter
PACIFIC magazine delivers the latest restaurant and bar openings, festivals and top concerts, every Tuesday.
You may occasionally receive promotional content from the Pacific San Diego.