Security way up at outdoor San Diego concerts in wake of 2017 Las Vegas music festival massacre
Send in the drones.
Along with 3-D mapping and a beefed-up police presence that can include officers armed with assault rifles, the growing use of drones is just one of the enhanced security measures some outdoor concert venues in San Diego have enacted in the wake of last fall's Route 91 Harvest festival massacre in Las Vegas.
The timing is sound. Security measures have been refined and enhanced as San Diego's already busy summer concert season is about to heat up even more, starting with this weekend's opening of the San Diego County Fair.
The goal could be life-saving.
On Oct. 1, a lone gunman in Las Vegas shot and killed 58 people — including a San Diego attorney — from his hotel room in the adjoining Mandalay Bay Resort and Casino. An additional 851 people were injured at the country-music festival.
The tragedy in Nevada followed a suicide-bombing that killed 22 people at pop vocal star Ariana Grande's May 2017 arena concert in Manchester, England, and 18 months after 90 people died in a terrorist attack during the rock band Eagles of Death Metal's 2016 show at the Bataclan concert hall in Paris.
The impact of these horrific events continues to be felt across the music and live-entertainment industries. So does the terrorist threat at last summer's Rock am Ring music festival in Germany, a threat that resulted in the weekend fete shutting down for a day and the evacuation of an estimated 90,000 attendees.
"Because of the new threats that have arisen as a result of what happened in Las Vegas and with Ariana Grande, we have to have more officers assigned, regardless of who the performer is," said San Diego State University Police Chief Josh Mays.
His 32-officer force oversees concert security at the school's Viejas Arena, the nearby Cal Coast Credit Union Open Air Theatre at SDSU — both operated by the Associated Students — and at other campus events. For the past five years, the campus police force has used a mobile command vehicle, from which it can launch drones, monitor camera feeds and, more recently, access satellite imagery.
"The threat-landscape is evolving so quickly — almost daily — that we don't really have a road map that says: 'There's going to be an elevated risk level here versus a lower risk level there'," Mays said. "We make sure, days in advance, rooftop access (adjacent to event sites) is locked and that buildings are secure. Post-Las Vegas, we take into account elevated points as part of our overall assessment."
'Things have changed'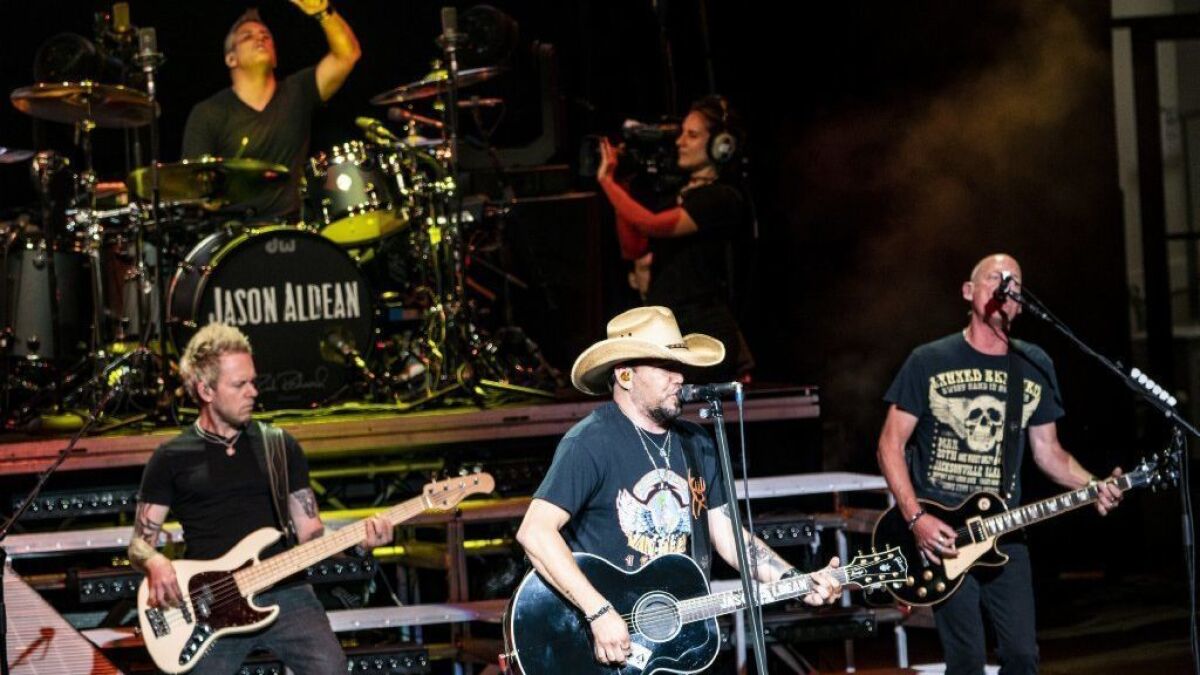 Many other outdoor venues in San Diego County are taking new steps to further ensure the safety of concertgoers. Some of those steps are readily visible, others deliberately not.
"We do an in depth threat-assessment prior to each concert," said Dean Almodova, director of guest safety at Pala Casino, Spa & Resort.
"For the casino industry, the October (massacre) hit closer to home because it took place in Las Vegas. From a security perspective — and this is just my own opinion — what happened there appears consistent with where this country is right now, with the shootings in Texas and Florida. It's just the world we live in. But we've been living in that world for several years now."
Several area casinos that host outdoor summer concert series, including Pala and Viejas, now screen the luggage of all guests checking into the casinos' adjacent hotels. As in previous years, the casinos' security teams check the bags of all concertgoers and use metal detectors for each attendee. Such precautions are the norm at most outdoor concert venues, where individual searches are also common and the size of bags allowed inside is strictly limited.
When Latin pop vocal superstar Luis Miguel opened the 2018 Mattress Firm Amphitheatre season on May 3, Chula Vista police officers were equipped with assault rifles for the first time in the two-decade history of the nearly 20,000-capacity venue.
They will be similarly armed at each upcoming Mattress Firm Amphitheatre show, with increased armed patrols on nearby hillsides before, during and following concerts. One of those concerts, on Sept. 20, is by country-music star Jason Aldean, who was in mid-song at the Route 91 Harvest festival last fall when the shooting began.
"After Las Vegas, things have changed," said Chula Vista Police Sgt. Frank Giaime, the police supervisor in charge of security at the sprawling venue.
"Years ago, we knew there was the potential for (similar) situations. But we didn't necessarily think it could happen to us, so people didn't really plan for it. Now that it happened in Las Vegas, in the fashion it did, people have come to accept this is the world we live in. And it's a much different world than the one you and I grew up in."
That, alas, it is.
Accordingly, the greater police presence and increased security at outdoor concerts has the dual purpose of providing more safety precautions and serving as a visual deterrent.
"Before (Las Vegas) maybe you would see the (Chula Vista) police in front of the box office at Mattress Firm, more concerned about (ticket) scalpers and making sure everyone got into the concerts in an orderly manner," Sgt. Giaime said.
"Now, we have dogs that can detect explosive devices at all the entrances and armed officers at the east gate, west gate and backstage loading gate. And our officers are now deployed at concerts with assault rifles, hanging down their necks, just in case something happens.
"Look at what happened in Nice, France, in 2016 when a guy in a van jumped the road and started mowing people down on the sidewalk. We realized we had to put things in place to prevent that. Because we never know. We don't necessarily have (advance) intelligence that something will happen or that there's an imminent threat at a concert."
Mattress Firm Amphitheatre is owned and operated by Live Nation, which has produced the Route 91 Harvest festival since its inception in 2014. The company works closely with the Chula Vista Police Department, Sgt. Giaime said, and with Elite Services, the San Diego-based events security company whose red-jacketed employees are ubiquitous at many concerts here and all Padres baseball home games.
"We don't divulge our security plans," said Elite President/CEO John Kontopuls, whose company has provided security at four Super Bowls and countless music events. "But I can assure you that — prior to every event — we work very closely with the facility managers, the police and promoters, including Live Nation."
Live Nation also exclusively books concerts at SDSU's Vijeas Arena and Open Air Theatre. Representatives for Live Nation here and in Los Angeles did not respond to multiple interview requests from the Union-Tribune.
However, in an Oct. 2 statement last year, Live Nation said: "We are heartbroken over the tragedy that took place at the Route 91 Harvest festival. To think that anyone would want to inflict harm on a gathering of music lovers is beyond our comprehension. And while we are stunned and grieving over this incomprehensible act of violence, we know that this is a moment when we must come together to prevent more tragedies like this from occurring."
Intricate equation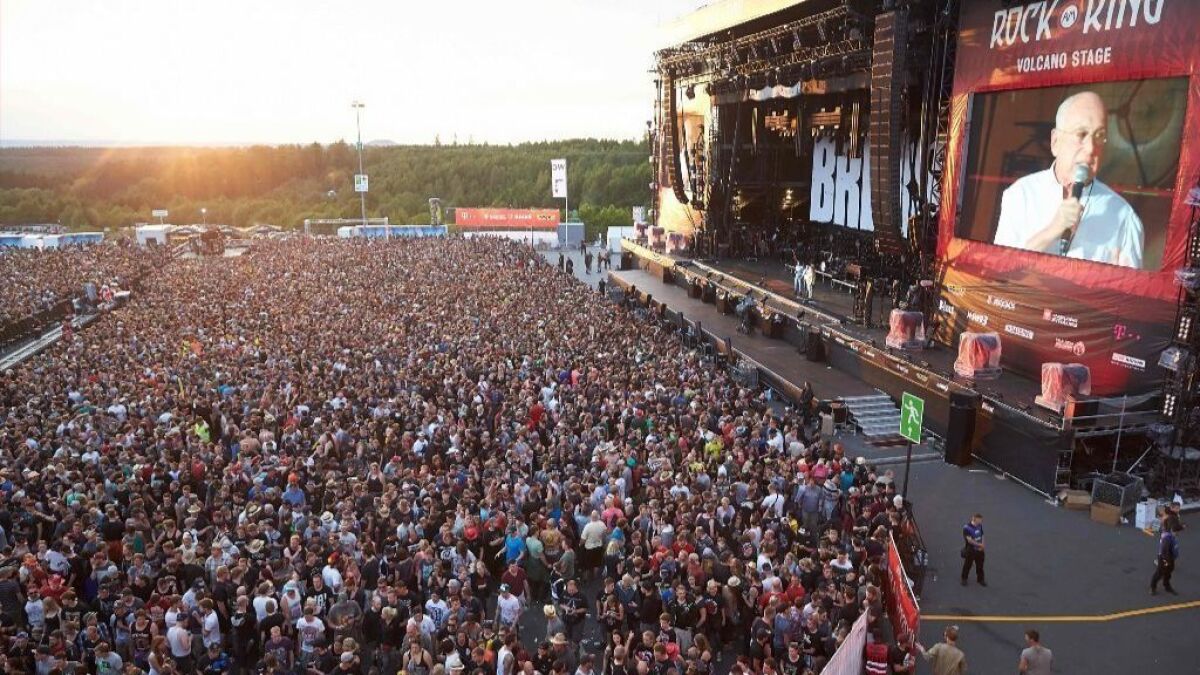 Just how much the security landscape at live-music events has changed since last year can be illustrated by comparing the 2017 and 2018 editions of Coachella, which is produced by Los Angeles-based AEG/Goldenvoice.
When Lady Gaga performed at Coachella last year, she used illuminated synchronized drones as part of her lavish stage show. Gaga did not appear at this year's edition. But drones did, this time to provide enhanced airborne security.
"There's an increased awareness. You have to be vigilant about what's going on and that means increasing security at outdoor events," said John Wojas, San Diego vice president of talent for AEG/Goldenvoice. The company owns a controlling interest in San Diego's Valley View Casino Center and exclusively books Humphrey's Concerts by the Bay.
Both of those venues provide their own security. The website for Valley View Casino Center includes the message: "In light of recent world events, we have opted to take additional measures in our effort to increase public safety within our venue. Along with the enforcement of bag size limits that have recently been introduced, effective immediately, we will be implementing the use of metal detection devices at all venue entrances for all events."
"We're spending more money on security and being more aware than we ever have, because we have to," AEG/Goldenvoice's Wojas said.
"As a concert promoter who has done shows for 25 years, security issues are in the back of my mind way more than they ever have been. It's scary. But I also think we have to not be afraid to go out, live our lives and enjoy ourselves."
Striking a balance between enjoyment and safety is a prime concern for concert promoters and police alike. Ensuring both can be an intricate equation, especially for large annual outdoor events that offer an array of musical and nonmusical attractions.
When the 2017 Albuquerque International Balloon Fiesta was held, an estimated 20-plus local, state and federal law enforcement agencies monitored the nine-day event.
No outdoor San Diego venue appears to require the involvement of that many government agencies. But the heightened focus on security often builds on existing protocols. That is the case at the San Diego County Fair, which last year drew 1.56 million visitors, the second highest number in the event's history.
"Ever since I got here in 1993 — and certainly after 9/11 — we have always taken the safety of our guests and team-members as our number one priority," said Tim Fennell, the CEO of the Del Mar Fairgrounds, which hosts numerous annual events, including the fair, and interacts with the FBI and Department of Homeland Security.
"We put in metal detectors 10 to 12 years ago. We have about 120 cameras on site. We have police Sheriffs details, particularly during big events. During the fair, we have a bike team with current or former police officers. We have bomb-sniffing K9s (police dogs), a horse patrol, an ATV patrol. We monitor our parking lots and we have undercover agents. Those are the things I can share with you; other things I can't."
Representatives for Humphreys Concerts by the Bay and the San Diego Symphony's Bayside Summer Nights series declined to discuss the new measures they have implemented this year. But both venues confirmed they have reviewed and updated their security protocols and emergency procedures.
Humphreys is celebrating its 37th anniversary this year. Located on Shelter Island, the intimate outdoor venue faces a marina to one side and a two-story hotel, the Half Moon Inn, on its other sides.
"Our security people pay extra attention to the hotel rooms," said Humphreys Vice President Bobbi Brieske. "We have security teams on the docks for every show and we fill the hotel rooms facing the stage with band and crew members, whenever possible. If the hotel is not full, those rooms are empty.
"Before every show, we meet with security and the management of the act. We stress alertness and the importance of reporting anything they see that appears suspicious or unusual at any of the entry points, inside the venue or in the surrounding areas of the hotel. I don't want to be too specific, but everyone has to be even more alert than we were before."
Privately sharing information has become de rigueur for police, private security companies and concert and festivals promoters. They who regularly exchange information and tips to ensure maximum safety at events.
"One of the best things is talking with local law enforcement in different cities, and other festival and venue people, about how things are working in their area," said Brett Arendt, the assistant general manager of Dallas-based Ingress Events.
Ingress oversees security for the KAABOO Del Mar festival and works closely with fairgrounds CEO Fennell, the San Diego County Sheriff's Department and private security companies. The fourth annual edition of KAABOO will take place Sept. 14-16.
"But not everything works for every venue," Arendt said. "KAABOO faces the ocean on one side, so we have to think a little differently when we put our emergency procedures and safety plans in place. We re-evaluate each year to make sure we adjust to the threats of the time. At the end of the day, we want everyone to be safe and have a good time."
And what about such land-locked venues as Viejas Casino & Resort in Alpine?
Its 2018 Concerts in the Park series, which kicks off June 15 with Creedence Clearwater Revisited, is held in outdoors directly between the casino's two hotel towers.
"We're very fortunate to have our own armed tribal security department and to have a very high security-to-guest ratio," said Anthony G. San Pietro, Viejas' vice president of entertainment and advertising.
"We have Sheriff's Department officers and Staff Pro security people at all our shows. We have an emergency evacuation plan in place. All bags of hotel guests are checked, before they go into their rooms. There's no access to any of the floors in the hotel for anyone without a key card. We have a system that maps all the windows and overlays the room numbers of the windows. Security people watch both hotel towers during every show.
"You can't plan for everything, but we definitely try to think of everything. If we can't make something safe and provide a comfortable guest experience, we just don't do it."
george.varga@sduniontribune.com
Twitter @georgevarga
Sign up for the Pacific Insider newsletter
You may occasionally receive promotional content from the Pacific San Diego.