Blink-182's Mark Hoppus says he gave U.S. Navy admiral tips on how to capture Saddam Hussein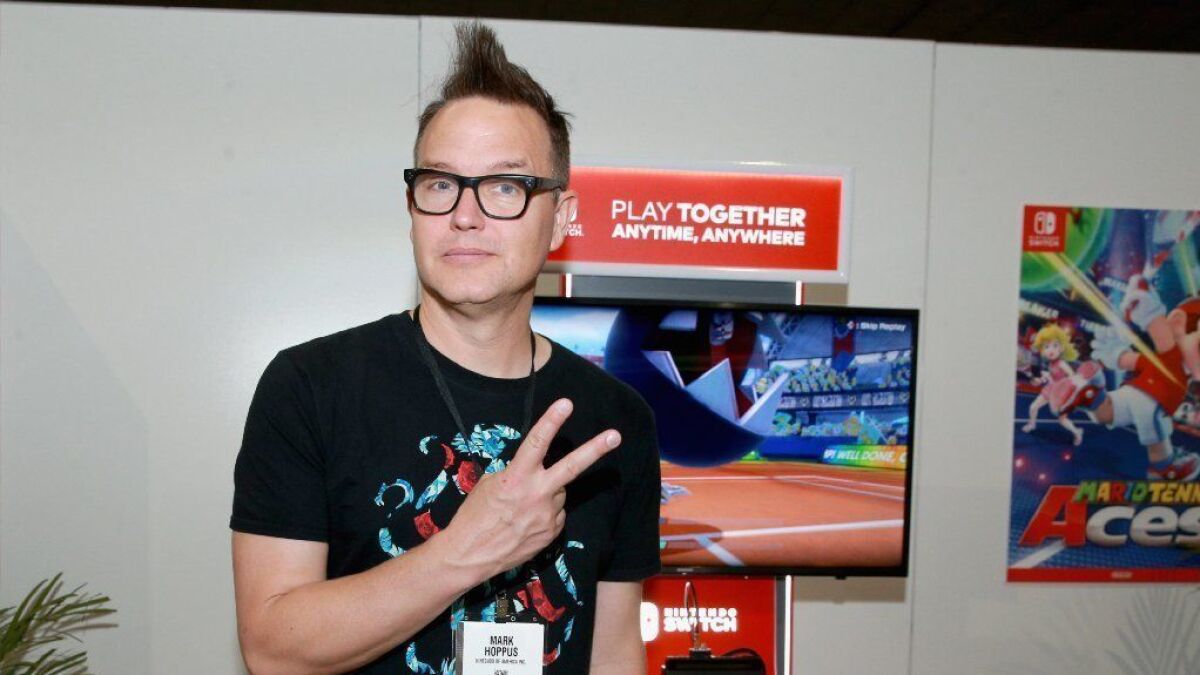 Mark Hoppus, rock star-turned-covert military strategist?
The last time we checked, Hoppus was still the bassist and singer in blink-182. The Poway-bred punk-pop band has toured the world many times, sold millions of albums and scored such hit songs as "Always," "What's My Age Again?" and "Man Overboard."
But there may be more to Hoppus than meets the eye. At least, there may be when it comes to his having devised a plan to depose of at least one anti-American dictator in the Middle East.
On Tuesday, Hoppus took to social media to claim that he once suggested a relatively high-tech plot to help the U.S. military capture Saddam Hussein, Iraq's then-at-large dictator.
Or, as Hoppus, 46, put it in a Tuesday post on his Twitter page: "On an aircraft carrier in the Persian Gulf, I told a Navy Admiral on his way to meet with the Joint Chiefs of Staff my ideas on how to capture Saddam Hussein."
Um, really? When? Where?
Well, in late August of 2003, blink-182 performed at sea in the hangar bay of the USS Nimitz.
At the time, the San Diego-based aircraft carrier was deployed in support of "Operation Iraqi Freedom." It was a multi-national coalition effort whose goal, according to the U.S. Navy, "was to liberate the Iraqi people, eliminate Iraq's weapons of mass destruction, and end the regime of Saddam Hussein."
What, exactly, did Hoppus propose?
He's happy to explain: "At the time, Hussein was in hiding but continued releasing videotaped messages to his followers," Hoppus tweeted Tuesday.
"My idea was to have trucks with big speakers drive around BLASTING time code just out of the frequency range of the video camera's microphone. When Saddam released a tape, he would have inadvertently recorded the same code. Using the time code, you could go back and pinpoint a general radius from where the truck was. With that information you start the search.
"Also, knowing the general area of the recording, you can bring in more trucks to canvas there, and if you don't find him and he released another videotaped message, you can use the multiple trucks' time codes for triangulation, revealing his exact location."
Hussein was captured on Dec. 13, 2013, in the Iraqi town of ad-Dawr, by U.S. Forces that were part of Operation Red Dawn, .
It remains unknown if Hoppus' time code tracking idea was utilized in Hussein's capture.
But Alex Gaskarth, the lead singer in the band All Time Low was suitably impressed, writing on Twitter: "Mark is Batman confirmed."
Not so, tweeted a fan named Damon, who wrote: "Capturing Saddam was my idea!" Another fan speculated that "this is what goes through Mark's head" during 4 a.m. meetings in nightclubs.
But what prompted Hoppus to finally divulge his plan to locate Hussein a full 15 years after he devised it?
Credit for that goes to @mhoye, who on Tuesday sent a tweet to Hoppus that asked: "What is the least plausible story about yourself that's true?"
george.varga@sduniontribune.com
Twitter @georgevarga
Sign up for the Pacific Insider newsletter
PACIFIC magazine delivers the latest restaurant and bar openings, festivals and top concerts, every Tuesday.
You may occasionally receive promotional content from the Pacific San Diego.