Column: Tom Petty's new 'American Treasure' album is a tribute and a lifesaver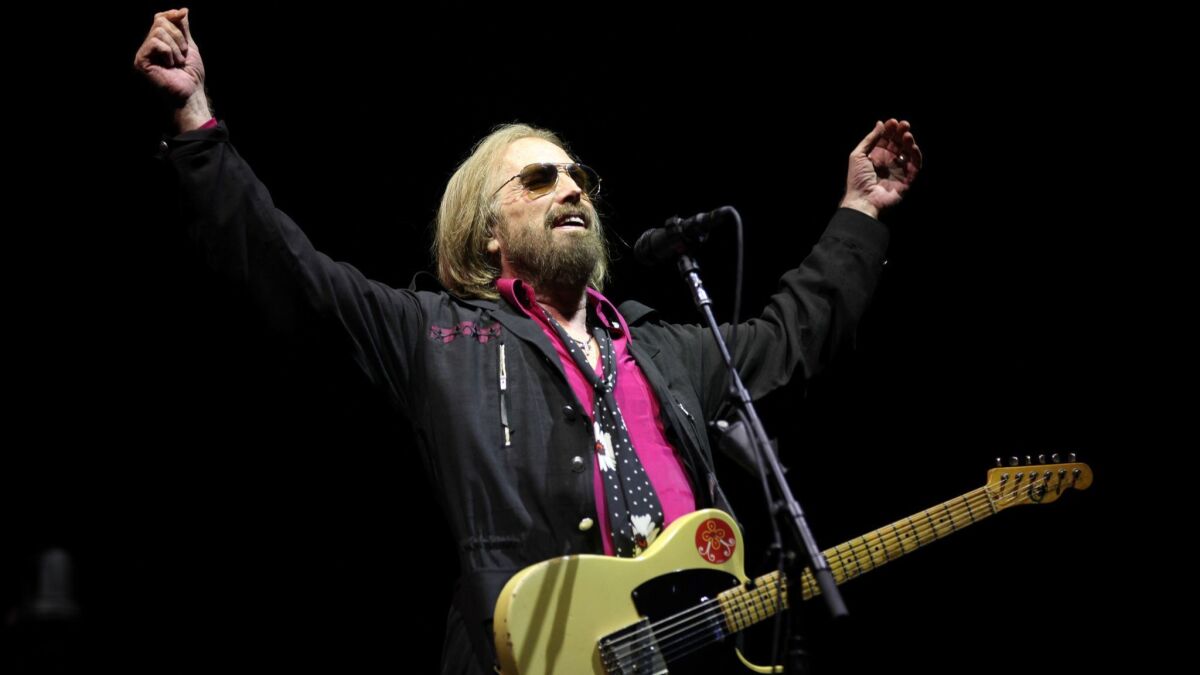 My husband and I had a pile of logical reasons for skipping Tom Petty's show at last year's KAABOO music festival in Del Mar. Too expensive. Too many VIP types. Way too much traffic. We would catch him next time.
Because that's the thing about friends, isn't it? You always think you'll be seeing them again.
We would not be seeing him again.
On Oct. 2 — just 15 days after his KAABOO performance and a week after wrapping up a triumphant three-night stand at the Hollywood Bowl — Petty died from an accidental drug overdose. He had been mixing medications, including the opioids he was taking to deal with the pain of a fractured hip. He was 66 years old.
Technically, I was not friends with Tom Petty. Not in the knowing-him-personally sense of the word anyway. But like a lot of fans who grew up with his voice in our heads and his songs woven tightly into the stories of our lives, my relationship with him and his music has the lasting, resonate ring of the real human thing.
Like many of my fellow longtime fans, I have been listening to Tom Petty & the Heartbreakers for 40 years. Not my entire life, but close enough. I listened in my SDSU dorm room, in a series of tragic college apartments, and finally, in a grown-up house with room for all of my Tom Petty albums in all of their various formats.
I listened with 1,000 or so early-adopters at SDSU's Montezuma Hall in 1978, with 11,000 fellow fiends at the (former) Coors Amphitheatre in 1999 and alone at the gym for too many treadmill hours to count.
For me, his death did not feel like a celebrity death to be briefly surprised by, hotly discussed for a hot minute and then stored in the tragedy file. It felt like a like a deep personal loss.
One year later, it still feels that way.
That's the other thing about friends. The more you care, the more the loss hurts. And sometimes it feels like the only person who can help you deal with the loss is the very person who is gone.
How are you supposed to get through their absence without them?
So it is with both great sorrow and an abundance of joy that we can all welcome "Tom Petty: An American Treasure" into our lives.
Released on Sept. 28, the 60-song collection features previously unreleased live and recorded performances, alternate versions of album tracks and stellar songs that didn't get the time in the spotlight that they deserved.
The compilation was produced with care and enthusiasm by Heartbreakers' guitarist Mike Campbell and keyboardist Benmont Tench and engineer Ryan Ulyate. It was executive produced by Petty's wife, Dana, and his eldest daughter, Adria. Younger daughter Annakim is listed as the associate producer.
Given his longstanding mistrust of the establishment — not to mention what looked to be a highly sensitive B.S. detector — I'm not sure Petty would have been entirely comfortable with the collection's title, which sounds like a PBS pledge special in the making. But there are so many gems on its four discs that "treasure" is really the only title that fits.
More importantly, "An American Treasure" — with its generous collection of photographs; the song-by-song insights from Petty's friends, families and band-mates; and the embarrassment of rock 'n' roll riches — does everything you want and need a celebration of a friend's life to do.
The early songs — the party-ready "Rockin' Around (With You)," the furiously wounded "Fooled Again (I Don't Like It)" — remind you of the good, hungry times you shared and the tough spots Petty and the band helped you navigate.
Classics like "Even the Losers" (in a biting live version) and "Breakdown" (live and so very slinky) reacquaint you with all of the things that made this man and this band so alive and so indelible. Previously unreleased tracks like the sunshiny "Keep a Little Soul" and the simmering "Lost in Your Eyes" (a Mudcrutch track from 1975) show you sides of Petty and company that you didn't know existed.
In her foreword to "An American Treasure," Adria Petty talks about all of this. About her dad's dedication to songwriting, which he considered "a sacred art form." About his belief in both dreams and diligence. About how the Heartbreakers were the most incredible band ever.
But she saves the last paragraph for all of us.
"I want to thank the fans of Tom Petty and the Heartbreakers that have kept us from going mad because they loved dad almost as much as we did," Adria writes. "I am counting on all of you to be authentic, work hard, keep your word, look out for people, worship the music, love many and trust few. Just like our dad did."
With every yelp and croon and true confession, "An American Treasure" reminds fans that as much as we loved Tom Petty, he loved us back.
The music tells us so.
Always has, always will.
Twitter: @karla_peterson
Sign up for the Pacific Insider newsletter
You may occasionally receive promotional content from the Pacific San Diego.