Florence + The Machine's Florence Welch talks music, sobriety and coming clean in her songs
How often has Florence Welch, the singer and namesake of the English rock band Florence + The Machine, been asked to discuss getting sober and confronting her inner demons head on?
So often that she was pleasantly surprised when a recent interview began with an inquiry about the four songs that feature her drumming on her new album, "High as Hope," and how her singing and drumming inform one another.
"Well, that's a nice question," Welch, 32, said. "People don't typically ask me musical questions — they just want to get straight to the drinking problem or something!"
She laughed.
"I think that, for me, singing and making lyrics is incredibly instinctive, and the drumming is the same. It comes from a very off-the-cuff place that feels good in the moment. It's pretty rudimentary, my drumming style. I haven't changed that much as a drummer since I started making music. It's a feeling, rather than a technical skill."
Feeling is the essence of Welch's rich, meticulously textured music, which on "High as Hope" finds her sharing more secrets than ever before in her songs. Of course, a self-confessional tone has been a near-constant since her audacious debut album, "Lungs," came out nearly a decade ago.
But on "High as Hope," this big-voiced singer digs deep into subjects other troubadours might approach in a more general manner — or disguise altogether. The increasingly intimate nature of Welch's lyrics is also now reflected in her admirably nuanced singing and musical arrangements, which say more with less and dial down the near-Gothic melodrama featured so prominently on parts of her previous albums.
On the song "Hunger," Welch addresses her eating disorder as a teenager with such matter-of-fact lines as: At seventeen, I started to starve myself / I thought that love was a kind of emptiness.
The song "Grace" is a form of musical atonement, on which Welch expresses her feelings of guilt — and apologizes — for having repeatedly let down her sister when they were growing up. For good measure, Welch also acknowledges some other family regrets, almost in the same breath, singing: I'm sorry I ruined your birthday / I guess I could go back to university / Try and make my mother proud.
And on "South London Forever," she reflects on her wayward youth with such telling couplets as: Young and drunk and stumbling in the street and High on E and holding hands with someone that I just met.
"I think I'm always trying to do the same thing, which is to get some kind of sense of clarity about my feelings in songwriting or in making music," said Welch, who performs Sunday at SDSU's Viejas Arena.
"And you just keep testing yourself and how vulnerable you can be and how close to the truth you can get. I'm always trying to dig a bit deeper, or say something that is scarier to me than I've said before."
Welch spoke at length during a recent interview from a recent concert tour stop in Vancouver. Here are excerpts from that conversation.
Q: When we spoke in 2015, you told me: "I think I tried to write about my life on my previous albums. But, because of fear, I would hide behind metaphors and disappear behind fantasy, which was wonderful to use my imagination. But getting older meant the songs became much more direct and literal. And that was quite important to me, as an artist, to feel that was okay and to kind of own it and own who I was. It was almost like I had to own the bad and the good, equally, to kind of be more vulnerable. It's like the grandeur of my (last album) was so big. With this album, there was a need to be freer, perhaps, and more visceral."
Now you are three years older. How would you update or amend your 2015 quote?
A: It's weird; I feel like I just say the same thing every time. I feel like I say the same thing about this record. How would I amend? I don't think I would."
Q: Is it cathartic for you to dig into the "scarier" stuff, as you do on your new album?
A: It is — when it happens and the record is released. I feel terrible just before it's going to be released. Like, on this album, songs like "Hunger" have a new level of vulnerability. It's funny to hear that quote read (from 2015) back to me, because I'm like: "You have no idea how vulnerable you can make yourself, girl!" I didn't have any idea I'd make an album like this. When you're making songs, you don't really think you'll play them to people. It's like a weird self- trickery, like: "Don't worry, just write it down; you never have to play it for anybody." And, before you know it, you're singing it for thousands of people!
So it's self-deception (thinking): "No, this is just for me to understand something about myself, and we won't play it for anybody. Then we release it, and I'm like: "What am I doing?" But I have to say, this felt very cathartic — after the fact. It felt like I was being insane just before the album came out. But, after the fact, especially with people's kindness and understanding (in response), it felt very freeing to me, in lots of ways.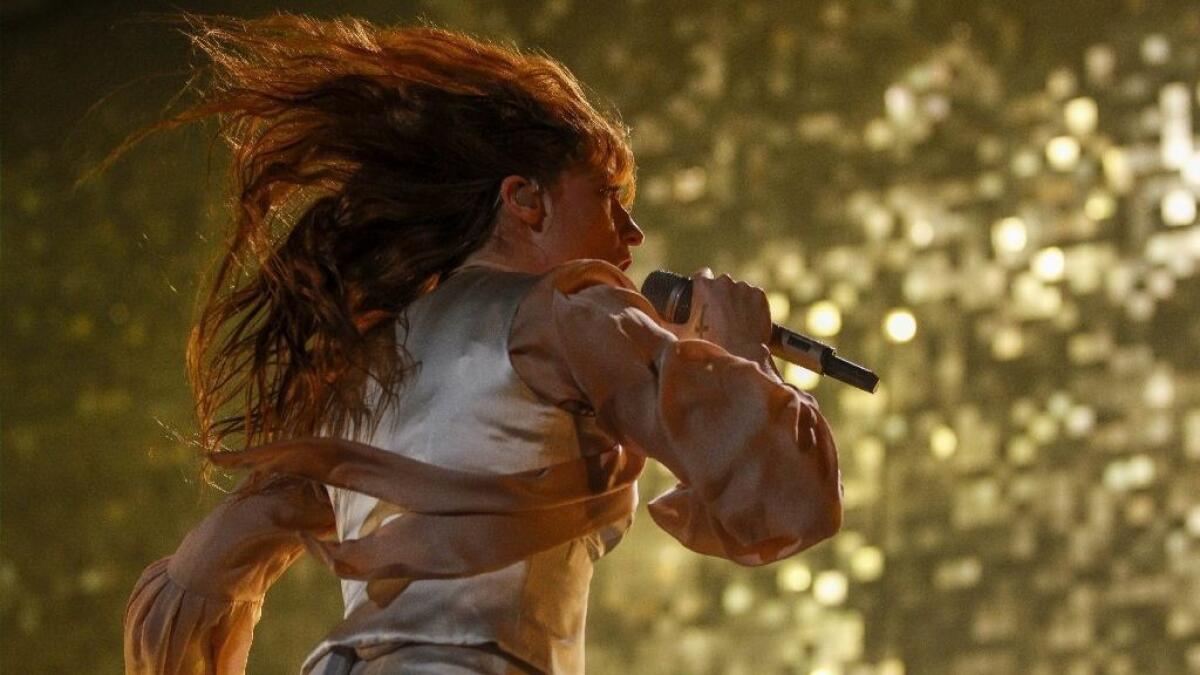 Q: When we spoke in 2015, you also told me: "I was angry when I first realized I could sing better when I was not drunk. I was like: "F--, this means I have to be sober on stage." But what I get now on stage, without drinking, is this clarity and feeling the performance in every way. I haven't drunk on stage for years now. But, a couple of years ago, I had a few in Amsterdam, got on stage and hated it. It felt so exhausting, because I couldn't get in that space of connecting with the music or the audience. I was like: "(Expletive), I'm (expletive) drunk on stage." And I felt so detached from the audience. So I think I've moved a bit beyond that. It was part of my journey; I had to go there. And I don't do things by halves. It's a case of: "I'm in it (completely)."
So how are things now?
A: When I spoke to you then, it would have been really fresh that I was not drinking at all. So I think I was really scared and confused about what that meant to my life. I used to be a lot more defensive about not drinking, but I haven't drunk for, like, four-and-a-half years now. I have to say the depth of the performance and places you can go to in your work are really deeper (sober). I do think that chaos, hangovers and self-loathing were an essential part of my creative make-up.
What has been really beautiful is to find that creativity is not aligned with self-destruction. I can be more creative and go further in my work, and experience more, from a place of clarity. And I did not know that. I didn't (stop drinking) for that reason, because I seriously thought my life was over when I stopped drinking. I thought: "This is going to be terrible." So to find the (live) performances and making music became so much richer, and that I felt much more connected was an amazing thing. But I didn't know that. And it isn't really what you think. … You think: "No, it (drinking and making music) all goes hand in hand." And I actually doubted I could go to even darker places and explore stuff that was more difficult.
Q: The string arrangement on your song new "Patricia" — specifically, between the end of the first chorus and the verse that begins Well, you're a real man and you do what you can sounds like are an homage to The Beatles' "I Am the Walrus." Is it?
A: Yes! It really worked! We were really thinking about The Beatles a lot when we were making "Patricia." We were looking at psychedelic strings very much when making this record.
Q: Also the Moody Blues?
A: Yeah. The music of Florence + The Machine has always been quite orchestral. But this time, it was looking how to do it in a less classically grand way, something that had more elements of jazz or psychedelia. So something, I guess, that was moving away from the more baroque strings I've always used into something a bit weirder.
Q: So is it coincidental that some of your "High as Hope" album was recorded at Abbey Road studios in London, where the Beatles made nearly all of their albums?
A: Wow. Well, I guess it was. The Beatles, in terms of making music that was kind of moving toward a more transcendent space — and even into posing more spiritual questions in pop music — were definitely an influence for this record. The kind of seeking they started to have, around the time of "I Am the Walrus,' I was definitely relating to that with my own lyrics and work.
Q: Kamasi Washington, who is featured on your new album, is opening for you when you perform at Viejas Arena in San Diego. I am pretty sure that this will be the first time any jazz artist has ever performed in that venue. What does Kamasi bring to your music and how big a jazz fan are you in general?
A: Oh, wow! I actually started to get into — well, my father is a big jazz fan and I'd been brought up listening to a lot of Miles Davis and John Coltrane. So it has always been around. But it think it was Kamasi who re-invigorated my love of jazz and it was definitely an element that came into this (new) record, kind of through his contribution. Recording with Kamasi was one of the most special days of my life. We only had one day in L.A. and he taken the songs I'd written and scored them. Like for (the songs) "June" and "100 Years," I got to see him and his players in action. He plays with some of the best jazz musicians in L.A., including his dad, who is an amazing jazz flutist. It was just one of the most extraordinary days — and I got to see Kamasi shred on his sax. They all improvised on the record, which was a really profound experience and I felt incredibly humbled and honored. He's a incredibly special person and I'm so grateful for what he added to this record. It made me go back and look through my old jazz records. Now l listen to jazz all the time when I'm at home.
Q: Will he join you on stage in San Diego?
A: I hope so! I really hope so.
Q: I recently interviewed the great jazz singer Dee Dee Bridgewater, who told me: "I know what I want and can override musicians' opinions. Whereas, in the beginning, I'd defer and do it the way they wanted, now I say: 'No, gentlemen, this is how I want it done.' Over the years, I found my voice. The way I hear things and want the sound that all comes from the experience and from learning. So doing all this has given me more confidence as I've gotten older." How do you strike a balance between welcoming the input of others to your music with being the one who ultimately decides?
A: I love Dee Dee Bridgewater! I love her (1976) song "Going Through the Motions" (Welch began to sing it aloud). As to her quote, I could almost say the exact thing she said. When I was younger, I'd go into a room with musicians and try and conform to what I thought they wanted, and nothing sounded right. It was like I was supposed to be making music for me, but when the record came out, I didn't have have my voice yet. Especially if you're a young woman, you have to learn and fight against that. When I started making music with another young woman is when I wrote (the song) "Dog Days Are Over" and really got things right. It does just take experience — and, also, gradually gaining the confidence that your ideas and the way you want to hear thing are right. But it takes time to find that confidence.
Florence + The Machine, with Kamasi Washington
When: 7 p.m. Sunday
Where: Viejas Arena at Aztec Bowl, San Diego State University, 5500 Canyon Crest Drive, San Diego
Tickets: $39.50-$99.50, plus service charges
Phone: (800) 745-3000
Online: ticketmaster.com
george.varga@sduniontribune.com
Twitter @georgevarga
Sign up for the Pacific Insider newsletter
You may occasionally receive promotional content from the Pacific San Diego.