Beyoncé, Sam Smith, Eagles, Def Leppard, Jason Aldean among San Diego-bound acts in September
It's a record!
No September in memory has seen as many major concerts take place in San Diego as will be held here in the coming month.
It kicks off with Sept. 1 shows by blue-eyed soul vocal star Sam Smith at Valley View Casino Center and the not-quite-entirely reunited Smashing Pumpkins at SDSU's Viejas Arena.
On Sept. 27, Beyoncé and Jay-Z perform together at SDCCU (formerly Qualcomm) Stadium. They'll be preceded by the Eagles at Petco Park on Sept. 22, Def Leppard and Journey at Petco on Sept. 23, Florence + The Machine at SDSU's Viejas Arena on Sept. 23, and Deep Purple and Judas Priest on Sept. 26 at Mattress Firm Amphitheatre.
In between Sam Smith and the double-header by Beyoncé/Jay-Z comes a slew of other big attractions. They range from separate concerts by Latin-music superstars Shakira and Chayanne (both at Valley View Casino Center) to country-pop mainstays Rascal Flatts and Jason Aldean (both at Mattress Firm Amphitheatre).
For the festival-minded, there are at least three options — KABBOO, the AimLoan.com San Diego Blues Festival and CRSSD Festival — that will each be separately previewed in upcoming issues of the Union-Tribune.
The above list does not include the numerous concerts of note at smaller San Diego venues, which alone would make September a very memorable month. Ten of those smaller concerts will be highlighted in our Sept. 16 Sunday Arts + Culture fall preview issue.
Sam Smith, with Beth Ditto
At 26, Sam Smith sounds like an old soul in a young man's body.
He first came to the public's attention in 2012 with his guest vocal spot on U.K. electronic music duo Disclosure's hit single, "Latch." By the end of 2014, Smith's impassioned debut album, "In the Lonely Hour," was nominated for six Grammy Awards. He won four — for Best New Artist, Best Male Pop Vocal Album, Song of the Year and Record of the Year.
The latter two awards were for "Stay With Me," Smith's heart-wrenching plea to a real-life lover who didn't love him. The song, like the 12-million-selling album it was featured on, resonated with a broad array of listeners around the world. Smith was also hailed for his candor; immediately upon "In the Lonely Hour's" release, he set the record straight by coming out as gay.
"I am not Sam Smith, the gay singer," he told GQ at the time. "I am Sam Smith, the singer who happens to be gay. I preach all the time about being myself and being comfortable with myself, but if I'm honest, I struggle every day. I'm still figuring out who I am. I don't want to pretend I've got everything sorted out in my mind, because I really don't."
In 2016, he won the Academy Award for Best Song (for "Writing's On The Wall," which he sang and co-wrote for the James Bond movie, "Spectre").
Smith is now on tour to promote his second album, 2017's "The Thrill of it All." Like his debut, it is dominated by earnest, deeply felt ballads that focus on love (or, more specifically, love gone soul-crushingly wrong).
Sharing his heartache has proven cathartic for Smith and his listeners. His reverence for American soul music that predates his birth by a good three decades is apparent in almost every note he sings. On record, his sleek combination of soul, gospel and contemporary pop can sound stifled by overly slick, predictable arrangements that are musically limiting. In concert, the focus is where it should be — on his strong, pliant singing. Smith is more of a crooner than a belter, but he can pack plenty of emotional punch.
8 p.m. Sept. 1. Valley View Casino Center, 3500 Sports Arena Blvd., Midway District. $31-$95, plus service charges. (888) 929-7849. axs.com
Smashing Pumpkins
This is not quite a full-fledged reunion. Original Smashing Pumpkins' bassist D'Arcy Wretzky is not on board for this 30th anniversary concert trek and singer-guitarist Billy Corgan and drummer Jimmy Chamberlin first re-teamed some years ago. But with guitarist James Iha back in the saddle and the band focusing almost exclusively on songs from its first five albums on this tour, fans of '90s alternative-rock should be swooning while they mosh.
7 p.m. Sept. 1. Viejas Arena at Aztec Bowl, 5500 Canyon Crest Road, SDSU. $53-$249.95. (800) 745-3000. ticketmaster.com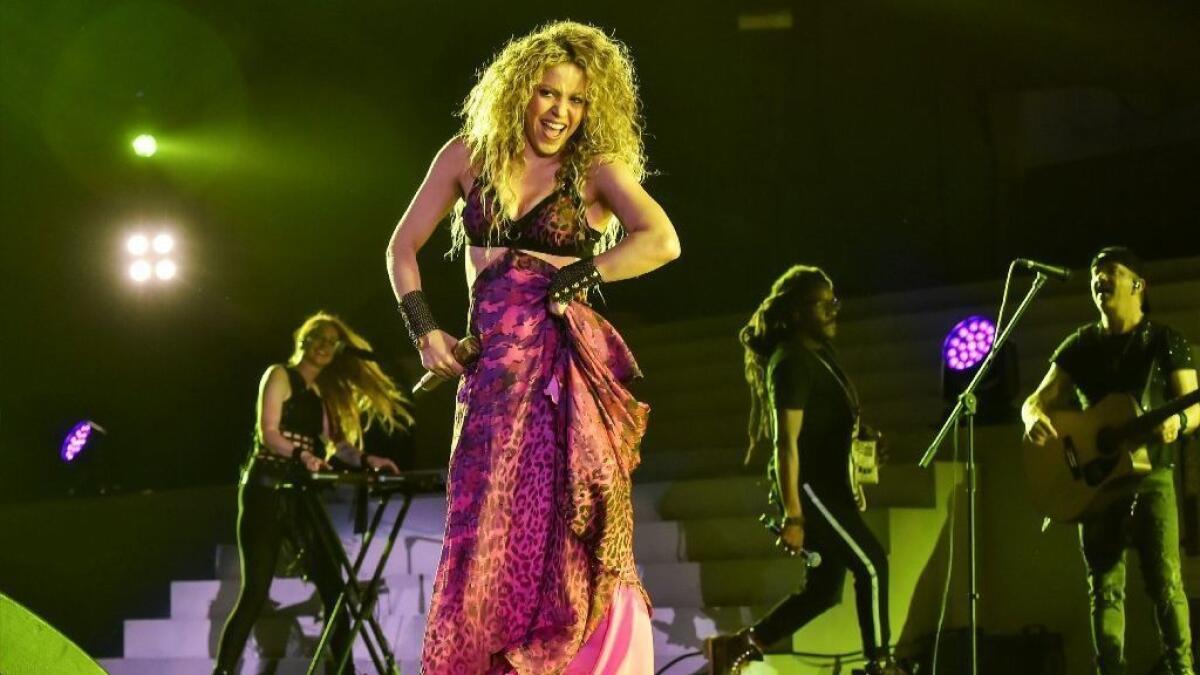 Shakira, with Salva
What has Colombia's most famous pop singer been doing since last touring seven years ago? She gave birth to her first son in 2013 and her second two years ago. She has also championed early childhood education, which led to Shakira giving a speech at the 2017 World Economic Forum. And she postponed her "El Dorado" tour twice, in late 2016 and again early this year, citing a career-threatening vocal cord hemorrhage. Now, she's back on the road, singing — in Spanish and English — such hits as "Antología," "Me Enamoré" "Waka Waka" (whose video recently surpassed the two billion views mark) and the inevitable "Hips Don't Lie."
7:30 p.m. Sept. 5. Valley View Casino Center, 3500 Sports Arena Blvd., Midway District. $50-$253.50, plus service charges. (888) 929-7849. axs.com
Rascal Flatts, with Dan + Shay, Trent Harmon
Unlike Shakira's, Rascal Flatts' hiatus only lasted a year. There's little surprising about this band's polished brand of country-pop, but lead singer Gary LeVox, guitarist Joe Don Rooney and bassist and keyboardist Joe DeMarcus are seasoned performers with proven crowd-pleasing skills. Dan + Shay flip the equation to pop-country, with the emphasis on pop, although Shay Mooney's vocal similarities to Rascal Flatts' LeVox are impossible to ignore.
7:30 p.m. Sept. 14. Mattress Firm Amphitheatre, 2050 Entertainment Circle, Chula Vista. $25.76-$99, plus service charges. (800) 745-3000. livenation.com
Chayanne
Menudo alum Ricky Martin is not the only former member of a 1980s Latin teen-pop boy band from Puerto Rico who can fill arenas on his own. Los Chicos alum Chayanne — as singer and actor Elmer Figueroa-Arce is known professionally — has sold 30 million albums worldwide since his solo debut came out in 1984. He is now on his first major tour in two years, albeit it without a new album to promote. That suggests his concert here will focus on his past catalog of romantic ballads and upbeat dance numbers.
8 p.m. Sept. 13. Valley View Casino Center, 3500 Sports Arena Blvd., Midway District. $35-$145, plus service charges. (888) 929-7849. axs.com
Jason Aldean, with Luke Combs, Lauren Alaina and Dee Jay Silver
There will be some historical significance when Jason Aldean takes the stage at Mattress Firm Amphitheatre later this month, but not because he is hasn't played there before. Rather, it's because this will be his make-up date for his postponed concert there on Oct. 6 last year. He canceled that show — and two other Southern California dates scheduled for that same week — in the wake of the horrific mass shooting at the Route 91 Harvest festival in Las Vegas last Oct. 1. Aldean was performing when the shooting began — 58 people died and 851 more were injured. So expect at least a solemn moment or two of reflection in between his country-rocking hits.
7:30 p.m. Sept. 20. Mattress Firm Amphitheatre, 2050 Entertainment Circle, Chula Vista. $29.50-$109.50, plus service charges. (800) 745-3000. livenation.com
J Balvin
Colombian reggaetón star J Balvin's profile is higher than ever, thanks to his on-stage cameo with Beyoncé at Coachella in April and his guest vocal spots on both One Direction veteran Liam Payne's "Familiar" and Cardi B's "I Like It." His 2017 hit "Mi Gente" was the first Spanish-language song to top Spotify's global charts. Now 33, the Colombian-born vocal star — whose full name is José Álvaro Osorio Balvin — is no major innovator, musically speaking, with his radio-friendly blend of reggaetón, Jamaican dancehall, trap and hip-hop, but he almost always sings in Spanish. And his fifth and latest album, "Vibras," features cameos by artists from Aruba, Brazil, Puerto Rico, Spain and beyond, but not a single English-language performer.
8 p.m. Sept. 21. Viejas Arena at Aztec Bowl, $39.95-$365.82, plus service charges. (800) 745-3000. ticketmaster.com
The Eagles, with Zac Brown Band and the Doobie Brothers
Who needs new songs? Certainly not the Eagles, a durable American music institution, whose two most recent new studio albums, "Long Road Out of Eden" and "The Long Run," came out in 2007 and 1979, respectively. On Aug. 20, it was announced by the Recording Industry Association of America that "Eagles — Their Greatest Hits 1971-1975" is now the best-selling album in history, with sales and streams of more than 38 million. Meanwhile, the band's 1976 opus, "Hotel California," is now the third biggest-selling album of all time, with sales and streams of more than 26 million. You can expect to hear most of the songs from both those albums performed live when the Eagles glide into Petco Park. This will be the band's first concert here since Eagles' co-founder Glenn Frey died Jan. 18, 2016, and was replaced by two singer-guitarists — Frey's son, Deacon, and country-music mainstay Vince Gill.
5 p.m. Sept, 22. Petco Park, 100 Park Blvd., downtown. $55.50-$496, plus service charges. (800) 745-3000. ticketmaster.com
Florence and The Machine, with Kamasi Washington
"Lungs," Florence Welch's debut album with her band, The Machine, could not have been more aptly named. This English singer-songwriter has a mighty voice. Happily, she is savvy enough to know when to unleash it and when to hold back. Her new album, "High As Hope," mixes tender piano ballads with big sing-along numbers that showcase her high-velocity vocal power. "High As Hope" features young Los Angeles jazz saxophone sensation Kamasi Washington, who will open her concert here with his band and is worth arriving early to hear.
7 p.m. Sept 23. Viejas Arena at Aztec Bowl, $69.50-$79.50, plus service charges. (800) 745-3000. ticketmaster.com
Deep Purple & Judas Priest
It's unlikely either Deep Purple or Judas Priest will perform a heavy-metal version of the Jackson 5's 1971 hit "Never Can Say Goodbye" when they perform here. But it would be fitting if they did. Deep Purple announced its "The Long Goodbye Tour" in late 2016, six years after Judas Priest launched its own purported farewell tour. But neither of these veteran bands is quite ready to call it a day, which should come as good news to head-banging fans of all ages.
7 p.m. Sept. 26. Mattress Firm Amphitheatre, 2050 Entertainment Circle, Chula Vista. $35-$165, plus service charges. (800) 745-3000. livenation.com
Beyoncé & Jay-Z
The biggest power-couple in pop-music skipped San Diego on their joint 2014 "On the Run Tour," although both have performed recent solo shows here (Jay-Z in December at Viejas Arena and Beyoncé at what was then known as Qualcomm Stadium in 2016). Their joint "On The Run II" concert here at SDCCU (formerly Qualcomm) Stadium is part of a massive tour that has already grossed $150.7 million with the first 29 of its 48 shows. The tour is in support of their first collaborative album, "Everything Is Love," whose songs suggest the two have overcome their well-publicized recent marital difficulties. But a lot has changed since the first "On the Run" tour, most notably the fact that Jay-Z now finds himself playing second fiddle to his immensely successful wife, Beyoncé.
7:30 p.m. Sept. 27. SDCCU (formerly Qualcomm) Stadium, 9449 Friars Road, Mission Valley. $49.50-$350; $295-$1,995 for VIP packages, plus service charges. (800) 745-3000. livenation.com
george.varga@sduniontribune.com
Twitter @georgevarga
Sign up for the Pacific Insider newsletter
You may occasionally receive promotional content from the Pacific San Diego.