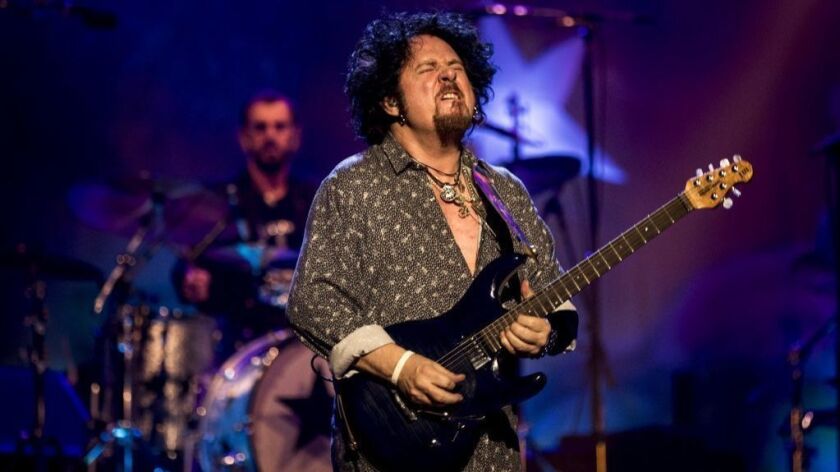 It's tempting to call Steve Lukather the missing link between The Beatles, Weezer, Miles Davis, Joni Mitchell, Michael Jackson, the Circle Jerks, Van Halen and Dolly Parton — to cite just a fraction of the many artists with whom he has collaborated.
Tempting, but inaccurate, for one simple reason.
Lukather has never gone missing since — at the age of 19 — he played guitar on Diana Ross' "Baby, It's Me" and Boz Scaggs' "Down Two Then Left" albums in 1977. That was, incidentally, the same year he co-founded the band Toto.
"I've never stopped working and I still have 'pinch me' moments all the time," said Lukather, who performs sold-out shows at Humphreys Concerts by the Bay with Toto on Tuesday and on Sept. 27 with former Beatle Ringo Starr and his All-Starr Band.
In between those two San Diego performances, his 352-page memoir, "The Gospel According to Luke," will be published Sept. 18. Then, on Oct. 5, Sony Legacy will release "All In," a 13-CD, 17-LP collection that includes Toto's 10 studio albums, two discs of unreleased material, a Blu-ray concert film disc and an 80-page hardcover book.
For good measure, Toto — one of the most critically reviled bands of the 1970s and '80s — now boasts a previously unimaginable patina of hipness.
Credit for this goes in part to Weezer, which in June scored a hit with its almost note-for-note re-make of Toto's 1983 chart-topper, "Africa." Even more significant, though, is Toto's evolution from "corporate rock" whipping boys to heroes of "yacht rock," the phrase used to describe the sleek soft-rock style of the late 1970s popularized by Toto, Michael McDonald, Kenny Loggins, Christopher Cross and other like-minded acts.
"Our (concert pay) guarantees have quadrupled!" said Lukather, speaking last week from his Los Angeles home.
"We've got a younger audience now. All of a sudden, our back catalog is exploding on Spotify and we have half a billion streams. People are saying: 'Wow these guys have 19 albums out that sold 40 million copies?'
"We've become an underground thing for kids, because we never got the love our peers got back in the day. Kids are loving discovering us and I'm happy to be that band."
Lukather's many album credits as a studio guitarist include Michael Jackson's "Thriller," Chaka Khan's "I Feel for You" and former San Diegan Stephen Bishop's "Bowling in Paris." Here are excerpts from our interview, in which he discussed:
Himself: "I'm a weird guy with a weird sense of humor. Please take out the parts of this interview that make me sound like a douche bag."
Playing at Humphreys: "Ringo loves that place! He loves to give sh-t to the people out on boats who don't pay for tickets."
Ringo: "I've been in his band for seven years and I adore the man. He's 78 and seems every bit like he's 45. This guy is my hero. He's really smart and he's as funny now as he was in (the 1964 Beatles' movie) 'A Hard Day's Night'. I've been in his band for seven years now and I've learned so much from Ringo. I got to write a song (2017's 'Show Me the Way') with Ringo — and Paul (McCartney) played bass on it. If it only sells 100 copies, I did a song with Ringo and Paul! Ringo did that for me, because he knew how much it would mean to me. He is such a thoughtful guy. I told him he'd have to kill me to get rid of me!"
Drugs: "You'd walk into (recording) studios and there were piles of cocaine. It was a fiesta, 24 hours a day. It didn't get dark until the end of the 1980s, when everybody went into the closet. It was still there, but everyone was on the down-low. People were losing their careers and lives. It got really ugly, really fast, and I don't recommend it to anybody. I talk about this in my book — how I (messed) myself up with booze. That was not a good part of my life."
Sobriety: "I just stopped one day. I quit drinking, smoking, doing anything bad. That was almost 10 years ago. … I just was done: 'That's (expletive) it — my last hangover ends today.' Nobody ever wanted to grow up. We lived this Peter Pan life. You're a teen thrown into the rock world, given all this money, freedom and craziness, and able to get away with murder."
Recording with Miles Davis in 1986: "Miles was so cool to us. We were so nervous; a bunch of white guys from the (San Fernando) Valley. He loved us. He thought we were hilarious! I tell the whole Miles story in my book. He liked us and he kept showing up everyday (at the studio), and then he asked me to join his band. I was like: 'Man, you gotta be kidding me! You've had John McLaughlin and Mike Stern in your bands!' Miles said: 'No, I like that rock 'n' roll s--t you do'."
Weezer's version of Toto's "Africa: "I think it's cute. ... Do I think (the band) Weezer are Toto fans? Absolutely not. They make fun of '80s bands, even though we're a '70s band. Toto is going to play (Weezer's) 'Hash Pipe' at our shows, and we're going to own it!"
Negative reviews of Toto: "One critic wrote that our parents should have 'been killed, so that we never would have been born and never played this sh-tty music.' That was a cheap shot. There was a strict rule (at music magazines) that you can never mention members of Toto. This happened at Classic Rock, Rolling Stone, Mojo, NME. Why? Because they hated us that much. They think we're a fake band made up in a boardroom. They hate everything about us, even though there's never been a band like us (whose members) played on 5,000 albums, collectively, sold 40 million albums and had half a billion streams. They skip over that and get to the important stuff, like Madonna lip-syncing. (Those publications) try to get us (for articles) now, and we're like: 'No. (Expletive) you!' We turned down a Rolling Stone cover story in 1983, and recently: '(Expletive) you! You're about as helpful as anal warts...'."
His hair: "Someone wrote online: 'You're not fooling anybody with that wig.' I'm like: 'Who the (expletive) would wear a wig like this? (Expletive) you! I have hair!' "
Toto
When: 7:30 p.m. Tuesday
Ringo Starr & his All-Starr Band
When: 8 p.m. Sept. 27
Where: Humphreys Concerts by the Bay, 2241 Shelter Island Drive, Shelter Island
Tickets: Sold out
Phone: (800) 745-3000
Online: ticketmaster.com
george.varga@sduniontribune.com
Twitter @georgevarga
---