Rod Stewart says: 'I wouldn't change anything,' as he reflects on new album, storied career and being one of the 'older chaps now'
At least a few rock and pop-music legends have struggled with writer's block as they try to come up with new songs. But two-time Rock and Roll Hall of Fame inductee Rod Stewart may be the first to have ended a nearly 15-year songwriting drought — releasing nine albums of cover versions of classics in between — by first penning a best-seller.
"When I started writing my (2012) book, 'Rod: The Autobiography' — which is still in shops — I realized I had a lot to write about," said Stewart, who performs here Sunday at Mattress Firm Amphitheatre and releases his new album, "Blood Red Roses," Sept. 28 on Republic Records.
But having a realization is no guarantee of overcoming obstacles, as Stewart noted in a 1998 Union-Tribune interview.
"My output is very slim," he said at the time. "I think it has something to do with laziness, plus I hate writing lyrics. I'm good at it, but you have to lock me in a room. And my confidence has taken a bit of a bashing. The last song I wrote that was a hit was (the Bob Dylan-inspired) 'Forever Young,' and that was 10 years ago (in 1988). I's all about confidence. ... But there's no one more confident when walking on stage — that's why I was put on this Earth."
Stewart, who co-wrote 11 of the songs on his new album, chuckled during an interview last week when reminded of his 20-year-old comments.
"The songwriting ability has returned, and I'm thoroughly enjoying songwriting, so I take that back!" he said by phone from his Beverly Hills home.
"When I did my first album ('Time') after the book, I wrote a song about my father ('Can't Stop Me Now') and I realized I had so much stuff to write about," Stewart recalled.
"And also, I found a very good songwriting partner in Kevin Savigar, who is the co-producer of 'Blood Red Roses.' It's much easier now to write songs, and I enjoy it more, although I don't entirely know why that is."
New album touches on Stewart's musical hallmarks
His 30th studio album, "Blood Red Roses" features 11 songs co-written by Stewart and Savigar, who became the keyboardist in the singer's band in 1978. Stewart also co-wrote 10 songs — eight of them with Savigar — on his 2015 album, "Another Country."
Their latest collaboration, "Blood Red Roses," sounds like a partial summary of Stewart's career, which began in 1963 when he joined the London R&B band The Dimensions.
The new album includes a charged version of the Muddy Waters' blues classic "Rollin & Tumblin." It harks back to Stewart's days in the late 1960s as the fiery singer in the Jeff Beck Group, while the thumping, four-on-the-floor beat of "Give Me Love" evokes Stewart's 1978 hit "Do Ya Think I'm Sexy?"
The upbeat Motown feel of The Supremes-styled "Rest of My Life" echoes "Soulbook," Stewart's 2009 album of vintage soul hits. He makes another allusion to Motown on the album-opening "Hole In My Heart," singing the words "doody wop" as a salute to Stevie Wonder's 1974 funk gem "You Haven't Done Nothin' "
Then there's the tender acoustic balladry of "Grace," the bluesy hard-rock of "Vegas Shuffle" and the unabashedly melancholic "Farewell," which strikes a similar musical tone to "The Killing of Georgie (Part 1 and 2)," Stewart's heartfelt 1976 ode to a murdered gay friend.
Several songs on "Blood Red Roses" have a Celtic flavor, something Stewart featured more lightly on his 1971 breakthrough single, "Maggie May," overtly on his 1977 hit "You're in My Heart (The Final Acclaim)," and on other songs since then.
Yet, despite such familiar reference points, he demurred when asked if he was taking stock of his career on his new album by touching on some of his musical hallmarks.
"Not intentionally, no," replied Stewart, who was recovering from bronchitis.
"It's just that when you sit around with another songwriter, I don't want to close myself off to different rhythms or ideas. It's just the way it came down. God gave me a very flexible voice. So I can take on Motown stuff, or standards, as I proved with my 'Great American Songbook' albums. I can sing many genres, but 'Blood Red Roses' isn't an exercise in melancholia or nostalgia."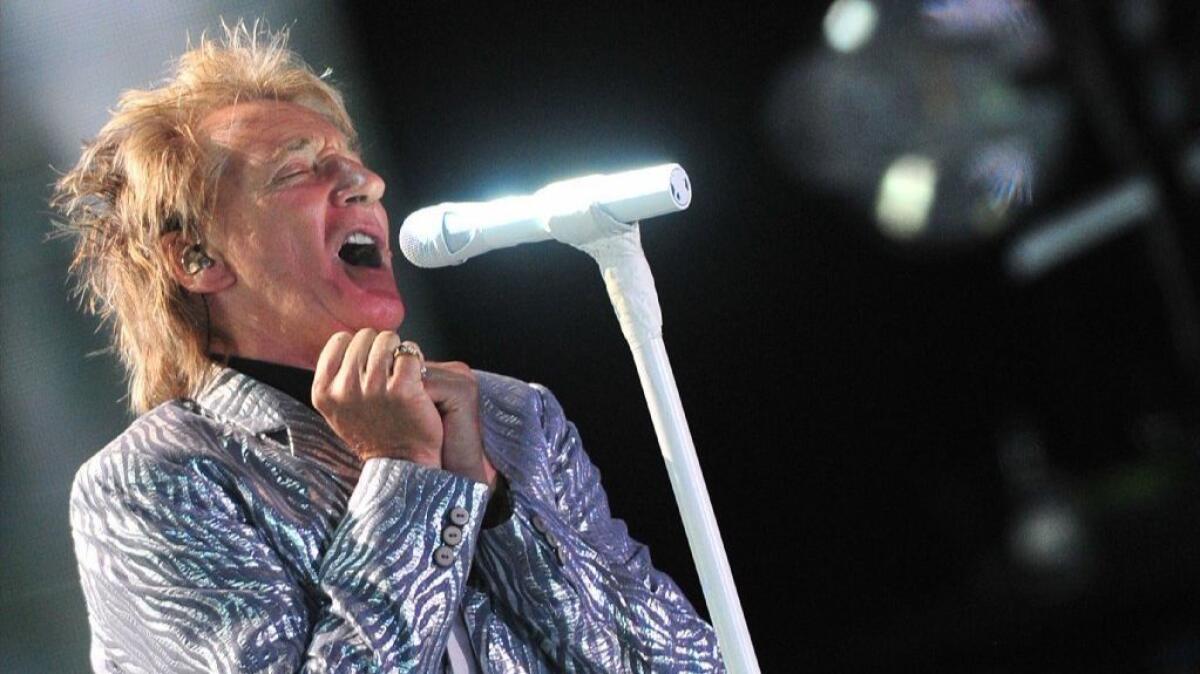 'I always loved those standards'
Stewart's career got a major boost in 2000, when he released "It Had To Be You: The Great American Songbook." The album featured lush versions of classics written by George and Ira Gershwin, Cole Porter and others. Jazz critics were generally unimpressed, but scores of listeners embraced Stewart's new/old musical chapter.
The success of "It Had To Be You," here and abroad, led to four more "Great American Songbook" albums by Stewart. He cites Anita O'Day's singing in "Jazz On a Summer's Day" — the landmark documentary film shot at the star-packed 1958 Newport Jazz Festival — as an enduring favorite.
"I always loved those standards," Stewart said. "And being brought up with them — before rock 'n' roll came along — those songs enter your psyche and stay there. I had no idea I'd ever record them. But if I was asked to do a 'Vol. 6,' I would do it very happily.
"I wouldn't say I was a really knowledgeable jazz fan. I do like to listen, but don't ask me who the drummer in MJQ (the Modern Jazz Quartet) was."
In fact, MJQ's second drummer — Connie Kay — became a key member of the Atlantic Records' house rhythm section in the 1950s and later played on Van Morrison's epic "Astral Weeks" album in 1968. During his tenure at Atlantic, Kay played on countless R&B, rock and blues sessions for such Stewart favorites as Ray Charles, Big Joe Turner and Clyde McPhatter.
In turn, those three vocal greats influenced the two singers who Stewart has long cited as his greatest inspirations.
"My guys are Sam Cooke and Otis Redding," he affirmed.
"I feel I sing with a fair amount of conviction and I tried, always, to sound like Otis and Sam. If you come to my show, I do (Etta James') 'I'd Rather Go Blind', (Curtis Mayfield & The Impressions') 'People Get Ready" and some of the great ballads of the R&B era. It's up to the audience to decide whether they're convinced by my singing and my feeling."
Has Stewart's impetus for making music changed significantly since the early 1970s, when — as the front man in rollicking English rock band The Faces — he was striving to prove himself?
"I'm still driven to record music," he said. "My career, like any other, has its ups and downs. But I'm not deterred. I enjoy putting records together. And I make albums for my friends now. I don't expect to sell 10 million copes any more, although it would be nice if I did.
"Music still burns deep inside me, although probably not so much as when I was a lot younger. I enjoy the couple of hours when I'm on stage as much as back then, in fact, probably more now. That's a very interesting comparison — being in the (music) business has changed so much since the '70s; the recording side of it especially. There are no real singles now; you can't buy them in shops anymore."
What is it about performing that makes doing concerts more enjoyable for him now? Experience? Gravitas?
"That's a good question," Stewart said. "I'd like to know if I did enjoy it as much (back then). I mean, it's hard to remember. But I've always enjoyed getting up on stage.
"I'm a born show-off! It's a great massage for your ego. When I started, all I wanted to do is sing, and it's come true and I'm eternally thankful. That's why I enjoy it every night. If not, you should pack it in, because the audience will certainly know if you're not giving 100 percent,"
'Sir Rod'
Stewart, who was knighted in London in 2016, is now 73. He has two young sons with his third wife, Penny Lancaster, who shot the promotional photos for his new album. He also has six other children from two other marriages and an affair he had in his late teens.
Like Mick Jagger, who is 75, and Aerosmith's Steven Tyler, 70, Stewart wears his age well.
True, a lingering knee injury prevents him from continuing to play in competitive soccer games. But he still has a professional-size playing field adjacent one of his homes in England. He also kicks the ball around with his two youngest sons on the lawn of their Beverly Hills home. And he still boots more than 40 balls into the audience during each of his concerts.
His energy on stage is apparent. But as far back as his 1998 Union-Tribune interview, when he was all of 53, Stewart worried about his age in a music business perpetually geared to youth.
"People never ask me about what it's like growing old in this business. And it can be frightful!" he said at the time. He also complained that the cover photo of his then-new 1998 album, "When We Were the New Boys," had been so airbrushed he nearly looked like a teenager.
Is growing old in "this business" more frightful now than in 1998? Or have things changed for the better?
"I don't feel any fright, at all, now," he replied. "I'd say that I'm an older citizen and enjoying every moment."
Stewart laughed as he reconsidered his 1998 comments on aging.
"That''s not me! Are you sure you're quoting me?" he said. "I think us older chaps now are accepted — me, Elton, the Stones and anybody of our age who's lasted."
But Elton John, 71, this year announced that his extensive retirement tour will begin this fall. Paul Simon, 76, is scheduled to play the last date on his retirement tour next month in New York. And everyone from Joan Baez to Lynyrd Skynyrd announced their own retirement tours this year, while two of Stewart's former band mates in The Faces — keyboardist Ian McLagan and bassist-singer Ronnie Laine — are both deceased.
Is Stewart concerned that so many of his still-active contemporaries are now set to retire?
"No," he replied. "There comes a time in any performer's life when you think: 'Well, this is it, time to pack it up. Have I got the energy? The stamina? Am I missing my children?' And then you say: 'That's it.'
"That could be one factor. No one showing up will be another! Not selling any tickets is a good reason to pack it in. Fortunately, this tour with Cyndi (Lauper) is going very well. We sold out two nights at the Hollywood Bowl.
"I try and schedule my tours around my two youngest kids' (school) holidays. I'm good until that day (to retire) comes along. I love making music and performing. And, as long as I'm capable, I'll continue … I have had a lovely run. I wouldn't change a thing."
Rod Stewart, with Cyndi Lauper
When: 7 p.m. Sunday
Where: Mattress Firm Amphitheatre, 2050 Entertainment Circle, Chula Vista
Tickets: $35-$224, plus service charges; $522.60 (Platinum VIP package)
Phone: (800) 745-3000
Online: livenation.com
george.varga@sduniontribune.com
Twitter @georgevarga
Sign up for the Pacific Insider newsletter
You may occasionally receive promotional content from the Pacific San Diego.