Pink, 17 years into her solo career, bringing her 'Beautiful Trauma' and soaring show to San Diego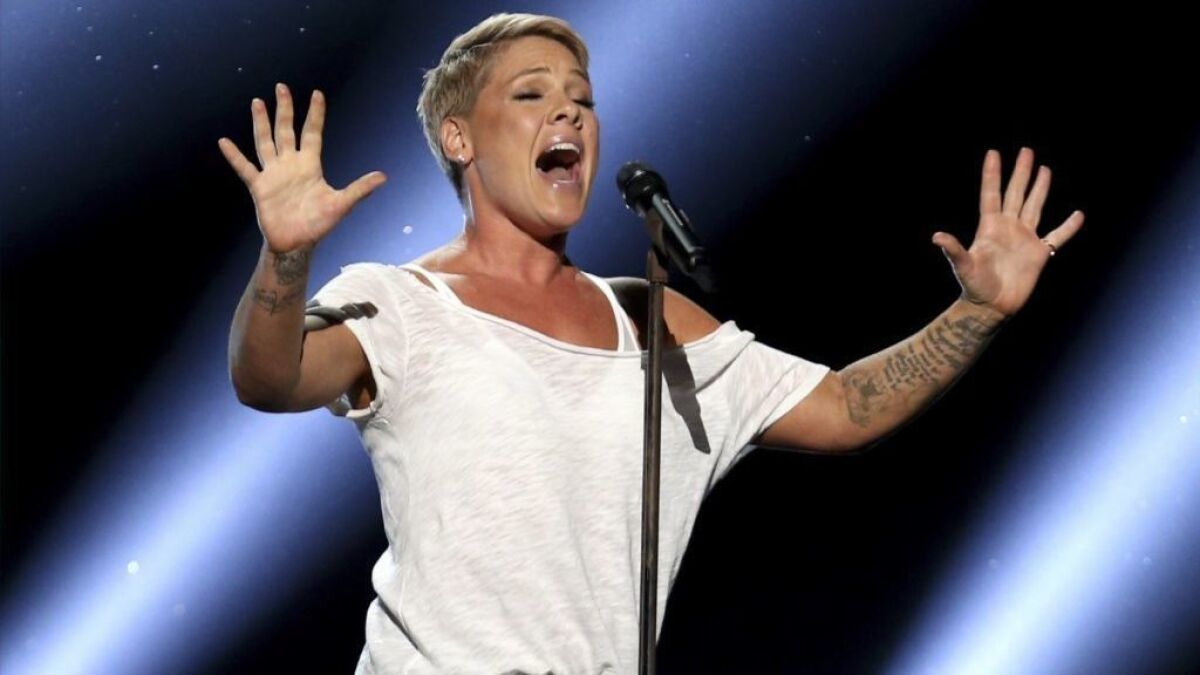 In 2010, at the age of 30, Pink still seemed ready to have a good time. As she sang that same year on her hit song, "Raise Your Glass": Slam, slam, oh hot damn! / What part of party don't you understand?
Now, at the age of 38, having a good time means something quite different to this "Get the Party Started" singer, who was born Alecia Beth Moore in 1979.
As the married mother of two children — daughter Willow, 6, and son Jameson, 17 months — Pink still sings about taking a walk on the wild side during her concerts. But she has fully embraced parenthood and growing older in a pop-music industry that has long marketed youth and come-hither sexuality, especially in female artists.
When a social media troll last week tweeted that Pink looked "old," the singer was quick to respond. And to take the high road.
"There are a few people left in the world that choose to age naturally," Pink tweeted. "And I've earned every minute of my 38 years."
Then again, this is the same Pink who sang on "Don't Let Me Get Me," her chart-topping 2001 hit: Tired of being compared to damn Britney Spears / She's so pretty / That just ain't me.
That Pink has endured — and thrived — for two decades is impressive for any performer in any genre. This holds more true than ever in the increasingly fickle world of fast-food pop culture, when music careers can often be measured in mere months, not years. (It may not be a coincidence that Pink's manager, Roger Davies, counts Cher and Sade among his clients and previously guided Tina Turner's solo career.)
During her two decades as a solo artist, Pink has scored two dozen U.S. Top 40 hits on the Billboard charts. Nearly half of those made the Top 10 and four went to No. 1. Her worldwide album sales total more than 40 million, a number significantly eclipsed by the number of her online streams.
Released last fall, Pink's latest album, "Beautiful Trauma," entered the Billboard charts at No. 1 and was one of the best-selling by any artist in 2017. Its first week-sales of 384,000 were the most for any No. 1 album since Drake's "Views" in the spring of 2016.
Pink's success and longevity are a testament to her ability to produce impeccably crafted music that appeals to a broad mainstream audience. She's been aided by her dual image as a somewhat rebellious outsider and a down-to-earth, post-feminist woman who has overcome her share of challenges, including drug abuse — she's been clean since 1995 — a separation from her husband and at least one miscarriage.
As Pink reaffirmed at her headlining performance at the 2017 KAABOO Del Mar festival, she's also a rock-solid performer with charisma to spare. Her combination of uniformly powerful vocals and at times gravity-defying stage moves — She sings! She spins! She flies! — enhance her appeal greatly. So, at least for one demographic of her concertgoers, do the spirited versions of Nirvana's "Smells Like Teen Spirit" and No Doubt's "Just a Girl" she is belting out nightly on her current tour.
On stage, Pink's dynamism should make up for the inconsistencies of her selections from "Beautiful Trauma." It's a sleek album that showcases her emotive singing, but is marred by so-so material that is too calculated by far.
Her latest songwriting collaborators — including Max Martin and Shellback — have proven track records for commercial success and creating earworm-worthy pop anthems, but not for innovation or risk-taking. Too much of "Beautiful Trauma" has a generic quality, regardless of whether Pink is incorporating EDM, trying out Lumineers-styled folk-pop, or falling back on the inspirational ballads and soaring anthems that have accounted for some of her biggest hits.
That said, it might have been a bit of a risk for her to team up with Eminem for the otherwise sing-songy "Revenge," on which he sweetly raps: You're a whore. You're a whore. This is war.
In an interview last fall, Pink admitted to convincing her young daughter that Eminem was actually saying "You're a horse" in "Revenge." Here's betting there will be no references to four-legged steeds when Pink performs "Revenge" during her sold-out Monday concert at San Diego's Valley View Casino Center.
Pink
When: 7:30 p.m. Monday
Where: Valley View Casino Center, 3500 Sports Arena Blvd., Midway District
Tickets: Sold out
Phone: (888) 929-7849
Online: axs.com
george.varga@sduniontribune.com
Twitter @georgevarga
---
Sign up for the Pacific Insider newsletter
PACIFIC magazine delivers the latest restaurant and bar openings, festivals and top concerts, every Tuesday.
You may occasionally receive promotional content from the Pacific San Diego.