Marc Broussard on his music, charity work and harnessing the power of his voice
Marc Broussard just finished lunch in Washington, D.C., when his phone rang for an interview from the West Coast.
"Hey there," he says energetically, the morning after a successful show at The Birchmere in Alexandria, Va. "How are you doing? I'm calling for an Uber ride while I'm talking to you, so bear with me."
There's a relaxed tone in his voice, despite the cancellation of his Annapolis show due to bad weather.
It's typical Marc Broussard: focused on staying in the moment, not worried about what's done or what's next.
"I think I've never been more present … ," says the 36-year-old singer, "I've never been more present than when I'm on stage. Right before going out, I try to meditate and visualize being in front of the audience and being on that stage."
He's come a long way since being in the Louisiana-based Christian band Y back in 2001. Soon after, he launched his solo career and released his first major album, "Carencro," in 2004. That record — named after the Louisiana town where he was born — spawned his first big hits, "Where You Are" and "Home." He's released seven more albums since, most recently "Easy to Love." He's "perpetually on tour," he says, and his current one brings him to Copley Symphony Hall on April 27 as part of the San Diego Symphony's City Lights concert series. It's his only West Coast stop in a tour that's mostly on the East Coast and the South.
"It's been an incredible year," said the Louisiana-bred blue-eyed singer known for his raspy voice and unique musical style — one that's been called "Bayou Soul," a melding of blues, R&B, funk, folk, rock and pop.
"We're doing something different on this tour: We're playing a setlist and sticking to that more than ever before. Typically, I would just have a song list in front of me and make calls from stage, but I think we have something that works."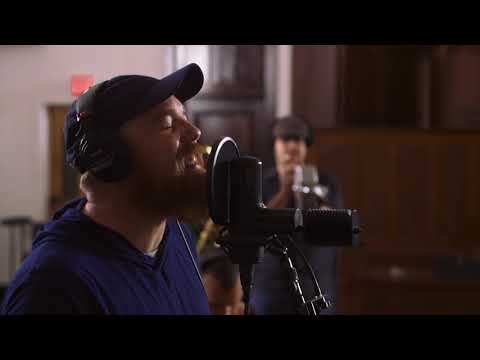 The lineup features songs from old albums and "Easy to Love" — the one that was never intended to be one.
"It's wasn't a record project when it started out," he says of "Easy to Love," released on Sept. 15 of last year. "It was for movie and TV licensing. We set ourselves up in a house in Carmel and wrote as much as we could. In two days, we had seven songs — songs that I felt were perfect for a Marc Broussard record. Since we only had seven songs, we went to my back catalog of songs that didn't make it or were underplayed. We also started combing through other artists' catalogs.
"So, yes, it began as a 'let's record some songs we could pitch for film and TV' kind of project," adds Broussard, who co-wrote many of the songs with fellow band member Chad Gilmore and co-producer Jim McGorman. But "as soon as we were done writing the tunes, it was pretty obvious to me, we had an album. It was was a no-brainer for me."
There's magic in creating music, he says, but there are equally rewarding moments on stage.
"They're two very different spaces and two very different feelings," Broussard says. "I would say because they're so different, the rewards are very different. You get this immediate satisfaction from being on stage that you don't get when you're recording. But there's beauty in watching a project grow when you're recording. There's a very methodical approach when you're recording, and it's a unique experience.
"On stage, it's very difficult to recall your experiences with any kind of specificity or real affinity because you're so in the moment, but there's tremendous energy there — one you can't experience in the studio."
Through all this, Broussard hasn't veered much from the principles he grew up with in the South — the son of guitarist, Louisiana Hall of Famer and The Boogie Kings member Ted Broussard.
One of those principles: giving back.
Charity work "is something I was raised with," he says. "I was raised to think about these things. Three years ago, when we transitioned away from the major labels, I knew I wanted to establish myself independently on the right footing karmically, so we decided to build in a philanthropic aspect into what we do and launched the 'SOS' effort as a result," referring to the 2016 "S.O.S. 2: Save Our Soul: Soul on a Mission" album that benefited the homeless.
"It was my own effort at first," he adds. "It took a bit of heavy lifting to convince everyone that we should take a large chunk of proceeds from this record and give it away. It was a tight time financially, and it was difficult for many to conceive why we would give away 50 percent of the revenue. But I knew, in my gut, it was the right thing to do."
It took him a few years to trust his instincts, especially musically. Early on, it was a record producer who had to give him a nudge to harness the power of his most treasured instrument: his voice.
"Many years ago, my first record producer would tell me almost constantly to 'sing the lyrics.' I didn't know what he was talking about. Clearly, I was singing the words on the page, so I didn't know what he meant. I didn't until six or seven years ago when I realized I had to sing the words of the song as if you know them and truly believed in them."
These days, he says, he is grateful for the power of his voice.
"Paying attention to one's heart and soul with a large of dose of humility and a real focus on authenticity — those are the elements I find most admirable in my favorite singers," says Broussard, who's toured with everyone from Bonnie Raitt and Dave Matthews Band to Willie Nelson and Maroon 5.
"That ability to restrain one's self for the purpose of conveying a message as opposed to showing how many tricks you have up your sleeve — that's not super easy to grasp. As a messenger, you have to believe the message. It took a very long time to wrap my brain around that idea — that if you don't believe in the message, you cannot sell what you're trying to sell."
Believing in the message while staying in the moment — those are two elements that Broussard may find most admirable in himself.
San Diego Symphony City Lights concert: Marc Broussard and Friends*
When: 8 p.m. April 27
Where: Copley Symphony Hall at Jacobs Music Center, 750 B St., downtown
Tickets: $20-$78
Phone: (619) 235-0804
Online: sandiegosymphony.org
*The San Diego Symphony does not perform at this concert.
Twitter: @outdoorlivingsd
Sign up for the Pacific Insider newsletter
You may occasionally receive promotional content from the Pacific San Diego.