Lauryn Hill soared 20 years ago, with her epic 'Miseducation' album, then her career plunged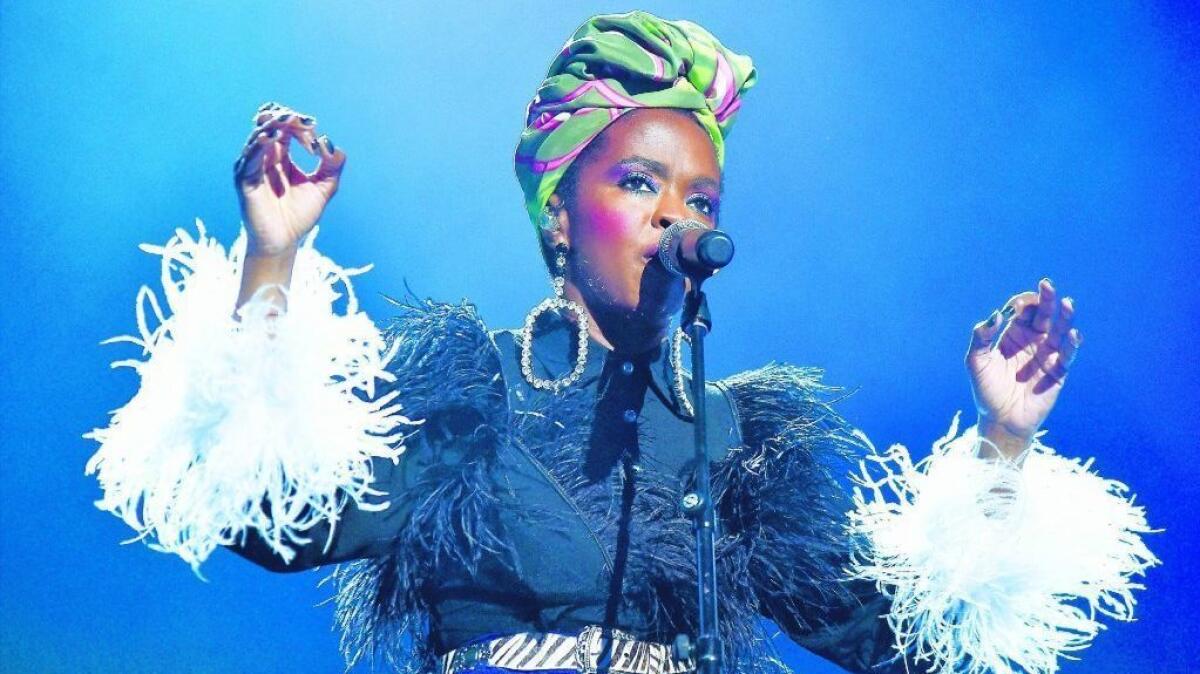 A singular artist, for better and worse, Lauryn Hill has virtually no rivals when it comes to her rise and fall. Indeed, few other artists have ever soared to such heady heights with their debut solo album as Hill did in 1998 with "The Miseducation of Lauryn Hill."
A landmark recording, then and now, it set a standard few others have since matched. Alas, that also includes Hill, who rose to prominence in the hip-hop trio The Fugees before "Miseducation's" massive success prompted her to focus on her solo career.
"Miseducation" topped the national Billboard charts the week it came out, 20 years ago last month. It sold five-million copies in barely a year and earned 10 Grammy Award nominations. It won five, including for Album Of The Year, Best R&B Album, Best New Artist, Best R&B Song and Best Female R&B Vocal Performance, the last two both for "Doo Wop (That Thing)."
Hill was just 23 at the time. In hindsight, her success was much too much, much too soon, and her long descent began soon after her Grammy sweep.
The second leg of Hill's first solo tour included an alternately rousing and muddled 1999 San Diego show at Coors (now Mattress Firm) Amphitheatre. Ticket prices were so high — more than $90 for the best seats — that the predominantly young audience in the nearly 20,000-capacity venue numbered just 7,489.
Hill was paid a guaranteed $250,000, per night, for that leg of her tour, regardless of how large or small the attendance. When she sang It's funny how money change a situation at Coors during her song "Lost Ones," the irony was sadly palpable.
Not as sad, though, as when she served three months in prison in 2013, after pleading guilty to tax evasion on $1.8 million she earned between 2005 and 2007.
By that point, Hill had given birth to four children with Rohan Marley, who is one of Bob Marley's sons. Their fifth child was born in 2008, a year before Hill and Rohan split up. Her sixth child was born a few years later; the father's identity remains undisclosed. In early 2017, Hill became a grandmother.
In between her first tour in 1999 and her incarceration, she did a one-year disappearing act in 2000. She re-appeared in 2001, with her head shaved and an acoustic guitar in place of the 17-piece band she used on her 1999 tour.
That Hill only seemed to know a few guitar chords was reinforced on her musically stillborn 2002 live album, "MTV Unplugged No. 2.0."
"I used to be a performer, but I don't really consider myself a performer anymore," she told her MTV audience.
That may or may not explain Hill's consistently erratic performances — or her frustrating habit of taking the stage up to several hours after her purported starting times. At her July 18 concert in Toronto, she went on only an hour late, but then performed for only 45 minutes, 65 minutes less than scheduled.
In a 2016 Facebook post, Hill wrote: "I don't show up late to shows because I don't care. The challenge is aligning my energy with the time, taking something that isn't easily classified or contained, and trying to make it available for others."
But aligning her energy didn't seem to be the challenge when Hill performed here at Humphreys Concerts by the Bay in 2011, as part of her "Moving Target: Extended Intimate Playdate Series" tour. Rather, it was that she wouldn't leave her dressing room to start her concert until after that night's NBA playoff-game telecast had concluded.
Equally frustrating is her apparent refusal to perform any of her "Miseducation" songs in a recognizable manner — at least for more than a few moments at a time — before her band segues into extended funk vamps. To further compound matters, Hill's decidedly unconventional vocalizing on her best-known numbers often seems designed to thwart any of her fans from singing along.
That makes it all the more curious she is now on tour to celebrate the 20th anniversary of "Miseducation," an album whose songs she has long undermined in concert by refusing to do them justice. Consequently, billing this tour as an anniversary — and trumpeting the fact that she will perform all of her "Miseducation" songs live — seems almost perverse, given her apparent desire to subvert those songs.
Hill, who has not done an interview in more than a decade, contends the liberties she is taking are very much in the tradition of jazz artists who re-shape their music anew at each concert.
And, to be fair, hearing gifted performers in almost any genre stretch and take chances can be rewarding (at least when everything clicks). But Hill is not a jazz artist and her songs from "Miseducation" are not constructed in a way that lends themselves well to constant reinventions.
Some have speculated that Hill's on-stage subversion is inspired more by spite than artistic considerations. She has made a number of out-of-court settlements with musicians who charged they were not properly credited for their songwriting and arranging contributions to "Miseducation." By dramatically re-doing her songs in concert, some speculate, she seeks to diminish the contributions of the musicians who litigated against her.
Not so, Hill countered last week in a lengthy online rebuttal to charges by former Hill keyboardist Robert Glasper, who alleged she stole music, underpaid and mistreated her band members, and insisted they not look her in the eye.
"I could speak volumes …," Hill writes, 2,580 words into her 3,152 word self-defense rebuttal.
She could, but why bother?
Or, as one disgruntled fan recently tweeted: "U deserve whatever u get if u willingly pay for a ticket to a Lauryn Hill concert in 2018."
Of course, it's possible that an artist as gifted as Hill could suddenly get back into gear and make inspired new music. Or, perhaps, that she could deliver the songs from her only studio album to date with the dedication and respect they — and her audience — deserve on a concert stage.
Alas, given the number of disappointing (and inexcusably late) performances I've endured by Hill over the years, waiting for her to get her act together is an act in futility better left to fans with a far greater tolerance for disappointment. Here's hoping that, somehow, some way, she soon proves her disgruntled naysayers — present company included — wrong by righting her long-listing musical ship.
The Miseducation of Lauryn Hill 20th Anniversary Tour, with Kelela and Protoje Iman Omari
When: 6:30 p.m. Sunday
Where: Cal Coast Credit Union Open Air Theatre at SDSU, 5500 Campanile Drive
Tickets: Sold out
Phone: (800) 645-3000
Online: ticketmaster.com
george.varga@sduniontribune.com
Twitter @georgevarga
Sign up for the Pacific Insider newsletter
You may occasionally receive promotional content from the Pacific San Diego.