Katy Perry, excited to play at KAABOO, talks music, moshing, her truth, and (of course!) 'left shark'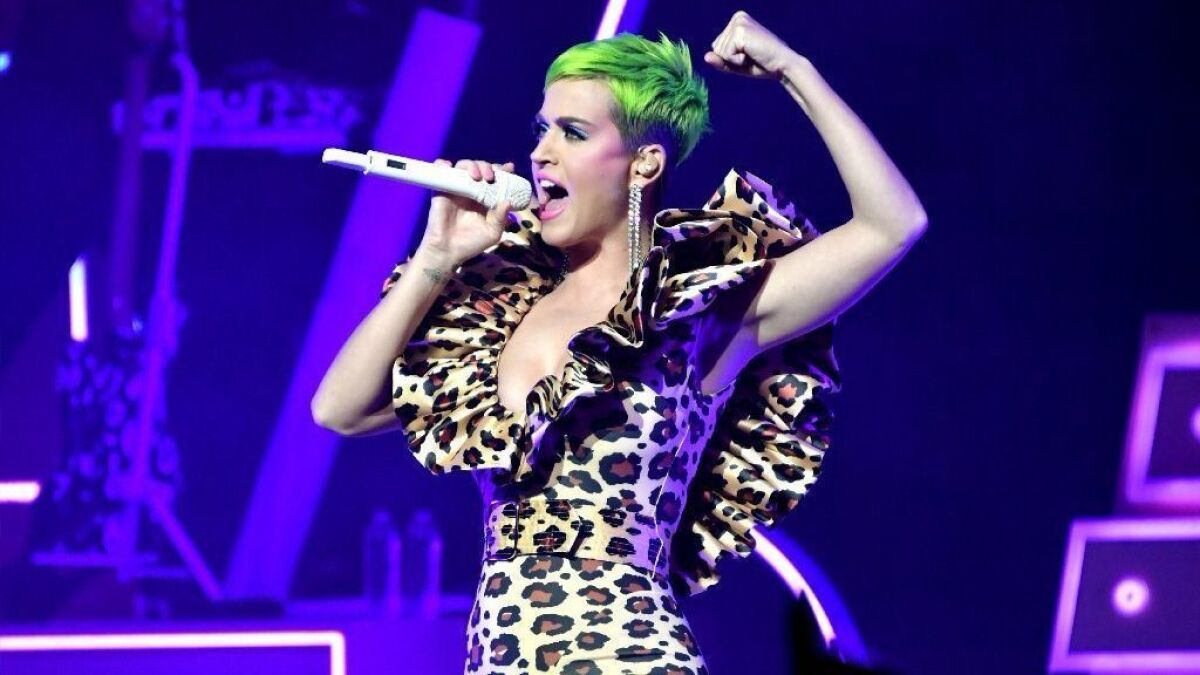 Katy Perry likes to go both ways when it comes to her music and her live performances.
"I don't think an artist has to be just one thing — they can be both escapism and thought-provoking, all in the same set," said Perry, 33, who headlines the three-day KAABOO Del Mar festival on Sunday
For fans who only want to see her, special Katy Perry Cares passes — good for admission to KAABOO Sunday night only — are available. A portion of the proceeds from the sale of those passes will benefit MusiCares, the Grammy Awards' charitable division, which helps musicians in need and will have a backstage Safe Harbor Room at KAABOO for the second consecutive year.
"MusiCares has provided programs and services at festivals and also benefited from several over the years, but this is the first time we have officially partnered with a festival," said a representative of the Recording Academy, under whose auspices the Grammys and MusiCares are operated.
Perry's KAABOO performance follows the Aug. 21 conclusion in New Zealand of Perry's 11-month, 113-show world concert trek, "WITNESS: The Tour." It was named after the Santa Barbara native's chart-topping 2017 album, "Witness," which received a decidedly mixed critical reception.
On the 15-song collection, electro-pop grooves stand side by side — at least on a few songs — with lyrics about female independence and the aftermath of the polarizing 2016 presidential election. An avowed Hillary Clinton supporter, Perry performed two songs — "Roar" and "Rise" — at the 2016 Democratic National Convention in Philadelphia.
"Both of my parents are pastors, and staunch Republicans," Perry told the convention audience.
"I didn't finish high school and, unfortunately, I don't have a formal education. But I do have an open mind and I have a voice. So I'm asking you to have an open mind and to use your voice, because on November 8th you'll be just as powerful as any NRA lobbyist. You'll have as much say as any billionaire. Or you can just cancel out your weird cousin's vote, if you like. It's not where you come from; it's what you grow into."
With the election nearly two years past, how easy or difficult is it for Perry — a returning "American Idol" judge — to entertain and share her truth at the same time?
"My biggest truth is to find connection between my story and the stories of the people I get to meet because my music brings us together. I want people to feel like they are seen," said the veteran singer-songwriter and social media queen, who has 108 million Twitter followers, 68 million-plus Instagram followers and 64 million-plus Facebook followers.
In an email interview this week from Los Angeles, where she lives, Perry answered an array of questions. Here are some of them.
Q: The Vans Warped Tour just concluded its final year. What are the most important things you learned, positive or negative, from being a performer on the 2009 Warped tour?
A: I learned to roll with the punches, and that's really served me well in all aspects of my career from that point on. I was literally 'One of the Boys' on (Vans) — one out of two to three other groups, out of 80 bands, that was female.
Q: The Warped tour was your first experience playing a big festival, even if you were not yet a big act. KAABOO Del Mar is certifiably a big festival with some very big acts — and the Pacific Ocean as a backdrop behind the main stage. How do you approach a festival performance differently from a concert tour date?
A: I just got home from "WITNESS: The Tour." And, as proud as I am of what that became over the last year, I took this performance as an opportunity to shake up the creative (juices) a bit, add in some old favorite songs, and just create a bigger, fresher, continually more bombastic version of the show.
Q: Will your 2015 Super Bowl halftime show colleague, Left Shark, parachute in during your KAABOO performance (and, being Left Shark, get tangled up in a lighting rig or land in a nearby lagoon and nearly drown)?
A: Duh, he wouldn't drown. He's a fish!
Q: Speaking of rocking out, you once provided vocal accompaniment for P.O.D., who are from San Diego. If Sonny Sandoval was suddenly unable to do a short tour with P.O.D. and they asked you to fill in for him on lead vocals — either as Katy Perry or under an assumed name, wearing a wig of your choice — would you or wouldn't you?
A: Well, you had me at wig, but I better stay in my lane.
Q: Might the first festival you attended as a kid been a Christian music festival?
A: Yes, Spirit West Coast was my first festival. I remember it because I was a really big ska fan, and there were a lot of Christian ska bands playing. I was a really good skanker and into mosh pits, but unfortunately, on the way back, we got into a major car wreck that put a bunch of kids in the hospital, but no one was critically injured.
Q: Hunter S. Thompson once famously said: "The music business is a cruel and shallow money trench, a long plastic hallway where thieves and pimps run free, and good men die like dogs. There's also a negative side." What's your take on it?
A: I like to keep my glass on the half full side, and I always have an immune shot in my pocket, and a couple grains of Himalayan salt on standby.
Q: You've been doing music for at least half your life and been a major star for the past decade. What has been a greater creative impetus for you — and why: success or failure?
A: My heart is my greatest creative impetus. Music has always been a way for me to express myself, and from the very beginning of my career, I have always felt like I will succeed because the world doesn't need another copy of something that already exists, but needs the voice that only I can give.
Q: Does the public and critical reception to your latest album make you more determined to follow your creative muse? Or has it caused you to re-evaluate your musical direction?
A: I'm always up for constructive criticism, but will continue to stay true to my authentic artistic self. I'm proud of my continual evolution.
KAABOO Del Mar
When: 1:30 p.m. to 12:30 a.m. Friday; noon to 12:30 a.m. Saturday; 11:30 a.m. to 9 p.m. Sunday
Where: Del Mar Racetrack and Fairgrounds, 2260 Jimmy Durante Blvd., Del Mar
Tickets: $149 Friday single-day pass. All other single- and multi-day passes are sold out, except Katy Perry Cares Passes, which are valid Sunday evening at 6 p.m. only, which cost $89 each (a portion of the proceeds from the Perry passes will benefit the nonprofit MusiCares).
Phone: (855) 798-5995
Online: kaaboodelmar.com
george.varga@sduniontribune.com
Twitter @georgevarga
Sign up for the Pacific Insider newsletter
PACIFIC magazine delivers the latest restaurant and bar openings, festivals and top concerts, every Tuesday.
You may occasionally receive promotional content from the Pacific San Diego.