Justin Timberlake: In sync for Super Bowl halftime show, even without Janet Jackson?
Justin Timberlake has a new album and a pending tour, plus Sunday's Super Bowl halftime show.
Is Justin Timberlake still in sync with a pop-music world in which he has been a dominant force for nearly two decades?
We'll soon have at least three ways to answer that, including his performance at Sunday's Pepsi Super Bowl LII Halftime Show in Minneapolis. The game, which will air locally on NBC Channel 7/39, is scheduled to kick off at 3:30 p.m.
The halftime show comes just two days after the Friday release of "Man of the Woods," Timberlake's first new solo album since "20/20 Experience" and "The 20/20 Experience — 2 of 2" both came out in 2013.
Then comes his "Man of the Woods" concert tour, which opens March 12 in Toronto and wraps up its first leg June 2 in Philadelphia. Ticket demand has been so high that, on Jan. 16, second concerts were added in Toronto, New York City, Chicago, Boston, Montreal, San Jose, and Los Angeles (which is the closest the tour is coming to San Diego, at least for now).
By all appearances, then, the *NSYNC alum appears to be sitting on top of the world.
At 37, he's a resurgent pop-music icon whose pre-"Man of the Woods" solo album sales now exceed 26 million.
He's one of TV host Jimmy Fallon's best friends and favorite on-air comic foils, and he's a frequent "Saturday Night Live" guest.
He's a happily married father with a 3-year-old son, Silas, who inspired his famous dad's 2016 mega-hit, "Can't Stop the Feeling," which was featured in the film "Trolls."
He's been independently wealthy since even before his 2013/2014 "20/20" concert tour grossed $231 million.
He's a film star whose acting in "The Social Network" and the Coen brothers' "Inside Llewyn Davis" was praised by critics. That's a rarity for any alum of "The New Mickey Mouse Club" not named Ryan Gosling or Keri Russell.
And, yet, a more than casual observer might wonder if Timberlake is having his midlife identity crisis a few years early.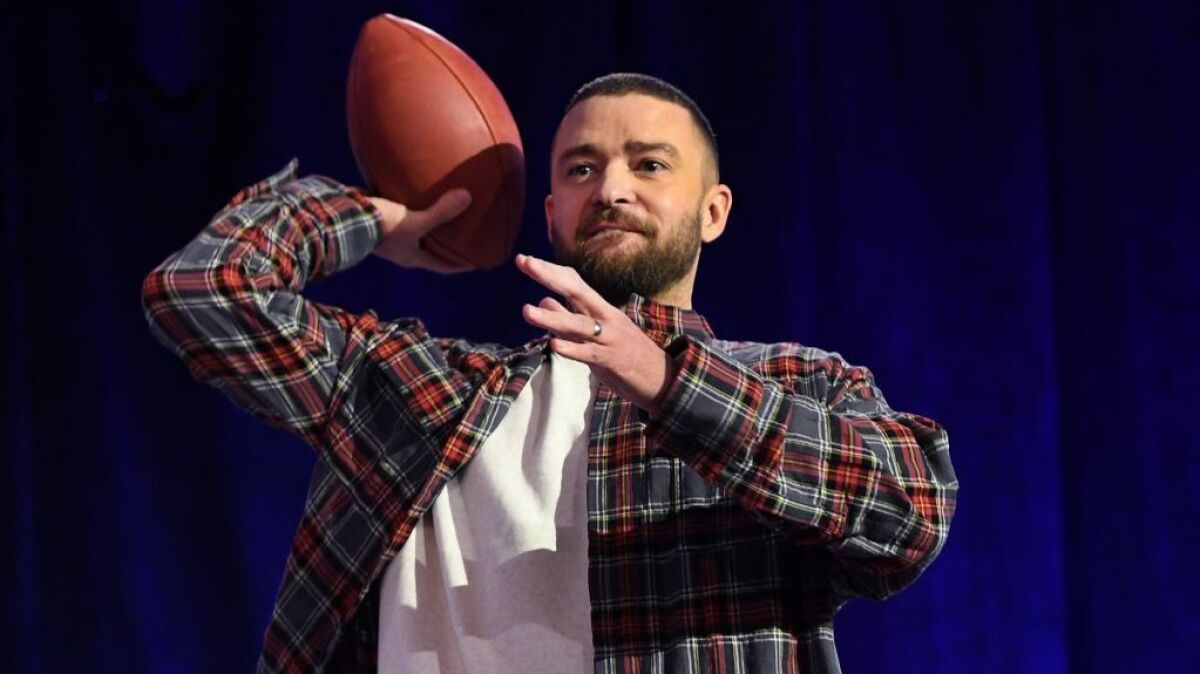 New image and sound?
In the Jan. 2 "Man of the Woods" preview video, a bearded, suitably woodsy-looking Timberlake solemnly intones: "This album is really inspired by my son, my wife, my family, but, more so than any other album I've ever written … where I'm from. And it's personal."
That's a relief. Few things are more disheartening than an impersonal family-inspired album.
To hammer home his aw-shucks message, the 59-second video shows horses running in a corral and Timberlake walking through a stream and across a snowy vista, his arms and eyes extended toward the heavens above. By the time he's shown running through a corn field, well, let's just say the corn feels a bit redundant.
It doesn't help that Pharrell Williams, who co-produced the album, is heard in the video saying: "It just feels so earthy. It's just where you are in your life right now." (Um, and that would be standing in a stream, fully clothed, with arms outstretched in a way that suggests a crucifixion, or, at the very least, a baptism?)
Nor does it help that Timberlake's wife, actress Jessica Biel, is heard in the video describing "Man of the Woods" as sounding: "like mountains, trees, campfires … like (the) Wild West, but now."
A contemporary Wild West?
The musical equivalent of nature, embellished by the sound of crackling wood, horses trotting and amber waves of grain?
All that's missing from this picture are some s'mores, although that may just be a matter of time until a corporate endorsement deal can be finalized with a major marshmallow manufacturer.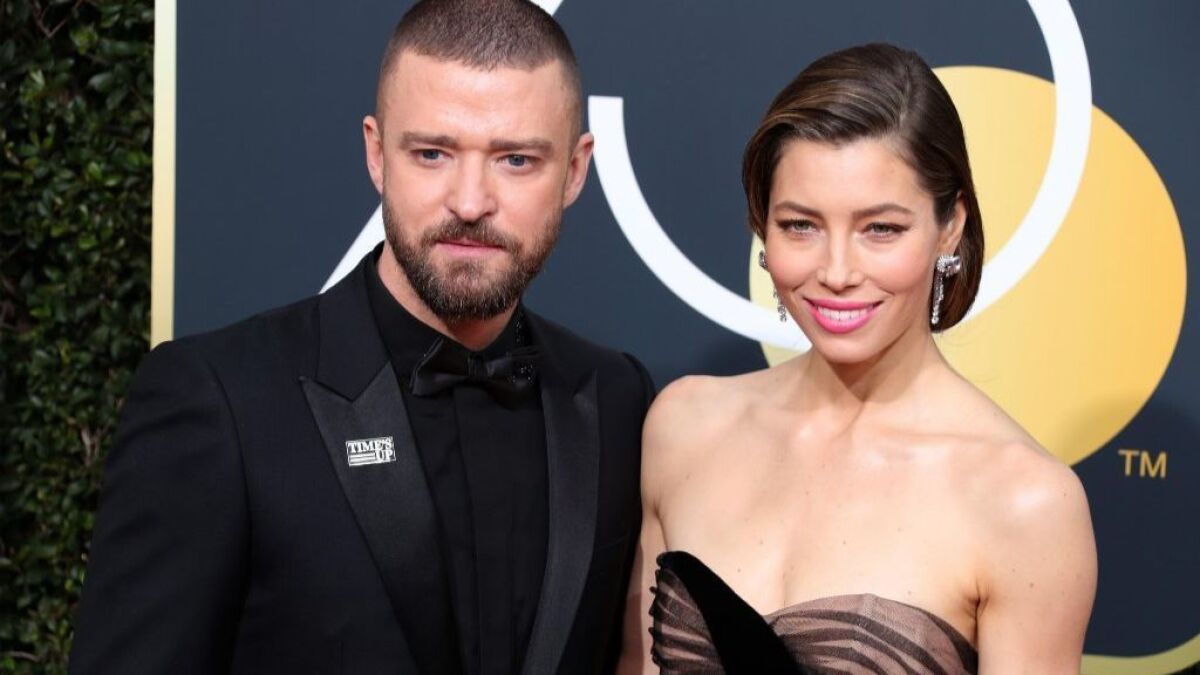 Authentic evolution? Or careful rebranding?
Regardless, it's easy to wonder if "Man of the Woods" is anything more than a carefully plotted rebranding scheme by a famous singer-songwriter whose career has never relied on authenticity to ring up enormous sales.
Then again, how could it?
Like other more and less talented white artists, Timberlake has thrived by embracing and co-opting elements of funk, hip-hop, R&B and vintage soul.
As if to hedge his bets, the first single to be released from "Man of the Woods" was "Filthy." Alas, its title and lyrics did not refer to, say, the dirt covering an ol' cowhand after a long day rounding up cattle on a dusty mesa.
No, the lyrics to "Filthy" deal with — surprise! — something more libidinous, as evidenced by such lyrics as: Look, put your filthy hands all over me / You know this ain't the clean version / And what you gonna do with all that beast? / When I leave the cage open, huh, walk to me, uh / No question, I want it.
The Memphis-born Timberlake also includes a riposte to anyone who might question his musical bona fides, declaring: All my haters gon' say it's fake / I guess I got my swagger back.
Timberlake's singing on this mid-tempo, electro-funk ditty suggests Robin Thicke channeling Prince, who pointedly responded to Timberlake's 2006 hit "SexyBack" with a curt: "Sexy never left."
(By coincidence, on Thursday Timberlake held a private listening party for "Man of the Woods" on the soundstage of the late Prince's Paisley Park headquarters in a Minneapolis suburb. A number of Prince fans objected in online posts.)
Ode to a flannel shirt
In addition to "Filthy," "Man of the Woods" contains the even less subtly titled song "Sauce" and an ode to flannel shirts called, um, "Flannel." The video for the album's title track features Timberlake in — surprise! — a flannel shirt. Can a new "SexyFlannelBack" clothing line be far behind?
The album includes a song call "Montana." Alas, it's not a cover of the Frank Zappa classic of the same name, but a middling new song that is pleasant, no more, no less.
On the album-closing "Young Man," another number written for his son, Timberlake asks Silas to appreciate what a babe his mother is and offers the fatherly advice: Someday you're gonna break somebody's heart / That's what we do.
The disco fiddling on the Earth, Wind & Fire-meets-Wild-Cherry "Midnight Summer Jam" is undeniably catchy, while the funk-rock-meets-twang of "Sauce" is just clunky.
The musical tone of the album is muted, not because it combines banjos and drum machines — or what Timberlake recently described as "modern Americana with 808s" — but because it does so in such a cautious manner.
To call this an Americana album is about as accurate as calling any Hollywood starlet who wear a Ramones' t-shirt a rabble-rousing punk-rocker.
Had he really wanted to take chances, Timberlake could have teamed up with, say, Alison Krauss and Bjork, or St. Vincent and bluegrass dynamo Rhonda Vincent, and let the chips fall where they may.
Instead, we have the calculated, watered-down "Man of the Woods," which combines backwoods and uptown — as in country, Southern-rock and contemporary R&B and dance music.
The lack of any edge isn't surprising. Pushing the envelope has neve been in Timberlake's wheelhouse. But the results are, for the most part, inoffensive. And, at a time when even middle-of-the-road pop acts seek to provoke — however contrived their attempts may be — inoffensive just doesn't cut it.
That Timberlake is a talented musical craftsman and charismatic performer is undeniable. And unlike most other former teen-pop stars, he has avoided career-dampening controversies — in marked contrast with Janet Jackson, his musical partner at the instantly infamous 2004 Super Bowl halftime show in Houston.
That, you may recall, is when Timberlake ripped off a part of Jackson's black leather bodice, briefly exposing her bejeweled right breast.
In the ensuing controversy, Jackson became a national pariah. She was dis-invited from the following week's Grammy Awards; Timberlake was not. His career quickly recovered; she lost her radio and MTV airplay, and her career still hasn't recovered.
The incident was purportedly a "wardrobe malfunction."
Never mind that it took place during Timberlake's "Rock Your Body," and that he ripped Jackson's top off just as he got to the line: "I'm gonna have you naked by the end of this song."
At a Thursday Super Bowl press conference, Timberlake was asked if he might have any guest stars join him for his Sunday halftime show performance.
"Well ... no," he replied.
"I had a ton of grand ideas about special guests. I think Vegas has a lot of odds on it I heard, from *NSYNC, to Jay [-Z], to Chris Stapleton, to Janet. But this year, I'm just excited, my band, The Tennessee Kids, I feel like they're my special guest this year and I'm excited to rock the stage."
Curiously, not one of the 500 reporters at Thursday's press conference asked a single question about Jackson or TImberlake's notorious 2004 halftime show performance with her.
But he recalled the incident in a January radio interview, saying: "I stumbled through it. To be quite honest, I had my wires crossed. It's just something that you have to look back on and go: 'OK, you can't change what's happened, but you can move forward and learn from it.' "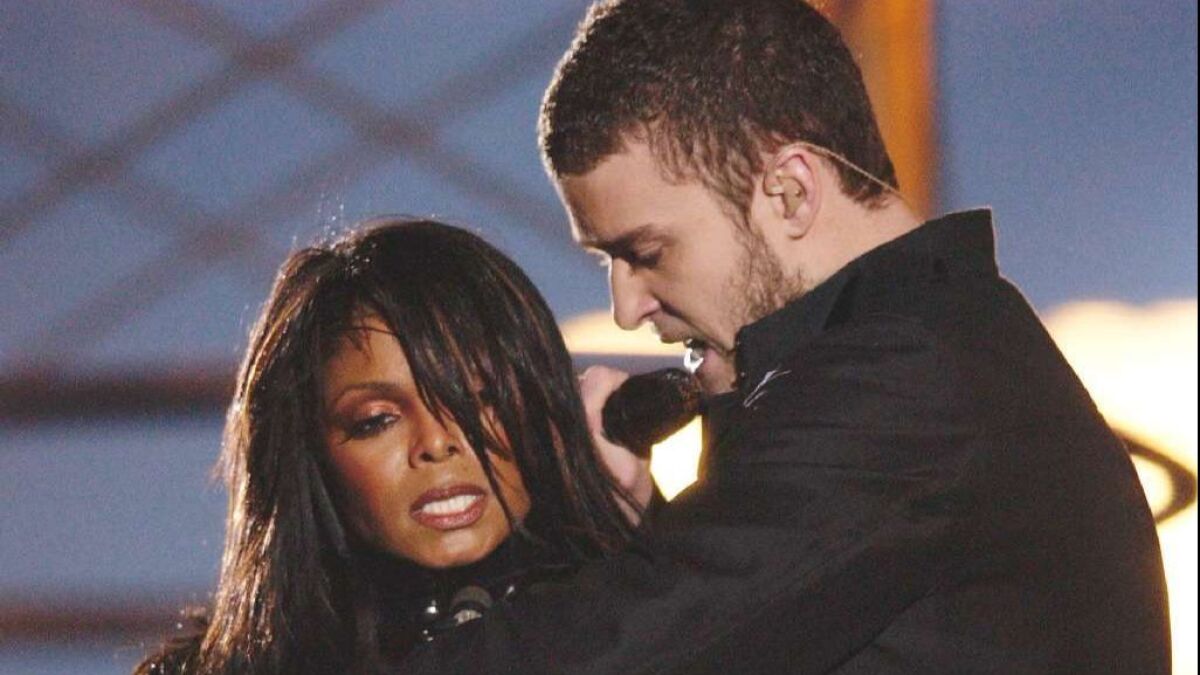 Sorry, not sorry
That's a very different tune than the one Timberlake sang (make that, spoke) in a TV interview immediately after his "Nipplegate" performance with Jackson.
"It was fun. It was quick, slick, to the point," he told Access Hollywood.
"You guys were getting pretty hot and steamy up there," Pat O'Brien, the show's host, noted.
A laughing Timberlake responded: "Hey, man, we love giving you all something to talk about."
Later, he told MTV: "If there was something I could have done in (Jackson's) defense, that was more than I realized then, I would have. I probably got 10 percent of the blame, and that says something about society, I think, that America's harsher on women. … And I think that America is, you know, unfairly harsh on ethnic people."
That, sadly, it is, although that is hardly Timberlake's fault.
But for a performer who owes such a significant debt to African-American music and culture, his failure to offer a heartfelt public apology to Jackson — then or now — is doubly distressing. This holds even more true considering just how much Timberlake had modeled his music after that of Jackson's brother, Michael.
Moreover, *NSYNC had been invited by Janet Jackson to be the opening act for her 1998 "Velvet Rope" tour. She later sang on "Justified," Timberlake's first solo album.
Surely, 14 years later, the least Timberlake can do is offer her a public mea culpa, if not invite her to join him once again on the Super Bowl stage (assuming the powers that be at the NFL and NBC-TV would allow it).
Would a true "Man of the Woods" do anything less?
george.varga@sduniontribune.com
Twitter @georgevarga
---
Sign up for the Pacific Insider newsletter
PACIFIC magazine delivers the latest restaurant and bar openings, festivals and top concerts, every Tuesday.
You may occasionally receive promotional content from the Pacific San Diego.