Coachella a small gig for Jean-Michel Jarre, who has played for million-plus audiences three times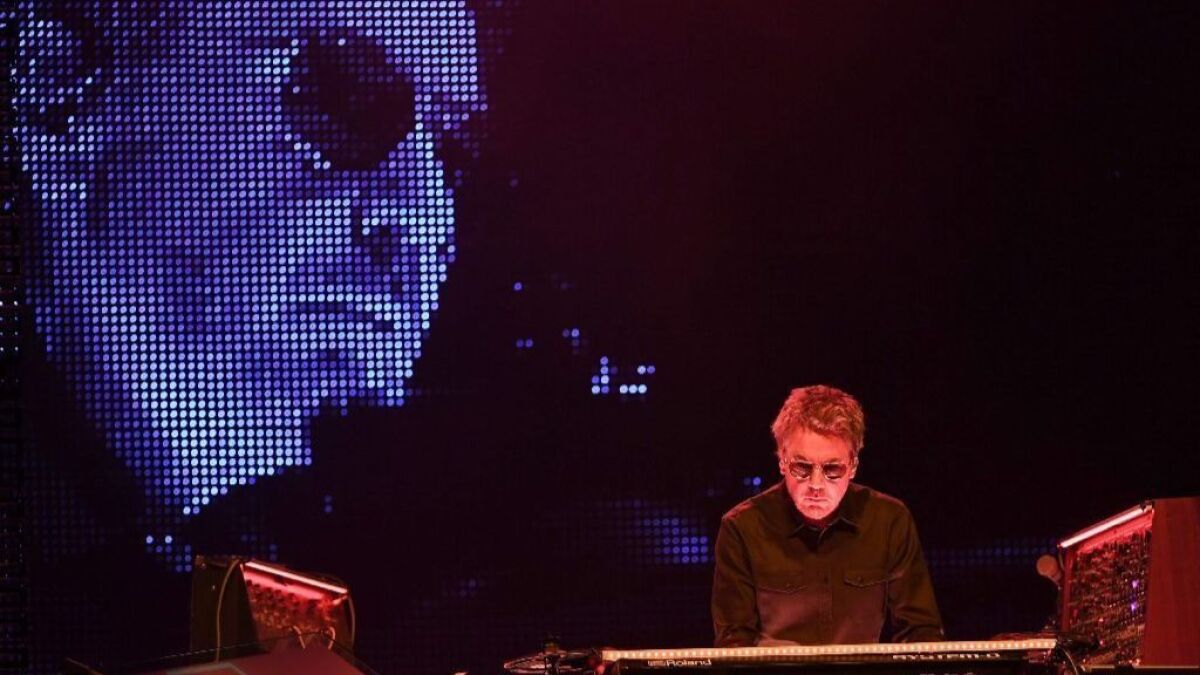 For many solo artists and bands, it's a very big deal to perform at the Coachella Valley Music & Arts Festival, which concludes its sold-out 2018 edition Sunday and draws a capacity audience of 125,000 for each of the six days.
Yet, while French electronic-music pioneer Jean-Michel Jarre is delighted to play at the world's biggest annual music festival — where he performed last Friday and returns again tomorrow — Coachella qualifies as one of his more intimate outdoor concerts.
This, after all, is the same Jean-Michel Jarre who made the Guinness Book of World Records after performing for 1.2 million people in Houston in 1986, 2 million in Paris in 1990 and 3.5 million in Moscow in 1997. He's also done concerts at the Dead Sea in Israel, the Great Pyramids in Egypt and aboard a huge barge on the Thames River in London, where he attracted a paid audience of 200,000 despite playing in a torrential downpour.
On Saturday, the Paris-based music maverick will conclude his 2018 Electronica World Tour with a show here at San Diego's Spreckels Theater, whose 1,463-capacity makes it the equivalent for him of playing in someone's living room. (Ticket information appears below.)
But the size and location of a venue don't matter much to Jarre, whose worldwide album sales since the 1976 are now approaching 80 million.
"This 'Electronica World Tour' is a modular concept. So I can play in a San Diego theater, as well as at the Dead Sea, or in China, or in a stadium, or at a big festival, like Coachella," Jarre said by phone from his home in Paris.
"That was also a dream of mine — to be able to perform with the same principles in different places. So I'm not dreaming about other unusual outdoor venues. I'm more thinking about what could be next. One of my next projects will have a link with AI. What that will create, I don't know."
Collaborating with M83, Lang Lang and Edward Snowden
His two-volume 2015 and 2016 albums, "Electronica: The Time Machine," feature such diverse guests as Pete Townshend, Armin van Buuren, Edward Snowden, Laurie Anderson, M83, Cyndi Lauper and Chinese classical piano star Lang Lang.
Yes, that Edward Snowden.
"I went to Moscow to record and film him," Jarre said of former CIA employee Snowden, who in 2013 leaked a trove of classified information from the National Security Agency about secret international global surveillance programs.
"Electronic music is about: 'What is our relationship?' When I first heard about Snowden, it made me think of my mother, who was a great figure in the French resistance (during World War II). There are those of us in our society who believe that — when the state generates ideas that may harm us — some of us need to stand up against it. And that's also true for the history of your country, the United States.
"So I've been really touched by Snowden putting his life on the line and saying: 'We should do something about these policies.' I'm really proud about creating this connection with Snowden. And I discovered he knows my old music. Of course, he has no ambition to be a musician!"
Jarre, 69, credits jazz sax giants John Coltrane and Archie Shepp as two of his key inspirations and fondly recalls being just eight when he met trumpeter Chet Baker.
"That is another link for me with jazz, because electronic music composition is all about improvising, twisting the technology and experimentation with sounds and frequencies," he noted.
Apart from some of the members of the celebrated German bands Can and Kraftwerk, Jarre is one of the few artists to make inroads with rock-oriented listeners who studied with Karlheinz Stockhausen.
A visionary German composer and music theoretician who died in 2007, Stockhausen helped pioneer electronic music in the 1950s and '60s. Also near the forefront of the musique concrète (or "concrete music") movement — composing using raw and pre-recorded sounds to create an aural montage — Stockhausen was cited as a major influence by such fellow legends as Miles Davis, Pink Floyd, Bjork and former San Diegan Frank Zappa.
"When I was studying musique concrète with Pierre Schaeffer, I went in to Cologne to work for a while at Stockhausen's studio," Jarre recalled.
"It was a very interesting experience, because he was the most intellectual and abstract — in a crazy way — man. At the same time, he had this kind of an approach that made this movement quite unique. It had a major influence on me about ways to approach the practice of musique concrète in a totally different way, while having all kinds of different reference points.
"Now, more than ever, musique concrète is relevant. Pierre Schaeffer really reshaped the future. He was the first sound designer in music. Today, everybody is doing sound design in the way they are mixing the music, even in jazz. You add reverb, or whatever, so — in a sense — you are using all these effects from the musique concrète era. So, of course, it has had an impact for me and a lot of people. And, today, I'm very interested to work with people from — and influenced by — the musique concrète era.
"It is strange you are asking me about this today. Because, last night, I was appointed honorary president of the music research center in Paris where I studied electronic music as a kid."
'Reshape the future with AI and music'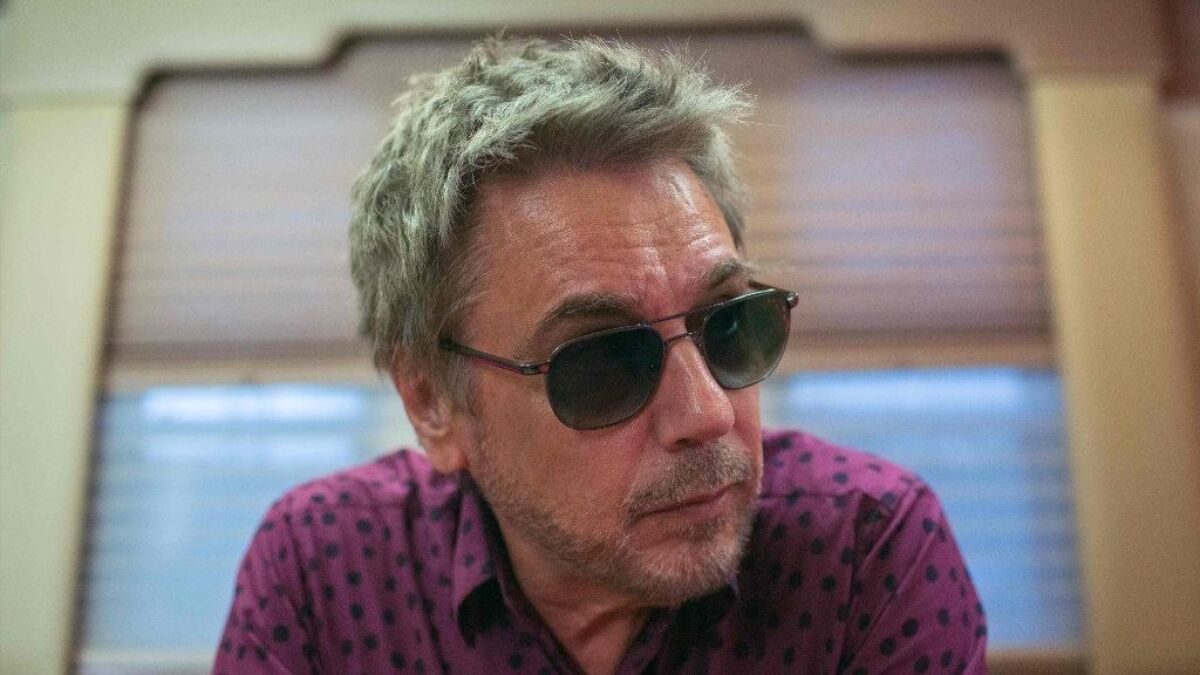 Jarre spoke at length about his music. Here are some excerpts from our conversation.
Q: Hindsight is 20/20. When you made your 1976 album, 'Oxygène' — which sold 16 million copies — did you have any idea how big an impact it would have?
A: That album had been rejected by almost every record company. They said: 'You have all-instrumental tracks that are as long as 10 minutes, with no drummer and no singer. It won't be played on radio.' I knew I was doing something totally different. Also, 'Oxygène' was released at the same time as the emergence of punk music. And punk was all about 'no future,' while my music was all about the future. … Electronic music has always carried a link with a futuristic vision. We lost this vision along the way. It's only recently that we are trying to reshape the future with AI and music.
Q: How many instruments are you using on stage for this tour?
A: I want to create a concert with a real visual counterpoint of the music. I love to create an architectural sound. Then I conceive a kind of 3D design that visually corresponds with the music on stage. There are three of us on stage and we are surrounded by almost 60 different synthesizers, from modular and touch screen synths to a laser-harp I developed.
Q: What happens when there are technological glitches on stage?
A: These days, when so much of our lives involve technology, all kinds of accidents are welcome in performance, as long as they're not too bad, because it ensures the (stage and audio) crew won't fall asleep or be too confident. After a while, on any tour, the crew is on automatic pilot. I always consider it very dangerous when you do good concerts, because the following one will be average or bad. I always try to create some kind of accident or incident to keep people aware and on edge.
Q: Technology is obviously much more advanced now than it was back when you started out. The advantages of being able to work more quickly, and of having many more options, are obvious. But are there any disadvantages for you?
A: It's a very interesting question. Because, first of all — whatever the technology is — what matters is what you want to say with the technology available. At the end of the day, what makes music interesting is yourself. Having said, that more than anything else, we are depending on technology. When I started, I had a lot of limitations. Any kind of analog instrument was quite expensive back then. I starte with one small organ, which I was processing through guitar pedals, and one monophonic synthesizer.
Today, just since the beginning of our conversation, probably 100 new plug-ins are on the market — and will be obsolete by next week. So this whole environment for musicians has totally changed our perspective of how we can use technology. My theory about this, today and yesterday, is let's try to carefully choose one instrument — one plug-in, one analog — and then let's stick to it for six months or one year. Because what makes your music special is who you are and what you can do with this instrument. We have thousands of guitar players, but only one Jimi Hendrix and Eric Clapton. It's the same for trumpeters. There's just one Miles Davis. And you know it's him in 30 seconds."
Jean-Michel Jarre "Electronica World Tour"
When: 8 p.m. Saturday
Where: Spreckels Theatre, 121 Broadway, San Diego
Tickets: $49-$89, plus service charges
Phone: (800) 745-3000
Online: ticketmaster.com
george.varga@sduniontribune.com
Twitter @georgevarga
---
UPDATES:
8:05 p.m., April 18: Tickets are still available for Jean-Michel Jarre's San Diego concert Saturday at the Spreckels Theatre. The original version of this article incorrectly stated that the concert was sold-out.
Sign up for the Pacific Insider newsletter
PACIFIC magazine delivers the latest restaurant and bar openings, festivals and top concerts, every Tuesday.
You may occasionally receive promotional content from the Pacific San Diego.