Jay-Z: wiser, richer, bringing '4:44' tour to San Diego, with 8 Grammy nominations in tow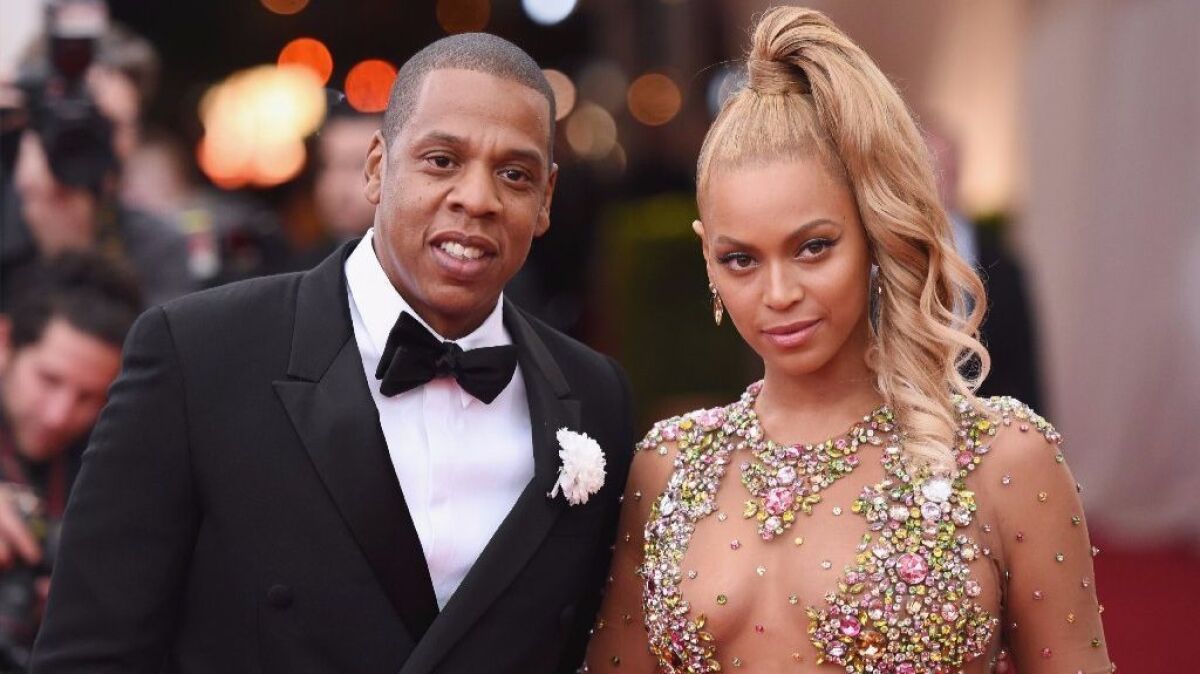 Artistic reinvention and personal catharsis have provided creative and commercial fuel for artists as varied as Prince, Miles Davis, Joni Mitchell, David Bowie and Bob Dylan. But hip-hop superstar Jay-Z may be the first artist to announce his reinvention by knocking himself off, at least figuratively speaking.
Witness "Kill Jay-Z," the opening song on his latest album, "4:44." It includes such telling couplets as: Die, Jay Z, this ain't back in the days / You don't need an alibi, Jay Z / Cry, Jay Z, we know the pain is real / But you can't heal what you never reveal.
On "The Story of O.J.," one of the album's standout songs, he raps — over Nina Simone's haunting "Four Women" — about race and wealth, stasis and transformation. The results are both stirring and disturbing.
The 13th studio album of his career, "4:44" finds Jay-Z reflecting on his past, present and future. In doing so, he also reflects on the state of the nation, racial strife, economic inequality, social unrest and more, including cheating on his wife, Beyoncé, who addressed his infidelity on her 2016 album, "Lemonade."
Jay-Z does all this as an elder statesman of hip-hop, having turned 48 on Dec. 4.
He is also the most exalted — sorry Chuck D and RZA. This year, Jay-Z became the first rapper to ever be inducted into the Songwriters Hall of Fame (former President Barack Obama did the honors).
Jay-Z — real name: Shawn Carter — is also one of the wealthiest rappers, with a fortune estimated by Forbes magazine this year at $810 million.
His empire includes full or partial ownership of the Rocawear clothing line, Roc Nation Entertainment Company, Roc Nation Sports, Armand de Brignac champagne, the venture capital firm Arrive and the Tidal music-streaming service, which Sprint this year paid $200 million for a 33 percent stake.
Jay-Z's bottom line should further expand when he concludes his "4:44" tour, which stops Tuesday at SDSU's Viejas Arena for a 360-degree concert in the round. The tour, which concludes Thursday at The Forum in Los Angeles, is projected to earn significantly more than the $48.9 million Jay-Z's 2013 "Magna Carter Tour" grossed in 2013.
His recent "4:44" tour stops in Dallas and Atlanta each drew more than 15,000 fans and brought in ticket revenues of, respectively, $1.3 million and $1.8 million. By comparison, his 1999 "Hard Knock Life" tour, which included a San Diego Sports Arena show, earned an average of $360,000 per concert, making it one of the most profitable hip-hop concert treks up to that point.
Since then, Jay-Z's star — like his fame and wealth — has risen even higher. The question now is: What does a near-billionaire have to say that is pertinent to two generations of hip-hop fans?
A good deal, as it transpires.
"4:44," which this month earned a field-leading eight Grammy Award nominations, is an unusually contemplative and introspective album. This holds true by Jay-Z's standards and those of the musical idiom synonymous with his name.
Never an extrovert by nature, he sounds more pensive and less bombastic than ever on "4:44" (whose title reflects his Dec. 4 birthday, Beyoncé's Sept. 4 birthday and the couple's April 4 wedding anniversary).
That doesn't mean Jay-Z has lost his swagger. But he is now more focused on the simmering tension created by his lyrics than the musical release that follows (in often muted form). Translating this to a concert stage may be a challenge. But challenges — both met and failed — are what "4:44" is all about.
Jay-Z, with Vic Mensa
When: 7:30 p.m. Tuesday
Where: Viejas Arena at Aztec Bowl, 5500 Canyon Crest Road, SDSU
Tickets: $29.50-$175
Phone: (800) 745-3000
Online: ticketmaster.com
george.varga@sduniontribune.com
Twitter @georgevarga
Sign up for the Pacific Insider newsletter
You may occasionally receive promotional content from the Pacific San Diego.