Jason Mraz reflects on his music, love, marriage, sexuality, critics and world peace
Love, in all its many forms, may not actually make the entire world go 'round — no matter how many songs heartily proclaim otherwise.
But love has long been the dominant force in the songs of Jason Mraz, the multi-Grammy Award-winning Oceanside troubadour, whose unabashedly uplifting hits include "I'm Yours," "Lucky," "The Remedy (I Won't Worry)" and "I Won't Give Up."
Just how dominant is reinforced on his sixth and newest studio album, "Know," which was released last week. Many of the 10 songs on the album were inspired by Mraz's wife, Christina Carano, whom he married in late 2015 in his quaintly named Virginia hometown of Mechanicsville.
The theme of love is underscored on "Know" in such song titles as "Better With You," "Let's See What the Night Can Do" and "More Than Friends" (which features guest singer Meghan Trainor and nicely bookends "Lucky," Mraz's Grammy-winning 2009 duet with Colbie Caillat. On "Love Is Still the Answer," the final track on "Know," the word love is sung several dozen times.)
Taken as a whole, the album — even on first hearing — sounds like a collection of well-crafted musical valentines.
"Very much so," said Mraz, 41, who lives with Carano on his avocado farm in Oceanside in northern San Diego County.
"I consider this album to be a collection of love letters for my wife. And a lot of them started on her voicemail, with me — on the road — singing songs (long distance), sending music back home to let her know I'm thinking of her and weaving her life into my work. 'Valentine' is a very good word."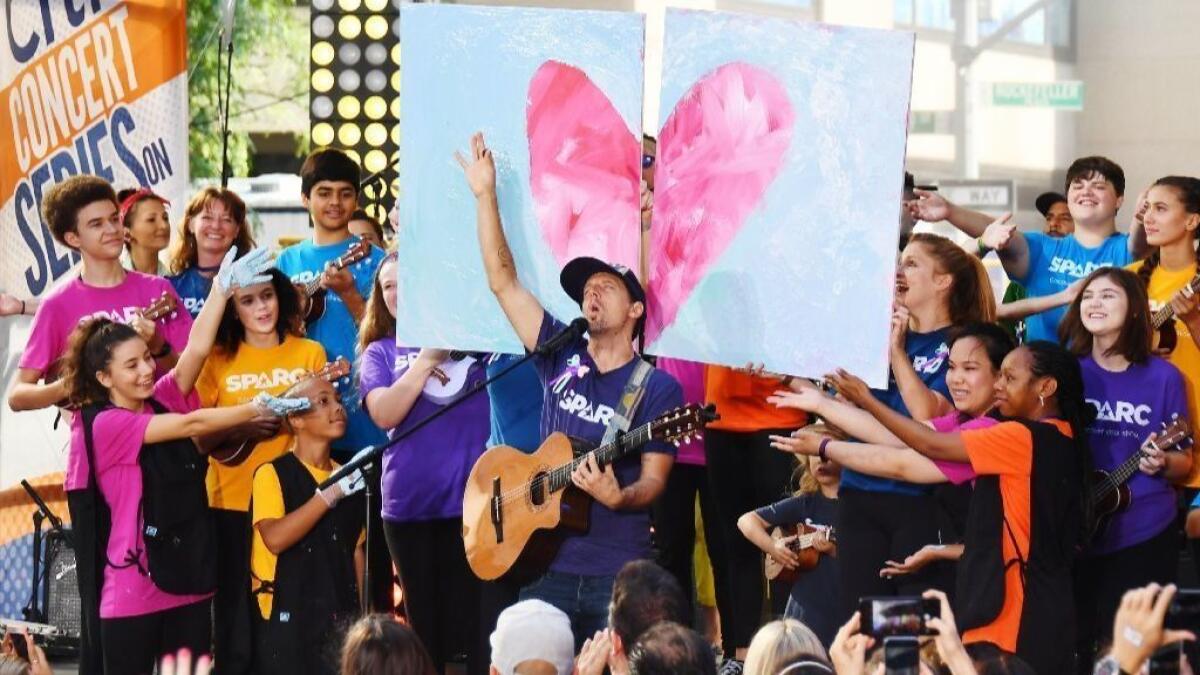 New impetus for making music
As a happily married man, has the impetus to create music — if not love itself — mean something different to Mraz now, as opposed to when he was a happy-go-lucky single man about town?
"Yeah, my motives have changed a lot," he replied, speaking from a recent Vermont concert tour stop in Burlington. "When I started this journey, 16 years ago, it was (about): 'I hope I meet a girl'; and 'I hope I have success so I can pay my bills and not have to have (day) jobs.'
"Then, many of those things came to fruition. And I was like: 'Why am I still doing this? What's the motivation?' Now, hopefully, it's to serve a greater purpose and to stand for joy and equality, and to have this vehicle contribute to the (Jason Mraz) Foundation, which will serve many others. I'm trying to wear more of a 'Mr. Rogers' now than when I was alone and was 'Mr. Tambourine Man'."
The nonprofit Jason Mraz Foundation, founded in 2011, bills itself as "Shining For Arts Education and the Advancement of Equality."
Mraz's commitment to arts education and promoting music for young people is a matter of record.
In 2005, his second album," "Mr. A-Z," included a song that featured the choir from his alma mater, Lee-Davis High School in Mechanicsville. He subsequently became a supporter of VH1's Save The Music Foundation and partnered with VH1, the ASCAP Foundation and Alfred Publishing Co., Inc., on the Jason Mraz "Music in the Schools" program.
In 2014, he became the music mentor for San Diego's Burbank Elementary School as part of the President's Committee on the Arts and The Humanities and Turnaround Arts CA. His new album includes a song, "Love is Still the Answer," that features Orange County's Tesoro High School Madrigals choir. Its director, Keith Hancock, was the 2017 Grammy Educator of the Year honoree.
"We recorded the students and they played with me at the Hollywood Bowl and Irvine Meadows Amphitheatre," said Mraz, who is giving $1 from each ticket sold on his current GOOD VIBES tour to his foundation.
"There are no plans to play in San Diego yet; FivePoint Amphitheatre in Irvine is the closest I'll get. Amtrak is offering late trains for my concert, so folks in San Diego can take the train up to Irvine and still catch the train back to San Diego afterwards, so I'd recommend that."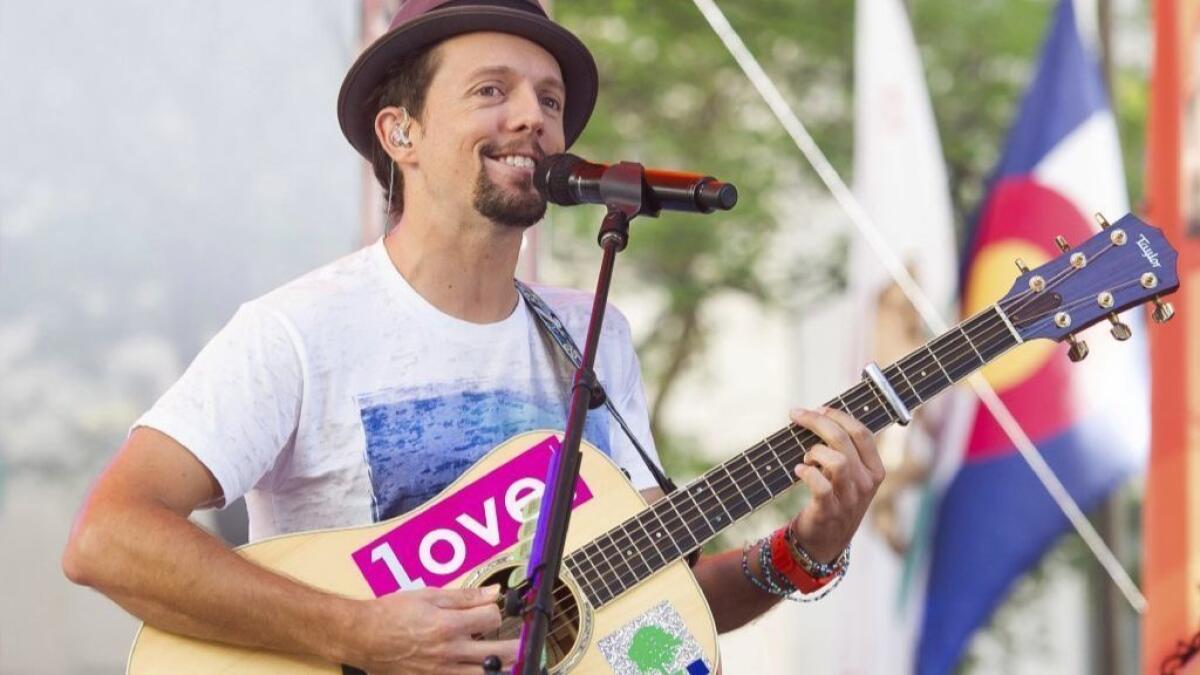 Right 'bi' your side
As for the advancement for equality goals his foundation is promoting, Mraz made headlines last month when he penned a poem entitled "Love Letter to the LGBTQ Community" for Billboard, the music industry's biggest weekly publication.
In it, he thanked the LGBTQ community: "You have inspired me. Re-wired me. You showed me what strength is."
He also wrote: "You stood up for me. You stood up for the world. And now the world is better because of you. We still have a long way to go. But know I am bi your side. All ways."
Not surprisingly, the lines "bi your side" and "all ways" attracted the most attention.
In a subsequent interview with Billboard, published on July 10, Mraz said: "Honestly, I didn't realize it would be so telling. But I've had experiences with men, even while I was dating the woman who became my wife. It was like, 'Wow, does that mean I am gay?' And my wife laid it out for me. She calls it 'two spirit,' which is what the Native Americans call someone who can love both man and woman. I really like that."
Reflecting now on his poem and his Billboard interview, Mraz said: "Well, I misused that term. The term is 'two spirit' but it's specifically for Native American people who are what they consider 'third gender.' So you might fit between two genders and be your own unique gender."
Did he expect his poem to inspire so much attention?
"No, I didn't," replied Mraz, who sounded as if he is still coming to terms with his recent candor. "But when I was writing that letter, at the request of Billboard, I realized halfway through it that I'm not writing to some group of people that stand on the other side of the street, saying: 'I'm with you.'
"I'm writing to a community I stand with, human beings that are all different genders. And I've had my experiences, too, and if I were to be any of those letters (in LGBTQ), I'd most likely be a 'B.' And it felt better to know the group than to write to the group."
'A silent celebration'
Mraz laughed when asked if anyone has high-fived him since he write his poem and discussed his sexuality with Billboard.
"Not yet, no," he said, laughing again. "Maybe it's just a silent celebration. But if I feel good, I feel freer when I'm doing shows in my pink jumpsuit; I feel better."
Is the pink jumpsuit a metaphor?
"No, it's very literal," said Mraz, whose acoustic guitar is bedecked with a "LOVE" sticker and a rainbow flag.
"We are wearing multicolored rainbow suits in our band now and it's really fun. It brings more color and life and unification to the stage and the crowd. My jumpsuit just happens to be pink — or 'dusty rose,' as it was described on the box on the shelf at the store."
Neo-R&B singer and cultural provocateur Janelle Monae recently described herself as "pansexual," after having previously saying she was bisexual. Does Mraz find such labels useful?
"I don't think they're useful," he said. "I think they're really confusing. I've heard 'pansexual' and really don't know what that means. But, hopefully, it's a way to someday eliminate the labels, because they're not necessary.
"We're all totally different people — and that's what makes us the same. We all have these unique qualities and there are not any different races. We just invented that and were told there are all these races and names for what we are. But zoom 500 feet up in the sky and were all identical and part of the same family.
"I think (labels) can help as stepping stones to just being proud and owning the vehicle you were born into and your style and interests. But I don't think those labels are necessarily permanent fixtures. Even our names can be changed. Even our names are funny little labels."
Is Mraz — who in March concluded a nearly five-month stint in the hit Broadway musical "Waitress" — happy now?
"Yeah," he said. "I'm good, man. I'm happy, happy to be out on the road singing songs, still. After all these years, I'm still in awe that I get the opportunity I get to do this. And I'm trying to do it with grace and, hopefully, doing it with infectious joy. I'm digging it, if nothing else!"
Mraz has been the subject of critical barbs over the years for making perpetually sunny and upbeat music.
How does he respond to those who charge that his songs are too happy and — by extension — too corny?
"Well, it's subjective," he replied. "It depends on what kind of mood that person is in that day. I might assume they haven't had enough water to drink. I don't think anything could be too happy. I wish everyone the experience in life to have joy, and know how to cultivate their own inner joy and happiness, because I think world peace will really start within you.
"So I'm at peace and am trying to spread peace and love through (music). If anyone's not interested now, maybe they will be later."
By his own acknowledgement, Mraz felt despondent after the 2016 presidential election. In its aftermath, he wrote and performed several new songs, including "Undone" and "My Own Sh-t," which did not go down well with his concert audiences.
Asked about his downbeat post-election songs, Mraz paused for a good 15 seconds, then parsed his words carefully.
"Um, they were a reflection of that and a reflection of a search for identity. And a song isn't ready if you're still wondering 'Who am I?' — especially during a period of conflict in a country, when everyone's trying to figure out who they are and where they stand.
"They don't need a privileged white guy hogging up the airwaves and saying: 'Look at me!' Because I'm also trying to figure out who I am. So it's not the time for that. After I left the workshop ... I needed to figure out a higher purpose. And I need to do that on my own terms. I had written a few other songs, too, that might have been pointing a finger at something else, outside of me.
"And I realized that you can't have success at the expense of someone else. Even though Mr. Trump acts, and lives, as if that's possible, it's not possible in music to point a finger and say someone's wrong and expect it to go to No. 1 on the charts. It never will, because it would be trying to gain from the failure of others, and that's impossible. I'm thinking we're going for world peace here, so we have to program our minds and heal in order to have that world peace. And we won't have that if we're arguing. …
"I took my time and I'm grateful for that — and for choosing (to make songs) of my love letters, instead of my hate mail."
The GOOD VIBES Tour, featuring Jason Mraz, with Brett Dennen
When: 8 p.m. Sept. 13
Where: FivePoint Amphitheatre, 14800 Chinon, Irvine
Tickets: $30.50-$130.50, plus service charges
Phone: (800) 745-3000
Online: livenation.com
george.varga@sduniontribune.com
Twitter @georgevarga
Sign up for the Pacific Insider newsletter
You may occasionally receive promotional content from the Pacific San Diego.