Humphreys 2018 lineup mixes Rock and Roll Hall of Famers, Coachella buzz acts, and more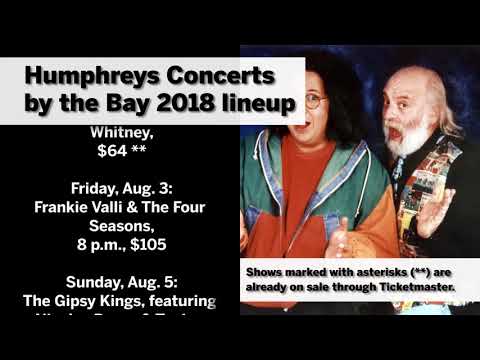 The 2018 Humphreys Concerts by the Bay season will feature at least six Rock and Roll Hall of Fame inductees and four 2018 Coachella festival acts.
The 2018 Humphreys Concerts by the Bay season has been announced. The full lineup appears below.
It includes such legends as Willie Nelson, Ringo Starr, Joan Baez and Stephen Stills.
Tickets go on sale next Saturday, April 7th.
More than 20 acts will be making their debut at the intimate Shelter Island venue, including Trampled by Turtles and such 2018 Coachella festival performers as Chromeo, Miguel, Fleet Foxes and alt-J.
More than 50 shows are confirmed. As many as 10 more may be added.
FULL STORY:
Ringo Starr, Yes and Joan Baez are among the six Rock and Roll Hall of Fame inductees set to perform at Humphreys Concerts by the Bay in 2018.
So are such fellow 1960s veterans as The Turtles, Vanilla Fudge and The Stylistics, and such 1970s and '80s veterans as Toto, Adam Ant and The Go-Go's, who will all perform at the Shelter Island venue this year.
But that doesn't stop Humphreys owner Richard Bartell from playfully coining the phrase "Coachella West" to describe the lineup for the series' upcoming 37th annual season, which goes on sale Saturday.
His knowing chuckle underscores the fact that such returning Humphreys favorites this year as America, Kenny G and The Gipsy Kings are as unlikely to perform at the Coachella festival as Stormy Daniels is to replace Mike Pence as Vice President.
"You could call us 'Coachella West,' since four of the five acts we have in April — Chromeo, Fleet Foxes, Miguel, alt-J. — are also playing at Coachella. And Miguel and alt-J. are already sold out," said Bartell, the president of Bartell Hotels, which owns the concert series, Humphreys Restaurant and Half Moon Inn & Suites, and seven other San Diego hotels.
"We've been trying to get Chromeo for several years," Bartell, 69, continued. "I watched them on the Coachella live stream in 2014, the first time they played the festival, and really liked them. We're always trying to get as many Coachella acts as we can in April,"
That goal is made easier by the fact Coachella and Humphreys are both booked by Goldenvoice/AEG Entertainment. Willie Nelson, who returns for an Aug. 10 Humphreys concert, has performed at both Coachella and Stagecoach, the annual country-music festival in Indio that is also booked by Goldenvoice.
This long-term business relationship gives Humphreys (capacity: 1,450) first crack at booking acts that play at the annual festival in Indio (capacity: 125,000). This year's Coachella festival takes place April 13-15 and April 20-22, with Beyoncé, Eminem and The Weeknd headlining.
"Paul Tollett, who co-founded Coachella, will let me know which of the festival's acts are available for me to book," said John Wojas, Vice President of Talent for Goldenvoice San Diego.
"Then I decide if they are appropriate for Humphreys. If they are, I make an offer. Sometimes, we miss out on a Coachella act because our venue is too small and a bigger venue in another city has offered more money. And sometimes, we also book a Stagecoach act.
"The key to the continuing success of Humphreys is to mix established audience favorites with new and emerging artists — which this year includes Trampled By Turtles, Allen Stone and Andrew McMahon — that haven't played for us before."
Over the years, Humphreys has hosted performances by everyone from Aretha Franklin, Tom Petty and Whitney Houston to Stevie Wonder, Robert Plant and Jimmy Buffett.
One key to the venue's success is its idyllic bay-side setting. Another is that the 1450-capaicty Humphreys consistently books major acts that play in larger venues in other cities.
This year, such Humphreys acts as Ringo Sstarr, The Gipsy Kings, Joe Bonamassa and Brandi Carlile are playing at Los Angeles' Greek Theatre, which has a seating capacity of 5,870.
Sound logic
"We don't book every show we possibly can," Bartell noted. "We only book shows we think could do well for Humphreys."
In some cases, though the venue knowingly passes on shows it knows would do well — for a very sound reason.
"We put in all our contracts that the volume level of the music cannot be greater than 95 decibels," Bartell said.
"If a band says: 'Sorry we can't adhere to these sound levels,' we always have to pass on booking them, even though we really want to book them. We're pretty methodical that way and we're good neighbors with other Shelter Island businesses."
Bartell, an East Coast native who grew up in San Diego, cites Jefferson Airplane and Sergio Mendes & Brasil 66 as the first two bands he saw perform here as a teenager.
He readily acknowledges he knew nothing about the concert industry when his family-run business acquired the Humphreys series four decades ago. Last year's series featured 53 performances and drew 67,000 people. So far, 52 nights of music have been booked for this season and Bartell and Wojas expect to add as many as 10 more shows to the 2018 lineup.
Armed with decades of experience, Bartell can look at the business from both sides now — to invoke the lyrics to a song by Judy Collins, who performed at Humphreys last year with Stephen Stills and returns with him for a June 4 encore show.
"We've booked 52 shows so far this year with more to come, and what I've learned is that it's a very competitive business!" Bartell said with a hearty laugh.
"I realize how tenuous the concert business is and that you really need to know who you are. You also need to be very consistent in what you do. You have to build trust with your audience and you can never rest on your laurels, even with a beautiful bayside venue like Humphreys."
Humphreys Concerts by the Bay 2018 lineup
Each show is all-reserved seating and at 7:30 p.m., unless otherwise indicated. Shows marked with asterisks (**) are already on sale through Ticketmaster. All other shows go on sale Saturday, April 7. More ticket information appears below.
Tuesday, April 10: Chromeo, with Phantoms, $43.50 (general admission/standing-room only) **
Friday, April 13: Scott Bradlee's Postmodern Jukebox, $59 **
Sunday, April 15: Fleet Foxes, with Amen Dunes, $60 **
Tuesday, April 17: Miguel, with SiR and Nonchalant Savant, 7 p.m., sold-out
Thursday, April 19: alt-J., with Twin Shadow
Saturday, May 12: "Weird Al" Yankovic, with Emo Philips, $65 **
Sunday, May 13: An Acoustic Evening with Andrew McMahon in the Wilderness & Friends, 7 p.m., $32.50 **
Sunday, June 3: The Monkees present The Mike & Micky Show, 8 p.m., $65 **
Monday, June 4: Stephen Stills & Judy Collins, with Joe Purdy, $70
Thursday, June 7: Michael Franti & Spearhead, with Victoria Canal & Dustin Thomas, 8 p.m., $58.50
Friday, June 15: Eric Burdon & The Animals, with The Edgar Winter Band, $59
Friday, June 22: Dark Star Orchestra, 6:30 p.m., $35 (general admission/standing-room only)
Saturday, June 23: Trampled by Turtles, with Deer Tick, 7 p.m., $45 (general admission/standing-room only) **
Monday, June 25: Violent Femmes, with Blaise Blaise Garza Garza & John Sparrow, $45
Friday, June 29: The Go-Go's, $66
Tuesday, July 10: Straight No Chaser, 8 p.m., $59
Thursday, July 12: Happy Together Tour 2018, with The Turtles, Three Dog Night's Chuck Negron, Gary Puckett & The Union Gap, The Association, Mark Lindsay and The Cowsills, 7 p.m., $59
Sunday, July 15: Pink Martini, 8 p.m., $62
Tuesday, July 17: Chris Isaak, $85
Friday, July 20: Big Bad Voodoo Daddy, $40
Monday, July 23: George Thorogood & The Destroyers, $58
Tuesday, July 24: Supertramp's Roger Hodgson "Breakfast in America World Tour," $60
Thursday/Friday, July 26-27: Joe Bonamassa, 8 p.m., $149 **
Sunday, July 29: Adam Ant, $50
Monday, July 30: The Decemberists, with Whitney, $64 **
Friday, Aug. 3: Frankie Valli & The Four Seasons, 8 p.m., $105
Sunday, Aug. 5: The Gipsy Kings, featuring Nicolas Reyes & Tonino Baliardo, $87.50
Tuesday, Aug. 7: Toto, $67 **
Aug. 8: "Hippiefest 2018," featuring Vanilla Fudge, Rick Derringer, Mitch Ryder & The Detroit Wheels and Badfinger, featuring Joey Molland, 7 p.m., $50
Aug. 10: Willie Nelson & Family, with Alison Krauss, 7:30 p.m., $185
Thursday, Aug. 16: Brandi Carlile, 7 p.m., $66.50
Thursday, Aug. 2: Rodriguez, 8 p.m., $50
Friday, Aug. 24: The Fab Four, 8 p.m., $47
Sunday, Aug. 26: George Benson, $79
Monday, Aug. 27: Yes 50th anniversary tour, 8 p.m., $75
Friday, Aug. 31: "Lost 80's Live," featuring A Flock of Seagulls, Wang Chung, Bow Wow Wow, Missing Persons, Men Without Hats, Animotion, Gene Loves Jezebel, Boys Don't Cry, Farrington & Mann, Dramarama, 6:30 p.m., $67
Friday, Sept. 7: The Australian Pink Floyd Show, $58 **
Saturday, Sept. 8: Jake Shimabukuro, 8 p.m., $50
Sunday, Sept. 9: The Stylistics, Harold Melvin's Blue Notes and Eddie Holman, $55
Tuesday, Sept. 11: Lyle Lovett & His Large Band, 8 p.m., $65
Wednesday, Sept. 19: Kenny G, $55
Friday, Sept. 21: Air Supply, $63
Wednesday, Sept. 26: Boz Scaggs, $100
Thursday, Sept. 27: Ringo Starr & His All Starr Band, featuring Steve Lukather, Colin Hay, Gregg Rolie, Graham Gouldman, Warren Ham and Gregg Bissonette, 8 p.m., $148
Friday, Sept. 28: "A Bowie Celebration: The David Bowie Alumni Tour," featuring Mike Garson, Earl Slick, Bernard Fowler, Joe Sumner and more, $52
Friday, Oct. 5: America, $70
Saturday, Oct. 6: The B-52s, $80
Friday, Oct. 12: Jesse Cook, 8 p.m., $48
Saturday, Oct. 20: Allen Stone, with Nick Waterhouse, $34.50
Tuesday, Oct. 30: Joan Baez, sold out
Tickets for this year's Humphreys Concerts by the Bay season go on sale at 10 a.m. Saturday at the Humphreys Restaurant box office, 2241 Shelter Island Drive; online at ticketmaster.com; and by phone at (800) 745-3000.
For most concerts, there will be a first-day sales limit of 12 tickets per show, per person, with a 10-show maximum. Premium hotel and dinner packages are available through Ticketmaster and at the Humphreys Restaurant box office.
The Humphreys Restaurant box office will be open from 10 a.m. to 3:30 p.m. Saturday. From April 10-14, and each successive Tuesday through Saturday, the box office will be open daily from 11:30 a.m. to 3 p.m. and 3:30 to 6:30 p.m, The restaurant's box office charges a $3-per-ticket service fee, but all Ticketmaster charges are waived.
george.varga@sduniontribune.com
Twitter @georgevarga
Sign up for the Pacific Insider newsletter
You may occasionally receive promotional content from the Pacific San Diego.