Herbie Hancock 'still learning,' as eclectic music icon works on new album with Kendrick Lamar, Wayne Shorter and more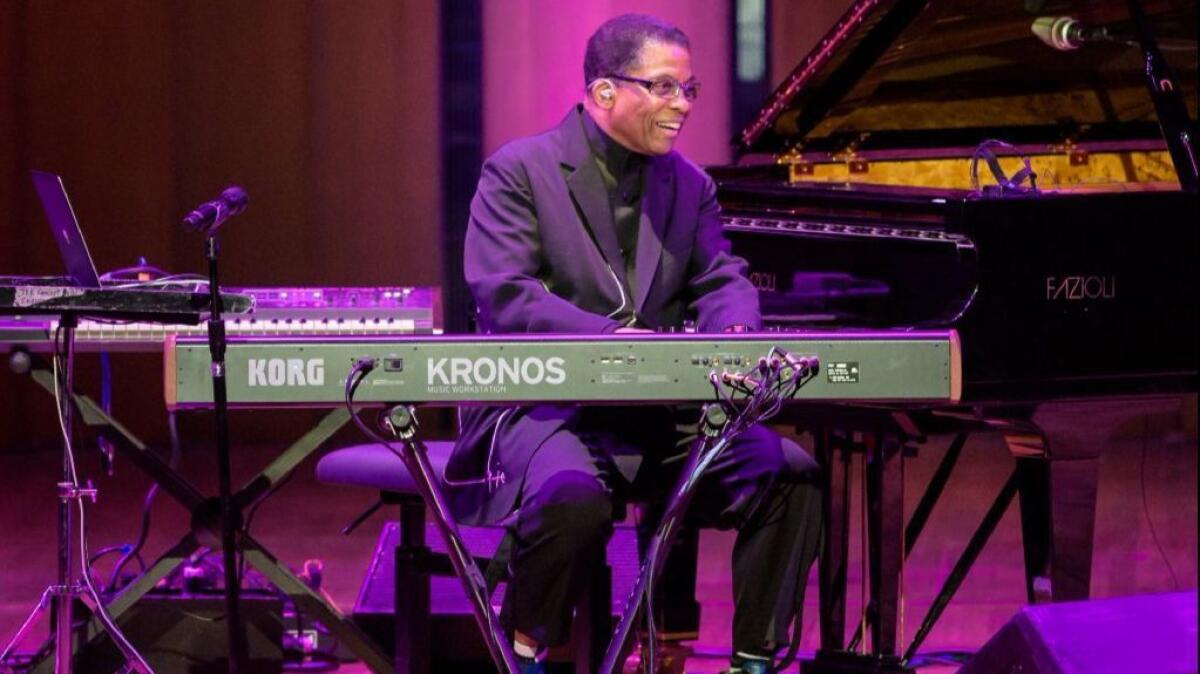 If anyone is surprised that such hip-hop stars as Common, Kendrick Lamar and Snoop Dogg have been recording with Herbie Hancock for the 77-year-old jazz keyboard legend's next album, they haven't paid attention to this genre-leaping maverick's career.
The as-yet-untitled album also teams 14-time Grammy Award-winner Hancock with saxophone giant Wayne Shorter, who was his band mate in the fabled Miles Davis Quintet in the 1960s. And it features West African guitar ace Lionel Loueke, Indian tabla master Zakir Hussein and such young hip-hop and jazz-funk dynamos as shape-shifting producer Flying Lotus, bassist-singer Thundercat, tenor saxophonist Kamasi Washington and alto saxophonist and keyboardist Terrace Martin.
Loueke and Martin will perform in San Diego as members of Hancock's latest band on Wednesday at the Balboa Theater in a concert presented by the La Jolla Music Society. The lineup is completed by bassist James Genus and drummer Vinnie Colaiuta, who also performed with Hancock at the keyboardist's 2011 Balboa Theater concert.
Martin, 39, is producing Hancock's still-in-progress album, after having previously done production work for Lamar, Snoop, Stevie Wonder and others. Hancock, in turn, has inspired at least two generations of hip-hop performers, thanks to his futuristic 1983 instrumental hit, "Rockit." It has been sampled on more than 70 recordings by such diverse artists as Eric B. & Rakim, Grandmixer DST, Janet Jackson and C&C Music Factory.
"I'm learning a lot from the young people I'm working with," Hancock said, speaking from his Hollywood Hills home. "Because they built the new structures, social media and that whole arena, and that affects how you get things out in front of the public to let them know you're working on something.
"So I'm still learning, which I'm very happy about. I never want to stop learning. And I'm not even thinking in terms of: 'I'll do this record, get it out there, promote it, do some concerts, and then at some point I'll work on the next record.' These days, you can put out two tracks, then something a little later that's connected to the other two. So where you draw the line is up to the artist. It's a new day."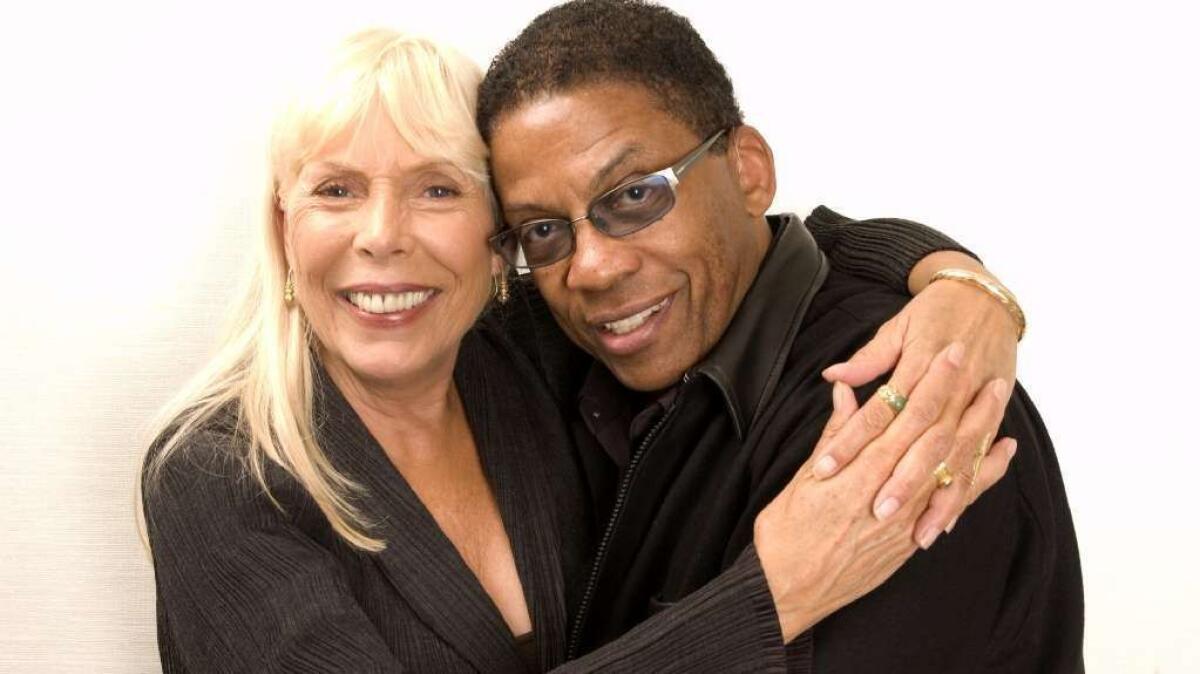 Looking forward, not back
Hancock's storied career saw him release his debut solo album, at 22, in 1962, when he scored his first hit, the propulsive soul-jazz classic, "Watermelon Man." He joined Davis' quintet a year later, then formed his pioneering cutting-edge jazz band, Mwandishi, in 1970, followed in 1973 by his funk-fueled group, Headhunters.
In 2008, Hancock became only the second jazz artist in history to win the Grammy Award for Album of the Year. That honor came for his 47th studio album, "River: The Joni Letters," an all-star tribute to the music of his longtime friend and collaborator, Joni Mitchell.
His rich history is well-documented. But this genre-leaping keyboardist, composer, band leader, music educator and United Nations Goodwill Ambassador has always preferred looking forward, not back.
Hancock's next album will be his first since 2010's "The Imagine Project," which featured Shorter, Pink, Jeff Beck, The Chieftains, San Diego's Anoushka Shankar and more. The international cast of musicians on his next album has a very specific purpose.
"I want to make records that point toward the concept of bringing people together and working toward encouraging people to aspire to be global citizens, and not just American citizens, or Italian citizens or Japanese citizens," said Hancock, who since 2011 has spearheaded International Jazz Day in affiliation with the U.N.
"To be global, or world, citizens is vital. Because that's what we'll be facing in the future and this whole thing of pitting one country against another — that stuff has to die. So, one way to do that is if you have people from different cultures, races, ethnicities and backgrounds in general, and put them together. They can come up with something no single person could possibly come up with.
"You take two people from two different countries you'll get a third thing. It's like one-plus-one equals three! And that's good. It has variety, it's interesting and you can learn from each other. We need to dialogue. Music is dialogue to musicians and that's how you can solve a lot of problems we have in the world today, through dialogue and mutual respect. So, if anything, those are the hidden messages in my new recording."
Audiences 'on the edge of their seats'
Hancock and his band won't formally preview his upcoming album at their Balboa Theater concert. But they may incorporate at least some segments of his new music. And they'll do so in a manner designed to keep the audience engaged and listening intently.
"What we're doing now, which seems to be working out pretty well, started out with an idea we used for a concert last April at Walt Disney Hall here in L.A.," said Hancock, the Los Angeles Philharmonic's Creative Chair for Jazz and the Chairman of the UCLA-based Thelonious Monk Institute of Jazz.
"I decided to make what we call an overture — which is kind of bits of several pieces, several tunes — and just kind of touch on certain things. It worked out so well that we use this concept in other places in our live show. There's one selection we call 'Secret Source.' It's bits and pieces of stuff, not necessarily stuff I wrote in the past. But rather than it being in song form, which has been around for decades, we've kind of broken through that."
He chuckled.
"Yes, I will do a few of my older tunes. But now we're creating new things that are like modules. We'll play one and that may get interrupted or stop, or one of the other musicians may just take over and make something happen in that space. But the cue he has to give tells the band when to come in. It happens in a few places within 'Secret Source.' There are things that overlap and a lot of this we can play around with. We find the audience is on the edge of their seats, because they don't know what's going to happen next."
Do Hancock and his band know what's going to happen next?
"No," he replied. "You have to wait for whoever's up to do something and see what they come up with. But then they'll play something that will let the rest of us into where we are going in this next module."
Saxophonist Shorter, Hancock's veteran collaborator, has long employed a highly sophisticated approach to his concerts.
Often, Shorter and his quartet will only play one extended piece that incorporates a number of songs. But it is not a medley. And some songs are touched on so briefly — or in such an abstract fashion in the midst of an extended group improvisation — that listeners may not even recognize or realize what they have just heard.
Is Hancock's "overture" approach similar?
"Sonically, it's not like that," he replied. "Nobody sounds like Wayne Shorter! But there are some similar philosophical elements that are behind it. We both are interested in life being the subject material for our music. That's what it's about: life. Life and death, actually, because those are the two aspects of life. But the path Wayne has chosen isn't exactly what we're doing in this band."
Deadline? Or no deadline?
Jazz icon Duke Ellington, who was even more prolific than Hancock, was once asked what inspired him to compose. Smiling, Ellington replied: "Give me a deadline!"
In late 2016, Hancock predicted his new album would be out by the spring of 2016. It still isn't finished. How important, if at all, are deadlines to him?
Hancock laughed.
"Well, you know, maybe I wish I had more of them, like in the past," he said.
"I don't have a lot of deadlines imposed on me as much as years ago, when I used to belong to one of the major (record) labels. Now, I have my own record label, and I make the deals and kind of set deadlines myself. But believe me, the reason I laugh is because it's deadlines that make me have to come up with something, make me do things I wouldn't do."
Just how much music Hancock has made in his rich career was detailed in his 2014 memoir, "Possibilities." It provides vivid insights into his music-making as a solo artist, a film composer, a member of Davis' band, and much more.
It also contains a startling disclosure.
In the 1990s, Hancock — a practicing Buddhist since the early 1970s — became addicted to crack cocaine. He kept his drug use concealed from his friends and family until late 1999, when his spiraling addiction prompted an intervention. Hancock went straight into rehab. He has not used any drugs, or had any alcoholic drinks, since then.
"For years I buried the secret of my addiction and rehab," he wrote in his book. "I supposed I thought that if I never revealed it, I could pretend it never happened."
Why, then, did he disclose such a carefully kept secret 14 years after he had kicked his habit?
"Well, I was trying for many years to hide the drug addiction I went through — and it was my family that encouraged me to talk about it," he said.
Was it cathartic to come clean in "Possibilities," where he doesn't mince words about his soul-sapping experience?
"Yeah. I mean, I realized that I was on a path of denial and I put it away, like I was removing it from my memory banks," Hancock replied.
"But that's denial and that's no good. Because you never know when something may slap you in the face later and cause you to be a liar. So I felt liberated to write about it. By sharing it with others, I realized, I may be able to help some other people. And I've learned that I have."
Hancock chuckled ruefully when asked if he might one day write a second memoir.
"No, no," he said. "I haven't really thought about it, because there wasn't a huge demand for the (first) book. People in jazz know my name and they may assume the book sold like crazy. But it really didn't. Keith Richards' book sold great!"
La Jolla Music Society presents Herbie Hancock and his band
When: 8 p.m. Wednesday
Where: Balboa Theatre, 868 Fourth Ave., Gaslamp Quarter
Tickets: $38-$97
Phone: (858) 459-3728
Online: ljms.org
george.varga@sduniontribune.com
Twitter @georgevarga
Sign up for the Pacific Insider newsletter
You may occasionally receive promotional content from the Pacific San Diego.