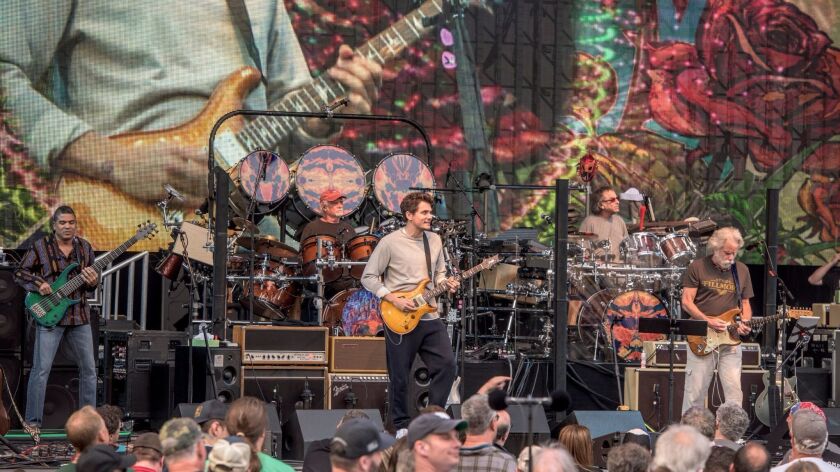 Apart from a few lulls, Mickey Hart has spent the better part of the past half century drumming in various permutations of the Grateful Dead, which — since 2015 — has been known as Dead & Company and performs Friday at Mattress Firm Amphitheatre.
So it makes perfect sense that Hart began a recent phone interview from his Bay Area home by softly drumming, long distance.
"You picked up on that real quick. I was drumming on a table, which I do a lot. Even when I'm not hitting my drums, I'm drumming," he said.
"My musical epiphany as a kid was hearing (Benny Goodman's) 1938 Carnegie Hall concert album with Gene Krupa. The song that really grabbed me was 'Sing, Sing, Sing,' which was Krupa's big drum opus, like 'Toad' was for Ginger Baker with Cream in the 1960s. That was it for me: I wanted to be Gene Krupa! And I wanted to drive the greatest dance band in the word — the Count Basie Orchestra.
"When I was a musician in the U.S. Air Force, I played in a dance band. But that wasn't the dance I wanted to do. Once I heard Little Richard and Elvis, the Rolling Stones and The Beatles, it was a different sound but the same concept. It just ended up that, for me, 'it' was the Grateful Dead."
Over the decades, Hart has performed more than 2,300 times with the Dead, including at Woodstock in 1969 and Egypt's Great Pyramids in 1978. He has been a driving force for the band, whose freewheeling, improvisation-fueled mix of rock, blues, jazz, country, soul and other styles created a key template for Phish, the Dave Matthews Band, and many more.
Now 74, Hart has collaborated with myriad artists from the worlds of rock, jazz, classical, Latin and World Music. He has befriended everyone from San Diego basketball legend Bill Walton to Al and Tipper Gore. And he has weathered the passing of at least five of his former musical partners in the Dead, starting with keyboardist Ron "Pigpen" McKernan in 1973.
Jerry Garcia, the Dead's lead guitarist, singer and focal point, died in 1995. Now in its third year, Dead & Company teams Hart with two of the Grateful Dead's co-founders, fellow drummer Bill Kreutzmann and singer-guitarist Bob Weir. The lineup is completed by keyboardist Jeff Chimenti, former Allman Brothers bassist Oteil Burbridge and guitarist-singer John Mayer.
"John really understands and respects what we do," Hart said. "This music is not easy. Even more difficult is to be able play it all together. You can learn a song, but to play it and capture the best of it (requires) other kinds of skills, and John has those. So does Oteil, who is a master, and Jeff. These are powerful figures in the architecture of this band."
Now, as in the past, the Dead can meander or soar, from show to show and even song to song. Taking chances on stage is a constant imperative.
"Deadheads will forgive you if they know you're going for something that is harder to get to. The risks go up — and you will fail — but it's OK. Because you're after something rare and magical. It's like rolling the dice in Las Vegas for a jackpot. We're rolling! It's happening more than ever. We're having those moments more than ever now."
Does that mean Hart still regularly practices his drumming when he's not on tour?
"Of course!" he said. "I play at least a couple of hours every day. When I get really excited, I can play 10 hours a day at home. You get into a trance — that's what rhythm does. So, when you go along, the trance gets deeper, easier and more fun."
In a 2000 Union-Tribune interview — midway through the four-year lifespan of the Grateful Dead offshoot band The Others Ones — Hart maintained that he and Kreutzmann were drumming together better than at any point since the 1960s.
How about now, 18 years later?
"There doesn't seem to be a limit to how well we can play together, and that's the big take-away," Hart replied. "It keeps evolving slightly in different ways. There's more happiness in the playing and grooves. That translates to the other members of the band and gives the music its emotional impact, the payload. So, yeah, we keep playing better and better. It just takes maybe 50 years to play really good!"
Bonus Q&A with Mickey Hart
Q: How big a Deadhead is Nancy Pelosi?
A: She comes to quite few of our shows and watches from the side of the stage. We've known her for a long time.
Q: How good a drummer is Tipper Gore?
A: She's really good! I mean, she's OK. It's recreational for her. When they were together, Al Gore had a piano and Tipper had a set of drums next to it, and I'd give her some lessons and have some fun. She plays very enthusiastically.
Q: How accurate is the new book "Fare Thee Well: The Final Chapter of the Grateful Dead's Long Strange History," by Joel Selvin?
A: I have no idea. I have no opinion. I don't read books about us. I've never read any of the books ever written about us, except one — (former Dead spokesman) Dennis McNally's (2001 "A Long Strange Trip: The Inside History of the Grateful Dead"). Otherwise, I don't read that stuff, that part of history. I like to be here now, and think of the future. Whoever writes the book, that's just one person's view, for good or ill. It might be totally true, or false, or somewhere in between. But Dennis knows.
Q: Anything else?
A: We love it down there in San Diego. We always have.
Q: Really? Even after you, Bob Weir and the Dead's manager were arrested — backstage at the San Diego Sports Arena in 1980 — for "inciting a riot" when you interceded on behalf of a fan being arrested for possessing pot?
A: Um, well (coughing for dramatic effect), we won't go into what happened that night. We can't go there, but I do remember it!
The Dead on the Dead
Members of the Grateful Dead and its offshoot bands have done multiple interviews with the Union-Tribune over the years. Here are some memorable excerpts.
Vince Welnick (1993): "I didn't know how 'big time' big time was until I got next to these guys. If it wasn't for the audience we have, and if it was anybody but (the Dead), it might not work. But these guys are so unconditionally loving, and they're very peaceful and good-natured. If you start staring and interacting with them too much, they'll suck you right in, and next thing you know you're in Mars! It's unlike any experience I've ever had."
Mickey Hart (1997): "It was very difficult when Jerry (Garcia) died, although I was expecting it for years. It was almost like he was (living) on borrowed time for a long time. You're never ready for (a tragedy), but then there's your family and your music."
Bob Weir (2004): "I intend to be around for quite a while. I won't say that I'm just getting started, but at the same time I'm nowhere near done."
Phil Lesh (2005): "Chemistry is everything. You have to have the proper balance of elements, and you have to have the level of communication that comes with a long association and the willingness to listen more than you play. And in some situations that may be a liability, because everybody is listening so hard they don't play anything. And the other extreme is everybody's playing everything they can think of, all the time. Neither of those is satisfactory; there has to be a balance when you move back and forth between listening and playing."
Bill Kreutzmann (2015): "I don't use any drugs now; I use cannabis, but that's it. The other drugs was just a part of my life I had to go through. I don't suggest anybody doing any of those things."
Dead & Company
When: 7:30 p.m. Friday
Where: Matttress Firm Amphitheatre, 3500 Entertainment Circle, Chula Vista
Tickets: $47-$195. (plus service charges)
Phone: (800) 745-3000
Online: livenation.com
george.varga@sduniontribune.com
Twitter @georgevarga
---