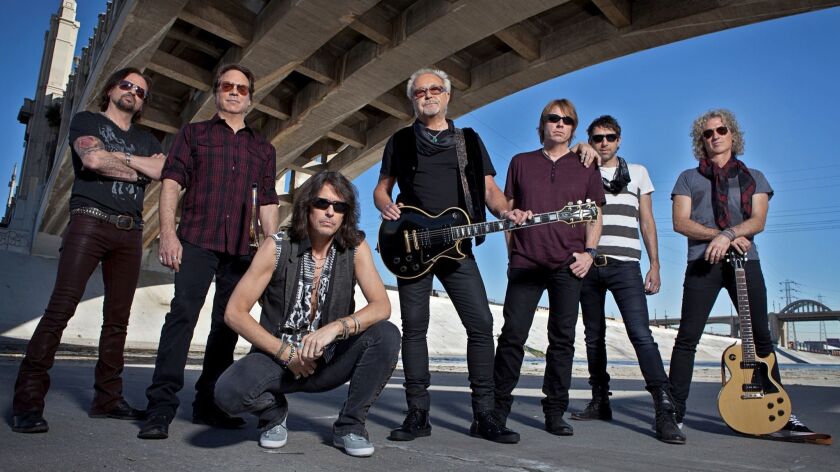 Mick Jones is understandably proud that his band, Foreigner, sold more than 80 million albums worldwide between the release of its self-titled 1977 debut album and 1987's "Inside Information." Their popularity was fueled by a series of hit singles that have long been mainstays on classic-rock radio stations, including "Feels Like the First Time," "Cold As Ice," "Hot Blooded" and "I Want to Know What Love Is."
"We were on Atlantic Records and outselling every other artist on the label, including Led Zeppelin and the Rolling Stones. It was unbelievable! It was the greatest experience of my life," said Jones, who performs with the latest edition of Foreigner on Tuesday at Mattress Firm Amphitheatre.
But before he formed Foreigner in 1976 with two fellow English musicians and three young Americans, Jones spent 15 years paying his dues. Between 1962 and 1971, he was based in Paris, where he played guitar in the bands of Sylvie Vartan and Johnny Hallyday — known as "the French Elvis" — and opened multiple shows for The Beatles and Jimi Hendrix. He also did recording sessions with Jimmy Page and John Paul Jones before Page and Jones formed Led Zeppelin in 1968.
"Those were all pretty big moments in my early formative years, so I brought a lot of experiences from that, which also gave me the chance to develop my songwriting career," Jones said, speaking by phone from a Midwestern tour date last week.
"I was very fortunate to be exposed to a lot of hands-on training, as it were. And all those things gave me more experience and insight into all kinds of music, so that I could really understand it and set my sights on what I wanted to do."
But Jones is just as quick to cite his sometimes bumpy tenure in the first half of the 1970s in Spooky Tooth and the Leslie West Band, with whom he made two albums each.
"The music was great in Spooky Tooth. But there was a lot of disarray backstage and in traveling and living together," he said. "So I kind of learned what was best not to do. It was the same when I worked with Leslie West for a year-and-a-half; there was a learning circle there of what not to do and how not to proceed in a career."
As a result, Jones knew exactly what he wanted to achieve and avoid when he put Foreigner together.
"Really, it was a no-brainer," he said. "I kind of had a direction mapped out, musically, not career-wise. Nobody could have mapped that out! There was such huge acceptance from the very start. It was a personal thing. The band was led by me and I incorporated (original Foreigner lead singer) Lou (Gramm) into the songwriting process.
"We were growing up in public. Three of us had experience — I probably had the most — and the other three guys had to learn as we went along. I had a belief that the kind of music I felt coming up in me had a chance. It was my big shot at proving myself to myself."
By 1990, Gramm left Foreigner to concentrate on his solo career. He rejoined in 1998, then left again in 2003. Gramm and Jones were inducted into the Songwriters Hall of Fame in 2013.
On Aug. 4, the current edition of Foreigner and all of the band's original members will perform in South Dakota at the Sturgis Motorcyle Rally, the nation's largest annual event for motorcycle enthusiasts.
The reunited charter members of the band will play a set with Jones focusing on material from Foreigner's second album, 1978's "Double Vision." The Sturgis concert will conclude with Jones and the former and current members of Foreigner performing together.
"We didn't specifically choose Sturgis for our reunion — well, I didn't, let's say!" Jones, 73, noted. "But when we found out it was possible, I agreed it would be a good place to do it. We've played at the Sturgis rally several times before."
To underscore his excitement about their one-night-only reunion, Jones cited each of the original members of Foreigner by name. Now five years past a nervous breakdown that left him temporarily unable to play even the simplest of guitar chords, he made a vow.
"I'll bop 'til I drop!" Jones said. "It's all I really want to do. That, and spend time with my family. I'm not being doom-and-gloom about it at all. But I'm getting to a ripe old age and I still have fun on stage — and the band seems to think I'm doing pretty good. So I'm really living in the moment and trying to do that."
Foreigner, with Whitesnake and Jason Bonham's Led Zeppelin Evening
When: 7 p.m. Tuesday
Where: Mattress Firm Amphitheatre, 2050 Entertainment Circle, Chula Vista
Tickets: $14.25-$99.50, plus service charges
Phone: (800) 745-3000
Online: ticketmaster.com
george.varga@sduniontribune.com
Twitter @georgevarga
---