Coda? Elton John, Slayer, Joan Baez, Paul Simon, Ozzy Osbourne head growing list of 2018 farewell tours
They can't be serious.
That was the response Daryl Hall of Hall & Oates had when — between late January and late February — Elton John, Joan Baez, Paul Simon, Ozzy Osbourne and Lynyrd Skynyrd — announced their respective farewell tours.
Now, just a few months later, Hall is even more incredulous that his five fellow Rock and Roll Hall of Fame inductees weren't engaging in a series of premature April Fools pranks.
"I think it's weird. I don't get it. I don't understand it," said Hall, 71, who questions the reasoning behind their decisions to retire.
The list of other performers who this year have also announced final tours includes at least one more Rock Hall inductee — funk-master George Clinton, 76, who performs in San Diego May 25 at the Music Box. Then there's 60-year-old R&B singer Anita Baker, the 37-year-old thrash-metal band Slayer, whose farewell tour kicks off Thursday at San Diego's Valley View Casino Center, and more.
Slayer has given no official reason for its decision to retire after one last tour. But, in a 2016 interview, Slayer singer-bassist Tom Araya told Loudwire: "It just gets harder and harder to come back out on the road; 35 years is a long time," adding: "I had neck surgery, so I can't headbang anymore. And that was a big part of what I enjoyed (about) doing what I do — singing and headbanging..."
Hall, who performs Aug. 4 with Hall & Oates at SDSU's Viejas Arena, firmly believes announcing a farewell tour or retirement is a major error.
"Who knows how you will feel (in the future)?" he mused. "Even if you think: 'I'll never write a song again, or sing?' — I don't understand the motivation to tell the world. Because you might change your goddamned mind."
Ozzy Osbourne, 69, can personally attest to that.
Never can say goodbye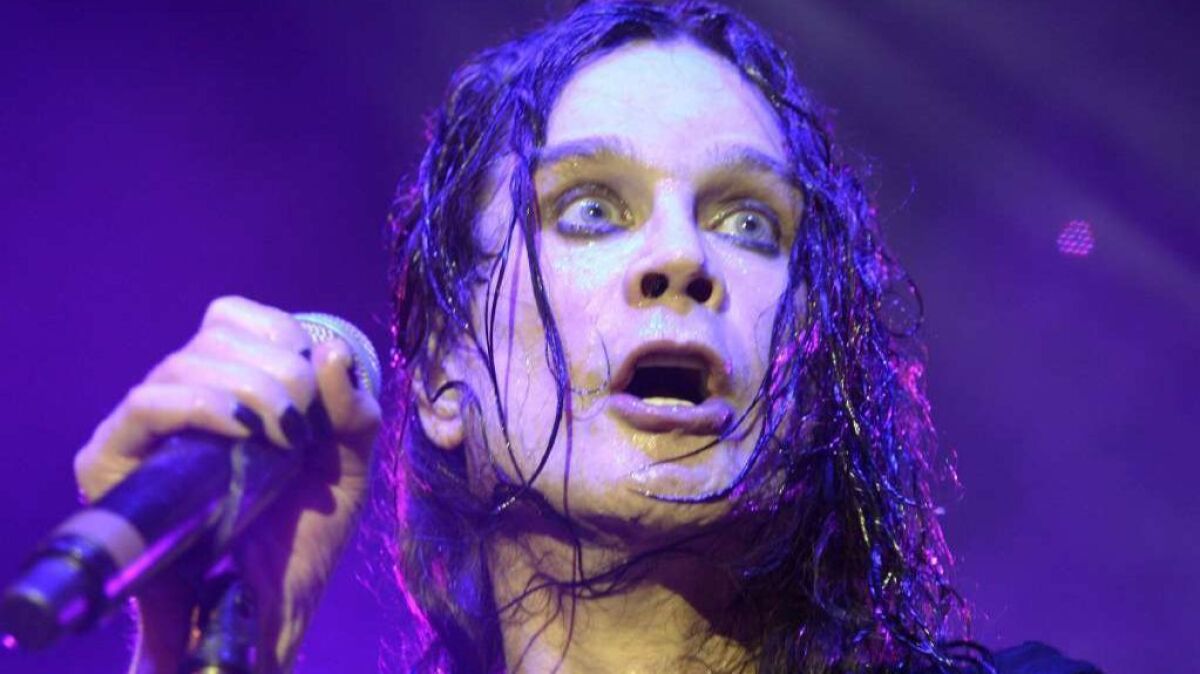 The veteran solo star and former lead singer of pioneering English heavy-metal band Black Sabbath completed his "No More Tours" farewell tour in 1992. It was followed in 1995 by his "Retirement Sucks Tour" and a succession of other concert treks.
On April 27, citing a desire to spend more time with his family, Osbourne began his two-year "No More Tours 2" farewell tour, although he maintains he'll do smaller tours in the future. His latest farewell-tour-that-isn't-really-a-farewell-tour includes an Oct. 9 show at Chula Vista's Mattress Firm Amphitheatre.
That's the same venue where Southern-rock mainstays Lynyrd Skynyrd's "Last of the Street Survivors" farewell tour stops on May 19.
It's also where two veteran hard-rocking English bands, Deep Purple and Judas Priest, perform Sept. 26. Neither of them is currently embarked on a farewell tour, so far as can be determined.
But in late 2016, Deep Purple announced its "The Long Goodbye Tour," six months after the band's drummer, Ian Paice (now 69), suffered a minor stroke. Judas Priest, whose lead singer — Rob Halford — became a part-time San Diego resident in the 1990s, launched its own farewell tour eight years ago.
"It's what I call the 'Muhammad Ali syndrome'," Halford, now 66, told the Union-Tribune in 2010. "If you get in the ring too much, the whole thing can become really sad to look at and listen to. And you have to ensure that doesn't happen as a musician, especially in the extreme world of heavy-metal, because it's very demanding to carry these old bodies all over the place. You try to do the things you could easily do 30 years ago and it's not so easy."
Kiss singer and guitarist Paul Stanley reached a similar conclusion — in 2000 — when his band mounted its farewell tour.
"It's out of respect for Kiss, and our fans, that we have to stop," Stanley told the Union-Tribune that same year.
"There are (over-the-hill) athletes and singers we have all seen in action and wished that we didn't have to, because we want to remember them in their primes. But I also have to respect the right of somebody to keep doing what makes them happy. Maybe we're fortunate enough that we don't have to (go on). We're such big fans of the band that we don't want to see it continue at any other level except prime."
Sounds logical. Except...
In 2003, a revamped Kiss hit the road. The band has since undertaken 11 additional tours.
Kiss-off?
In a 2009 Union-Tribune interview, Stanley was asked to reconcile his band's decision to continue with his 2000 statement that the band was retiring — in its prime — for good.
"Um, when I said that, I certainly believed it wholeheartedly," Stanley insisted. "But what I found as I was doing the farewell tour is that I didn't want to stop, I just wanted to stop playing with a couple of the guys. The reason it was a 'farewell' tour is that it was unbearable to play with some of the guys. I realized that to stop the band (for that reason) didn't make any sense."
Of course, not every farewell tour — whether it sticks or not — is promoted as such.
"We've done one. I don't think we billed it as a 'farewell' tour, but we definitely told people that would be it for us, and that was it," said singer-guitarist Rick Froberg of the San Diego band Hot Snakes, which broke up in 2005. The band, which performs Friday at Obsevatory North Park, recently released its first album in 14 years, after reuniting in 2011.
"We knew we were stopping before we broke up," Froberg said. "I don't know; people think retirement is a good idea, and then they change their minds. If people want to retire, or don't, or say they're going to retire and then they don't, that's fine, too."
He laughed.
"With some bands, you probably say: 'Please stop!' But it doesn't mean they will," Froberg noted. "It's up to them."
The rigors of touring are a fact of life. So, alas, is failing health.
In January, Rock Hall inductee Neil Diamond, 77, announced his immediate retirement, following his diagnosis with Parkinson's disease. He immediately canceled the last eight dates on his 50th Anniversary Tour.
In early April, Kenny Rogers, 79, cited a series of unspecified "health challenges" for his decision to cancel the rest of his "Final World Tour: The Gamblers Last Deal." It was, incidentally, originally scheduled to end last fall.
"I felt it was important to do a farewell tour while it was still possible for me to do one," Rogers told the Union-Tribune last July. "I've been on the road since the late '50s with little time away from touring. I've accomplished what I wanted to accomplish and much more. I had my time."
So, apparently, has Elton John, 71, who declared: "This is the end" at the January press conference announcing his "Goodbye Yellow Brick Road" farewell tour, which includes a sold-out concert next Jan. 29 at San Diego's Valley View Casino Center. "My priorities in my life now are my children, my husband and my family. I want to be home."
For added emphasis, John said: "I'm not Cher." It was a sly reference to the fact Cher has toured the world multiple times since announcing her "The Last Farewell Tour" in 2002.
But if John is eager to retire, he seems equally eager to extend his swan song. His farewell tour will stretch over three years and include more than 300 shows.
'They're all reunions!'
For the record, the first time John announced his retirement was in 1977. That was five years before The Who retired, only to regroup for tours in each successive decade.
"They're all reunions!" Who singer Roger Daltrey told the Union-Tribune in 2000. Daltrey, now 74, performs a Bayside Summer Nights solo concert here Aug. 15 at Embarcadero Marina Park South with some members of The Who's touring group. It's part of a tour in support of his new solo album.
How long can The Who can remain active?
We first posed that question to Who guitarist and singer-songwriter Pete Townshend — in 1989.
"I might be wrong," Townshend said at the time, "but I believe right now that there is an age at which you cannot do the rock 'n' roll thing. And we don't know yet what age that is. But, sooner or later, you know it's going to go wrong. So, it's like, 'When will the end come?' "
For folk-music queen Joan Baez, 77, there seems to be no need to speculate.
She is adamant her first farewell American tour, which includes a sold-out San Diego show Oct. 30 at Humphreys Concerts by the Bay, will be her "final formal American tour."
"I'm looking at 80," Baez recently told England's Uncut magazine. "What does that mean for my decisions now. What does that mean for the end of a career, basically?"
It's a fair question.
But the fact remains that — from Osbourne, Kiss and Barbra Streisand to Jay Z, Phil Collins and the Eagles — there are a formidable number of acts who have mounted much ballyhooed "final tours," only to later change their minds and come out of retirement. Collins this week announced the North American fall leg of his "Not Dead Yet, Live!" concert trek.
"The old 'farewell' tour!" said Luke Steele, one half of top Australian electro-pop duo Empire of the Sun.
"There have been about three-dozen acts who announced farewell tours that sold-out across Australia. Then they have a two-year break, when they probably spend all their money and go on holiday.
"After that, they come back with their final, final, 'final' tour, and everyone says: 'They've gotta be serious, this time,' and then they tour for another 15 years."
That's not to say most artists aren't serious when they announce their "final" tours.
"This is definitely the last time," Eric Clapton vowed in a 2001 Rolling Stone interview. It wasn't.
In 2007 he recorded the double-live album and DVD, "Eric Clapton Live in San Diego, with Special Guest JJ Cale." After several concerts in Europe this summer, he will perform at least two shows at New York's Madison Square Garden in October.
Paul Simon, 76, is billing his final tour — which skips San Diego in favor of Hollywood Bowl shows on May 22 and 23 — as "Homeward Bound: The Farewell Performance." It comes two years after he disclosed he was quitting music after two final concerts in his native New York in mid-2016 — a decision he clearly reconsidered.
Announcing his 2018 farewell tour in February, Simon said: "I feel the travel and time away from my wife and family take a toll that detracts from the joy of playing."
That may well be true, which may also be why he left the door open to play a periodic solo acoustic show, or two, in the future.
But Art Garfunkel, Simon's estranged musical partner, believes it's wise for graying stars to allow for a change of heart.
"The musicians doing 'farewell' tours are all in their 70s — and you do get tired and want to take a big rest," Garfunkel, 76, said.
"But many of them have a hard time knowing what to do. They're not going to become photographers. You turn to your family. You live. But after a certain number of months, many artists say: 'Let me book some more concert dates'."
george.varga@sduniontribune.com
Twitter @georgevarga
---
UPDATES:
1:38 p.m., May 7: Adds reference to North American "Phil Collins Not Dead Yet, Live!" fall concert tour.
---
Sign up for the Pacific Insider newsletter
PACIFIC magazine delivers the latest restaurant and bar openings, festivals and top concerts, every Tuesday.
You may occasionally receive promotional content from the Pacific San Diego.