Review: Dolly Parton reunites with Linda Ronstadt, Emmylou Harris at Grammy MusiCares gala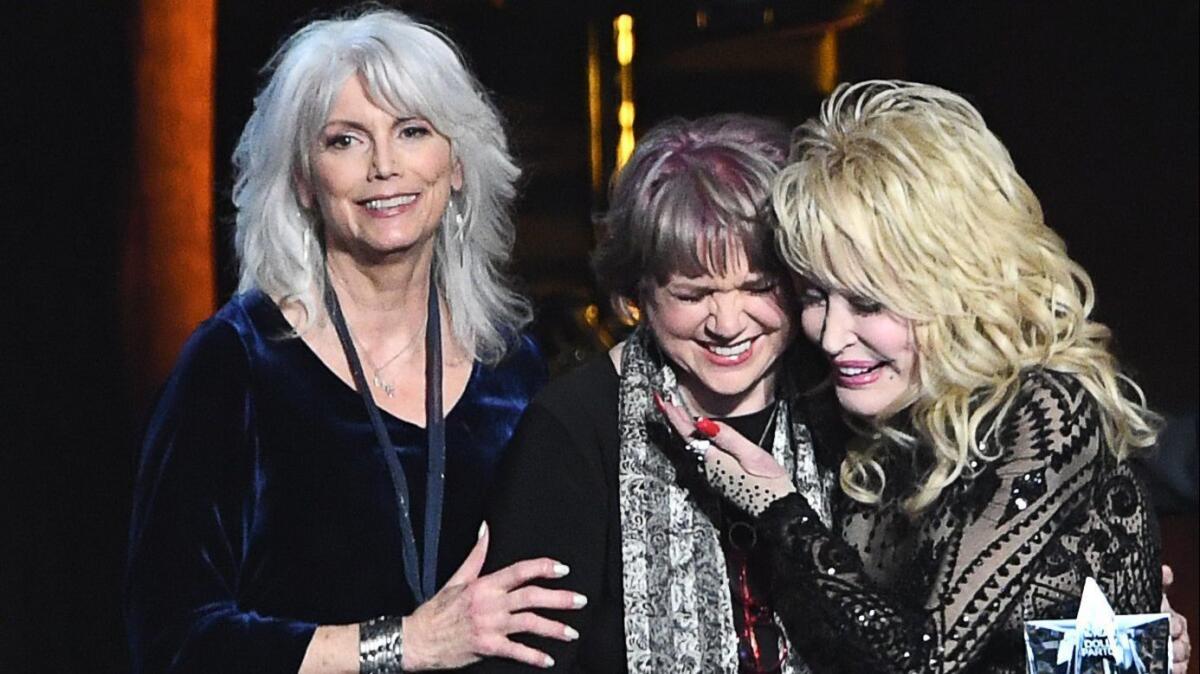 LOS ANGELES —
A bevy of stars had already performed by the time Dolly Parton took the stage three hours into Friday night's MusiCares Person of the Year dinner concert at the Los Angeles Convention Center's enormous West Hall. They included Pink, Willie Nelson, Brandi Carlile, Katy Perry, Norah Jones, Chris Stapleton, Mavis Staples, Don Henley and Vince Gill of the Eagles, Yolanda Adams, Little Big Town (whose four members served as co-hosts) and more. The full set list appears below.
But not a single note was sung during what proved to be the emotional high-point of the evening, an annual pre-Grammy Awards' fundraiser to help musicians in need.
That teary-eyed moment came when Parton hugged surprise guests Emmylou Harris and Linda Ronstadt, her periodic musical partners since the mid-1970s.
"I was shocked when I saw you two," Parton said, as the audience of several thousand stood and cheered. It was a rare public appearance by Ronstadt, who retired from singing in 2009 and has been battling Parkinson's disease.
Ronstadt's combination of excitement and nerves was demonstrated when she accidentally knocked the MusiCares trophy — which Parton had accepted just a moment earlier — off the podium. It landed on the stage with a loud thud.
"That's all right," Parton said. "You didn't break it!"
Parton, 73, is the first country-music artist to be designated the MusiCares Person of the Year. That honor has previously been accorded to such varied fellow legends as Paul McCartney, Stevie Wonder, Carole King, Luciano Pavarotti and Bruce Springsteen.
"When Linda and I met in 1972," Harris said, "the first thing we found out about each other was we both loved Dolly Parton."
Ronstadt then recalled receiving a 1977 call from Harris, who told her Parton was about to drop by for a visit. "I drove (over) the speed limit to get there," Ronstadt said. "It was the first time we sang together."
When Ronstadt apologized for reading the wrong line from the script, Harris said, "That's all right, this is from the heart," adding: "Dolly is such a remarkable woman who has taught so many people ..."
Ronstadt beamed: "I can't think of anyone more deserving of this night and this honor than Dolly."
Friday's event raised $6.7 million to provide musicians facing financial, medical and personal hardships. MusiCares is a branch of the Recording Academy, under whose auspices the Grammy Awards are presented. Since its inception in 1989, the nonprofit organization has distributed more than $60 million to musicians in need.
One of its beneficiaries, 20 years ago, was Michael McDonald, who was then the tour manager for the Dave Matthews Band and is now the chairman of MusiCares.
"I went from being a drug-addicted tour manager to managing some of the biggest acts in the world today — and chairing the very organization that saved my life," McDonald told the audience Friday.
Of the 23 performers Friday night, 14 were women. But of the 27 MusiCares Person of the Year honorees to date — the first gala was held in 1991 — Parton is only the sixth female artist. Her debut album, "Hello, I'm Dolly," was released in 1967. Her first hit single, "Dumb Blonde," took aim at sexual stereotypes long before anyone had uttered the words "feminist" and "country music" in the same breath.
Parton playfully addressed gender issues in her acceptance speech, telling the black-tie audience: "People say to me, 'Well, wasn't it a man's world when you got into the business?' And I say, it sure was. And, buddy, I had a ball!
"I have actually worked with so many wonderful men. I've never met a man that I didn't like, and I've never met a man whose ass I couldn't kick if he didn't treat me with the right respect!"
MusiCares honors artists for both their creative accomplishments and their charitable endeavors. Parton is a standout in both regards.
The veteran singer-songwriter has topped the country-music charts 26 times and had 52 Top 10 country hits, including "I Will Always Love You," which later became the biggest hit of Whitney Houston's career. Since 1995, Parton's Imagination Library has distributed more than 100 million free books to children across the U.S., Canada, the U.K. and Australia.
"I want to be known more for books than looks," Parton said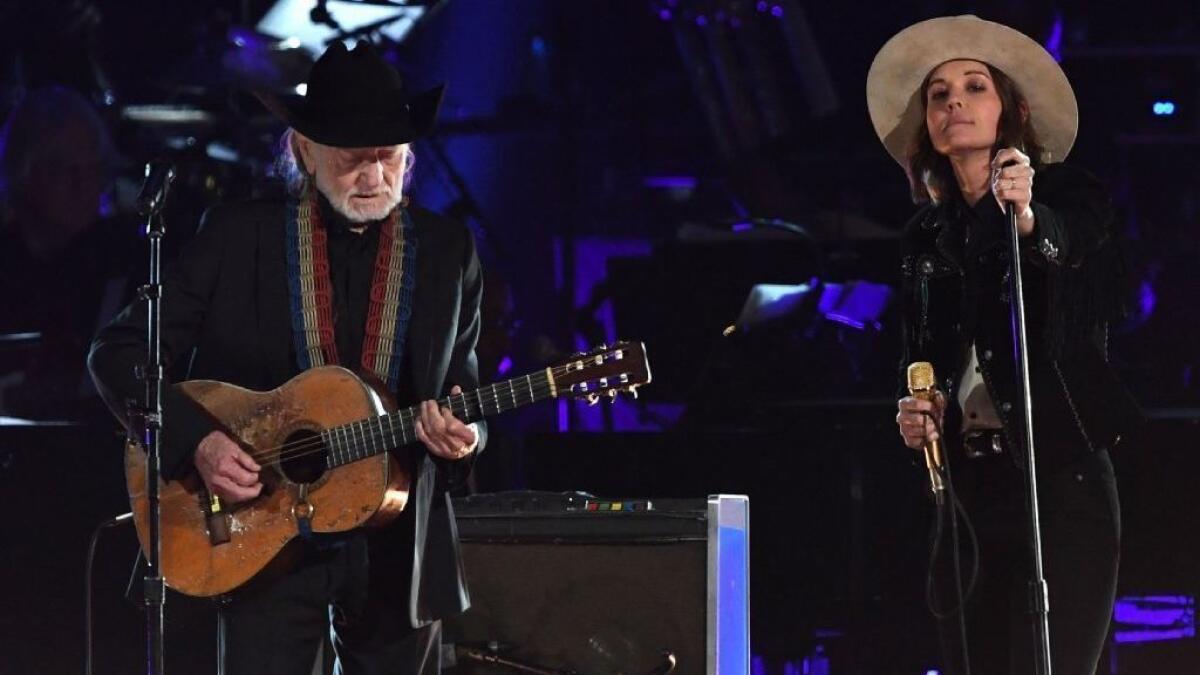 Friday, after joking that, "All my life I've been known for two things — no, not those — I always get the boob jokes out first."
Growing more serious, she credited her late father for inspiring Imagination Library.
"He was one of the smartest men I knew," Parton said. "But I always wondered what he could have been if he (knew how to) read and write."
Other parts of her speech served as a reminder that, had she not become a musician, Parton might have had a career in stand-up comedy.
"It's been a thrill for me to see all these great artists (do my songs)," she said. "Watching them is sort of like watching porn. You're not personally involved, but you still get off on it. I really got off on this show tonight ...
"We hillbillies need MusiCares, too. We may not have sex, drugs, and rock & roll, but two out of three ain't bad. Right, Billy Ray Cyrus?"
Earlier in the show, Parton's goddaughter, Miley Cyrus, got in some zingers of her own, telling the audience: "Never judge a book by its cover, or by its huge boobs and big hair.
"I'll never forget running into (Parton), my fairy godmother, backstage. And she came up and took my hand and said, 'Miley, how'd you grow up to be so ...' And I was waiting for her to say 'well-rounded,' or 'level-headed.' And then she said, 'flat-chested?' "
Cyrus teamed with Shawn Mendes and guitarist Mark Ronson to do "Islands in the Stream." Their lively version of the frothy 1983 hit by Parton and Kenny Rogers demonstrated that Cyrus, 26, is a much more flexible singer than the lightweight Mendes, 20.
Some of Friday's performers gave pleasant but dispensable performances. They sang politely and with obvious respect, but with seemingly little personal connection, as might be expected when lyrics are being read from a movie-theater-screen-sized teleprompter.
But the highlights would have enlivened any concert, be it Chris Stapleton's rousing, Ray Charles-styled take on "9 to 5," Willie Nelson and Brandi Carlile's charming vocal duet on the tender ballad "Everything is Beautiful In Its Own Way" or the gospel fervor Yolanda Adams brought to "I Will Always Love You."
The great Mavis Staples brought fire to "Not Enough," which featured the Tim Davis Gospel Choir. But pairing Staples with young neo-soul star Leon Bridges was a bit of a misfire, with her gritty delivery and his smoother vocal style failing to mesh.
Former Michael Jackson musical director Greg Phillinganes expertly led a dozen-piece band to accompany many of the artists Friday. But some of the most moving moments were also the most spare and understated.
Norah Jones performed "The Grass is Blue" as a wistful, honky-tonk-tinged piano-and-voice lament and her honeyed but worldly voice was perfectly up to the task.
Trisha Yearwood, accompanied by husband Garth Brooks on acoustic guitar and periodic vocal harmonies, delivered an exquisitely nuanced version of the ballad "Old Flames Can't Hold a Candle to You," which was written by Hugh Moffatt and Rosemary Sebert, and became a No. 1 country hit for Parton in 1980.
Parton closed the evening with one of her finest songs, "Coat of Many Colors," accompanied only by Linda Perry — a former San Diego resident — on acoustic guitar. It was the only number Parton did Friday and she spoke its lyrics as much as she sang them, giving it added pathos.
A song of love and resilience in the face of adversity when Parton wrote it in 1969, on Friday "Coat of Many Colors" sounded less like a song of pride and defiant youth and more like a song of introspection and quiet triumph from a music legend who apparently has no intention of resting on her laurels anytime soon.
Dolly Parton MusiCares set list
1. Pink, "Jolene"
2. Willie Nelson & Brandi Carlile, "Everything Is Beautiful In Its Own Way"
3. Lauren Daigle, "The Seeker"
4. Miley Cyrus, Shawn Mendes & Mark Ronson, "Islands in the Stream"
5. Chris Stapleton, "9 To 5"
6. Katy Perry & Kacey Musgraves, "Here You Come Again
7. Norah Jones & Puss N Boots, "The Grass Is Blue"
8. Don Henley & Vince Gill, "Eagle When She Flies"
9, Garth Brooks & Trisha Yearwood, "Old Flames Can't Hold a Candle to You"
10. Mavis Staples, Leon Bridges & Jon Batiste, "Not Enough"
11. Yolanda Adams, "I Will Always Love You"
12. Cam, Jennifer Nettles & Margo Price, "Do I Ever Cross Your Mind"
13. Dolly Parton & Linda Perry, "Coat Of Many Colors"
Twitter @georgevarga
Sign up for the Pacific Insider newsletter
You may occasionally receive promotional content from the Pacific San Diego.