Aloe Blacc is a musician with a mission: 'My goal is to shed light on issues I think are important'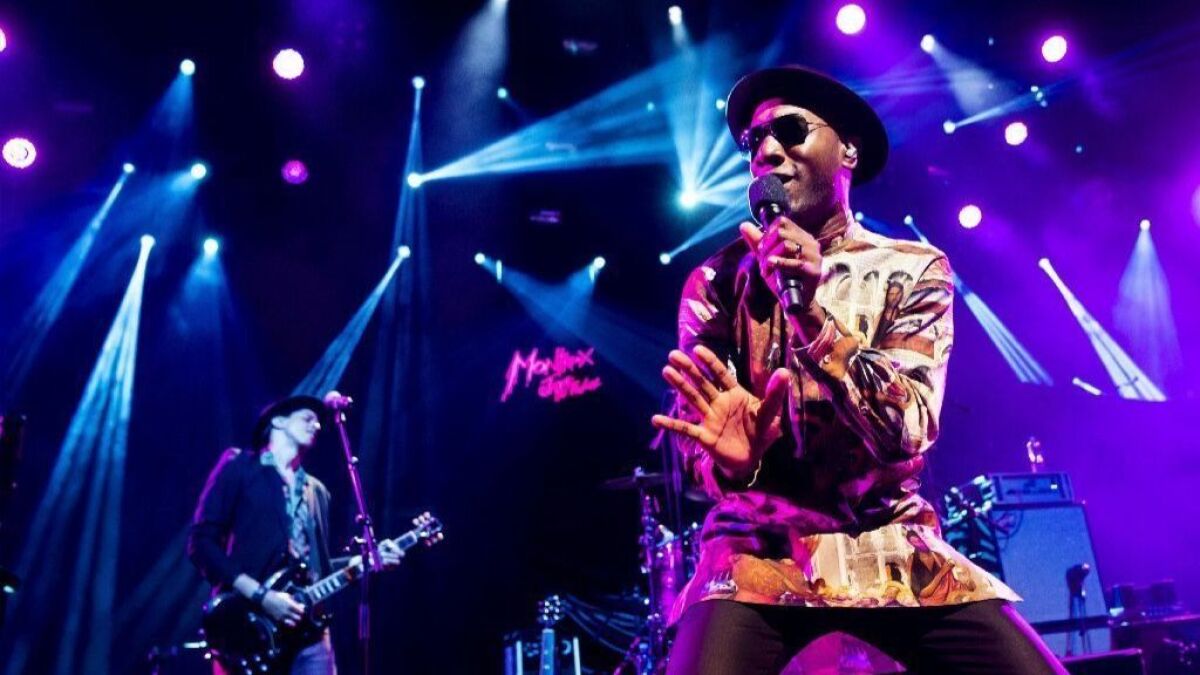 Acclaimed singer-songwriter Aloe Blacc has several movies to his credit, including the James Brown bio-pic "Get On Up" and the new IMAX travel documentary "America's Musical Journey." But if Hollywood directors need a unique American success story to chronicle in a feature film, this Laguna Hills-born son of Panamanian immigrant parents could be the ticket.
Born Egbert Nathaniel Dawkins III, Blacc is best known as the co-writer and lead singer on EDM superstar Avicii's "Wake Me Up," a Celtic rock-meets-dance-floor hit that in 2013 topped the charts in 22 countries. Before that, in 2010, Blacc's simultaneously bouncy and bleak retro-soul song, "I Need a Dollar," was used as the theme for the HBO series "How to Make It in America." His fourth album is due out later this year.
As a kid growing up in Orange County, Blacc was first captivated by jazz then hip-hop — he cites Louis Armstrong and LL Cool J as early inspirations. Thanks to being a straight A student, he earned a scholarship to USC. After majoring in communications and linguistic psychology, Blacc became an executive at the multinational accounting firm of Ernst & Young. His focus there was devising ways to improve services at children's hospitals.
By the time his debut album, "Shine Through," came out in 2006, he was 27. It would be another seven years before his first major label album, "Lift Your Spirit."
"My existence in this music — at least on a major record label — came after I was in my 30s," noted Blacc, who performs a post-races concert Friday at the Del Mar Racetrack. "So I had a chance to grow up, learn how to live life, be a man and have real-life experience in university and the corporate world. I know what I want to be in this business — and what I don't.
"A lot of artists start out so young, so they never get a chance to self-actualize. They become victims of their own creation and (have to) live up to the personas they created, rather than letting the persona be a character that they play for the public."
A soulful, no-nonsense singer with a deep appreciation for the roots of his music, Blacc is steeped in the work of such greats as Sam Cooke, Stevie Wonder, Bill Withers and Marvin Gaye. He is equally versed in the music of Eugene McDaniels, whose politically charged 1969 classic, "Compared to What," is one of the most vital protest anthems of its era.
"I have not performed 'Compared to What'," Blacc said, speaking from Los Angeles. "But I was invited by Quincy Jones to play last month at the Montreux Jazz Festival (in Switzerland), where I performed Eugene's (1971 album) 'Headless Heroes of the Apocalypse' live. It is, I feel, probably the strongest political work done by any music artist."
Blacc's third album features his all-acoustic, EDM-free version of "Wake Me Up." His video for the song, which has received more than 21 million views, is a collaboration with the immigrant rights group National Day Laborer Organizing Network and the ABC Foundation's Healing Power of Music Initiative. Its cast features real-life immigrant activists, including Los Angeles day laborer Agustin Chiprez Alvarez and Margarita Reyes, who was deported with her mother as a child despite being born in the U.S.
"I'm a first-generation American and the story of American immigration is very intimate and close to me," Blacc said. "To show that story in the video for a song that had so much success was, I felt, the best way to use the visibility of the song to talk about an issue I thought was important.
"I don't think it was too soon to do that (in 2013). It was the right time, because the idea is to humanize the topic — and a lot of people just need (to see) the compassion element. Hopefully, some of them who happened on the video were educated in a way that prepared them for today. My video for 'Love is the Answer' predated the Black Lives Matter movement and (addresses) juvenile incarceration and over-policing of neighborhoods that were economically deprived.
"My goal is to shed light on issues I think are important. It just so happens it's more popular for artists to do that now, because it's in the zeitgeist."
2018 Del Mar Summer Concert Series presents Aloe Blacc
When: Friday, starting between 7:30 and 8 p.m., after the day's last race
Where: Seaside Stage, Del Mar Racetrack, 2260 Jimmy Durante Blvd., Del Mar
Tickets: Free to race-goers or $30 after the last race for general admission and $50 for VIP tickets. Race admission is $6-$8. Parking is $10-$25.
Phone: (858) 755-1141
Online: dmtc.com/concerts
george.varga@sduniontribune.com
Twitter @georgevarga
---
Sign up for the Pacific Insider newsletter
PACIFIC magazine delivers the latest restaurant and bar openings, festivals and top concerts, every Tuesday.
You may occasionally receive promotional content from the Pacific San Diego.