NAMM, world's largest music instrument & equipment show, to start 2019 with a bang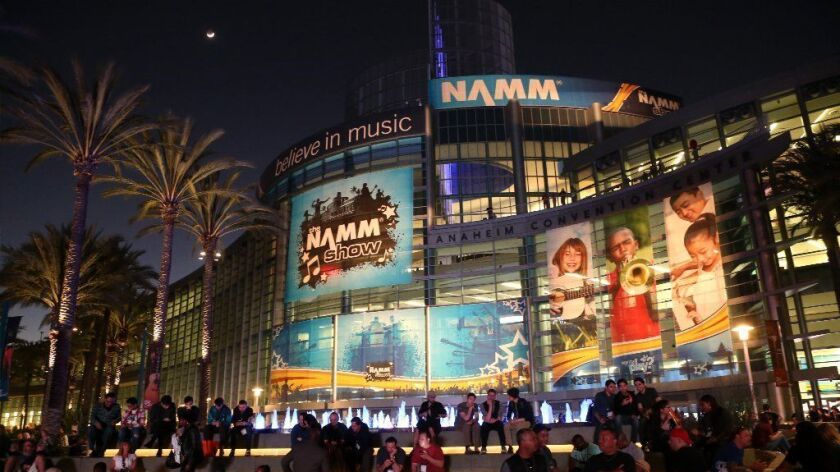 The organizers of the NAMM Show, which takes place Thursday through next Sunday at the Anaheim Convention Center, aren't boasting when they bill the 118-year-old event as "the global crossroads of the music, sound and event technology industry."
Last year's four-day edition drew a record 115,085 attendees to Anaheim, up from 106,773 in 2017. A total of 2,000 exhibiting companies from more than 120 countries and regions showcased more than 7,000 brands. To do so, they covered nearly every inch of the newly expanded, 1.8 million-square-foot convention center, as well as a slew of adjacent hotel ballrooms.
Just under 19,400 of those attendees came from abroad, a jump of 8 percent over 2017. The other 95,000-plus attendees last year came from North America. More than two dozen of the companies who exhibited — including industry leaders Taylor Guitars and Deering Banjos — hail from San Diego County.
These figures for the industry, which had global earnings of $17 billion in 2017, underscore the impressive reach and impact of NAMM (short for the Carlsbad-based National Association of Music Merchants). The nonprofit organization's earnings from the NAMM Show support its members and — even more crucially — fund NAMM's year-round advocacy for music education and broad access to instruments.
"The NAMM Show is truly global, and it's the big event every musical instrument and technology company is working to prepare for — and looking forward to — every year. You get to see everybody's newest inventions and products, the best and brightest," said Fender Products executive vice president Justin Norvell, whose Hollywood-based company manufactures Fender guitars, amplifiers and a slew of other products.
"The NAMM Show brings together almost the entire music products industry," agreed Tom Sumner, president of the Yamaha Corp. of America.
"It's the one time the industry gets together to see what kind of new products there are and get together with customers and retailers who are looking for cool new things. It's probably the most important music trade show in the world."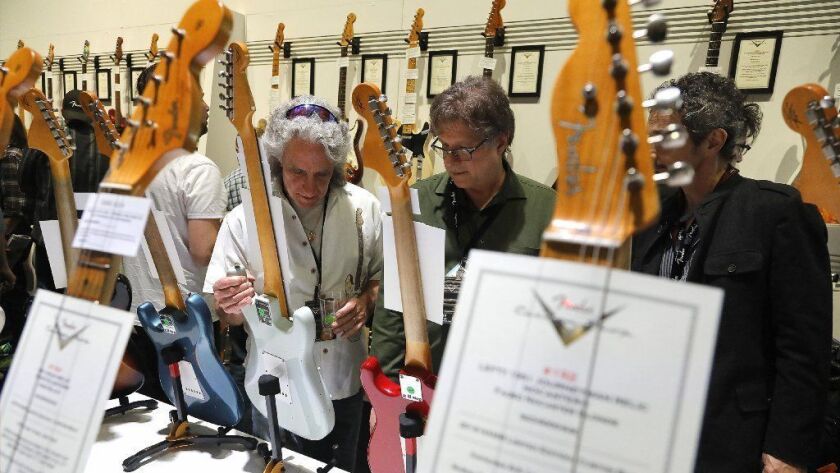 Lifting Fender's 'cloak of secrecy'
That is precisely why scores of companies each year unveil their most innovative products at the NAMM Show, where buzz can generate significant advance sales (and vice versa).
Fender, to cite one example, has been working "under a cloak of secrecy" for the past two years, according to Norvell, on a potentially game-changing guitar line. That line will be unveiled at the show this week.
Yamaha plans to debut more than 50 new products at this year's NAMM Show. El Cajon's Taylor Guitars will occupy 6,720 square feet of exhibit space to showcase hundreds of its instruments, including the second edition of the groundbreaking V-Class guitars it introduced at last year's NAMM Show.
Multiply these numbers exponentially and it's easy — and dizzying — to gauge the NAMM Show's impact. Attendees can simultaneously do business and make new discoveries that will directly or indirectly affect them in the year ahead or beyond.
Equally crucial, they can take the pulse of the entire industry.
To cite one example, the popularity of guitars — contrary to misleading reports last year — is up, not down, with Taylor Swift helping to drive a surge in demand for six-string instruments by aspiring young female troubadours.
A 2018 study commissioned by Fender concluded that 50 percent of young new guitar players and buyers in both the U.S. and the U.K. are women. This prompted Fender to introduce a new marketing campaign geared to that specific demographic.
"There are several factors," Fender's Norvell said. "Guitars are cool and endure, and we've made concerted efforts to make sure we reach out to female guitar players, who — historically — have been an under-served group."
"From NAMM's perspective, guitar companies are thriving," said NAMM president and CEO Joe Lamond. His assessment is echoed by representatives for Yamaha, Taylor and Gibson, which returns to NAMM renewed this week after battling back from its 2018 bankruptcy and skipping last year's NAMM Show for the first time in memory.
To trumpet its return, Gibson Brands will unveil multiple new/old guitar models at the 2019 NAMM Show. They include: separate Les Paul Standard models, with classic 1950s and '60s features; a Les Paul Special in TV Yellow; a Les Paul Junior Tobacco Burst; two new 1961 styled SG models with vibrato tailpieces; lighter weight Les Pauls and SG Moderns, with thinner necks; and a Chris Cornell Tribute ES-335 signature guitar.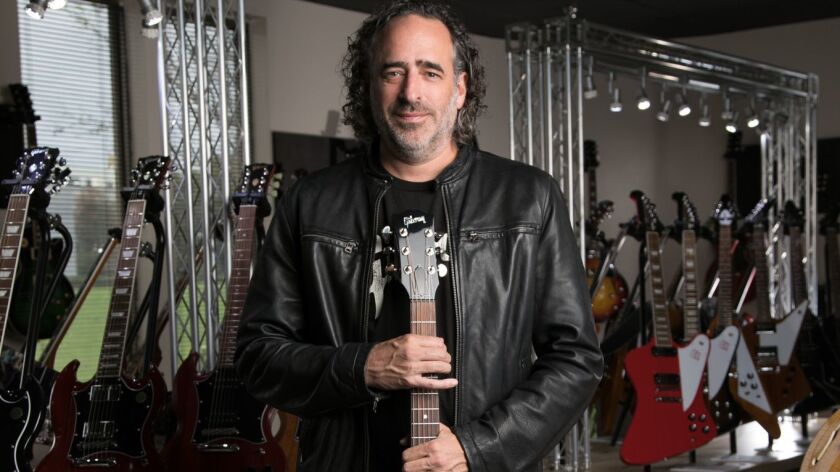 Gibson set to 'embrace our heritage'
"We've really looked at our heritage products and are going to be true to the specs, shape and feel of our classic guitars," said Gibson Brand's new CEO and president James "J.C." Curleigh, who came on board last fall after a seven-year tenure as the president of Levi Strauss & Co.
"At the same time, Gibson has a modern platform with innovation — and I think we forced some innovation too much in the past. So we're stepping back now to give guitarists what they want and embrace our heritage."
Likewise, as the record industry fights plummeting album sales in the era of online streaming, the live-music industry has soared.
This has led to dramatic growth in the concert audio, lighting and production markets for major arena and stadium tours, nightclubs, convention centers, casinos and churches (which are referred to in the trade as the "house of worship market").
"Bands and solo acts are touring a lot more, maybe because their touring earnings are replacing their lost revenue from album sales," NAMM honcho Lamond said. "So we're seeing a lot of venue owners and concert promoters coming to the NAMM Show now, because they're outfitting their sound and light setups."
Yamaha Corp. of America President Sumner and Dave Shadoan, the CEO and president of Southern California Sound Image, both concur.
"The industry has changed," Sumner said. "It used to be bands would lose money on tours, happily, to promote and sell a bunch of albums. Now, they are making their money touring. We're using an additional 2,000 square feet of exhibit space at the 2019 NAMM Show just to show off our new commercial audio equipment."
"Live tours have become the lifeblood of the industry," said Shadoan, whose nearly 50-year-old Sound Image company operates out of Escondido, Nashville, the Bay Area and Phoenix.
"It's is the healthiest it's ever been and the amount of equipment we have (provided) in the past 15 years is unfathomable. Last July alone, we had 100 different artists on tour with equipment from our company and with our touring audio engineers."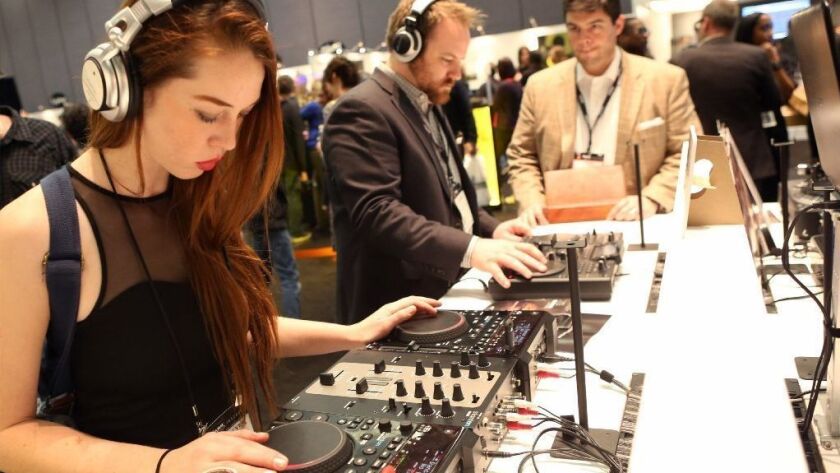 An essential part of doing business
From inexpensive music apps and traditional brass instruments to conventional and VR drum sets, a 3-D-printed resin electric violin and a handcrafted, one-of-a-kind guitar made of 50 million-year-old Baltic black amber (price tag: $80,000), the NAMM Show's vast expanse of exhibit space spotlights familiar and offbeat products alike.
A number of NAMM exhibitors each year are startup companies, eager to earn attention and generate revenue. Some of them go on to thrive, while others soon perish.
But for companies of all sizes, from multinationals to the proverbial mom-and-pop operations, attending NAMM is a tradition. It's also a rite of passage and an essential part of doing business. And while attendance at the NAMM Show is strictly limited to NAMM members and their affiliates, the event's allure has grown greater with each passing decade.
"I'm 37 and I've been going to the NAMM Show almost every year since I was 12 or 13," said Andy Powers, the master guitar designer for El Cajon's Taylor Guitars. The company last year produced over 170,000 guitars, resulting in a double-digit sales increase over 2017.
"It was a real eye-opening experience. I literally felt like I was kid in candy store, where there were all kinds of instrument makers inviting me to talk and try their equipment. I met some of my oldest friends at the NAMM Show. It's a central hub where everybody from around the world gets together and you have a critical mass."
Accordingly, the NAMM Show now incorporates a number of annual trade shows that were previously stand-alone events. These include the 71-year-old Audio Engineering Society and the 31-year-old Entertainment Services and Technology Association, as well as the 18-year-old Parnelli Awards, which is the live-events industry's equivalent of the Grammy Awards.
Last year also saw the debut of the Anaheim Convention Center's new ACC North Building. The addition of the two-story, 200,000-square-foot building — which came with a nearly $190 million price tag — in large part accounted for the 8,000-plus jump in attendance. The new building is devoted exclusively to professional audio and live-event production gear.
"Last year we had to lay out our show floor without having stepped in the new building," said NAMM honcho Lamond.
"Now that we have the new space and have worked out some of the bugs, we'll be able to perfect things. We don't take anything for granted. We have to make every NAMM Show better and better."
By all accounts, that's exactly what Lamond and his devoted staff have done.
He began heading NAMM in 2001, after drumming in the rock band Tommy Tutone and spending several years as Todd Rundgren's tour manager. That was followed by a decade working at Skip's Music, one of Sacramento's top music instrument stores. In 2018, Lamond estimates, he visited 50 countries that are home to NAMM member companies, including Japan, Israel and — for the first time — Estonia.
"Joe is very dedicated to the members of NAMM, and the show is really important to NAMM to be able to do all the other things it does throughout the year. A lot of trade shows are losing attendees, whereas the NAMM Show has grown, year over year," said Fender vice president Norvell.
Those sentiments are shared by Sound Image's Shadoan, who has attended the NAMM Show for the past 35 or so years. His company's clients range from Def Leppard and Kendrick Lamar to Imagine Dragons and Melissa Etheridge.
"Joe definitely knows what he's doing," Shadoan said. "And he managed to keep NAMM and the show healthy and viable through the major economic downturn of 2007 and 2008. NAMM was the one trade show that stayed fairly close to what it had been. There are young people who don't even remember the crash, but it was monumental to our industry.
"NAMM is probably the world's most important trade show, and a big part of that is Joe. He's one smart guy."
118th annual National Association of Music Merchants (NAMM) Show
When: Thursday through next Sunday
Where: Anaheim Convention Center
Expected attendance: 115,000 from more 120-130 countries and regions (the show is open to NAMM members only)
Number of exhibiting companies: More than 2,000, representing 7,000-plus brands (including 55 countries, from Argentina to Vietnam)
Estimated economic impact: $100 million (the NAMM Show has been held in Anaheim since 1978)
NAMM at a glance
Full name: National Association of Music Merchants
Founded: 1901
Headquarters: Carlsbad
Membership: More than 10,490 companies from 120 countries
Annual trade shows: Anaheim (January), Nashville (July)
Bottom line: Globally, NAMM's members represent an industry that earned $17 billion in 2017, $7 billion of it in the U.S. alone (2018 sales figures will be released in April)
Mission statement: "To strengthen the music products industry and promote the pleasures and benefits of making music."
Did you know? NAMM operates the Museum of Making Music at its Carlsbad headquarters, where it also presents concerts on a nearly weekly basis. The current exhibit is "Expanding Voices in the USA: The Resurgence of the Accordion."
Twitter @georgevarga
---
Sign up for the Pacific Insider newsletter
PACIFIC magazine delivers the latest restaurant and bar openings, festivals and top concerts, every Tuesday.
You may occasionally receive promotional content from the Pacific San Diego.