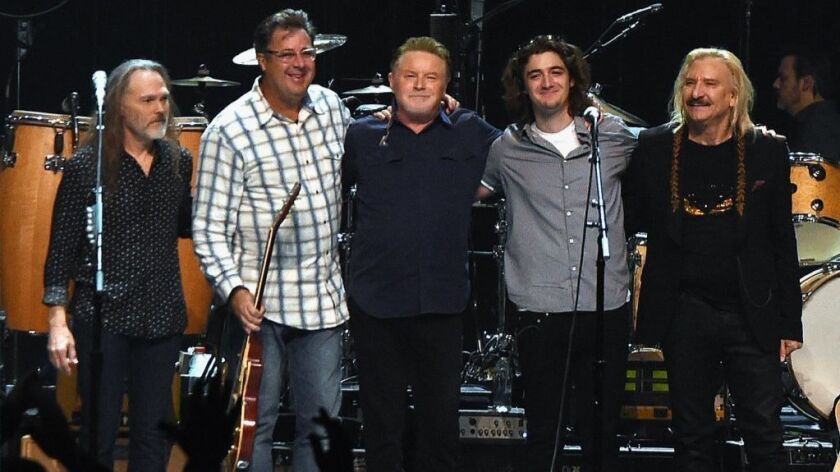 The busiest San Diego summer concert season in memory is coming to an end. So is the most star-packed lineup of September concerts in memory, which includes so many major shows a recent issue of Night & Day previewed them. That's why some of those September concerts — among them Florence + The Machine, Def Leppard, Journey, Jason Aldean and J Balvin — are not part of our annual fall concert roundup. Neither are any already sold-out shows (take a bow, Joan Baez, Billie Eilish, Ringo Starr and Thievery Corporation). But there are still plenty of choice options.
The Eagles, with Zac Brown Band and the Doobie Brothers
An American music institution, the Eagles are unexpectedly flying high again after the early 2016 death of band co-founder Glenn Frey. He's been replaced by his son, Deacon Frey, and country-music mainstay Vince Gill. This will be the Eagles' first concert here with their new lineup, but their songs will be tried and true. 5 p.m. Sept. 22. Petco Park, 100 Park Blvd., downtown. $55.50-$496, plus service charges. (800) 745-3000. ticketmaster.com
Beyoncé and Jay-Z
Pop music's most famous married couple is on tour in support of their first collaborative album, "Everything Is Love." You can also expect to hear plenty of solo hits by Beyoncé and Jay-Z. 7:30 p.m. Sept. 27. SDCCU Stadium, 9449 Friars Road, Mission Valley. $49.50-$350; $295-$1,995 for VIP packages, plus service charges. (800) 745-3000. livenation.com
MC50, with Starcrawler
MC5 guitarist Wayne Kramer is celebrating the 50th anniversary of his short-lived, but highly influential, Detroit rock band's incendiary 1968 live debut album, "Kick Out the Jams." He's touring with Soundgarden's Kim Thayil, Fugazi's Brendan Canty, Faith No More's Billy Gould and Zen Guerrilla alum Marcus Durant. Kramer's MC50 tour coincides with his arresting memoir, "The Hard Stuff: Dope, Crime, the MC5, and My Life of Impossibilities." 8 p.m. Oct 3. House of Blues, 1055 Fifth Ave., downtown. $30-$55. (800) 745-3000. houseofblues.com/sandiego
John Scofield Combo 66
Guitar great John Scofield's many credits range from Miles Davis and McCoy Tyner to Phil Lesh and Gov't Mule. But he shines brightest leading his own bands, which often blur the boundaries between jazz, blues and funk with fire and elan. 7:30 p.m. Oct. 19. Athenaeum Jazz at TSRI Auditorium. 10620 John Jay Hopkins Drive, La Jolla. $32 (members), $37 (non-members). (858) 454-5872. ljathenaeum.org
David Bromberg Quintet
A musician's musician who counts Bob Dylan and Bonnie Raitt among his many collaborators, David Bromberg has been a guitarist to reckon with for more than 50 years. He's now on tour to promote his award-winning 2017 album, "The Blues, The Whole Blues and Nothing But The Blues. 7:30 p.m. Oct. 11. AMSDconcerts, Laura R. Charles Theatre, Sweetwater High School, 2900 Highland Ave., National City. $35 and $45. (619) 201-0520. amsdconcerts.com
Pat Metheny
Pat Metheny is legendary both as a guitar innovator and an astute band leader whose groups consistently dazzle. His latest quartet features Mexican drum phenom Antonio Sanchez, Australian bass wiz Linda May Han Oh and English keyboardist Gwilym Simcock. 8 p.m. Oct. 27. Jacobs Music Center's Symphony Hall, 700 B St., downtown.$35-$95. (619) 235-0804. sandiegosymphony.org
Public Image Ltd.
John Lydon's post-Sex Pistols' band is now on its 40th anniversary tour to promote a new CD box set and film documentary, "The Public Image Is Rotten." Expect a night of post-punk tumult. 9 p.m. Nov. 4. Teatro El Foro, Avenida Revolución 520, Zona Centro, Tijuana. $50-$100. boletea.com.mx/eventperformances.asp?evt=1221
The Internet
The members of The Internet have worked with such hip-hop luminaries as Kendrick Lamar and Frank Ocean. Reunited after a hiatus that saw three of its members release solo albums in 2017, this Los Angeles neo-soul quintet recently regrouped for its audacious fourth album, "The Hive." 8 p.m. Nov. 13. Observatory North Park, 2891 University Ave., North Park. $35-$85. (619) 239-8836. ticketweb.com
Julien Baker, Phoebe Bridgers and Lucy Dacus
Three of the most promising young singer-songwriters currently active — Julien Baker, Phoebe Bridgers and Lucy Dacus — have joined forces as boygenius. Due out Nov. 9, their debut EP is an indie-pop gem that suggests their live shows should be an aural delight. 7:30 p.m. Nov. 29. Observatory North Park, 2891 University Ave., North Park. $23-$25. (619) 239-8836. ticketweb.com
Luciana Souza, with Chico Pinheiro & Scott Colley
Brazilian-born singer and songwriter Luciana Souza is featured on two terrific new albums — her own "The Book of Longing" and The Yellowjackets' "Raising Our Voice." Likely her finest solo outing to date, "Longing" is a captivating song cycle that features her singing poems by Emily Dickinson, Leonard Cohen, Edna St. Vincent Millay, Christina Rossetti and Souza herself. 7:30 p.m. Dec. 2. Athenaeum Jazz at TSRI Auditorium, 10620 John Jay Hopkins Drive, La Jolla. $32 (members), $37 (non-members). (858) 454-5872. ljathenaeum.org
george.varga@sduniontribune.com
Twitter @georgevarga
---