U2 revisits 'Joshua Tree' album 30 years later on tour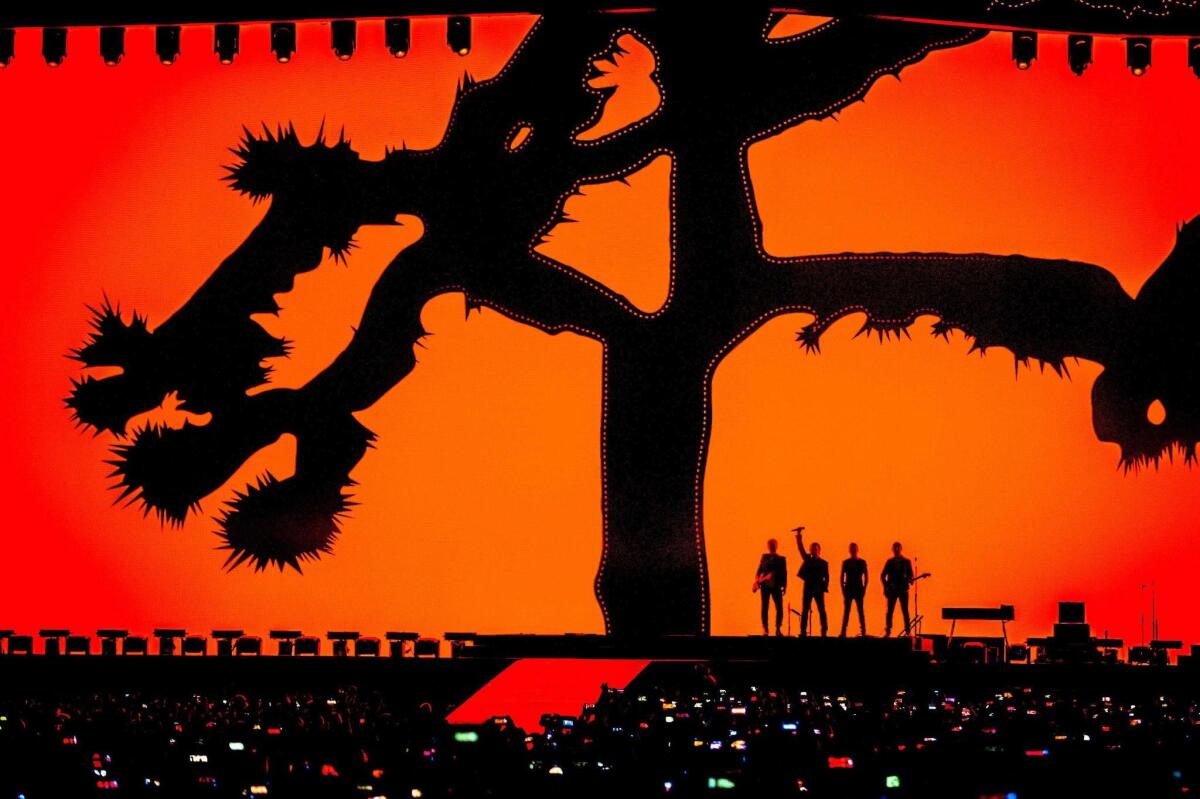 Hindsight being 20/20, it seems almost prophetic that U2's epic "The Joshua Tree" album topped Prince's "Sign O' The Times" to win Album of the Year honors at the 1988 Grammy Awards.
"The Joshua Tree," which made U2 global superstars who could fill stadiums, was not only a sign of its times, but of things to come.
Witness the veteran Irish band's current "The Joshua Tree Tour 2017," which concludes its second and final U.S. leg Friday at San Diego's newly named SDCCU (formerly Qualcomm) Stadium performing nightly in its entirety, sound even more pertinent today than when the album was released in 1987.
U2 singer Bono acknowledged as much in an April BBC radio, saying: "I went in the other day and we sung 'The Joshua Tree' (album) for the very first time in 30 years. I was really surprised at how it sounded and how relevant, really, it still was with what's going in on the world ... ."
Indeed, the songs on "The Joshua Tree" address an array of issues that still resonate strongly today. They include:



The quest for unity and spiritual and personal transcendence in times of global strife ("Where the Streets Have No Name"), which U2 performed during the 2002 Super Bowl halftime show as the names of 9/11 victims appeared on a huge video screen.

Questioning your faith in times of doubt ("I Still Haven't Found What I'm Looking For").

The American Dream, at its most inspirational and embattled moments ("In God's Country").

Extremism, gun violence and the plight of refugees ("Bullet the Blue Sky"), which was inspired by U.S. involvement in the civil war in El Salvador in the 1980s.

The sometimes lethal results of American foreign policy in Third World countries ("Mothers of the Disappeared").

The ever-harrowing toll of heroin addiction ("Running to Stand Still").

Violence in America, as seen through the eyes of a serial killer ("Exit").

The soul-sapping impact on families whose bread-winners abruptly lose their jobs ("Red Hill Mining Town").
That U2 was so successful with "The Joshua Tree" - whose worldwide sales topped 25 million in the pre-digital era - speaks volumes about the band's ability to create uplifting music while addressing such serious subject matter.
Or, as Bono noted recently: "Thirty years ago, 'The Joshua Tree' found common ground by reaching for the higher ground. This is a tour for red and blue, the coast and the heartland ... because music can pull people together as surely as politics can pull people apart."
For the members of U2 - Bono, guitarist The Edge, bassist Adam Clayton and drummer Larry Mullen, Jr. - the album also represented the start of a major new chapter that saw the band significantly broaden its stylistic scope and artistic reach.
The Edge commented on this aspect in Rolling Stone, saying: "We definitely were falling into the arms of America in the sense that, as a band, punk-rock was so much about establishing a unique form of music not inspired or influenced by American music. 'The Joshua Tree' was the first album where we consciously went: 'OK, we spent like four albums thinking about Europe (and) Ireland, but let's take a look at the roots of this form that we are inevitably a part of.' And those were all American ... ."
When U2 accepted the Grammy for Album of the Year in 1988, Bono noted: "We set out to make music, soul music. To us, soul music's not about being black or white, or the instruments you play, or whether you use a drum machine or not. It's a decision to reveal or conceal."
Whether "The Joshua Tree" is U2's most soulful and revelatory album is up to fans to decide, but it's surely a top contender. After 30 years, there's no doubting its impact and staying power, or its ability to move and unify a stadium full of fans.
Seven things to know about U2's "The Joshua Tree" album


It has sold more than 10 million copies in the U.S. alone, making it the band's biggest-selling album in this country.

It topped the charts in more than 20 countries, including the U.S., where U2's two previous biggest albums - 1983's "War" and 1984's "The Unforgettable Fire" - each rose no higher than No. 12.

Its title notwithstanding, photographer Anton Corbijn's iconic "The Joshua Tree" cover shot was not taken in Joshua Tree, but 200 or so miles away at Zabriskie Point.

It was originally intended to be a double-album and its working title was "Two Americas," a reference to both the real and mythic America.To celebrate its 30th anniversary, it has now been re-issued in an expanded, four CD box set that includes an 84-page hardback book, a 1987 concert recording and more.

In 2014, "The Joshua Tree" was one of 25 albums and songs the U.S. Library of Congress added to the National Recording Registry. Some of the other landmark recordings added to the registry that year included Billie Holiday's "Strange Fruit," Woody Guthrie's "This Land Is Your Land" and Stephen Sondheim's "Sweeny Todd."

The album, now available as a four-CD box set, includes U2's first (and, so far, only) U.S. No. 1 singles - "With or Without You" and "I Still Haven't Found What I'm Looking For" - as well as "Where the Streets Have No Name," which won a Best Music Video Grammy.

That video was filmed March 27, 1987, on the roof of the Republic Liquor store, at the corner of Seventh and Main streets, in downtown Los Angeles. After more than 1,000 fans jammed the streets below, the police shut down the video shoot. "It's not the first time we've ripped off The Beatles," Bono said, alluding to the Fab Four's career-concluding 1969 rooftop performance in London.
Seven things to know about "The Joshua Tree Tour 2017"


Since launching in May, it has become the biggest concert tour of 2017 by any music artist, drawing more than 2.4 million fans thus far.

By the time the 46-date international tour reached its midpoint in July, it had grossed an estimated $123 million and counting. By comparison, the original "The Joshua Tree" tour in 1987 consisted of 111 shows over an eight-month period. That tour grossed a comparatively modest $50 million.

U2 is performing "The Joshua Tree" album in its entirety on the band's current tour, with 11 of each concert's 22 songs coming from "The Joshua Tree."

The stage for the tour is 192 feet wide. It is draped by an enormous, curved, wrap-around LED video screen that is 200 feet wide, 45 feet high and contains 1,040 individual video panels.

A 75-foot long walkway leads to a smaller stage. U2 opens each concert on that stage with four songs - "Sunday Bloody Sunday," "New Year's Day," "Bad" and "Pride (In the Name of Love)" before moving to the big stage.

Vintage and new 8 mm films shot by longtime U2 album photographer Anton Corbijn accompany much of the concert.

The band is previewing at least one song per night from its upcoming album, "Songs of Experience," which is due out Dec. 1.
U2's San Diego concert history
March 26, 1982: U2 opens for the J. Geils Band at the San Diego Sports Arena.
April 13 & 14, 1987: U2 plays two sold-out shows at the same arena on the original "The Joshua Tree" tour.
April 15, 1992: U2 again plays at the arena on its "Zoo TV" tour.
Nov. 10, 1992: U2's "Zoo TV" tour returns for a show at San Diego Jack Murphy (now SDCCU) Stadium.
April 28, 1997: U2's high-tech "PopMart" tour plays San Diego Jack Murphy (now SDCCU) Stadium.
April 17, 2001: U2 brings its "Elevation" tour to the San Diego Sports Arena.
March 28 & 30, 2005: U2 kicks off its "Vertigo" world tour at the newly (and briefly) re-named iPayOne Center at the Sports Arena.

U2's San Diego club show: True or false?
Contrary to popular belief (and erroneous online posts), U2 did not perform at SDSU's now-defunct Back Door club on March 13, 1981.
"I passed on (booking) the show," recalled Guy Richard, the Back Door's talent buyer at the time. He is now vice president of the adult contemporary music concert division for Agency for the Performing Arts in Los Angeles.
"They wanted $1,000 for U2, which wouldn't pay for the band's backstage catering now!" Richard told the Union-Tribune in 2005. "I didn't think more than five people would come."

U2, with Beck
When: 7:30 p.m. Friday
Where: SDCCU Stadium (the venue formerly known as Qualcomm Stadium), 9449 Friars Rd., Mission Valley
Tickets: $70-$204 (plus service charges)
Phone: 800.745.3000
Online: ticketmaster.com
Sign up for the Pacific Insider newsletter
PACIFIC magazine delivers the latest restaurant and bar openings, festivals and top concerts, every Tuesday.
You may occasionally receive promotional content from the Pacific San Diego.