Top concerts this week in San Diego (Aug. 20-26)
Top performers in town this week include Charlie Puth, Jack White, J. Cole and Lady Antabellum.
8.20: AJJ + Kimya Dawson
AJJ, the Phoenix-based folk punk quartet formerly known as Andrew Jackson Jihad, shares the stage with Kimya Dawson, the New York-based anti-folk singer best known for her contributions to the soundtrack for the 2007 film Juno. Punk duo Shellshag opens the show.
@ Observatory North Park, observatorysd.com
8.20 Charlie Puth
The L.A.-based singer released his second studio album, Voicenotes, in May. Recorded in Puth's home studio and featuring appearances from Kehlani, Boyz II Men and James Taylor, the album broke the top 10 in a dozen countries worldwide. Special guest Hailee Steinfeld joins Puth on tour.
@ Mattress Firm Amphitheatre, livenation.com
8.21: Jack White
A recent report has vinyl sales up 19% this year and the former White Striper at the top of the heap with his May-released third studio solo album Boarding House Reach. Beating out heavyweights like Kendrick Lamar, Michael Jackson and The Beatles, the album has sold over 37,000 platters to date.
@ Viejas Arena, viejasarena.com
8.22: J. Cole
North Carolina-based rapper J. Cole dropped his fifth studio album, KOD, in April. Debuting at the top spot on the U.S. Billboard 200, Cole produced most of the politically-charged album on his own.
@ Viejas Arena, viejasarena.com
8.22: Mura Masa
The Grammy-nominated, Guernsey-born DJ, producer and multi-instrumentalist worked with Charli XCX, ASAP Rocky, Damon Albarn, Desiigner and more on his 2017 self-titled debut. He joined forces with Nile Rodgers, Chic, Cosha and Vic Mensa on new single Till the World Falls and with Octavian on Move Me, both released in June.
@ Observatory North Park, observatorysd.com
8.24: Rob Zombie & Marilyn Manson
Love Halloween, wearing black, horror movies and head banging? Then it's time to head down to Chula Vista for a double bill that features the current mainstream king and prince of macabre on their Twins of Evil tour. And for anyone wondering, the new Nine Inch Nails album is heavy on saxophone, so Trent Reznor has been demoted to duke.
@ Mattress Firm Amphitheatre, livenation.com
8.24: Brody Jenner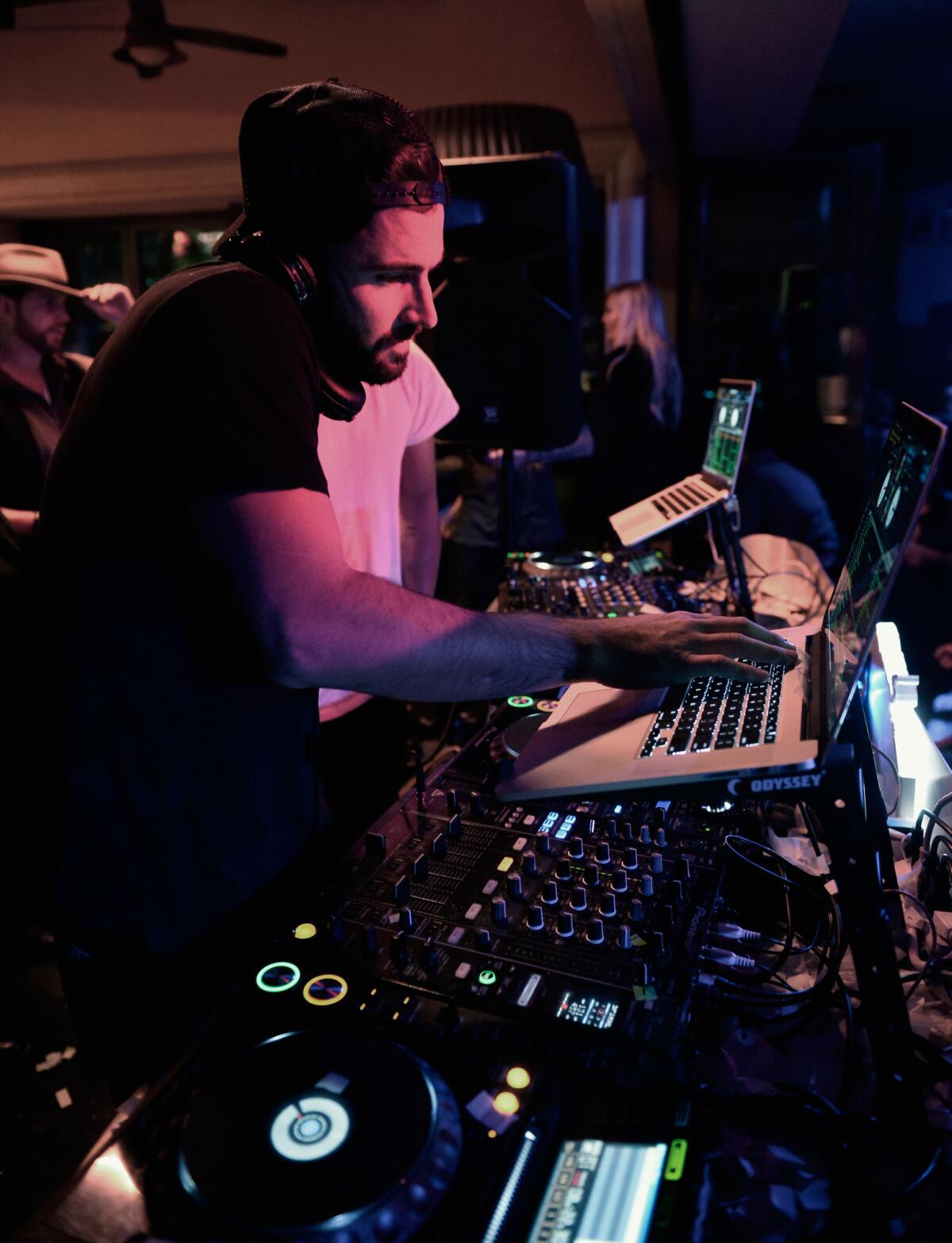 Hey! Look who's back! The bearded actor and DJ, who recently graced PACIFIC's April cover, returns to San Diego after appearing here in April. The reality TV star known for shows like The Hills, The Princes of Malibu, Keeping Up with the Kardashians, Sex with Brody and Bromance, also happens to be former stepbrother to the four Kardashian children, and half-brother to Kendall and Kylie Jenner. But that, of course, probably has nothing to do with his popularity.
@ Parq, parqsd.com
8.25: Punch Brothers
Local Punch Brother Chris Thile, the Oceanside-born, multiple-Grammy-winning mandolinist, singer, composer and radio host, was just here in June as a soloist. This time, he returns with the rest of the band — Gabe Witcher, Noam Pikelny, Chris Eldridge and Paul Kowert — in support of their new album, last month's All Ashore.
@ Observatory North Park, observatorysd.com
8.25: Bad Bunny
The 24-year-old Puerto Rican reggaeton singer has blown up in his two short years on the scene. Scoring major hits with everyone from Daddy Yankee and Prince Royce to Nicki Minaj and 21 Savage, the rising star recently logged yet another platinum hit by partnering with Cardi B and J Balvin on the chart-topping single, I Like It.
@ Valley View Casino Center, valleyviewcasinocenter.com
8.25: Lady Antebellum
The multiple Grammy-winning country trio took some time off in 2016, but returned last year with new full-length album, Heart Break. The threesome's seventh record together debuted at No. 4 on the U.S. Billboard 200 and reached No. 1 on Billboard's Top Country chart. One-time Hootie & The Blowfish bandleader Darius Rucker also will be there promoting his latest release, 2017's When Was The Last Time. Rucker's fifth country album includes a song with Lady Antebellum's Charles Kelley.
@ Mattress Firm Amphitheatre, livenation.com
8.25: 3LAU
New York-born, Vegas-based DJ Justin Blau has done official remixes for Zedd, The Chainsmokers, Tiesto, Adele, Justin Bieber and more, as well as teaming with the likes of Dash Berlin, Estelle, Bright Lights and Audien on singles. Blau released his 11-song full-length debut, Ultraviolet, in February. It features collaborations with MAX, Emma Hewitt, Carly Paige and others.
@ Parq, parqsd.com
8.25: Andrew Rayel
The 24-year-old Moldovan trance DJ and producer released his 16-track LP, Moments, last year. This year, Rayel has dropped a handful of new singles, including Horizon, Trance Reborn, Tambores, Dark Resistance, In The Dark and, most recently, July's New Dawn with Corti Organ and Max Cameron.
@ Bassmnt, bassmntsd.com
8.26: Israel Vibration & Roots Radics
After first meeting in a polio rehabilitation center, Cecil "Skeleton" Spence and Lascelle "Wiss" Bulgin have produced more than 40 years of roots reggae — much of it with legendary Jamaican backing band Roots Radics (Gregory Isaacs, Bunny Wailer). The band's 24th studio album, Play It Real, was released in 2015.
@ Belly Up, bellyup.com
8.26: Rod Stewart / Cyndi Lauper
Rock and Roll Hall of Fame inductee and Grammy-winner Stewart joins forces with Grammy, Tony and Emmy-winner Lauper for the second time in as many years. Pro tip: Stewart still practices his career-long tradition of kicking multiple soccer balls into the crowd, so best stay alert if holding a beverage.
@ Mattress Firm Amphitheatre, livenation.com
Sign up for the Pacific Insider newsletter
You may occasionally receive promotional content from the Pacific San Diego.