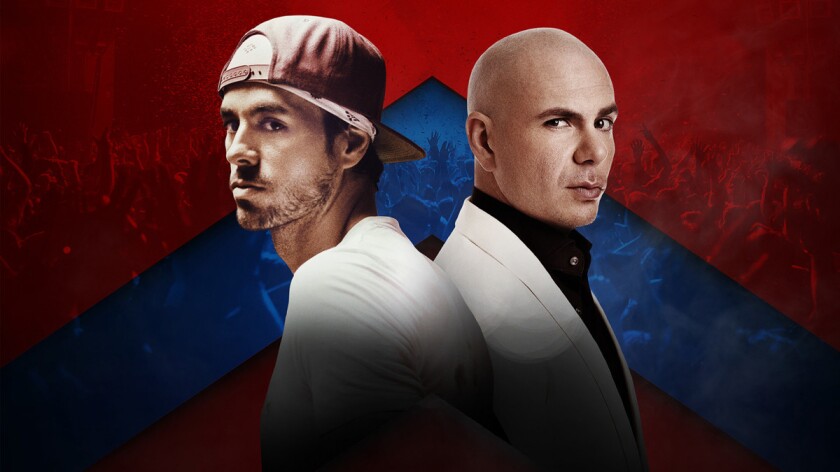 Top performances in town this week include Arcade Fire, Odesza and Enrique Iglesias & Pitbull.

10.17: The Black Angels
The Austin psych outfit released their fifth full-length album, Death Song, in April. The 11-track collection is their first for Partisan Records.
@ House of Blues, houseofblues.com/sandiego
10.17, 18: Café Tacvba
It's a two-night stand for the 28-year-old alt rock outfit from Mexico City after dropping their eighth studio album, Jei Beibi, last May. The record is the band's first release in five years.
@ Observatory North Park, observatorysd.com
10.18: Allah-Las
The ex-Amoeba-staffers-turned-psych-rockers are set to release a new EP of covers in November. Among the artists getting the L.A.-based band's unique interpretation are George Harrison and Television.
@ Music Box, musicboxsd.com
10.18: Songhoy Blues
Hailing from Timbuktu, Mali, the desert-blues quartet formed after being displaced from their homeland by a jihadist group. Their sophomore effort, Résistance, was released on Fat Possum Records in June.
@ Belly Up, bellyup.com
10.18: Arcade Fire
The Canadians are coming! And they'll be playing songs from their fifth studio album, Everything Now, which was released in July.
@ Viejas Arena, viejasarena.com
10.19: Odesza
Two of electronic music's biggest stars, Seattle-based producers Harrison "Catacombkid" Mills and Clayton "BeachesBeaches" Knight, released their highly anticipated third album last month. It's called A Moment Apart and features collaborations with a diverse range of guests from Leon Bridges and Regina Specktor to Naomi Wild and Sasha Sloan.
@ Valley View Casino Center, valleyviewcasinocenter.com
10.19: The Bronx
Ditching the "Mariachi" portion of their alter egos, the L.A.-based outfit made a return to undiluted punk and released the fifth album under their two-word moniker, BRVNX (V), last month.
@ Casbah, casbahmusic.com
10.20: Jack Novak
Jack (Jacqueline) Novak hasn't released new music in 2017, but when you look like the Chicago-born/L.A.-based producer and former model, it doesn't really matter. It also doesn't hurt that she has credits like opening for Calvin Harris and serving as the touring DJ for Pharrell Williams to her name.
@ OMNIA, omnianightclub.com
10.20: Mark Farina
Mark Farina, veteran house DJ and founder of the iconic Mushroom Jazz series, returns to San Diego once again. Last summer marked the 25th anniversary of Farina's Mushroom Jazz club nights, and he celebrated by releasing the eighth installment of the acid jazz compilations.
@ Music Box, musicboxsd.com
10.20: JR JR
The Detroit based duo formerly known as Dale Earnhardt Jr. Jr. released one new single, Same Dark Places, from the Netflix series 13 Reasons Why, earlier this year. They followed it with another one called, Clean Up, in August.
@ The Irenic, theirenic.com
10.21: Mashd N Kutcher
The Australian DJ duo released the single, Pretend (feat. Park Avenue) earlier this year. They followed it by collaborating with 19-year-old DJ and fellow countryman Tyron Hapi on the July-released single We Could Be.
@ OMNIA, omnianightclub.com
10.21: Pegboard Nerds
Danish DJ Michael Parsberg and Norwegian DJ Alex Odden have released four singles this year - Voodoo (with Tony Junior), Go Berzerk and Move That Body with Quiet Disorder, and Extraordinary (feat. Elizaveta) with Spyker.
@ Bassmnt, bassmntsd.com
10.21: Nick Murphy
Chet Faker = Nick Murphy. Nick Murphy = Chet Faker. The Australian singer and beat maker returns to the Observatory under his given name.
@ Observatory North Park, observatorysd.com
10.21, 22: Beats Antique
Beats and belly dancing? Costume changes and live instrumentation? Slap on some patchouli and get ready to wiggle.
@ Belly Up, bellyup.com
10.22: Enrique Iglesias & Pitbull
Mr. Worldwide and the King of Latin Pop team up once again for a 35-date North American run.
@ Valley View Casino Center, valleyviewcasinocenter.com
10.22: A$AP Mob
This Harlem collective of rappers and producers has a lot of members. But expect to see A$AP Rocky, A$AP Ferg, A$AP Twelvvy, A$AP Nast and A$AP Ant on the 22nd. Twelvvy just released his debut, 12, in August.
@ Observatory North Park, observatorysd.com
---