Metallica heads to San Diego with renewed purpose and vigor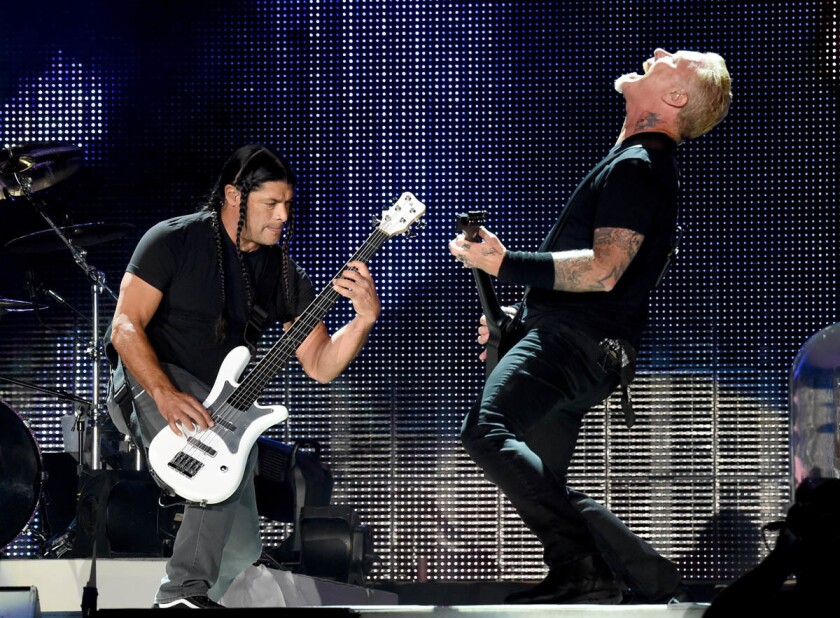 Does life begin anew at 36 for Metallica?
Despite the title of its 10th studio album, last year's "Hardwired ... To Self-Destruct," the world's most popular metal band remains one of the most vital institutions in rock music.
Exactly how vital and popular should be reaffirmed when Metallica's 2017 WorldWired stadium tour comes to San Diego's Petco Park on Sunday. If their concert here doesn't sell out, it appears likely to come close.
Either way, Metallica - which was formed in 1981 and whose members are now in their 50s - is in select company.
The only other rock bands who have headlined at Petco are the Rolling Stones and Aerosmith. Metallica singer-guitarist James Hetfield, drummer Lars Ulrich, lead guitarist Kirk Hammett and bassist Robert Trujillo could give these fellow legends a run for their money.
To date, the WorldWired tour has drawn nearly 700,000 fans to 25 concerts in 19 cities. With an average ticket price of $127.74, the tour has earned an estimated $4.6 million per show. The gross take for all of the WorldWired shows so far is nearly $90 million, according to the concert-industry magazine Pollstar.
But there are other numbers that stand out, even if they are smaller.
Metallica's tour is drawing several generations of fans, not just veteran head-bangers who grew up with the band. Or, as Trujillo - still the group's newest member after 14 years - recently told an interviewer.
"Every night, James asks the crowd how many are here for their first Metallica show, and it's always at least half the crowd, if not more, which is really kind of cool and kind of interesting that the band is still relevant after all these years. (So is) the fact we have all ages too ... that means we're doing something right."

Near-implosion in 2002
In fact, Metallica was on the verge of imploding when Trujillo replaced Jason Newsted as its bassist in 2002.
The band's trial and tribulations - including hiring a "life performance" counselor and Hetfield's stint in rehab - were chronicled with unusual candor in the 2004 film documentary, "Some Kind of Monster." One of the most emotionally wrenching scenes showed guitarist Dave Mustaine, a La Mesa native, tearfully telling Ulrich how painful it was for him to be fired from the band in 1983 because of his drug and alcohol problems.
After Trujillo came on board nearly 20 years later, Metallica could easily have settled for being a very lucrative nostalgia act. It is one of the top-selling bands in the era of Nielsen SoundScan, which began tracking U.S. record sales in 1991.
That was the same year the ferociously rocking quartet's fifth album, 1991's self-titled "Metallica," was released. It has since sold more than 16 million copies in the U.S. alone and another 7 million abroad, fueled by such classic songs as "Enter Sandman," "Wherever I May Roam" and "Sad But True."
Rather than rest on its laurels, though, Metallica has worked hard to remain vital and relevant. And, like very few other bands whose careers began four decades ago, they have largely succeeded.
Credit for this is due to a combination of talent and tenacity. Then there's Metallica's well-earned reputation for delivering ferocious live shows and its staunch refusal to compromise or to kick back after being inducted into the Rock and Roll Hall of Fame in 2009.
Eager to push themselves and their listeners, the band teamed in 2011 with Lou Reed for "Lulu." That dense, fiercely challenging album was inspired by two proto-expressionist plays by German writer Frank Wedekind.
Many Metallica fans expressed their intense dislike for "Lulu." Its Reed-friendly themes of sexual degradation and violence, like his deapan vocals, helped ensure the album's minimal commercial success - and fueled death threats directed at Reed.
But the band made no apologies for collaborating on "Lulu" with him. "I think it sounds fantastic," Ulrich told an interviewer last year.
From Comic-Con to Antarctica
In 2013, Metallica came to San Diego's Comic-Con to debut "Metallica Through The Never," an ambitious, 3-D IMAX movie that combined concert footage and an apocalyptic adventure scenario. The same year saw the band perform on all seven continents, including - "Hello, penguins!" - Antarctica.
In 2014, Metallica played at the Grammy Awards with Chinese classical music virtuoso Lang Lang. The band returned to the Grammys this year for a collaboration with Lady Gaga that saw Hetfield hurl his guitar down in frustration, following some very conspicuous sonic glitches.
In 2015, Trujillo produced "Jaco," a heartfelt film documentary about jazz bass giant and former Weather Report member Jaco Pastorius. Last year, Trujillo performed at a Hollywood Bowl tribute to the late Pastorius that also featured Herbie Hancock and Weather Report alums Wayne Shorter and Peter Erskine.
While Metallica will never be mistaken for a jazz band, lead guitarist Hammett studied the music intently in his younger years. Drummer Ulrich is the godson of jazz sax legend Dexter Gordon. Ulrich's father was one of Denmark's leading jazz critics and used to own a jazz club in Copenhagen, before the family moved to California when the drummer was a teenager.
"My dad would play a lot of jazz for me, which I could respect, and he'd pound these ideas into me, like 'playing sideways.' And he'd always say: 'Don't be too square in your drumming'," Ulrich told the Union-Tribune in a 1992 interview.
"It's funny to be asked about my dad and jazz, because I never thought it had a direct effect on me, and it did."
That effect can be heard in some of the proudly odd time signatures Ulrich brings to Metallica's visceral songs, the band's penchant for constantly shifting tempos and its ability to execute intricate instrumental passages with equal force and finesse.
But Metallica's appeal also owes much to Hetfield's impassioned vocals and lyrics, which often address rage, fear, death, corruption and such timeless rock themes as rebellion and disdain for authority.
"Hardwired," the title track from Metallica's latest album, begins: In the name of desperation / In the name of wretched pain / In the name of all creation / Gone insane.
Such sentiments are similar in tone to "Creeping Death," a biblically inspired song from Metallica's second album in 1984. It includes such grim couplets as: Rule the midnight air, the destroyer born / I shall soon be there, deadly mass / Creep the steps and floor / Final darkness, blood, lamb's blood.
Yet, if Metallica has an undeniable fondness for grim topics and intense imagery, the band's music - especially live on stage - is nothing if not cathartic.
Their take-no-prisoners songs are delivered with galvanizing velocity, making Metallica's concerts high-octane celebrations. The band's singular vision is much the same today as when Ulrich articulated it in his 1992 Union-Tribune interview.
"Other people can give you a song-and-dance about 'playing rock for the people.' Well, we're doing this for ourselves, and we'll stick with that stubborn approach," he said.
"But I think a lot of people appreciate that what they see and get with us is completely honest. It's not a 'product' thing fabricated to earn money. It's four guys who are genuinely excited about what they're doing, and that's the end of it."

Metallica, with Avenged Sevenfold and Gojira
When: 6 p.m. Sunday
Where: Petco Park, 100 Park Blvd., downtown
Tickets: $135.50 (reserved) and $155 (general admission on the stadium floor), plus service charges
Phone: 800.745.3000
Online: ticketmaster.com
---
Sign up for the Pacific Insider newsletter
PACIFIC magazine delivers the latest restaurant and bar openings, festivals and top concerts, every Tuesday.
You may occasionally receive promotional content from the Pacific San Diego.