Nothing but good vibes for MadeinTYO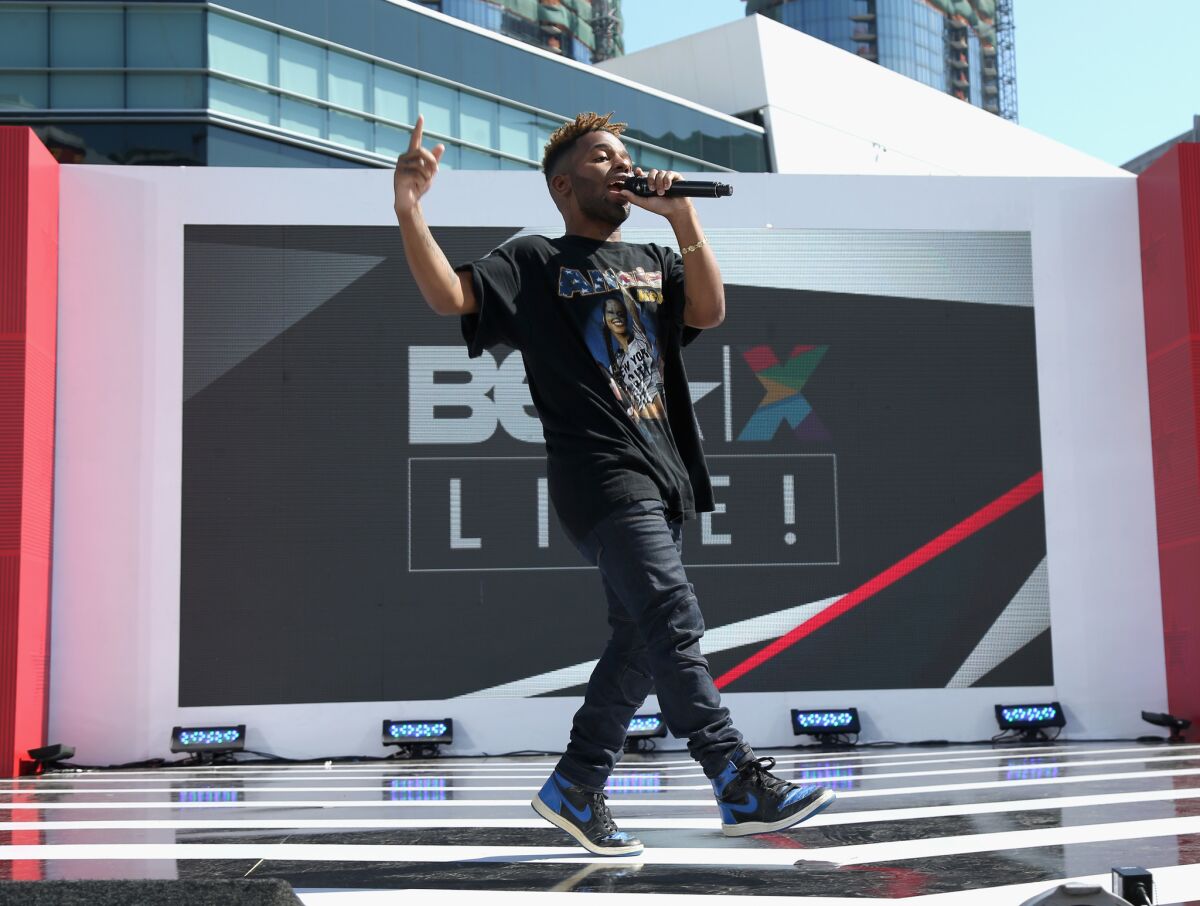 Rapper MadeinTYO (aka Malcolm Davis) is having a great run. The Atlanta-bred, L.A. producer and songwriter's very first single, 2016's Uber Everywhere not only went platinum, but got a remix and feature from Travis Scott when it appeared on Davis' debut mixtape, You Are Forgiven.
Since then, MadeinTYO (Made in Tokyo) has gone on to work with the likes of 2 Chainz, Ty Dolla $ign, A$AP Ferg, Big Sean, Carnage, Mac Miller, E-40, Rich The Kid and many more.
Davis' full-length debut, Sincerely, Tokyo, was released in October and he has much more on deck.
PACIFIC recently spoke with the 26-year-old rapper about it all from his Los Angeles home.
PACIFIC: You've released EPs, singles and have featured on other artist's albums. Can you talk about putting out your own full-length album?
Malcolm Davis: For this project, it was really about putting out a title album. I was just trying to find 15 songs out of maybe 50 that I had created. I spent time listening to them and deciding which ones I wanted to use, which ones I was going to put features on, which ones already had features, things like that. A lot of my previous work didn't have features on them or were remixes. So this was really just about putting out a bigger project.
And getting a debut album out there.
I guess. But I think my fans would be like, 'That first project you put out was like your first album to me.' Nowadays, it's different. People label things albums or EPs, but there are things being uploaded to iTunes that are mixtapes and they're also labeled as "albums." For me, whatever they're titled, I think they're all albums.
So what makes them different?
Well, I think it's easier to make an "album" when you're working with the same producer. You're all sitting in the same room together, working on the same songs, deciding on things like what instruments are going to be used. For this record, I worked with (producer) K. Swisha a lot. And one of the tracks I did with K. Swisha, Ned Flanders with A$AP Ferg, just went gold. And that was the first record that I put out there where I was like, 'This is a single.' It was the first time where I didn't repackage it in something else. I put that out before I included it on a project. That was a leap of faith. Because, before that, I didn't care about what it was called. I didn't care if it was on iTunes. You just upload it, put it out there and hope it catches a wave.
So you're always creating and just finding the right avenues for the songs as you go?
Yes. I think so. I'm just always listening to the vibe and then thinking, 'Oh, I have to put these two together.' And some of the songs that maybe haven't come out yet will inspire you for other songs. Like, I might be over at Big Sean's crib and he's like, 'Yo, what are you doing with this record? Can I put a verse on this?' There's always room for those. But I mix it up when I work. I'll work on three different things at once. I'm always working on different kinds of sounds, and you might not even hear some of that for a year or two, but I'm always working. I've just got to get it out creatively. If I don't, then it's a waste. I'm just creative (laughs).
When did you live in San Diego?
Well, I was born in Hawaii. I was there for two years and then I moved to San Diego. I spent some time in VA, but I lived in San Diego all the way up until fifth grade.
What are your memories of that time?
We lived in some apartments in Chula Vista. And at night, we could see all the lights of TJ. I remember grade school, and skateboarding at Cottonwood Park and Eastlake High School, and my homie getting sponsored by Pharrell's Ice Cream Skate Team. Eating Mexican candy. Long socks. Listening to Blink-182, Good Charlotte, Hot Hot Heat, Box Car Racer. All of that. Good Cali vibes.
MadeinTYO
When: 9:30 p.m. March 12 (date posponed from Feb. 2)
Where: Music Box, 1337 India St., Little Italy
Cost: $20
Online: musicboxsd.com
Sign up for the Pacific Insider newsletter
PACIFIC magazine delivers the latest restaurant and bar openings, festivals and top concerts, every Tuesday.
You may occasionally receive promotional content from the Pacific San Diego.