Kate Tempest kicks off 'Chaos' tour in San Diego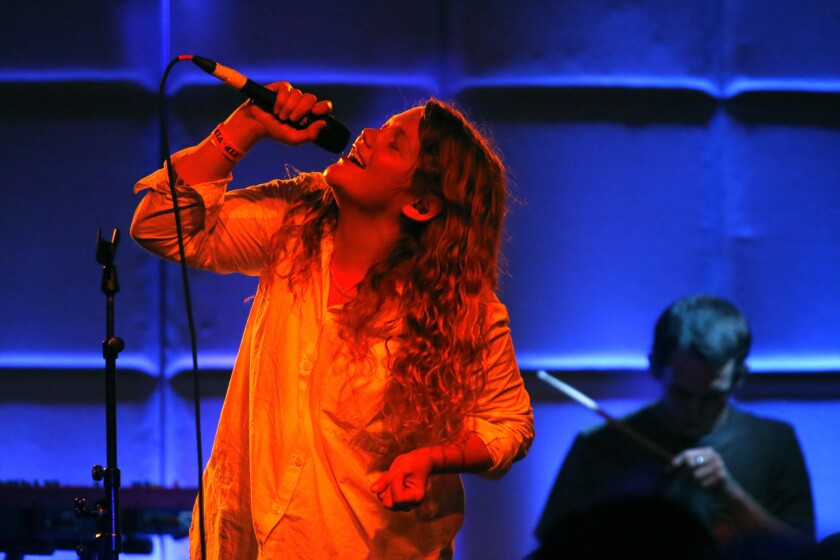 If you haven't yet heard of Kate Tempest, get ready.
In her native England, the author, rapper, playwright and novelist has been making waves for more than a decade.
In addition to being the youngest-ever recipient of the U.K. Poetry Society's Ted Hughes Award for the first of her two books of poetry, her debut album, "Everybody Down," was nominated for a Mercury Prize.
Last year, she released her debut novel, "The Bricks That Built the Houses" and made her American TV debut on Late Night with Jimmy Fallon on Thursday.
Tempest is heading out on her second-ever U.S. tour to promote the rapper's latest album, October's "Let Them Eat Chaos." It kicks off on Monday at the Casbah.
PACIFIC recently spoke with the multi-faceted artist by phone from her home in London.
https://youtu.be/oyffJnlCPfE
PACIFIC: You kick off the new tour with us in San Diego. Do you do anything special to prepare for a run overseas?
Kate Tempest: I think you're constantly doing work to get ready for touring. Every gig you play teaches you something about how to handle the process and keep things feeling exciting. You develop your skills, stagecraft, and the bonds between players. This will only be our second American tour.
We've come over to do things in New York and L.A. But this is only our second time actually on the road, hitting different states. And there's something deeply exciting and also kind of terrifying about that prospect.
And it's also somewhat of a chance to build something over here from the ground up.
That's the hope, you know? Because the situation over here is that for 15 years I've been writing, touring, putting out records - before YouTube, you know? White labels. It's been that long (laughs). But I think there's something about putting in that kind of groundwork and keeping things moving against a tide of impossibility. You keep working. You keep going. And if you do that, you can trust it. And the audience can trust you.
It means that you've developed the skills to have the endurance to go the distance sort of a thing. And the same principals, I think, I want to apply to the States. In these times, when a lot is sold to us and we can just spot the f***ing marketing contract a mile off, there's a lot to be said for just putting in the hard work and developing a relationship with the audience that feels a bit more real. And that's safer for me as well.
Hopefully it's the rest of my life - this job. You know?
Kate Tempest
When: 8:30 p.m. Mar. 20
Where: The Casbah, 2501 Kettner Blvd., Downtown
Cost: $10
Online: casbahmusic.com
As a rapper, writer, poet, novelist, and playwright, are there challenges in sorting creative impulses?
I follow the ideas. If I'm thinking about a particular narrative and an idea presents itself to me, I interrogate the idea until I can realize its shape. When I start to see it, when I start to feel what it could be, then it's up to me to translate it to whatever form I have at my disposal.
And the more forms I have, truer to the idea the finished thing can be. Hopefully. Before I had experimented with different forms, all I had were rhymes. So every idea came out that way.
Once I developed my narrative voice through writing for the theater, writing plays, and eventually writing novels, it opened up new pathways in my brain. And it allows the ideas to have more scope.
I'm not closing any of the new pathways off, but I'm most at home and feel most comfortable in a recording studio or on stage with musicians. Music was my first love. And it's my enduring love.
And the other disciplines?
I'd love to keep writing across the different forms that I've experimented with so far. I'm working on a play at the minute and a collection of poems - as well as another record. But it's all lyrics, man. It's all just words.
You've worked with producer Dan Carey (Sia, Kylie Minogue, Hot Chip) on both albums. Do you ever envision yourself taking a more active role in the music?
Well, we are very involved in each other's process. We write everything together. And what I mean by that is that we write in the room together.
It's not like he brings me beats and I give him lyrics and we put them together. We get together in the studio and we create in real time. And then when we have the first draft of what begins to feel like a real idea, maybe at that point, when the sound world has been created, and the structure has been decided, that's when I'll take away the unedited long form of the lyric and chisel it. Then I'll bring it back to Dan and we'll chisel the music down as well.
But I really enjoy this process that we've found. It feels really equal and it feels really supportive. And we end up blowing each other's minds and push each other on to try new things.
I don't have any desires to be any more involved in the music because I already feel very involved in it. I just don't play as well as he does, so I'm glad that he was playing the f***ing instruments because I can't do it (laughs). I've never found another collaborative relationship like the one I have with Dan. It's amazing.
Awesome that the live shows feature live music behind you as well.
It's got to be live music. There's no question. Just in terms of the amount of years I've spent performing, there has to be a drummer - and especially my drummer. We've played together since we were children. We're like family. Our connection is instinctive. And I have to turn around and watch the synth player playing the synth - making that bass line. I have to feel like it's happening for real. You know what I mean?
Of course. Anything we can talk about that on the horizon for you?
Maybe it's too soon. They're still taking shape. I don't know who said it, but I heard "If you talk about a novel before you've written it, all the energy goes into describing it. And when you sit down to write the thing, you've got none left for it." I try to hold all these ideas quite close to my chest before they're finished.
---
Sign up for the Pacific Insider newsletter
PACIFIC magazine delivers the latest restaurant and bar openings, festivals and top concerts, every Tuesday.
You may occasionally receive promotional content from the Pacific San Diego.