San Diego spins for vinyl
With so many cities making their mark on the vinyl record scene, it can be hard to compete for the analog crown. Yet San Diego rivals with the best of them — Google Maps pins more than 30 shops around the county, with more popping up every year.
A mix of emerging and veteran stores throughout the area reflects the market's current customer base, mixed with newbies and seasoned vets. Many of the shops offer a broad selection of tunes, while others specialize in certain genres. Either way, you'll likely find what you're looking for — or perhaps something you weren't, but glad you did —without having to leave San Diego.
Though we can't list them all, here's a roundup of some local record shops to check out when you're looking for a new (or used) vinyl to spin next.
M-Theory Music
All rockers should head on over to Mission Hills, where the selection, well, rocks. The shop's broad collection carries a large number of rock albums — including indie, alternative, neo-progressive and space rock. Teal walls are complimented by neon lights, serving as a bright backdrop for rows of records, as well as occasional concerts. M-Theory welcomes fans to bring in their older items for trade, and also do custom orders.
"I sold some of my used records there today and Joe was incredibly accommodating … Not to mention they have great bands come to play at the shop all the time — and I got to meet Wayne Coyne of the Flaming Lips here a couple years ago!" — Kathryn Garcia, Facebook
Hours: 10 a.m. to 8 p.m. Mondays through Saturdays, 11 a.m. to 7 p.m. Sundays
827 W. Washington, Mission Hills, 619.220.0485, mtheorymusic.com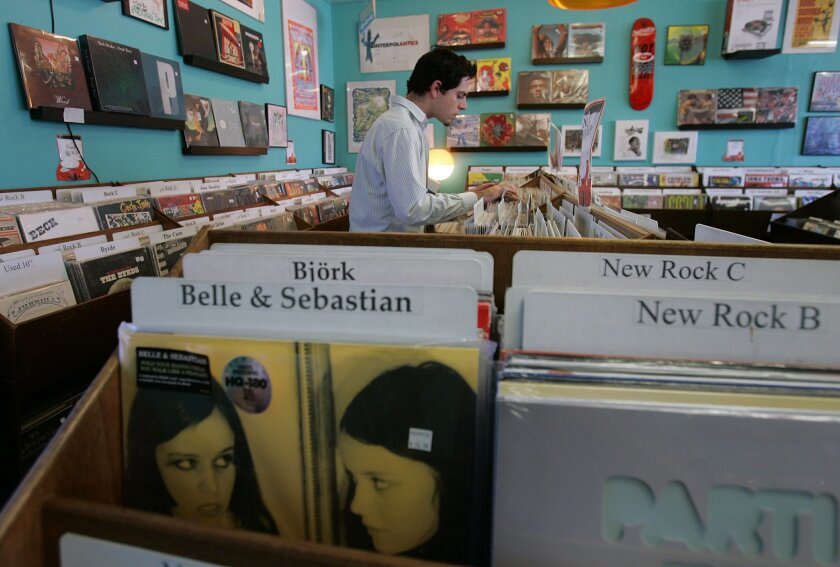 Normal Records
With white walls and spacious set-up, this hipster hotspot in North Park contrasts grungier vinyl stores with a clean, boutique-like feel. Yet it's no poser to the music scene with an impressive stereo set-up and well-rounded selection to prove it. Normal Records' contemporary style is matched with new releases, but you can definitely find oldies thrown into the mix. Scour the discount bin for cheap deals, which is also home to $1 CDs and cassettes.
"Caleb is a super cool dude, throws in a fun fact or conversation about nearly every record I purchase. Always plays great tunes and is really friendly. Highly recommend this place if you're looking for newer records." — Eli Stein, Facebook
Hours: Noon to 8 p.m. Mondays, closed Tuesdays, noon to 8 p.m. Wednesdays through Fridays, 11 a.m. to 8 p.m. Saturdays and Sundays
4201 30th St. #101, North Park, 760.212.7794, normalrecordssd.com
Nickelodeon Records
After years spent searching for goodies on their own, badass women Ruth and Elizabeth teamed up in 1984 to open their long-standing store on Adams Avenue. Stopping by Nickelodeon Records is like stepping into a time machine. Old-school sports memorabilia and framed black and white photos cover the walls. The duo specialize in the music of their times, including in folk, rock, soundtracks and 45s. (They even wrote a book about their experiences sourcing vinyl.)
"I can truly say this is one of my top 10 places in the world to visit." — Ceasar Ramirez, Facebook
Hours: 10 a.m. to 2 p.m. Mondays, 10 a.m. to 5:30 p.m. Tuesdays through Saturdays, closed Sundays
3335 Adams Ave., Normal Heights, 619.284.6083, nickelodeonrecords.com
Vinyl Junkies Record Shack
They may have just opened in November 2017, but this retro-inspired shop is led by music veterans Tim Mays (listen to PACIFIC's podcast with The Casbah owner here) and Eric Howarth (also founder of M-Theory). The shack, decked in retro décor and orange accents, offers a broad range of tunes, drawing both new timers and long-time listeners into their South Park shop. In addition to their collection, Vinyl Junkies is known for hosting frequent events, like their bi-monthly record swap at The Casbah and outdoor concerts next door to the shop.
"Vinyl Junkies Record Shack has $3 bins that would rival other shops normal selection!" — Chris Gardner, Facebook
Hours: 10 a.m. to 8 p.m. Mondays, 11 a.m. to 8 p.m. Tuesdays and Wednesdays, 11 a.m. to 10 p.m. Thursdays and Friday, 10 a.m. to 10 p.m. Saturdays, 10 a.m. to 7 p.m. Sundays
2235 Fern St., South Park, 619.794.2399, vinyljunkies.net/about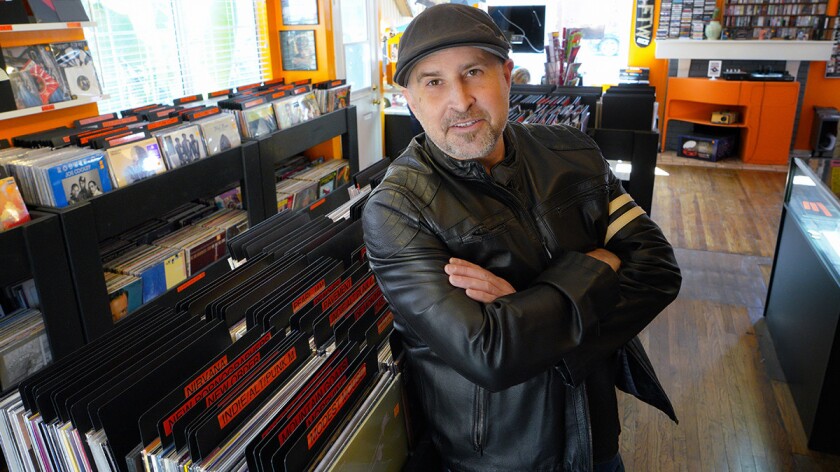 Lou's Records
A fan favorite since 1980, this Encinitas-based shop has a rich history. Lou's Records has hosted many legendary events over the years, including a four-year series of Jack Johnson concerts. Lots of genres, including independent and small-release labels, fill bins along on the walls, with a CD collection and listening station in the center. If you want to support local without leaving home, they recently launched an app that allows you to scan and preview any product, as well as receive notifications of in-store events and special offers.
"Great place! Quirky staff, great selection and overall vibes. They have a bit of everything. Even Laserdisc's." — Joe Bono, Facebook
Hours: 10 a.m. to 7 p.m. Mondays through Thursdays, 10 a.m. to 9 p.m. Fridays and Saturdays, 11 a.m. to 7 p.m. Sundays
434 N. Coast Highway 101, Encinitas, 760.753.1382, lousrecords.com
Folk Arts Rare Records
This shop has called San Diego home since 1967, making it one of the oldest stores on this list. True to the name, it offers lots of folk rarities, among others. The establishment, founded by the late Lou Curtiss and now run by Brenden Boyle, is committed to its roots but not scared of a change or growth. It moved from its original University Heights location to North Park five years ago, and last June it opened up a partner store Jupiter Records in City Heights, paralleling the recent arts revival in that neighborhood.
"Tons of classic country and hard to find LP's. I stop there more than I should! Great people working there as well. If you're looking for Rose Maddox, Cowboy Copas, Skeets McDonald, or any country rarities, don't go here. I don't want you to buy them before me!" — Larry Stolinski Jr., Facebook
Hours: 10 a.m. to 6 p.m. Mondays through Sundays
3072 El Cajon Blvd., North Park, 619.282.7833, folkartsrarerecords.com
Fivespace
Opening in late 2018, the newest store on the list is a little hard to find as it is tucked in a commercial space under the Louisiana Apartments in North Park. Fivespace has a vintage focus and offers a mix of old vinyl, cassettes and clothing. Its in-store record offerings are somewhat limited, but they make up for it on their online shop featuring more than 1,000 items. And if you're searching for hip-hop or rap, you can definitely score some hard-to-find gems here.
"This place rules. Best classic rap cassette and vinyl collection in San Diego." — Mario Ordñuo, Facebook
Hours: 11 a.m. to 6 p.m. Mondays, closed Tuesdays, 11 a.m. to 6 p.m. Wednesdays through Saturdays; noon to 5 p.m. Sundays
2579 University Ave., North Park, 619.746.2772, fivespaceshop.com
Cow Records
Many of the patrons find this beach shop by strolling down Newport Avenue, since owner Greg Hildebrand doesn't advertise much. However, these casual browsers often become loyal customers. Many end up donating their own collections, making it a great spot for more obscure items. The wood-paneled walls and eclectic window display (filled with a hodgepodge of musicial instruments, posters and knick-knacks) reflect the original OB vibe.
"Cow Records hits all the marks a great record shop should: funky decor that reflects the personalities of the employees and the spirit of the store, great music at decent prices and hopefully something you weren't looking for but end up walking out the door with anyway." —Luke Freteluco, Facebook
Hours: 11 a.m. to 9 p.m. Mondays through Saturdays; 11 a.m. to 8 p.m. Sundays
5040 Newport Ave., Ocean Beach, 619.523.0236, facebook.com/CowRecords
ReAnimated Records
Music and movie store ReAnimated Records is a great spot to stop when shopping in East County. The unexpected décor includes walls covered in green paint and horror movie posters. (In fact, the shop is named for the '80s horror film Reanimator.) In a market that can be dominated by males, husband and wife duo Lynn and Nick Friesen try to keep both genders in mind when putting product on the shelves. In addition to vinyl, they offer horror movie memorabilia and handmade clothing from their Etsy store "Lynn's Rags."
"Great selection, great prices, and the best part is the owners aren't your typical know it all not giving you the time of day music snobs … great for punks metal heads and everything in between." — Amber Klein, Facebook
Hours: 11 a.m. to 7 p.m. Mondays through Saturdays; 11 a.m. to 5 p.m. Sundays
8320 La Mesa Blvd., La Mesa, 619.825.8363, reanimatedrecords.com
---
Sign up for the Pacific Insider newsletter
PACIFIC magazine delivers the latest restaurant and bar openings, festivals and top concerts, every Tuesday.
You may occasionally receive promotional content from the Pacific San Diego.