Grab a brew with... Trouble in the Wind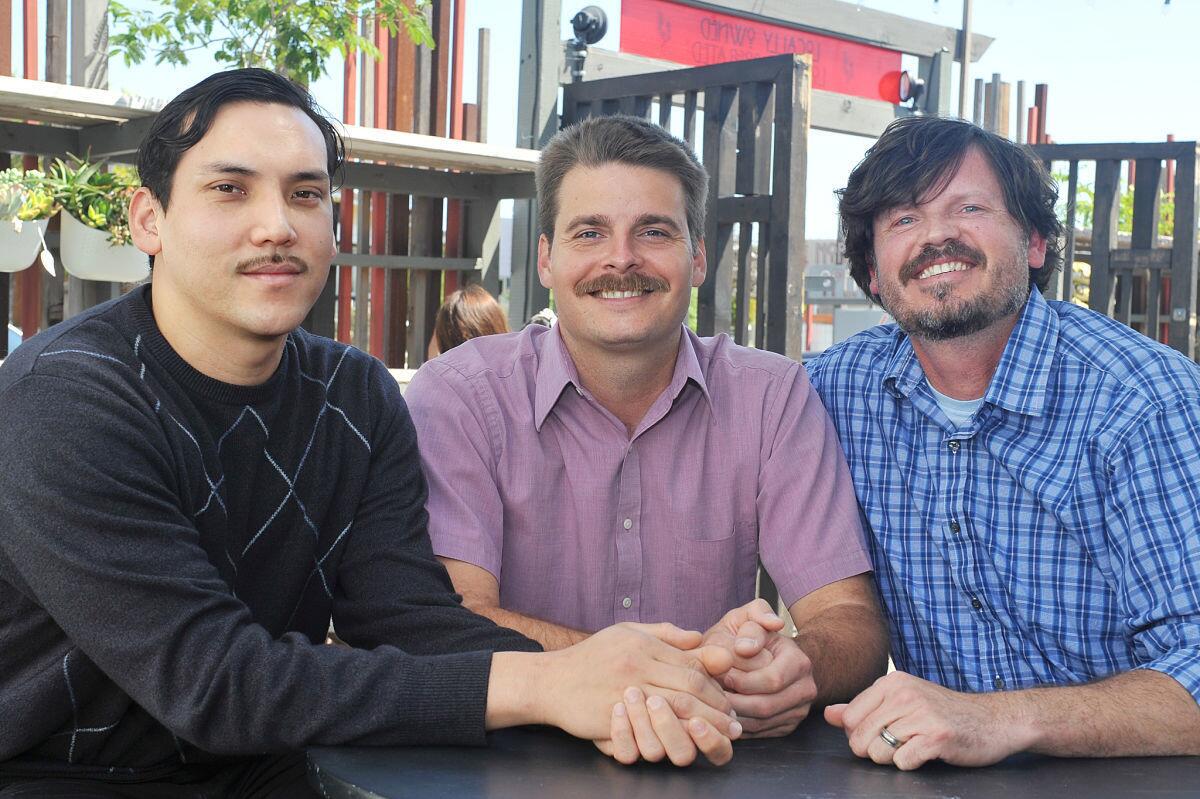 Rock and roll has a lot of layers, that's for sure. You can go pop-rock, alternative rock, blues rock, hard rock, soft rock, metal rock ... The list goes on and on. Trouble in the Wind has been labeled all sorts of different types of sounds, but their genre - at its soul - is just rock and roll.
The stellar local band just won a San Diego Music Award for Best Country and Americana album at the San Diego Music Awards, however, perhaps because of their eclectic sound and use of banjo. The band has booked a slot to play at the 2017 KAABOO Del Mar, as well. All big things for the North County band.
Trouble in the Wind has played the likes of Belly Up, Music Box, The Casbah, art galleries, surf events, six weddings... the list goes on. This year, the band's main goals are to be a bit more selective of what they play, get a new record out and hopefully climb the ladder of success as various opportunities present themselves. PACIFIC sat down with band members Kyle Merritt, Robby Gira and Larry Doran to chat about the band's rise to success and what they're working on now.
PACIFIC: How did Trouble in the Wind get it start as a band?
Robby: I was in a band called Cactus Bob which started in around 2006, with me and our current bassist Trevor. It evolved into Trouble in the Wind after Kyle joined in 2008.
Larry: The original drummer had departed from the band around that time, 2009. I was playing in some other local bands and I was a fan of these guys and once I learned they needed a drummer, a mutual friend connected us and I joined the band in 2010. It made perfect sense for me to join the band at that time. We've put out four full-length records since.
Booking KAABOO is a big deal. How did that happen?
Kyle: Someone contacted us and really just asked if we wanted to play and we said, well, of course.
Larry: Being involved in a festival that is that big with so many international artists on the bill, we didn't want to miss the opportunity to be involved in that. We see it as an opportunity to play a bigger audience and to some new people. We're excited to be playing it.
Your 2016 album "Lefty" has recently been recognized locally with an award at the San Diego Music Awards. Have you been working on any new music since "Lefty" was released (last spring)?
Larry: Absolutely. We were down in North Park recording our upcoming full-length record last summer at the Rarified Studio here. There was a moment of creativity and we thought we'd seize the opportunity to go in and record while fresh. We recorded the whole album. We haven't played any of these songs live yet, but we're in the process of planning our record release currently for this summer. The goal is to get the record out, have CDs, vinyl, digital downloads and do a big release. This album is a little more eclectic than "Lefty" and let us kind of get outside of our style.
Kyle: We are really keeping it fun for us. Adding some new stuff. Spicing up the relationship.
Robby: It's a little more rock, this album. The newest member of our band, Keith, kind of offset our music style that we were doing, too. He also sings and plays a couple different instruments, which give Kyle an opportunity to play other instruments as well. This new album will be a further exploration of that. (On the album) we have pedal steel electric guitars, accordion, piano, organs and saxophones, too.
How has the San Diego music scene received your music over the years?
Larry: We feel like distant cousins to this music scene, honestly, just because we live up north. We venture into San Diego for shows, and we want to do more. We are grateful for the support we have had in San Diego. I don't know if we fit into any specific genre or anything with the bands here, when we have so many different influences that come into play. We always just say we are a rock band; We feel we have been pretty well received as that. Interestingly, the award we just won was for the Best Country/Americana Album category [at the San Diego Music Awards]. We were grateful to be recognized, certainly, and there are elements of that in the record, although we don't feel that defines the whole of our music. We don't really like to define ourselves.
To learn more about Trouble in the Wind, visit troubleinthewind.com or the band's Facebook page. You can also stream their music on Spotify.

Full band
Kyle Merritt - guitar, banjo and accordion
Robby Gira - vocals, guitar
Larry Doran - drums
Trevor Mulvey - bass
Keith Haman - guitar, pedal steel, piano

Upcoming shows
May 7: Belly Up Tavern
Sept. 15: KAABOO Del Mar

About the brew
Communal Coffee offers a unique experience to the North Park coffee consumer. It's a floral shop meets coffee and tea spot that is right next to the North Park Nursery. You will find a variety of different tea drinks, avocado toast, floral arrangements available for purchase, and Sightglass brand coffee being served.
2335 University Ave., North Park. communalcoffee.com

Sign up for the Pacific Insider newsletter
You may occasionally receive promotional content from the Pacific San Diego.