Spin cycle: March DJ and EDM performances
Performances coming to San Diego in March include the ninth-edition of CRSSD Fest, Valentino Khan, Big Wild and Chantel Jeffries.
3.1: Oliver Heldens
The Dutch producer, who also performs as HI-LO, recently joined forces with Finnish DJ LENNO on the January-released co-single, This Groove.
@ OMNIA, omnianightclub.com
3.1: Zomboy
British dubstep producer Josh Mellody released his seventh EP, Rott N' Roll Pt. 1, for London's Never Say Die Records in 2017. Last year, Mellody followed it with a trio of singles — Rebel Bass, Lone Wolf, and Hide N' Seek.
@ House of Blues, houseofblues.com/sandiego
3.2, 3: CRSSD
CRSSD's Spring '19 lineup — along with its multiple satellite "After Dark" and "By Day" add-ons — is the festival's biggest and most impressive to date. Odesza, Armand Van Helden, Lane 8, Phantogram, Jungle, Petit Biscuit, Justin Martin, Ladytron and many more help to hold down the latest iteration of this ever-expanding bi-annual extravaganza.
@ Waterfront Park, crssd.com
3.2: 3LAU
New York-born, Vegas-based DJ Justin Blau has remixed the likes of Rihanna, Justin Bieber, Ariana Grande, and Adele. He also released his 11-song full-length debut, Ultraviolet, last year. His latest single, Would You Understand featuring Carly Paige, dropped in January.
@ Parq, parqsd.com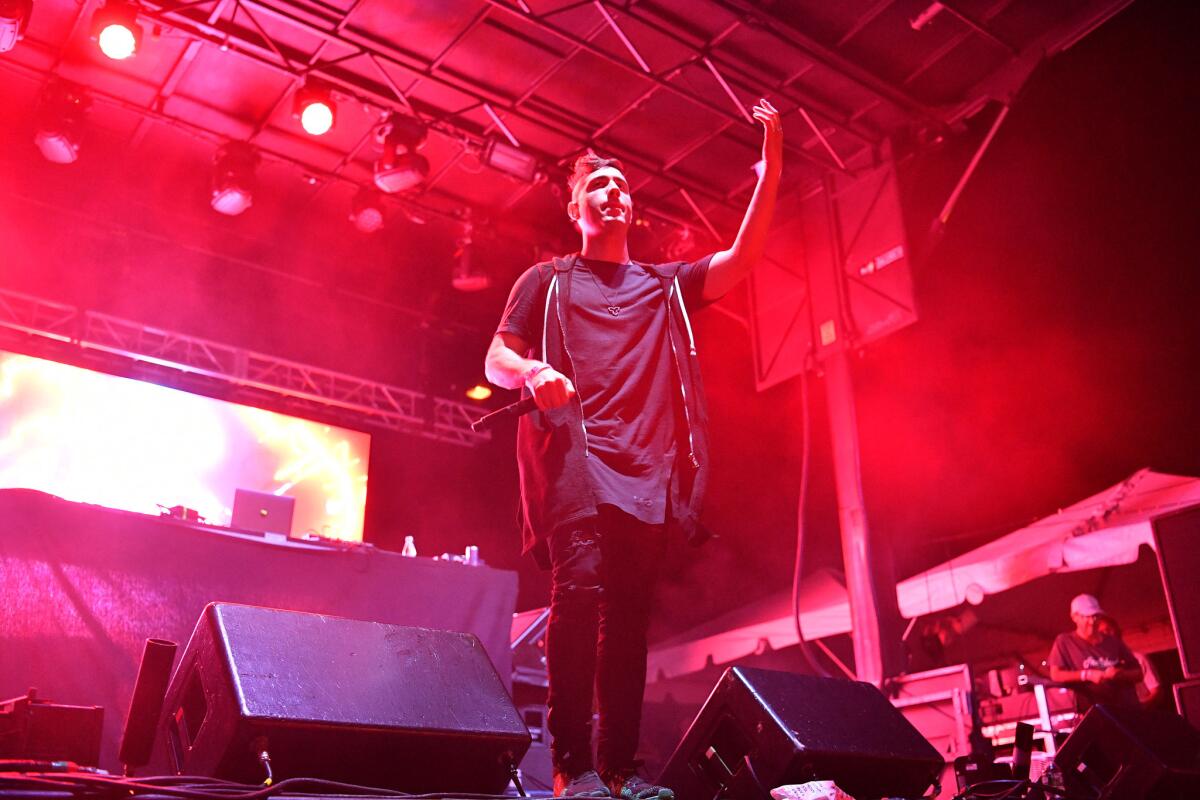 3.2: Sam Feldt
Sammy Renders, aka 25-year-old Dutch DJ Sam Feldt, enlisted Belgian singer Kate Ryan for his latest single, January's Gold. Renders also occasionally plays with a live band that includes trumpet, saxophone and guitar.
@ OMNIA, omnianightclub.com
3.2: Justin Martin
Can't fathom heading home by 10 p.m. after CRSSD ends on Saturday? Dirtybird Records co-founder Justin Martin headlines this CRSSD After Dark event that also includes UK deep house duo, Eli & Fur (aka Eliza Noble and Jennifer Skillman), Brit DJ Will Clarke (his first of two SD appearances in March), and more.
@ Hard Rock, hardrockhotelsd.com
3.2: Valentino Khan
Last year, this L.A.-based DJ and producer remixed an impressive list of fellow beat makers including Calvin Harris, Diplo, David Guetta, Alison Wonderland, and RL Grime. In January, he joined forces with Kayzo for the joint single, Novocaine.
@ Bassmnt, bassmntsd.com
3.7: Big Wild
After remixing the likes of Odesza, Zhu, and Chvrches, Jackson Stell, aka DJ/producer Big Wild, released his debut album, Superdream, last month. The 12-song collection has already amassed nearly 5 million streams on Spotify.
@ Observatory North Park, observatorysd.com
3.8: Kaskade
It's true. Kaskade, aka superstar DJ Ryan Raddon, is no stranger to San Diego. But this is still a guy that just a few years ago sold out the North Island Credit Union Amphitheatre in Chula Vista. So it's an absolute no-brainer when he makes an appearance in the cozy confines of OMNIA.
@ OMNIA, omnianightclub.com
3.9: ATB
Andre Tanneberger, aka German DJ and producer ATB, released his 10th studio album, neXt, in 2017. Last year, he followed it with a new single, Body 2 Body (featuring Conor Matthews & LAUR), and a Morten Granau remix of his 2004 hit, Ecstasy. Tanneberger also took some time off to get married. New music is said to be on the way.
@ Parq, parqsd.com
3.15: Slander
Dubstep duo Derek Andersen and Scott Land have worked with the likes of Skrillex, DJ Snake and Diplo. Since the pair was last here in August, they released their fourth EP, The Headbangers Ball, which features appearances by Riot, Spag Heddy, Elle Vee and Dylan Matthews.
@ OMNIA, omnianightclub.com
3.15: Hotel Garuda
Once a duo consisting of Chris Gavino and Aseem Mangaoka, Gavino's departure last year left the project in Mangaoka's hands. He brings his One Reason Tour to San Diego — a 16-city swing named after Hotel Garuda's most recent single featuring Imad Royal and Kiah Victoria.
@ Bang Bang, bangbangsd.com
3.15: Will Clarke + Sian + Lee K
Circling back after appearing at CRSSD earlier in the month, bearded beat maker Will Clarke returns with techno DJ (and Octopus Recordings founder) Sian, as well as local DJ Lee K, in tow.
@ Spin, spinnightclub.com
3.16: Matoma
Norwegian tropical house DJ Matoma (aka Tom Lagergren) released his sophomore full-length album, One In A Million, last year. It cracked the top 20 on Billboard's Top Dance/Electronic albums and features appearances from Noah Cyrus, Enrique Iglesias, Nina Nesbitt, MAX, and others.
@ OMNIA, omnianightclub.com
3.22: Klingande
Reprising an appearance at OMNIA from last July, French tropical house DJ/producer Klingande (aka Cédric Steinmyller) returns to San Diego after teaming with French producer Broken Back on the single, Wonders. The pair also released a remix EP for their song last November.
@ OMNIA, omnianightclub.com
3.22: Rich the Kid
Dimitri Roger, aka Atlanta-based rapper Rich the Kid, released his debut studio album, The World Is Yours, last year. It debuted at No. 2 on the U.S. Billboard 200 and features an impressive list of guest rappers including Kendrick Lamar, Future, Lil Wayne, Rick Ross and others. The already-completed follow-up, The World Is Yours 2, was set to drop in January, but is currently on hold.
@ Bassmnt, bassmntsd.com
3.23: Malaa
Who is the ski mask-wearing DJ known as Malaa? Is it French producer Sebastian Benett? Is it a rotating duo with DJ Snake and Tchami? Who cares? When he's cranking out singles as good as Notorious, The Sermon, and We Get Crunk, it shouldn't matter.
@ Bassmnt, bassmntsd.com
3.29: Cut Snake
Yes, another musical partnership has bitten the dust. The one-time Australian DJ/production duo of Paul Fisher and Leigh Sedley now features Sedley as its only member. But fans should not fret. "Sedz" is happy to take the helm and more new music is reportedly on the way.
@ Bang Bang, bangbangsd.com
3.30: The Magician
Known at one time for doing magic tricks on stage while performing, Belgian DJ/producer Stephen Fasano pulled a gold record out of his hat when he collaborated with Years & Years on the 2014 single, Sunlight. Fasano's latest offering, the 2018 track Jalisco, finds him teamed with British house DJ and producer Kideko.
@ Quartyard, quartyardsd.com
3.30: Chantel Jeffries
Our featured cover artist this month has turned her millions of social media followers into a legitimate DJ career. But Jeffries is no flash in the pan. Her latest single, Facts, features YG, Rich The Kid and BIA, and more new music is on the way. Read more about the multifaceted talent here.
@ OMNIA, omnianightclub.com
To enter for a chance to win a pair of tickets to Chantel Jeffries at OMNIA, click here.
More...
Sign up for the Pacific Insider newsletter
You may occasionally receive promotional content from the Pacific San Diego.