Actor David Duchovny rocks - no, really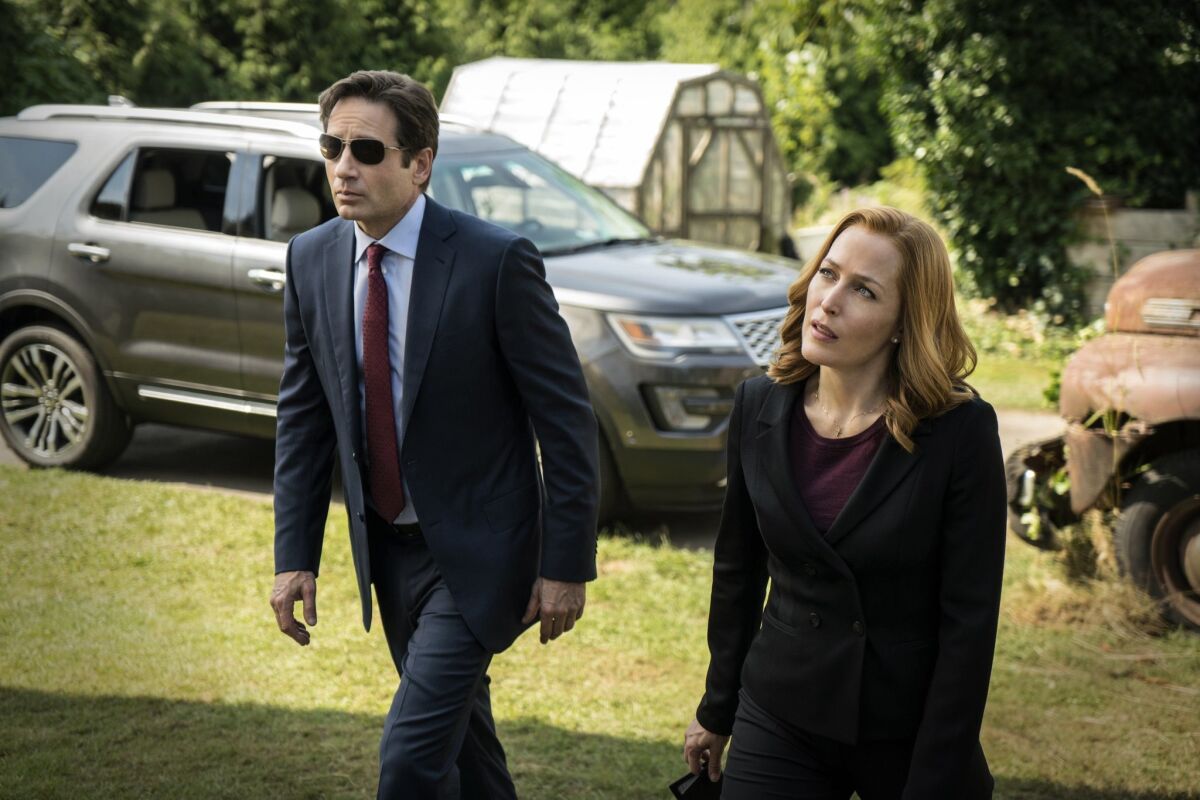 As a devoted Bob Dylan fan with a master's degree in literature from Princeton, David Duchovny is eminently qualified to analyze the lyrics to such Dylan classics as "Simple Twist of Fate" and "Things Have Changed."
But for fans of this veteran TV and film actor, the twist of fate that compelled Duchovny to wait until he was in his mid-50s to release his first album is even more intriguing.
He and his band will promote that album, 2015's "Hell or Highwater," with a national tour - also his first - that opens Sunday at the Music Box in Little Italy.
The low-key album reflects the influence of R.E.M., Wilco and Lou Reed, among others, on songs that show promise but also reflect Duchovny's neophyte musician status.
"I think so much of life is dependent on luck, timing and good teachers, at this time when we are watching a complete fraud of a woman try to become head of the Department of Education," he said, speaking from New York.
"The fact is, I wanted to play guitar at 10 and found my way to a teacher who wasn't right for me. It could have been very different otherwise. So, maybe, it was wrong timing."
The star of the hit cable TV series "Californication" chuckled.
"Once I stopped playing guitar at 10," he said, "I didn't pick it up again - for 40 years!"
And what compelled Duchovny, who rose to fame in the early 1990s playing Agent Mulder in "The X Files," to take up the instrument after four decades?
"I guess that, my entire life, I told myself that at some point I'd learn the guitar, and I hadn't," he replied.
"Then, I was going through a divorce (from actress Téa Leoni) and was therefore away from my kids. And, therefore, I had more time on my hands and the need to get something out - to commiserate musically with myself, in a way - and give myself something positive to do."
Another chuckle.
"Being the son of my mother, who was a very frugal Scottish woman, I knew if I bought a guitar that was way too expensive for my first guitar, I'd play it out of guilt. So that's what I did. I bought a really nice Martin six-string. And, every time I looked at it, I thought: 'You idiot! You're not going to play it'."
His guilt paid off.
David Duchovny
When: 7:30 p.m. Feb. 12
Where: The Music Box, 1337 India Street, Little Italy---
Tickets: $30 (general admission standing room), $60 (reserved seat); must be 21 or older to attend
Phone: (619) 795-1337
Online: ticketweb.com
Now 56, Duchovny became proficient enough to start writing songs, a dozen of which appear on "Hell or Highwater." The far bigger challenge was singing.
"When I embarked upon recording the album," he recalled.
"I said very early on: 'We can tweak my voice in the studio when it needs to be - I've heard of AutoTune, I know it goes on. But there's no way I'll ever play live, because I'm not a singer. "I can get right in the studio, with numerous takes, but I'm not a singer. I don't have that ear or (vocal) instrument.'
"I've worked with an amazing voice teacher. What surprised me is, as I've pushed to perform live, is - while I'll probably never be a good singer, I can sing. And I do work on my musicianship, and my voice, almost daily. ... People who come out with albums at the age of 20 have been playing guitar just as long as I have."
In concert, Duchovny focuses on songs from "Hell or Highwater" and its pending follow-up. He also mixes in covers of songs by Tom Petty, David Bowie, Lou Reed, The Band, Flaming Lips and Sly & The Family Stone.
"I neither embrace nor distance myself from my influences, because I'm not a book-smart musician," he noted.
"I don't even read music, so if I'm being influenced by a certain song or the sound of a certain artist, it's completely out of my love for having grown up with them as a template - and as the soundtrack of my life."
Does Duchovny, who has also written two books, use music to prepare for his TV and film roles?
"Yeah, I've always worked with music to put me in a certain (mental) place," he said.
"I've used Robbie Robertson's 'Broken Arrow' at certain times. And there's a Peter Gabriel song, 'The Feeling Begins,' that would always get me going in a certain direction. And (The Beatles') 'The Long and Winding Road' always moves me, to this day."

More...
Top concerts this week (Feb. 6-12)
Bonus Q&A
GEORGE VARGA: I understand you were quite a progressive-rock fan.
DAVID DUCHOVNY: You mean like Yes? I don't know all the names, but I'm assuming you mean Yes, Genesis and Steely Dan. I'll leave it at Yes. I was a big Yes fan when I was in high school, but that probably had to do with smoking pot.
Let me test you. Was Yes a better band with Bill Bruford on drums, or Alan White?
(laughs) I did have the (1973 triple live album) 'YesSongs.' That was an amazing live performance. I know that the band took a lot of heat for being over-complicated and having moved beyond the bluesy rock that was popular back then, but they were great.
The guitar progression and vocal chorus on your song "3000" suggests you are a big R.E.M. fan. So does your song "Unsaid Undone." Are you a big R.E.M. fan?
I am an R.E.M. fan, yeah. I like R.E.M. a lot and I've been listening to them. I think - for some reason, this may not be true - their first manager was a Princeton University student while I was at Princeton. And I believe they came and played a house party right at the time of heir (1982) "Chronic Town" EP. I feel like I saw them at a Princeton frat party right around then.
How were they?
I don't remember.
Your first instrument as kid was the recorder, correct?
Yeah. That was a big rock 'n' roll instrument, if you were in Jethro Tull!
Can you play the recorder solo from "Wild Thing?"
Ha! No. But I went to a very progressive school founded by Pete Seeger. And at our second grade assembly we played "We Shall Overcome" and "Swing Low, Sweet Chariot" on our recorders.
Neil Young once said that when he was starting out, every time he learned a new chord, he wrote a new song. Would that hold true for you?
(laughs) Yeah, it would. B-7 was a good chord.

Sign up for the Pacific Insider newsletter
You may occasionally receive promotional content from the Pacific San Diego.