Coachella? Or Oldchella?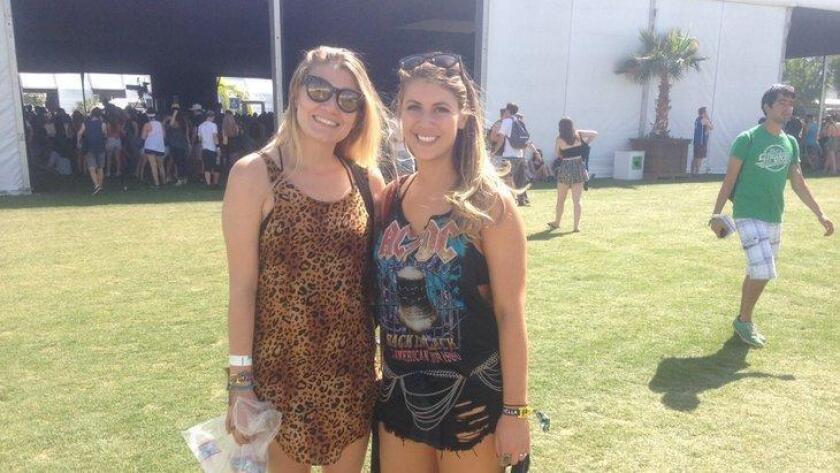 INDIO - Is Coachella turning into Oldchella? Can a festival that built, and maintains, its reputation by regularly featuirng some of the youngest and hippest buzz acts around thrive anew with performers who qualified for both Social Security and AARP membership some years ago?
We'll find out today when AC/DC, Steely Dan and veteran soul singer Charles Bradley perform for audiences that will tilt heavily towards a demographic young enough to be their grandchildren, or even great grandchildren.
COMPLETE COVERAGE: 2015 COACHELLA VALLEY MUSIC AND ARTS FESTIVAL
Steely Dan guitarist and periodic singer Walter Becker is 65, as is AC/DC bassist Cliff Williams. Bradley, who recorded his first single in 1965, is 66. Steely Dan singer and keyboardist Donald Fagen is 67, as is AC/DC singer Brian Johnson. The combined age of AC/DC's five members is not much different from that of any five of the U.S. Supereme Court justices.
But so what?
AC/DC, which headlines Coachella's largest outdoor stage tonight, will perform later this year at Dodger Stadium and at other Major League Baseball venues across the country. The Australian-bred band's take-no-prisoners brand of raw, elemental hard-rock has endured since its first album came out in 1975. It's hard to think that many young Coachella attendees do not know such AC/DC anthems as "Highway to Hell," "Back in Black" and "Hell's Bells" (which former Padres' relief pitcher Trevor Hoffman as his walk-on song at games).
Young attendees like Mike Voight, 21, of Chula Vista, and Ali Spurlock, 20, of Jamul, who are attending Coachella for the third time.
"I think it's cool AC/DC is playing here," Spurlock said. "I'm not too excited about Steely Dan. But AC/DC is cool, because most people my age know some of their songs."
Voight, who was wearing a Doors' t-shirt, nodded in agreement.
"It's really cool," he said. "Just because AC/DC are old doesn't mean people don't like them. I'm wearing a Doors' T-shirt, and they're from the 1960s!"
Those sentiments were seconded by Megan Bradley, 27, and her friend, Mary Depoian, 24, both of Huntington Beach.
"I'm only here to see AC/DC," said Bradley, who was wearing, appropriately, an AC/DC T-shirt. "My dad introduced me to them and I've been listening to them since I was 5."
Depoian, who was wearing a leopard print dress, elaborated on Bradley's enthusiasm.
"Meghan went out and bought and five Coachella passes, so she and her friends could come here and hear AC/DC."
But some attendees are not so enthused about Coachella bringing in classic-rock acts for this weekend and next weekend's sold-out editions, which are expected to match, if not surpass, last year's record cumulative attendance of nearly 570,000. Twenty percent of those attendees are from San Diego County, according to Goldenvoice, the company that produces the 16-year-old festival.
"Over the years, there's always been a fair amount of older, quality music acts at Coachella, such as Gil-Scott Heron, the Violent Femmes and Nick Cave. But I was still surprised to see AC/DC and Steely Dan on the bill this time," said John Meyer, 63, a San Diego art director, who is attending Coachella for the fifth time.
"I'm not going to pre-judge it, but I think it's a bit odd. Paul McCartney and Roger Waters have played Coachella, but they transcend time and generations. When I hear Steely Dan, all I can think of is the '70s and 80s, and I like Steely Dan. The thing is, I come to Coachella to hear new bands, not AC/DC or Steely Dan. The band I'm most interested in hearing this weekend, besides the bands I haven't heard before is (Tijuana's) Nortec Collective Presents Bostich & Fussible."
Meanwhile, over in the Sahara Tent, Coachella's largest venue for EDM (Electronic Dance Music), Peking Duk's performance suddenly segued into a recording of "California Dreaming," a mid-1960s pop hit by The Mamas & The Papas, that seemed to encapsulate Coachella's festive spirit -- at least in name -- if not the headbanging velocity that should distinguish AC/DC's performance tonight.
U-T intern Kendall Boshart contributed to this article.
Source: DiscoverSD
---
Sign up for the Pacific Insider newsletter
PACIFIC magazine delivers the latest restaurant and bar openings, festivals and top concerts, every Tuesday.
You may occasionally receive promotional content from the Pacific San Diego.