Coachella 2018 preview: What to expect from Beyoncé to drones and a new emoji
How dominant a force in pop culture is the Coachella Valley Music & Arts Festival?
So dominant that, on Tuesday, the festival debuted its first-ever #Coachella emoji (a palm tree, specifically) on Twitter.
And so dominant that — in a memorable scene from this year's mega-hit movie "Black Panther" — a key character exclaims: "When you said you would take me to California for the first time, I thought you meant Coachella, or Disneyland!"
That kind of mainstream reference makes the world's biggest annual music festival an event that's easy to love and criticize. This weekend and next, you can do either. Or both.
And you can do so whether you attend in person on the sprawling lawns of the Empire Polo Club in Indio, or watch from afar. For the eighth consecutive year, YouTube will broadcast an exclusive live stream of performances Friday through Sunday.
The same lineup, which is topped by Beyoncé, Eminem and The Weeknd, will also perform April 20-22 for Coachella's second weekend (you can click here for this weekend's day-by-day performance schedule).
This marks the first time in the event's 19-year history that not a single rock act will headline. But this is clearly not an issue, since both weekends swiftly sold out, with many tickets bought — as in previous years — before a single act was announced.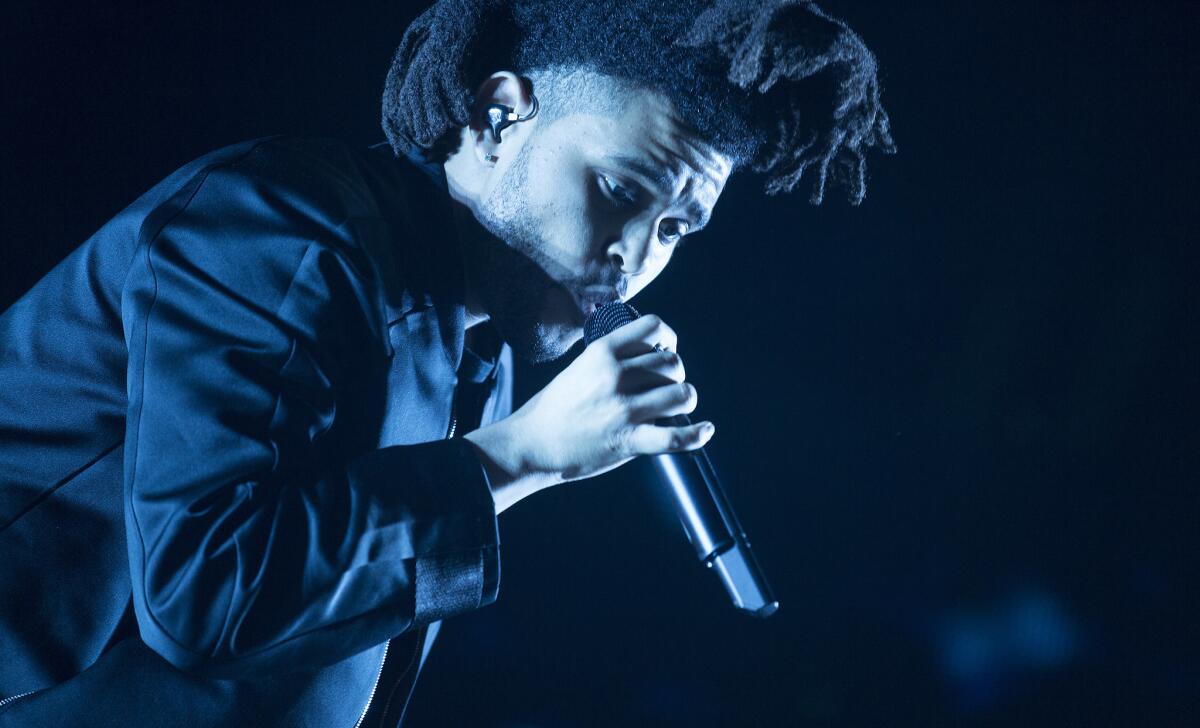 That includes standard VIP passes ($999 per person) and the top-of-the-line Safari Tent on-site lodging package ($8,500 for two people).
Coachella last year drew a record audience of 250,000 over its two consecutive weekends. It grossed nearly $115 million, up from the previous, sky-high record of $94.2 million in 2016 (when attendance was capped at 99,000).
The festival's growth spurt began in 2007, when it expanded from two days to three, and continued in 2012, when it went from one weekend to two. Coachella attracts droves of celebrities and scores of fans, drawn as much by the allure of a giant, sunbaked party as by any specific artists.
Launched in 1999 as a proudly alternative-music-driven event, the festival has since been embraced by the mainstream, and vice versa. Past Coachella headliners include Paul McCartney, Drake, Guns N' Roses and Lady Gaga (who last year replaced a very pregnant Beyoncé).
In 2010, Jay Z became the first hip-hop act to headline the festival, where he was joined by wife Beyoncé for a duet on "Young Forever." Expectations are high he'll sit in with her Saturday at Coachella, where she reportedly may be accompanied by as many as 100 dancers.
The Empire Polo Club is, incidentally, the same site where Coachella's country-music counterpart, Stagecoach, will be held April 27-29. This year's headliners are Garth Brooks, Keith Urban and Florida Georgia Line.
Both Coachella and Stagecoach are produced by Goldenvoice/AEG Entertainment. The company owns a controlling interest in San Diego's Valley View Casino Center and exclusively books Humphreys Concerts by the Bay, where four of this year's Coachella acts are performing this week and next week.
According to Goldenvoice — which tracks ticket sales by zip codes — 20 percent of Coachella attendees each year hail from San Diego County.
This year's edition of the festival will look different, both on the ground and in the air, where Spectrum — a circular tower with a walkway — will rise 70 feet high. Here's a preview of some more of what you can expect.
Send in the drones is not a band name
For the first time at Coachella, drones will be used overhead as a safeguard. They are part of an expanded security plan, which has been beefed up in the wake of last fall's horrific mass shootings at the Route 91 Harvest Music Festival in Las Vegas.
Gently down the (live) stream, plus extras
Who needs Coachella when you can have Couchella? For those taking in Coachella this weekend on the festival's YouTube live stream, at least 77 acts will be featured. They include Beyoncé, The Weeknd, St. Vincent, Nile Rodgers & Chic, Kamasi Washington, Belly, Migos, Jamiroquai, Portugal. The Man and French electronic music legend Jean-Michael Jarre, who also performs in San Diego April 21 at the Spreckels Theatre.
Three of the festival's four channels will be devoted to live performances. The fourth is a new, 180-degree virtual reality stream from Coachella's Main Stage and Sahara Tent. Select performances will be accessible on Google Cardboard and Daydream View.
Move it on over
The Sahara Tent — which stands 80 feet tall and was jammed by 10,000 or so fans when The Chainsmokers performed last year — has been expanded and relocated to the adjacent Eldorado Polo Club. The move will allow for a bigger capacity and a smoother flow of pedestrians.
The feast grows ever larger
This year will see the debut of Indio Central Market, a 40,000-square-foot hall with no fewer than 15 different restaurants to complement the numerous outdoor dining options. Vegans will have at least 13 food stalls to choose from, including — for the first time at Coachella — electronic musician Moby's Little Pine.
For carnivores, Shake Shack is constructing a full-scale replica of its original Madison Park burger stand. And for those splurging on a gourmet Outstanding in the Field pop-up dinner package — which costs $225 per person — the meals will be prepared by leading chefs from across the nation, as well as by Oso Campos of Tijuana's Tacos Kokopelli.
2018 Coachella Valley Music & Arts Festival
When: Friday through Sunday, and April 20-22
Where: Empire Polo Club, 81800 Avenue 51, Indio
Tickets: Sold out
Online: coachella.com
More...
Coachella makes its way to San Diego venues
Sign up for the Pacific Insider newsletter
You may occasionally receive promotional content from the Pacific San Diego.