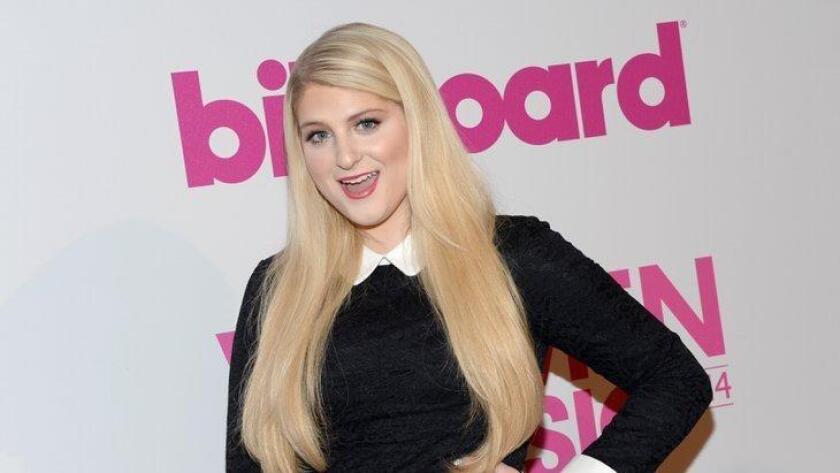 Meghan Trainor is batting 2-for-2 with hit singles, thanks to "Lips Are Movin' " and her chart-topping "All About That Bass." She had an inverse batting average last Sunday at the Grammy Awards, where the doo-wop-meets-bubblegum-hip-hop "Bass" was nominated in both the Record and Song of the Year categories. It lost in each instance to Sam Smith's "Stay with Me (Darkchild Version)."
Trainor, 21, was not nominated for a Best New Artist Grammy, simply because she had released several albums prior to "Bass" becoming a worldwide hit last year. Her sold-out Wednesday show here at House of Blues is the fifth stop on her first headlining tour.
The fact that she now has scored two songs in the Top 10 puts her ahead of "Call Me Maybe" singer Carly Rae Jepsen, "Hit 'Em Up Style (Oops!)" singer Blu Cantrell, "Me & U" singer Cassie and the scores of other recent and distant one-hit wonders that have long been a pop-music reality.
That's an advantage for Trainor, but two hits do not assure her a long-term career -- or even another headlining tour. And while the winking, self-empowering "All About That Bass" and "Lips Are Movin' " (the later a teen-oriented variation on Nick Lowe's 1990 gem, "All Men Are Liars") are catchy and undeniably cute, cuteness will only take you so far in pop. This holds especially when your core audience members may forget about you, even before their summer vacations begin in June.
Trainor is a promising tune-smith, without a doubt, and her perky video for "Bass" is now approaching 600 million views on YouTube. Her task now is to develop her stagecraft, without having much live performance experience from which to to draw. It's a challenge often faced, with mixed results, by other young pop artists touring so soon after scoring their breakthrough hit.
When Trainor opened a Milwaukee show in December for rapper Wiz Khalifa, she was on stage for 10 minutes. That's six minutes more than she was allotted the same month at the iHeartRadio Jingle Ball at New York's Madison Square Garden. In both instances, she was backed by several dancers, but no band, and sang to backing tracks. Some fans complained that she also lip-synced.
As a concert artist, Trainor is - in the words of her record company head, L.A. Reid - a "work in progress." On Wednesday, when she comes to town (with what is, reportedly, a 10-piece band), we'll find out how much progress she's made, and how much more work still needs to be done.
DETAILS
Meghan Trainor, with Sheppard
When: 7 p.m. Wednesday
Where: House of Blues, downtown
Tickets: Sold-out
Phone: (800) 745-3000
Online: livenation.com
Source: DiscoverSD
---