After long break, The Dead Milkmen keeping it going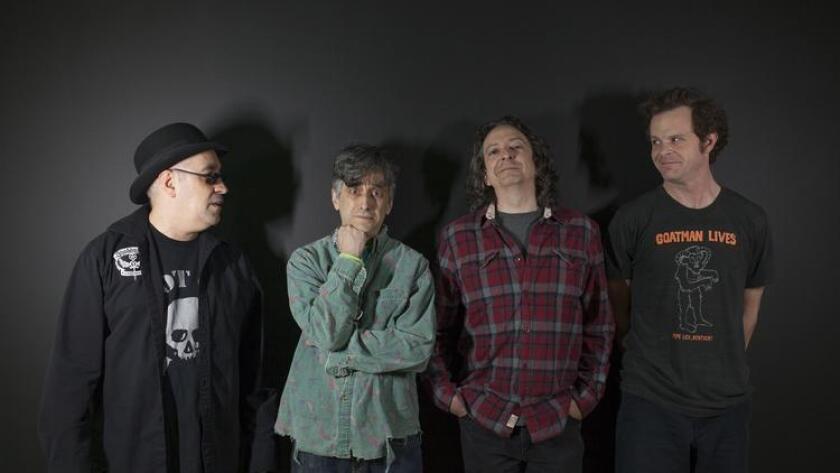 When East Coast punks The Dead Milkmen released their 1985 debut, "Big Lizard in My Backyard," the record found a home on college radio stations across the country.
For a decade, the Philadelphia quartet enjoyed moderate success with a major label deal, getting into rotation on MTV, and touring internationally.
But when the band parted ways in 1995 amid infighting and label tensions, it was for good.
Or so they thought.
Although college radio quickly went the way of cassette tapes and pegged pants, the prevalence of festivals (especially ones that relished the chance to reunite bands) skyrocketed. And in 2008, The Dead Milkmen agreed to play the Fun Fun Fun Fest in Austin, Texas.
"That's when it came together," founding drummer Dean Sabatino recently told DiscoverSD. "We had played a couple of warm-up gigs in Philly just to get our feet wet, but we went down to Texas and just had such a good time. We all felt like we needed to do more. But we didn't want to do it if we were just playing the old songs. Right from the get-go, we all wanted to write new ones."
And that's exactly what they did.
In 2011, the band released "The King in Yellow," their first album of new material in 16 years. Things went well enough that they've spent the last few years writing a new one.
"Pretty Music for Pretty People," their 10th LP overall, was released last year.
With song titles like "Big Words Make the Baby Jesus Cry" and "Ronald Reagan Killed the Black Dahlia," the seasoned four-piece hasn't softened any of its sardonic edge - even if they know some of it gets lost in translation.
"People used to write us off as a joke band," Sabatino said. "I never enjoyed hearing that because there was always some kind of serious side to what we were saying. I don't know why, but somehow, humor in music is more tolerated now. Bands are more willing to try unusual things that would have been considered silly in the past. But either way, we're pleased with how the new album turned out."
The drummer acknowledges that sharing ideas and collaboration is much easier now that they can take things online. But that isn't the reason behind the band's decision to continue working together. With each member well versed in life outside of the group, there's only one criterion The Dead Milkmen have decided to meet.
"Our mindset is to keep doing it as long as it's fun," Sabatino said. "And right now that's happening because there is definitely more music coming. Who knows what shape or form, or even when, that will happen? But as long as we're having fun and things are happening organically, we're going to keep going."
And while the band is only three years away from their 35th anniversary, Sabatino thinks it's doubtful the band will plan anything special around it.
"We haven't really thought about the numbers," he said. "Someone asked us why we didn't do something special for our 30th anniversary and we weren't even thinking that way. The only game plan we have right now is to have fun and not become an oldies act."
The Dead Milkmen play Belly Up on April 24. JP Incorporated opens the show.
Scott McDonald is a writer, on-air personality and consultant with 15 years of experience in the San Diego music scene. He has interviewed hundreds of artists, from the legendary to the underground, for print and television. Follow McDonald and his melodic musings on Twitter @eight24_ or Instagram @scotteight24. Send your music musts to scotteight24@gmail.com.
Source: DiscoverSD
---
Sign up for the Pacific Insider newsletter
PACIFIC magazine delivers the latest restaurant and bar openings, festivals and top concerts, every Tuesday.
You may occasionally receive promotional content from the Pacific San Diego.