San Diego disc golfer shocked sport by winning national title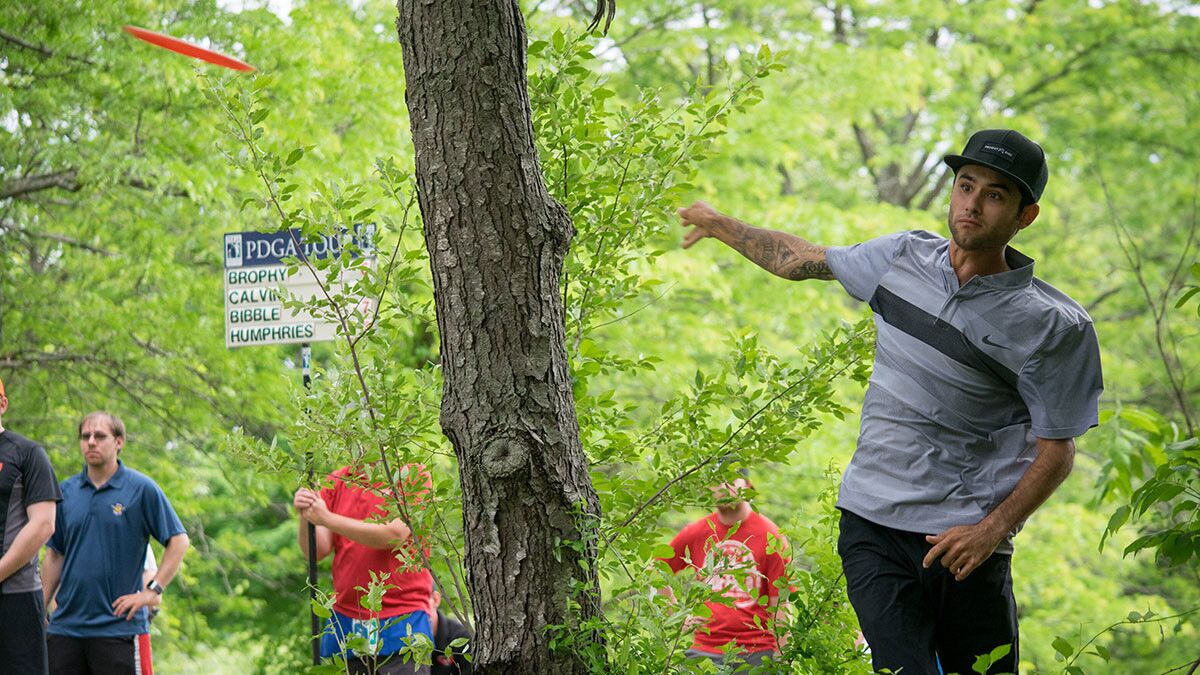 On the day after he'd returned to San Diego with a trophy he'll treasure for a lifetime, Clint Calvin was up before sunrise to start his job at 5:30.
"Out there weed whipping, man," Calvin said with some pride in his tone. "The grass was getting long."
The maintenance of the Morley Field Disc Golf Course had been lacking, because Calvin is the man who does it, and he was in Michigan for the first week of June.
The 23-year-old San Diego native was competing in one of his sport's biggest tournaments – the U.S. Amateur Disc Golf Championship, staged by the Professional Disc Golf Association.
A disc golf competitor for only two years, Calvin thought a top-10 finish among 160 competitors on one of the country's most difficult courses, The Toboggan in a Detroit suburb, would be a reasonable expectation.
He stunned himself and everyone else by winning.
Calvin made only two bogeys over 54 holes and shot 18 under par to win by two shots. In two of the three rounds, Calvin shot 7-under 56 on the tree-lined 9,000-foot course – a score that was only beaten once.
Calvin is the first Californian to win the title and returned to a hero's welcome by his family and disc golf friends on the Monday after his victory. He was back working on Tuesday, but did manage to slip in a celebratory round later that day with his buddies.
"It's just an amazing feeling," he said. "It's something I will definitely hold onto for a lifetime, for sure."
Calvin has seen plenty of people roll their eyes and snicker when he tells them he's a disc golf athlete and plays regularly in tournaments.
"You mean, Frisbees?" is the usual response.
"I don't take it offensively at all," Calvin said. "I completely understand it. It's so much fun, how could you take it so seriously?
"It just takes a competitive person to make anything a serious sport. And that's only really motivated me – to see how great I could be and how far I could go."
Raised and still residing in San Carlos, Calvin was a soccer and lacrosse player in his youth. A friend introduced him to disc golf at Morley Field in 2013, and for the next couple of years Calvin played almost exclusively at Sun Valley in La Mesa, the now-defunct golf course.
"I developed a deep passion for the sport," Calvin said. "One of the things that really appealed to me is that you meet people from all walks of life, and everybody is happy to be there and having a good time. You don't see a lot of sad people on disc golf courses."
Calvin played his first tournament in the spring of 2016.
"After that, I was fully addicted," he said. "That rush, that thrill the moment you execute a shot. There's an instant gratification."
He branched out to playing the handful of other courses in the county, and at Morley Field, Calvin got close to some of the local legends. He was hired to work at Morley by Snapper Pierson, 67, of Coronado, a multiple world champion who has operated the course since the late '70s and is among the game's pioneers.
"Clint is a bright young man," Pierson said. "I find him rather unique among millennials. He respects older opinions, and listens and learns. The guy has an incredibly fast learning curve. His upside is very, very high. This kid can go a long way."
Disc golf has grown tremendously through the years. There are now a couple of tours that stage hundreds of tournaments around the world. While many events pay the winner in the low hundreds of dollars, the very top pros make well into six figures through earnings, endorsements and social media.
There are 1,500 models of discs from numerous manufacturers available, Pierson said, and 110,000 players are registered with the PDGA. The Morley Field course, which costs $4-$5 to play, has hosted more than 100,000 disc golfers per year for more than 20 years, according to Pierson.
Serious players such as Calvin play with as many as 25 discs in their bag – with most of the discs carrying different characteristics. There are driving discs, which Calvin can throw up to 500 feet, putting discs, and discs that move hard in one direction, or bounce off objects such as trees with more or less spring.
On a hilly, narrow course such as The Toboggan, Calvin needed all his skills to escape trees, thorn bushes and 3-foot high rough. Throwing a disc when you can't make a run-up is completely different than having to stand still, Calvin said. Wind is always the X-factor.
"Without hesitation, I think I can honestly say that disc golf is one of the most difficult sports to learn," Calvin said. "There are so many variables and different techniques.
"For me, I think I've always been an athletic person with a sports science mentality and visualization. I've also had some of the best mentors you could ever have."
Next up for Calvin are the Amateur Worlds next month in Charlotte. He plans to turn pro next year, and while his friends are in awe of what he's accomplished, they're not cutting him much slack at Morley — even after he's manicured the course for them early in the morning.
"Everybody wants to beat the champ," Calvin said with a laugh. "Everybody is talking crap when I miss a putt. It's back to the real world for me."
Sign up for the Pacific Insider newsletter
PACIFIC magazine delivers the latest restaurant and bar openings, festivals and top concerts, every Tuesday.
You may occasionally receive promotional content from the Pacific San Diego.