Column: LeBron's Lakers debut the latest big deal to hit San Diego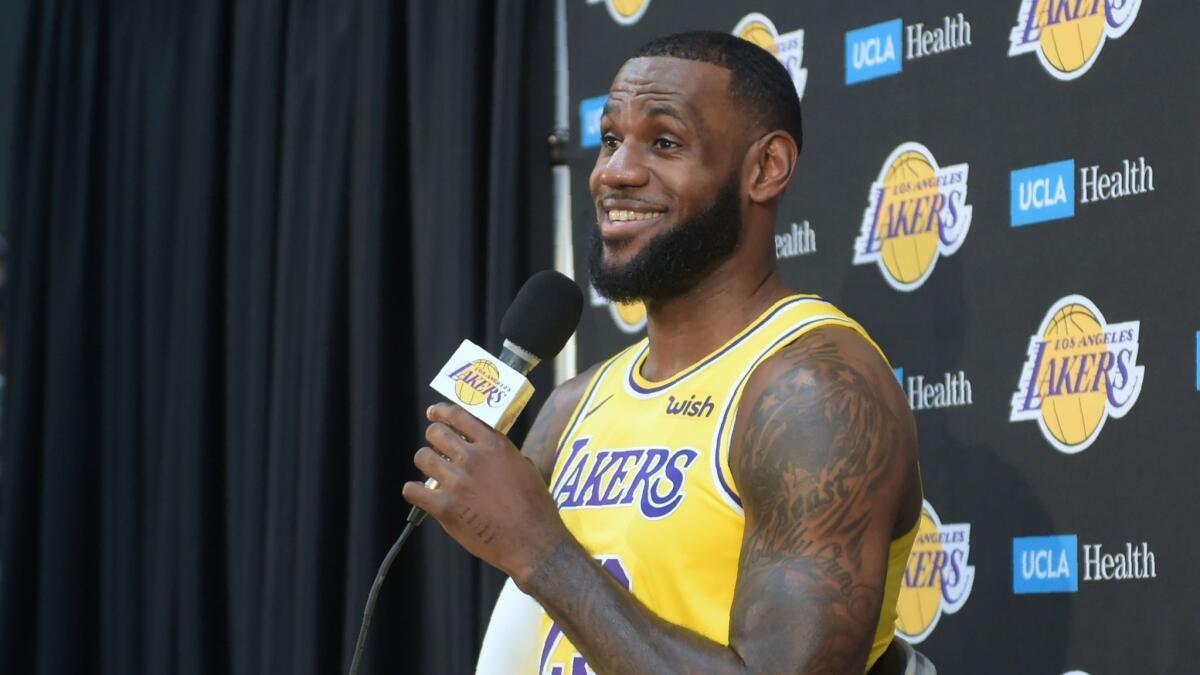 "Biggest thing ever happened in Mayberry. REAL big. Big. BIG. Big."
— Barney Fife
Has it happened before? Anytime? Anyplace? Anywhere?
Where else, but right here in Mayberry By The Sea, can the biggest and most interesting sporting event in the world that means absolutely nothing be held?
The insatiable, idol-worshipping public will be riveted on the Midway District on Sunday night when the LeBron James Wild West Show pulls into long-sold out Valley View Casino Center. And it's hard to remember many occasions around here when the star-crossed sporting eyes of this earth were on little ol' us.
Certainly we haven't had one of such hollow international importance. We have the Lakers, basketball's Cowboys, and LeBron, the star who went Hollywood and jumped aboard the historic horses on their carousel of stars.
It doesn't matter and yet it matters in our New World.
San Diego has hosted three Super Bowls, including John Elway's final game and the first NFL championship won by a black quarterback (Doug Williams).
The Padres have been involved in two World Series — unfortunately against the Tigers (1984) and Yankees 1998, two of the greatest baseball teams of the past half-century.
Muhammad Ali fought Ken Norton here and got his jaw broken.
Tiger Woods won the U.S. Open at Torrey Pines 10 years ago, in overtime, Tiger's last major win.
The 1975 Final Four (in the same venue as tonight's lollapalooza) was John Wooden's last stand (UCLA's semifinal win over Louisville in OT remains the best basketball game I've seen in person).
Magic Johnson won his first game (yes, in the same venue) with the Lakers — on a buzzer-beating sky hook by Kareem — vs. the Clippers in 1979.
World indoor track records were set annually in the indoor games (yes, in the same venue), including Eamonn Coghlan's electrifying mile record.
The 1965 AAU Track and Field Championships in Balboa Stadium produced one of the great races of all time — Billy Mills vs. Gerry Lindgren, stride for stride to a world record, and Jim Ryun's coming out party vs. Peter Snell.
We have hosted the America's Cup, the premier regatta, my favorite being the 1987 races, when Dennis Conner's catamaran ran circles around that Australian battleship with sails (followed by a press conference for the ages)
But there's a difference. Those events mattered. They were for championships. They set world records. They were naturals on watch lists.
When Lebron and his latest NBA team, the Lakers, meet the Nuggets on Sunday (6:30 p.m., ESPN, Spectrum SportsNet), the game itself will have as much meaning as another weed in Balboa Park.
It's an exhibition. The one, memorable season (1981-82) I covered the Clippers before they also skedaddled to L.A., the Association thought so highly of exhibitions they allowed penurious owner Donald T. Sterling to play one (1, uno) — in Phoenix.
The only thing I can say about NBA exhibitions is that they're probably not as bad as NFL exhibitions, which of course would be inconceivable. Spring training, at least, is spring training. But, in that most in-season NBA games are unwatchable and/or boring, exhibitions are worse.
Except for this one.
The Lakers have been playing a preseason game here for many years, and always did well. But this one isn't close to the others.
LeBron, if not the most famous athlete in the world, is, as I say, leaning at the tape, with Tiger and a few soccer players. Certainly he's the most misunderstood and, for whatever the hell reason, the most polarizing. Maybe even our LeBron-despising president will at least feign interest.
That he is loved and hated with little in-between remains a mystery to me. Great player. Humanitarian. Selfless player. Has his own horn but doesn't blow it very much.
Fans are expected to get their first glimpse of LeBron, the Laker. And there isn't much doubt of the King's dominance and influence in the sporting world — and, now, beyond.
Is there Tinseltown pressure on LeBron to deliver another title to the Lake Show? There will be, but not quite yet. Among the franchise's numerous L.A./nee-Minnesota luminaries, only Elgin Baylor, who retired before the end of the 1972 championship season, hasn't been around for an NBA title.
They all have rings. TMZ likes jewelry. It's been this way since Dr. Jerry Buss was throwing fab parties at Pickfair.
"I don't expect nothing," says the man who has appeared in eight straight NBA Finals. "You work for what you get."
He does that.
But, if you believe the King can persuade his court to win the Larry O'Brien Trophy this season, you expect world peace by June. He has won where he's been. He's an all-time player who does the most important thing — make his playmates better.
But the Lakers aren't near ready to compete with the likes of the Warriors. The W's fall is going to come, but some bad things have to happen for Golden State not to continue its domination for at least a while.
But not even the defending champions can match what's going on some 400 miles south. The W's have the wheel of the Porsche now, but LeBron can supply 500 horsepower on a Yugo.
The worst thing about the NBA is two, three, four, maybe five teams load up, and the less fortunate fans wait around for the stars from other galaxies to show up in theirs.
This game has been sold out since it was announced LeBron was joining the Lakers. The astronomers are coming out for a look at the latest, bright West Coast supernova.
The greatest game ever played that meant nothing yet somehow matters to millions.
Gotta love sports.
Sign up for the Pacific Insider newsletter
You may occasionally receive promotional content from the Pacific San Diego.