Popular trails closed due to heat concerns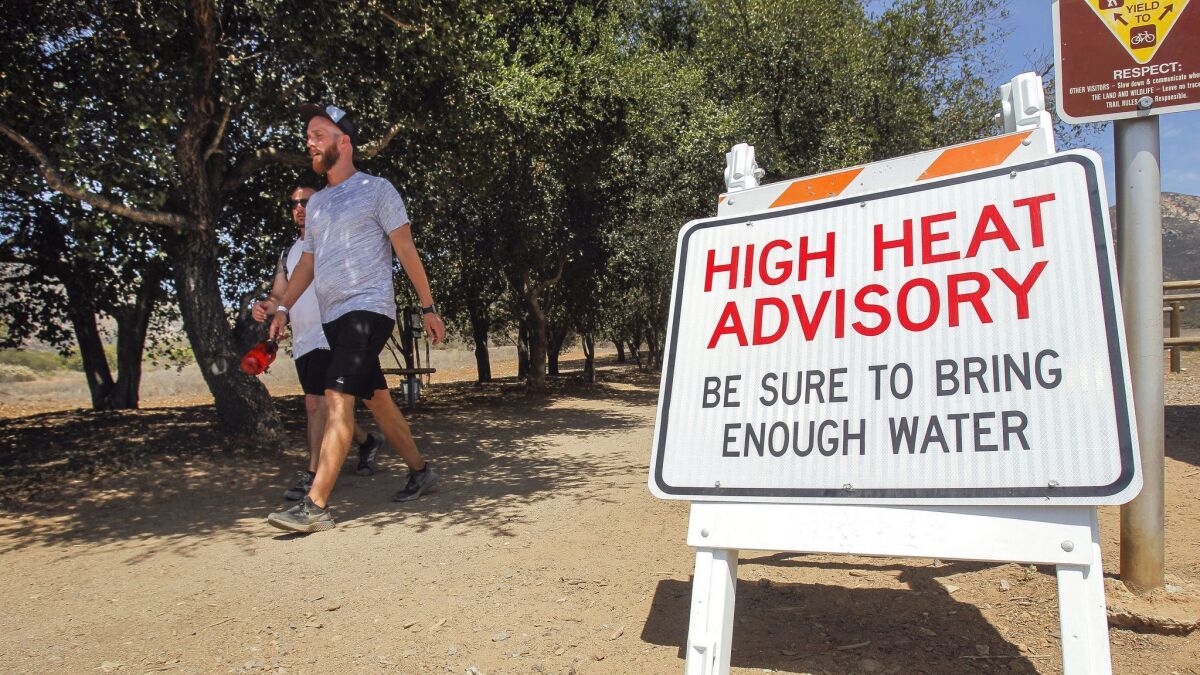 Some of the most popular trails in the county will be off-limits this weekend due to extreme heat. And officials are cautioning everyone to avoid hiking altogether, with temperatures expected to soar into triple digits in many inland and mountain areas.
The Cedar Creek and Three Sisters Falls trails east of Ramona in the Cleveland National Forest are under an emergency closure order effective now through Monday because of the anticipated heat wave and considerable public health and safety concerns, forest officials announced recently.
The Iron Mountain and Mt. Woodson trails in Poway will also be shut down Friday and Saturday for the same reasons, though there are no plans to deny access to Mt. Woodson (and nearby Potato Chip Rock) from the east side of the mountain off state Route 67.
Rene Carmichael, a spokeswomen for Poway, said the city started shutting down the two trails last year after one busy weekend in July.
"The city decided we were putting rescue personnel at risk and letting visitors be at risk so we started implementing the closures," she said.
She said between the summers of 2016 and 2017, the Poway Fire Department responded to 37 calls relating to hikers in distress around Iron Mountain and Lake Poway. The Iron Mountain and Mt. Woodson (via Lake Poway) trails were shut down three times in 2017. So far this year, Poway Fire responded to 30 hiker-related calls.
The city's policy is to close those popular trails when heat is expected to be 100 degrees or higher and when a heat advisory has been issued.
The National Weather Service has issued an extreme heat advisory for the county between 10 a.m. and 6 p.m. Friday.
The Cleveland National Forest has been shutting down the Cedar Creek Falls and Three Sisters Falls trails for several years now during hot weather. Both trail systems have been the scene of many rescues and a number of fatalities. In 2017, Cal Fire helicopters conducted 66 air rescues, mostly in the area of the falls between Ramona and Julian. So far this year, there have been 31 rescues.
"The majority of the rescues they are responding to from a helicopter standpoint is at Three Sisters Falls," said Cal Fire Spokesman Kendal Bortisser. "There have been times when they average one or two times a week."
Bortisser said sometimes the missions require dropping firefighters into an area who then have to hike to a victim. They will then carry the hiker a distance until they can be hoisted out by air.
"Some of those hoist rescues can be a lengthy ordeal," he said. Bortisser said by far the most common situation Cal Fire helicopter personnel encounter with hiker rescues is heat-related. "Hikers in distress because of dehydration."
Sheriff's ASTREA Sgt. Scott Bligh agreed. "In the summertime, we have the heat-related injuries which we take very seriously because you can die really quickly with that stuff," he said.
"In the summertime, our crews are aware they need to have enough hydration because if they have to land out there they don't want to wither up and be a casualty themselves. We often bring extra ice packs and water for whoever we might come across who might be in a world of hurt."
Heat-related illnesses are the body's response to being dehydrated and overheated, officials said. Heat exhaustion occurs from dehydration if water isn't replaced quickly. Symptoms include headache, nausea, decreased sweating and urination, dizziness, headache, impaired judgment, loss of coordination and muscle cramps. Left untreated, the condition rapidly deteriorates into life-threatening heat stroke.
"The most common thing our firefighters hear from the hikers is that they just weren't prepared," Poway Fire Chief Mark Sanchez said.
He said responses to heat-related illnesses take away resources from other emergencies and put the city's first responders in danger in the high heat.
Officials say hiking in the summer and fall can be dangerous. They recommend paying attention to weather forecasts and hiking early in the day.
Clothing should be loose and light and should include a cap or hat. Shoes should be appropriate for the terrain and sunscreen should be used and packed.
A cell phone should also be carried in case of an emergency and people should not hike alone, authorities suggest.
Just as important: keeping hydrated is key to safety.
On hot days, the body can lose large amounts of water through perspiration. The general rule is that a person can sweat roughly a quart of water every hour, and even more when hiking uphill or in direct sunlight. Hiking at higher altitudes will also accelerate the loss of body fluids. In arid climates, hikers might not even notice how much they are perspiring because of rapid rates of evaporation.
Authorities say it's important to start the hydration process before going out. Start drinking water a couple of hours before hitting the trail.
While hiking, drink frequently — cold water is best. Carry plenty of water but instead of guzzling it all at once, take smaller and frequent drinks. Once a hiker is halfway through his or her water supply, they should turn around and head back to the trail head.
jharry.jones@sduniontribune.com; 760/529-4931; Twitter: @jharryjones
---
Sign up for the Pacific Insider newsletter
PACIFIC magazine delivers the latest restaurant and bar openings, festivals and top concerts, every Tuesday.
You may occasionally receive promotional content from the Pacific San Diego.